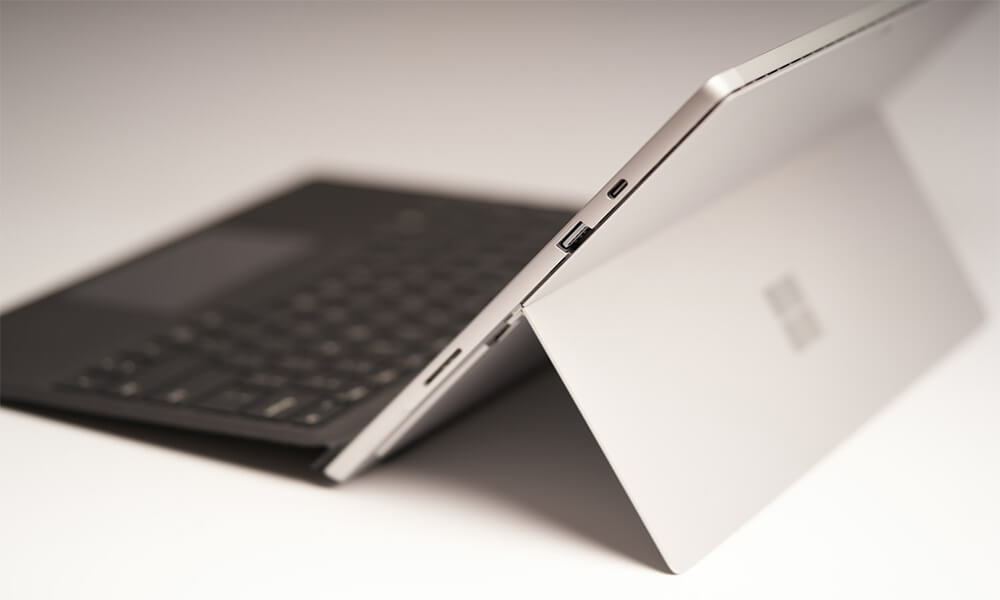 The flip-out display conquers all in an expensive but irresistible device
What a screen, reader friends. It's not just its quality in terms of resolution, contrast or color vibrancy: it's that ability to fold, to almost "fold" and to put itself at our feet so that we suddenly switch from a normal work mode to one in which the stylus takes possession of (almost) the entire workflow.
That's the greatest virtue of Microsoft's Surface Studio 2, an All-in-One that's impressive in design and not short on features either. The only stumbling block is the high price you have to pay for it, but the bet for users in the creative field is fantastic and hard to resist.
Surface Studio 2 Technical Specifications
The spec sheet of this device has its lights and shadows. It is in any case a good evolution of the first model in areas such as the processor or, above all, the storage system, which now integrates 1 TB as standard in the form of SSD.
DISPLAY
28-inch PixelSense touchscreen (3:2 aspect ratio)
4,500 x 3,000 dots RESOLUTION
PROCESSOR
Intel Core i7-7820HQ
GRAPHICS
NVIDIA GeForce GTX 1070
RAM
16 GB DDR4
STORAGE
Toshiba SSD 1 TB
SOUND
2.1 system with Dolby Audio Premium support
OS VERSION
Windows 10 Pro
CONNECTIVITY
WiFi 802.11ac / Bluetooth 5.0
4 x USB 3.0, 1 x USB-C (USB 3.1 Gen 1), 1 x Gigabit Ethernet / 1 x microphone / 1 x headset, SD Reader
DIMENSIONS DISPLAY
637,35 x 438,90 x 12,50 mm
Base: 250 x 220 x 32,20 mm
WEIGHT
9.56 kg
OTHERS
Includes Surface Keyboard, Surface Mouse and Pen
Processor
We may fall somewhat short in terms of processing capacity if we are demanding in this area, because having a 7th generation Intel processor when we are already immersed in the 9th generation "and Ice Lake is coming our way" makes it clear how the frenetic evolution of technology has left this equipment slightly obsolete from the first moment of appearing on the scene.
The Core i7-7820HQ's 45W TDP makes it clear that we won't be able to aspire to the performance of the more power-hungry models, but it's still one of the best travel companions.
Memory
Even so, it is accompanied by notable components, especially in terms of memory (16 GB as standard, 32 GB option) and graphics card, with a remarkable GTX 1070 that will serve us perfectly to enjoy video games without problems, although the basic version with a GTX 1060 will not do badly in this area of entertainment.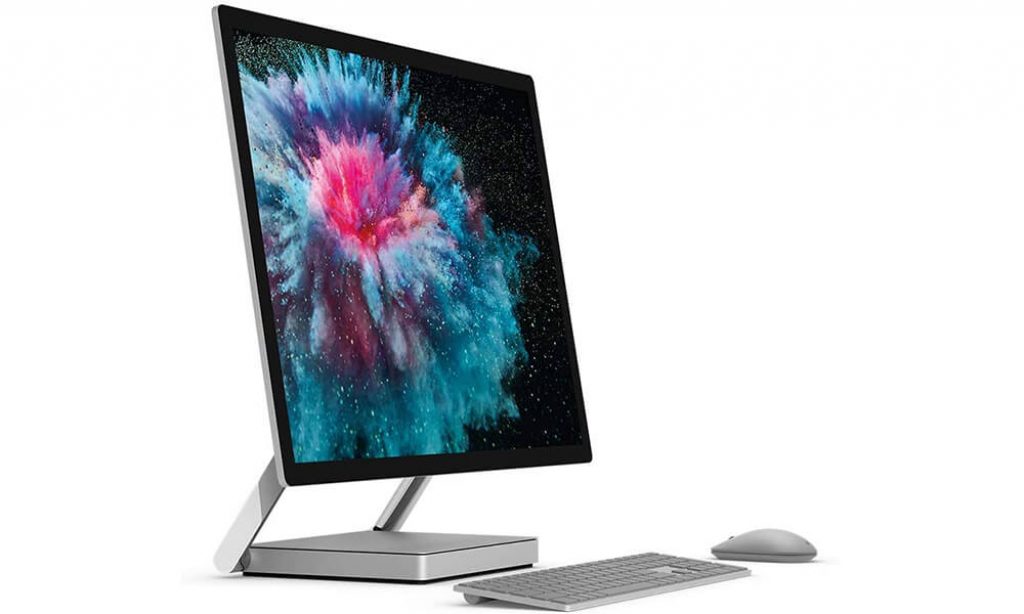 Connectivity
Where there is a downside is in connectivity: the USB-C port is not Thunderbolt 3, something that would give greater expansion options, but we will not be able to use the Surface Studio 2 screen as an external display of another computer if we wish. We will be able to add up to two 4K UHD displays (at 30 Hz) or one 4K UHD display (at 60 Hz) via the aforementioned USB-C connector.
The inclusion of keyboard, mouse and especially the Surface pencil is a success, especially in that last accessory that is essential to take advantage from the first moment to a team designed for the creative field. Too bad you have to buy the Surface Dial peripheral separately, but even so, Microsoft's proposal is remarkable.
A Spectacular and Very Foldable Design
When Microsoft's first Surface Studio appeared on the scene, many of us were amazed by this stand that managed to turn a screen into a work table for drawing and designing.
That fantastic base and folding system returns to the Surface Studio 2 without modifications: it worked so well that it has not been necessary to make changes in an option that is undoubtedly the star feature of this All-in-One.
The ability to switch between All-in-One and "Giant Tablet" mode is amazing when you're in front of the device, which has considerable dimensions (that 28-inch screen proves it) but still folds down spectacularly smoothly.
The mechanism has one or two drawbacks because not everything can be perfect. We can't rotate the screen to put it in portrait mode "not a major drawback" and although we can change the screen tilt angle, this will be conditioned by how tilted and folded the screen is in front of us.
This limits the options, but in general there are usually no problems and we are faced with a component that behaves almost magically.
Build Quality & Design
The construction of the Surface Studio 2 is impeccable: sober, elegant and seamless. The base is a small rectangle (almost square) that does not reach the 10×10 cm that encloses all the hardware of the equipment, and what is interesting is to see how all the connectors are on the back of that base.
That makes sense considering that the flip-down display makes it difficult to move those ports to that part, but it can also make it difficult to reach those ports to connect something "blind".
We would have appreciated Microsoft integrating at least one USB port on one of the sides of the display, and even the SD slot could have been on this part as well.
There is a particularly curious option in this design, and that is that the side frames and the bottom of the screen are magnetic, something that allows you to attach the stylus to either of them so that it stays there until you use it again.
The detail is another example of the attention Microsoft has paid to the philosophy of an All-In-One device that is absolutely fantastic in terms of lines.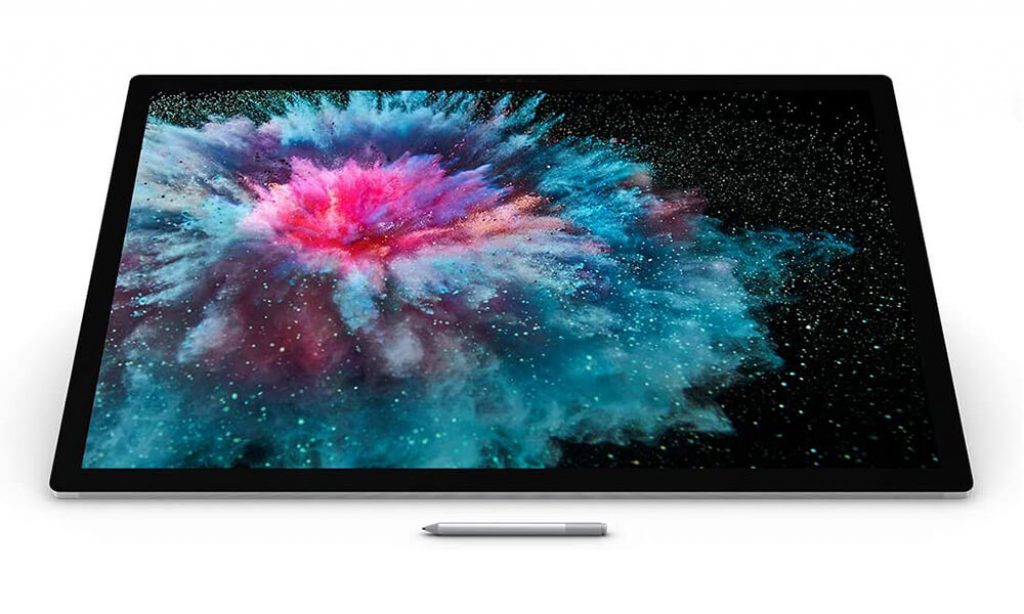 A Screen That Grabs You From Start to Finish
The big star of this device – apart from the flip-down mechanism – is its screen, a true marvel, which was already a marvel in the first version. Now it improves some integers, raising the brightness to 500 nits and also improving the contrast, something important if we take into account that it is a glossy screen, not matte, and that makes reflections can be annoying depending on the way the light hits the equipment.
Multi-Touch Support
The multi-touch support is also very striking when it comes to controlling various functions of the screen, which invites you to have it perhaps closer than you would have another monitor of this size to access the touch mode and, of course, the tablet mode for drawing.
Screen Resolution
The resolution of 4,500 x 3,000 pixels is another highlight of this component, which has a particularly vivid color setting. Saturated, yes, but in a way that is not garish and certainly makes the feeling of using the equipment great at all times.
The 3:2 aspect ratio used by Microsoft is becoming more and more widespread in the industry and is very common on laptops, so finding it on the Surface Studio 2 seems to cement the idea that working in this application-maximizing mode is a popular demand.
Here video content perhaps suffers from the huge black bands that appear above and below, and while I personally prefer a widescreen display that makes it more natural to work with two applications facing each other that's not a big problem with a diagonal of these dimensions and a resolution like the one offered by the Surface Studio 2.
Sound Quality
The sound section is very well resolved, and although it does not stand out for a particularly ambitious speaker configuration it does have a 2.1 stereo system with Dolby Audio Premium support.
In YouTube videos or services such as Netflix we could see how this device wins especially for an exceptional screen, but do not disappoint in the field of sound.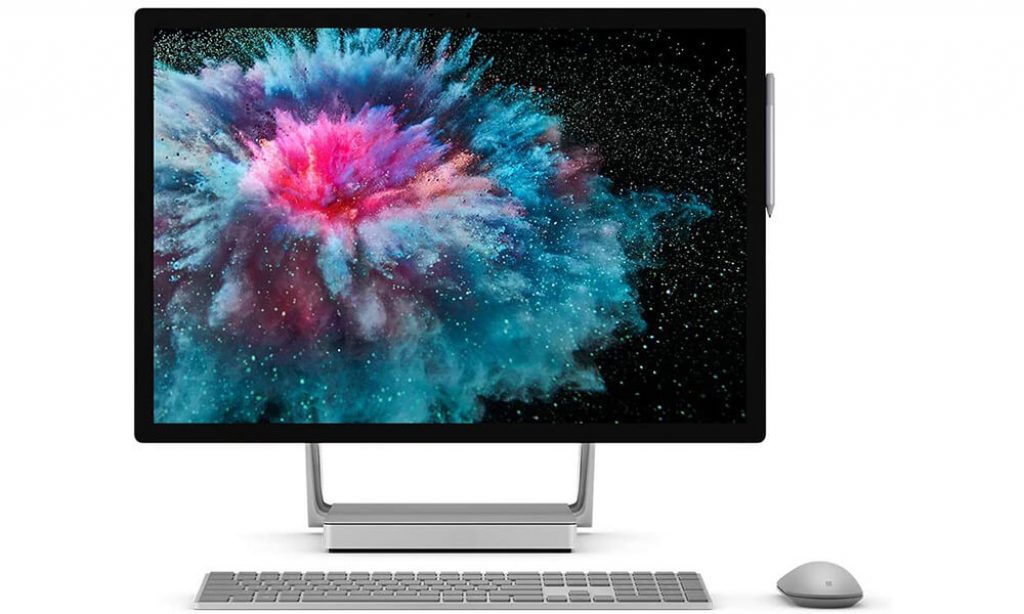 Let's Get Down to Drawing
Special mention deserves the creative section that is the center of the whole experience of this Surface Studio 2. If you are a designer, creativity will be an almost irresistible option, because working on a 28-inch canvas like this that also folds down to fold to the most comfortable position is a delight.
I'm just an amateur, but certainly using the included Surface Pencil is a fantastic experience. The 4096 levels of pressure, the shading support (tilting the pen as if we were shading with a normal one) and its configurable button "it can be used as an eraser" allow access to a way of working that I find incredible and that I sense is also exceptional for professionals in the sector.
It is curious that Microsoft does not include or pre-install any application that allows you to take advantage of this option, although here we assume that it delegates that decision to the professionals who will use the equipment and who will surely have their favorite.
We work with Autodesk's SketchBook, a free and really fantastic application for drawing and painting on a screen like the Surface Studio 2.
The Surface pen makes use of a AAA battery and connects to the computer via Bluetooth, and it has a successful design: thick and heavy enough that we get a consistent feel when we place it in our hand to write and draw.
Latency is minimal, and although if you look closely you can certainly notice it, response times are almost instantaneous: drawing on the screen is almost like drawing on paper at all times, and although if we get picky, it does feel like drawing on paper at all times, it does feel like drawing on paper at all times.
The aforementioned detail of being able to leave it "stuck" to one of the sides or even to the bottom of the screen thanks to the magnets present on it completes an experience that is probably only possible to surpass with products totally specific to this segment such as the more ambitious Wacom or Cintiq graphics tablets.
Wait, You Can Also Play Games
The power of the equipment may have its drawbacks due to the seventh-generation processor, but no one should be fooled because an All-in-One like this can also be an amazing companion in our gaming sessions.
The reason lies in the dedicated graphics card, and that in this case is a GeForce GTX 1070. It is true that the screen resolution makes it impossible to maintain high frame rates in most games at that native resolution of 4,500 x 3,000 pixels. However, if we lower the resolution during the game to 1080p or even to a 1440p mode, we will find a device capable of giving a lot of joy in this area.
We checked it with games like 'Dirt Rally', which in 1080p with the highest level of detail stood at 132 FPS, while in the closest mode to 1440p (2,250 x 1,500) the rate was reduced to 78 FPS, an excellent level when playing this title.
With other more demanding titles such as 'Shadow of the Tomb Raider' the results were logically less spectacular: in 1080p mode with the maximum level of detail we reached 65 FPS, while in the 2,250 x 1,500 resolution this rate dropped to 30 FPS.
So, good figures for a device that is certainly not oriented to gaming but that can give many joys in this area. Of course, putting the processor and graphics card to work to the maximum generates a sustained and consistent noise, not particularly annoying but clearly noticeable.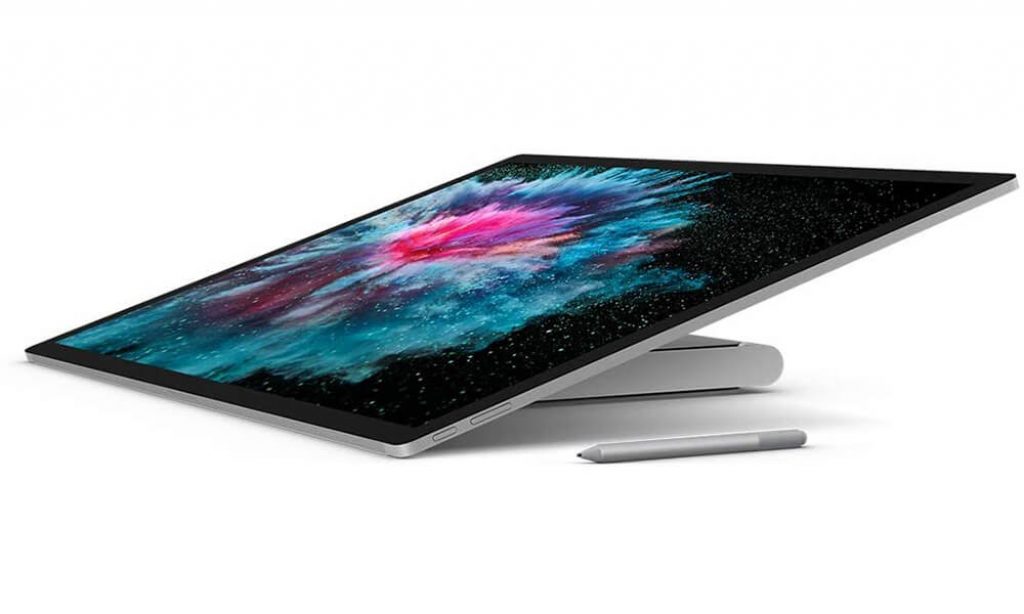 Performance Test & Results
The performance tests also left a good impression. It is true that the Core i7-7820HQ cannot perform miracles: it is limited by its 45W TDP and its four cores, but even so the performance of both this processor and the graphics card has been remarkable.
We have performed a series of synthetic tests that analyze both the processor's performance in general scenarios (PCMark's test benches reflect those areas) and in some more specific ones in the field of gaming (3DMark) or professional 3D design (Cinebench), and the results have been very good.
| | SURFACE BOOK 2 (CORE I7-8650U, GTX 1050) | SURFACE STUDIO 2 (CORE I7-7820HQ, GTX 1070) | ASUS ROG ZEPHYRUS (CORE I7-7700HQ, GTX 1080) | HP OMEN 17 (CORE I7-6700HQ, GTX 1070) |
| --- | --- | --- | --- | --- |
| PCMARK HOME | 3.463 | 4.060 | 4.734 | 4.819 |
| PCMARK CREATIVE | 5.015 | 7.286 | 7.463 | 7.480 |
| 3DMARK CLOUD GATE | 17.710 | 26.960 | 27.682 | 25.474 |
| 3DMARK ICE STORM | 157.248 | 130.427 | 137.893 | 123.407 |
There are no complaints with the behavior of other elements of the equipment either, and the SSD drive, in this case a 1 TB Toshiba SSD, allows transfer rates that reach 3,107 MB/s in read and 957 MB/s in write. Even Geekbench gave good numbers: in single core it offered a score of 4,956, while in multi core it went up to 16,193 points.
Microsoft Surface Studio 2 (Final Opinion and Conslusion)
Every product makes certain sacrifices, and making use of the All-in-One format certainly imposes some in the case of the Surface Studio 2. We miss for example not being able to use the monitor as an external display for another computer.
This would solve another major limitation of this type of equipment, and is the difficulty to upgrade some of its components. We also miss a Thunderbolt 3 connector and also a USB on one of the sides of the screen instead of having them all behind the base, but they are minor obstacles for a product that does really well in the other sections.
In fact, the biggest problem with the Surface Studio 2 is none other than its price, which is too high for most pockets. In our case the analyzed model costs more than 5,000 dollars, a really important outlay that certainly gives a lot of margin if you are thinking of upgrading your PC and dedicating it to the creative environment.
All in all, the result is spectacular: the folding stand that allows us to work in PC mode or tablet mode (giant) at any time is prodigious, as is a vibrant touch screen with response times that are especially appreciated when drawing.
Not only that: the choice of hardware is remarkable, as evidenced by the device's ability to become a good companion in gaming sessions. It's hard to find fault with the Surface Studio 2 except for its high cost, and certainly if you work (or enjoy) in the creative sector and have a good budget to invest, Microsoft's proposal is irresistible.
Keep visiting Laptop Guide to read latest reviews and if you have any questions, feel free to leave a comment down below.