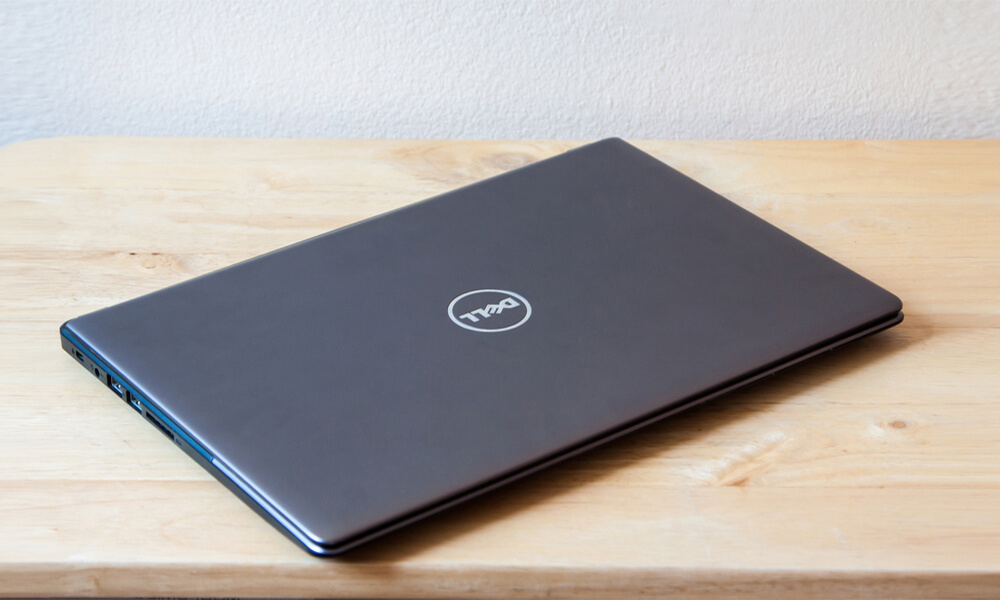 The Dell brand has a wide variety of laptops, but you want to know which one suits you best? Do not worry, we will help you choose the best laptop of this excellent brand, and for that, we have reviewed all the top options available from this brand as of today, comparing and specifying pros and cons of each model.
Dell Laptops Comparison Table
History of the Dell Brand
Dell is an American multinational company established in Round Rock in the state of Texas, which develops, manufactures, sells and supports personal computers, servers, network switches, software, peripherals and other technology related products.
Its founder, Michael Dell, started the business with the belief that by selling personal computers directly to customers, PC Limited (the company's first name) could better understand the needs of customers. Dell left college to pursue his business full time, after raising $300,000 in capital from his family.
In 1985, the company produced the first computer of its own design – the Turbo PC – which contained an Intel 8098 processor with a speed of 8 MHz. PC Limited advertised its computers in national computer magazines for direct sales to customers and custom assembly into each ordered unit. The company earned $73 million in its first year.
Dell has always marketed high quality products, with an emphasis on customization, low inventory stocks and powerful, agile logistics. Dell currently markets laptops with removable touch screens to meet the needs of business customers who also have to create content with their tablet.
On the other hand, the wide range of software solutions for server virtualization has allowed companies greater flexibility in their IT infrastructures for years, up to the almost total standardization of the platforms that Dell and other firms manufacture, centralizing and speeding up previously more complex purchasing processes.
Dell made purchases from various professional services companies to continue to be perceived as a very solid company with its products, keeping it ahead of the tough competition from computer manufacturers such as ASUS, Lenovo and others.
Dell is one of the brands that manufactures laptops aimed mostly at the business area.
See Also: The Best ACER Laptop
What Benefits Does Dell Offers?
The corporation grew during the 80s and 90s to become the largest computer and server vendor in the world for several years. In 2005, Fortune magazine ranked the Dell brand as the first largest company in the world on the Fortune 500 and eighth on its "Top 25" list of most admired companies in the United States.
In 2007 Dell ranked 34th and 8th respectively on the equivalent lists for that year. A 2006 publication identified Dell as one of 38 high-performance companies that have been successful in the marketplace over the past 15 years.
2008 saw Dell ranked second, with 95,000 employees worldwide. It is currently considered one of the best American brands along with Apple, followed by HP, among others.
Dell is a brand that is very prominent for caring about its products, so it offers plans for maintenance and repair service rather than warranty extension plans.
It offers support services for computers in home environments, a complete range of support services to keep your technology in perfect working order. For everyday, hassle-free support, you can choose the Premium Support Plan or opt for the Premium Support Plus Plan if you want access to Dell's exceptional support that includes virus removal, accident coverage and computer optimization.
With Premium Support, you'll get advice on setting up or adding a printer as if you have a question about the software you use every day. You can count on Dell to keep you connected and productive.
Direct 24×7 access to hardware and software support experts on the web and by phone, joint help to solve everyday software issues, international support and other benefits
From pouring a cup of coffee to asking a question about data backup, Premium Support Plus covers all your needs. It includes all the great features of Premium Support, plus following:
Repairs for accidental damage such as falls, spills and power surges, personalized help with software for more complex problems or to configure data backup, parental controls, predicting problems before they occur, automated removal of viruses, malware and automatic optimization of computer performance.
See Also: The Best ASUS Laptop
Tips for Choosing a Dell Laptop
Before buying a laptop, there are several things to consider. It is true that a computer, whether it is a laptop or a desktop, can be used in a general way, and that if it is seen from another point of view it can be used specifically to an area.
So, whether you are dedicated to a specific area of work or not, I recommend you look at these points to help you choose your laptop well.
Screen
The screen is important, no doubt, but sometimes just because it's big doesn't mean it's better. Dell laptops have a wide variety of sizes in their screens, look for 14 and 15 inch screens, these can have FHD, UHD and even 4k image quality, while the 16 and 17 inches qualities of 720p or 1080p.
RAM Memory
It is the one that allows us to run several programs at the same time. This is where some of the programs we have run are going to be made and remain active, from the operating system itself to the applications we use.
Dell laptops have 8GB RAM, if you want optimal performance look for 16GB, otherwise a laptop 8 Gigabytes is fine.
Storage
This is very important because we need to store data on our laptop either for work or study, but you are a user of many storage requirements, a 128GB memory is sufficient. But if you have to handle a lot of data, try to look for a 256GB, 512GB or 1TB memory. Remember that these last three options increase the cost of the laptop.
Processor
The function of the processor is to decode instructions and process program data. How to coordinate and control all system operations. The best manufacturers of computer processors are Intel and AMD
Look for processors from these manufacturers that generate speeds greater than 1GHz or 2.5 GHz and have 4 or more cores as they will allow for better performance and a smoother computing speed.
Graphics Card
This will allow us to have a better quality of image and video. Dell most of the times incorporates graphics cards from the manufacturer Intel, look for the ones that are UHD or HD in the 600 series or from the manufacturer NVIDIA. These will give you a better quality of video and image.
See Also: The Best Lenovo Laptop
Price Range of Dell Notebooks
Laptops for less than $500
They are usually low or medium range laptops. They offer somewhat poor or decent specifications. In this category you can find the Dell Latitude E5450 and E6430.
Laptops from $500 – $900
Here you can find the Dell Vostro 3578. These are computers of category MEDIUM – HIGH. They will provide you with good performance specifications such as more powerful processors, storage memories, large screens, RAM and other specifications.
Laptops over $900
Here you will find those of HIGH RANGE or PREMIUM category laptops. They will give you the best of the best, with most of their specifications at the limit or maximum capacity that there is in the market. The Dell XPS 13 and XPS 15 come in here because they have these features.
Dell Laptops Review
We have reviewed the best Dell laptops currently available on the market below and will guide you when making your choice:
Dell XPS 13.
Dell XPS 15.
Dell Latitude E5450.
Dell Vostro 3578.
Dell Latitude E6430
See Also: The Best Razer Laptop
1) Dell XPS 13
This laptop is the smallest Dell laptop with a size of 13.3 inches, despite that small screen has InfinityEdge, which means that it is virtually a borderless laptop, which maximizes screen space by compressing a screen into a 28 cm (11 inch) frame.
With a casing only 5.2 mm thick, a minimum weight of only 1.21 kg and a super-compact size of 9 to 15 mm, the XPS 13 is exceptionally compact and lightweight.
In addition, Dell wanted to be more environmentally friendly in the manufacture of this laptop, the brand was more environmentally friendly. It has smarter materials, free of materials such as cadmium, lead, mercury and some phthalates. 90% of the laptop's parts can be easily recycled or reused and the bamboo packaging trays are 100% recyclable.
Its display is truly amazing and state of the art. An ultra high QHD+ resolution (3200 x 1800): an optional upgrade that gives you an amazing level of detail with 5.7 million pixels. You'll be able to enjoy your content clearly from virtually any angle with an IPS screen, which offers a very wide viewing angle of up to 170 degrees.
The brightness of the screen is very clear and higher, you will obtain more brightness than a typical portable screen thanks to the 400 nits, that allow you to enjoy an excellent vision, even in exteriors with abundant illumination. The colors that it reproduces are incredible, you will see the darkest colors and the clearest ones more brilliant thanks to a range of colors of 72% and a relation of contrast of 1000:1.
Something that makes its screen particular is the touch functionality that it integrates. It allows you to tap, swipe and pinch on the screen and let you interact naturally with the technology.
But one thing that stands out about this Dell XPS 13 is its enhanced performance. It is fully equipped with the latest in the 8th generation of processors with the Dell Dynamic Power Mode: the eighth generation of the Intel Core processor offers increased performance with 4 cores. More cores give you more performance when you multitask.
In addition, Dynamic Power Mode, which is developed by Dell, gives you additional processing power when you need it, as it makes full use of the CPU's power while intelligently monitoring and managing system temperatures.
This great laptop has a very good load autonomy, you will stay productive for longer. When using productivity applications, such as Word or Excel, the battery offers a longer range of duration, up to 22 hours of continuous use in a Full HD model.
Enjoy up to 13 hours of battery life when playing Netflix content or surfing the web. If you're a person who downloads content to watch anywhere, you'll enjoy up to 20 hours of video playback.
The connectivity of this XPS is state of the art. The Thunderbolt 3 Type C multi-purpose port lets you charge your laptop, connect multiple devices, connect up to two 4K screens and enjoy data transfers of up to 40 Gb/s.
Dell incorporated in this computer wireless technology Killer: the Killer Wireless adapter provides a stronger and more reliable Wi-Fi connection and was specifically designed to achieve greater speed and fluidity in your games, voice and videos on the Internet. Killer provides the essential packages right away, eliminating unnecessary delay and latency.
The touchpad offers excellent precision so that it prevents the cursors from jumping and floating, you will be able to pinch, zoom in and out without having to support your fingers much. While the prevention against accidental activation avoids accidental clicks when the palm touches the touchpad. And with respect to its keyboard, it has standard backlighting, the keys light up so you can maintain productivity in rooms with little or no light.
See Also: The Best Huawei Laptop
Do you know?

In 2009, Dell came up with the idea of making its consumer devices more environmentally friendly, such as desktops and laptops. He didn't have to fight with the initiative to remind people how important it is to protect the planet.
2) Dell XPS 15
It is a laptop with a sleek design with quality materials, cut precisely from a single block of aluminum to provide a strong and durable chassis in an attractive design. The Corning Gorilla Glass 4 screen is twice as resistant to damage. Its wrist rest is made of carbon fiber, making it as strong and compact as aluminum, but lighter and cooler to the touch.
The level of detail reproduced on your screen is dazzling. Thanks to the Ultra HD UltraSharp screen, you can see every detail of every pixel without having to get close to the image. And, with 6 million more pixels than any Full HD screen, you can retouch images with millimeter precision without worrying about blurred areas or jagged lines.
The XPS 15 laptop, the only one with 100% coverage of the Adobe RGB color space, offers a wider range of colors and produces color tones that you won't find on conventional screens, allowing you to see the look of the image as if it were real life.
With over 16 million colors, images become more fluid and gradients are amazingly realistic, with greater depth and dimension. It also includes Dell PremierColor software, which automatically reassigns content that is not yet in Adobe RGB format, so that on-screen colors look incredibly natural.
Its touch screen also features anti-reflective technology and a superb 400-nit brightness, letting you enjoy any content outdoors. In addition, the IPS screen offers a wider viewing angle, so you can share your screen without missing anything.
The performance of this XPS laptop is very powerful, as it incorporates the latest Intel Core i7 6-core processors of eighth generation and an NVIDIA GeForce GTX 1050ti graphics card of 4 GB, so you can perform at full speed even the most demanding tasks.
The storage memory capacity is 512GB and offers a bandwidth of 2133 MHz. Faster memory means you can access the content you need sooner. The storage is expandable up to 1 TB in the type of device you prefer, standard hard disk or solid state drive (SSD), giving you ample storage space and high performance responsiveness to access your applications and run them quickly.
Like the XPS 13, this laptop also has Killer Wireless technology, which channels the maximum bandwidth to your videos or music to ensure a smooth experience without any latency
One thing you'll enjoy about this XPS 15 is its password-free login, thanks to the fingerprint reader, integrated into the power button to give you the fastest and safest way to unlock your laptop.
See Also: The Best Surface Laptop
3) Dell Latitude E5450
With an innovative design, you can boast of the high quality of materials used in the manufacture of Latitude equipment, such as recycled carbon fiber, which allows you to rely on its durability and enjoy the smallest and lightest format. Plus, with features like bright displays, you can fully immerse yourself in the display intensity of this Latitude.
A 14-inch notebook designed to offer exceptional productivity and performance, equipped with the most outstanding security features of the range. Full functionality and versatility
With this laptop you can set up your office anywhere, the extraordinary security, great versatility and top quality accessories of the Latitude laptop give you the possibility to work your way. The success of this computer is that it has the capacity to maintain productivity equivalent to that of the office, allowing you to go anywhere without stopping working.
This Latitude is a simple laptop without many built-in specifications and technologies, as it is a computer aimed at office users, so its performance is very conventional. It has a 7th generation Intel Core i5 dual-core processor. Its solid state storage (SSD) memory is 240GB and the RAM memory is 8GB.
The Latitude laptop is equipped with a battery that lasts all day, its charging autonomy is around 10 hours, although you can also take the Dell portable charger when a marathon day is waiting for you. And thanks to features such as Express Charge, which provides up to 80% charge in less than an hour, so you can move around freely without interrupting your activity.
With this laptop, you can easily work your way through congested workspaces with a range of wireless options, including mobile broadband that lets you work anywhere.
The Latitude 5590 laptop offers multiple security options to meet your diverse protection needs. For example, essential multi-stage authentication hardware such as a fingerprint reader, an SD card reader, and proximity data transmission (NFC) to prevent unauthorized access.
Also through the extensions of the Intel vPro technology that is patented by Dell, you can manage several devices remotely and even make diagnostics regardless of whether they are on or off.
See Also: Read Our Review of MSI Laptop
Expert Tip

Laptop theft is a big problem, it is common today to use a laptop to do work away from home or office. Never leave any of your passwords in the box or case where you keep your laptop. If you keep your passwords with your computer, it's like leaving your keys stuck to your car. Remember that without your passwords close by, it will be more difficult to open your laptop and access your personal information.
4) Dell Vostro 3578
This Dell Vostro is perfect for a person who needs a stylish, robust, efficient and excellent value laptop to get through their day-to-day work with total success and without worries and interruptions of any kind.
This Dell laptop has a 15.6-inch anti-reflective screen with Full HD 1080p resolution, giving you excellent viewing when working on spreadsheets, emails or quotes. Collaborate remotely or join your work meetings on the Internet with the integrated high-definition webcam and Waves MaxxAudio Pro audio enhancement software.
You can also increase your productivity thanks to the 8th generation Intel Core i5 processor that gives you all the power you need to carry out your daily tasks both at work and at home.
With its 8GB DDR4 memory, multitaskers can keep several applications open at once and switch between them easily and without delay. In addition, you have the option to expand the memory up to 16GB.
You can store all your important files, whether they are video, audio, image, text or some other type and easily access them without any problem. Thanks to the 256GB solid state hard disk (SSD).
Secure your personal or small business data with the TPM 2.0 chip for commercial grade hardware protection and encryption key storage. The chip is designed to protect users' sensitive information. What it does is store keys and encrypted information about our credentials and place them in a secure, virtually inaccessible environment.
In addition, you will be able to log in quickly and securely without using a password thanks to the integrated fingerprint reader. You can be confident that your data and your system will be protected against malware and cyber-attacks.
This computer, like the XPS 15, has essential features for professionals. The HDMI and VGA ports offer you peripheral support and simplify connections to a projector for presentations, or a second monitor for greater productivity.
You can enjoy the ultra-fast connectivity this Dell Vostro has. Get ready for high-speed performance and reliable connections and transfers with two USB 3.0 ports and an SD card reader. And with its integrated DVD drive, you can quickly copy or transfer files, or easily install software and business applications.
See Also: Read Our Review of Apple Laptop
5) Dell Latitude E6430
This notebook has an eco-friendly design and can help your organization meet its environmental goals with an energy-efficient design that is free of brominated flame retardants (BFRs) and polyvinyl chloride (PVC). So discover the durability and reliability of this laptop designed for the demands of work on the go.
Discover true productivity wherever you go. Find the perfect balance between performance and mobility, and enjoy the Latitude E6430's incredible capabilities.
See Also: Read Our Review of HP Laptop
Featuring a 14-inch HD screen, this size is used for subnotebooks, ultrabooks and convertibles. And because of this, power consumption is lower, weight is lighter and it's easier to carry around
It is a very low specification laptop but makes it the best for everyday tasks, it is aimed at users who demand very little from their laptop. The performance varieties of this Latitude E6430 include: a 128GB solid state storage unit, a third generation Intel Core i5 quad-core processor and 8GB of RAM.
It integrates a high performance antenna allowing for much faster wireless and mobile broadband connectivity, and also includes LTE4 mobile broadband, which means you don't have to be in the office to work. It also has a built-in DVD drive that will allow you to quickly copy or transfer files, or install software and applications without difficulty.
This computer helps you protect your data and stay in control. With different hardware and software components available, the Latitude is easy to manage and maintain over the course of its long life cycle.
See Also: Dynabook Review
Frequently Asked Questions
Q: How Long Does a Dell Laptop Battery Last?
For a typical user, the noticeable reduction in operating time and usefulness is observed from 18 to 24 months. For a more advanced user, it usually appears before 18 months. We recommend that you purchase a new battery for your Dell notebook when the operating time does not suit your needs.
Q: When Should I Update a Device Driver?
Device drivers should be updated when you reinstall the operating system with a CD, DVD or USB stick, or when you encounter some video (GPU) or audio issues, Wi-Fi or other network issues, among others. However, if your computer is working fine and the driver is not classified as an urgent or recommended download, there may be no point in performing an update.
Q: Is Dell Update Compatible with Ubuntu or Other Linux Distributions?
Dell Update software is only compatible with Microsoft Windows. Dell Update software cannot be compatible with Ubuntu or other Linux distributions.
Q: What Type of Devices Use a High-Powered USB Port Connection?
Devices such as Smartphones, PDAs, MP3 players etc. use a high-powered USB port connection. These types of devices are multifunctional, as they are charged from USB, but they are also data storage devices, for transfer via USB. You can also use them as peripheral devices on your computer to play music or extend a network connection among others.
Keep visiting Laptops Guide to know all the details about the laptop you're planning to buy.
References
https://www.dell.com/support/kbdoc/en-us/000125283/how-to-check-the-system-configuration-on-your-dell-system
https://www.quora.com/Are-Dell-high-quality-laptops