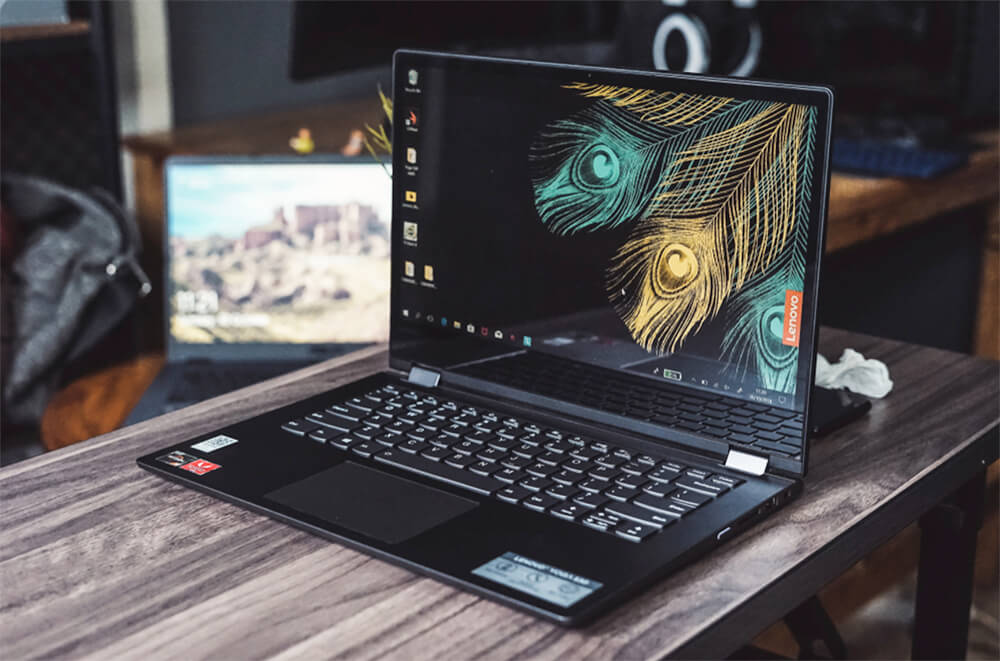 Lenovo has a great laptop collection, but if you can't decide which one to choose and you don't know which one compliments your needs and requirements. Don't worry, we'll help as our team shortlisted the best laptops of this amazing brand.
We'll compare and specify each one of them, the good, the bad and which one is the best for you.
Lenovo Laptops Comparison
Lenovo being a multinational Chinese technology company, is a manufacturer of many electronic products such as: smart phones, desktops, servers, laptops, PDAs, tablets, netbooks, peripherals, printers, TVs, computer scanners, memories, headsets and hands-free for cell phones. Interestingly, the name Lenovo means, "New Legend".
Along with the variety of products this brand also provides information technology (IT) integration and support services, its QDI unit offers manufacturing contracts.
The headquarters of Lenovo is located in Beijing, China. In addition, Lenovo has headquarters in Morrisville, North Carolina, United States, the home of the ThinkPad group previously owned by IBM. Lenovo shares are also listed on the Hong Kong Stock Exchange.
In 2005, Lenovo became the world's largest international sales-driven computer manufacturer, by making the purchase of IBM's computer division, regaining its position among the top 5 manufacturers in the world by 2013, surpassing HP.
In November 2017, Lenovo buys Fujitsu's computer division for a cost of no less than $157 million in order to secure supplies of computer components and thus lower costs.
See Also: Best ACER Laptops
Tips for Choosing a Lenovo Laptop
Before buying a Lenovo laptop, there are several things to consider. It is true that a computer, whether it is a laptop or a desktop, can be used in a general way, and if seen from another point of view it can be used specifically to an area.
So, whether you are dedicated to a specific area of work or not, I recommend you look at these points to help you choose your laptop well.
RAM Memory
It is the memory of the computer that allows us to run several programs at the same time. This is where some of the programs we have run are going to be made and will remain active, from the operating system itself to the applications we use.
Most Lenovo laptops have 8GB of RAM, which is the best, but if you don't have to use many programs or applications simultaneously, a 4 or 6 Gigabyte is fine.
See Also: Best ASUS Laptops
Processor
The function of the processor is to decode instructions and process program data. It coordinates and controls all system operations. The best manufacturers of computer processors are Intel and AMD
At the time of purchase one must look for processors from these manufacturers that generate speeds greater than 1.5GHz and have 4 or more cores as they will help in achieving better performance and computing speed.
Graphics Card
This will allow us to have better image and video quality, some manufacturers incorporate their own video cards in the computers, but for very basic uses.
The best manufacturers of graphics cards are NVIDIA and AMD. If you run programs or games that need optimal video and image quality, look for these manufacturers' graphics cards that have a minimum of 2 GB.
Screen
Without any doubt a screen is an important component of a computer system, but sometimes just because it's big doesn't mean it's better. Lenovo has bought different screen sizes in its laptops, if you take a look at 14 and 15-inch screens, these come with FHD image quality and sometimes even 4k, while the 16 and 17 inch screens provide 720p or 1080p image quality.
Storage
Storage is an important aspect of a computer system as they are known for storing and recording data either for work or study, but if you are a user that requires a lot of storage space and has a huge storage requirement, and 256GB memory is not sufficient to fulfill them. Try to look for a 500BG or 1TB memory. Also remember that these last two options increase the cost of the laptop.
See Also: Razer Laptop Review
Price range
Laptops for less than $500:
They are usually low or medium range laptops. They offer somewhat decent specifications. Lenovo S145 belongs to this category of laptops.
Laptops from $500 – $900
These are MEDIUM to HIGH category computers. Here in this range you will find the IdeaPad 330 and Yoga 530 laptops. They will provide you with good performance and specifications like: processors, storage memories, big screens and RAM.
Laptops over $900:
Here you will find HIGH RANGE or PREMIUM laptops. They will give you the best of the best, with most of their specifications at the limit or maximum capacity that is available in the market. In this range you will see the IdeaPad 720S and the Legion Y530.
See Also: Huawei Laptop Review
Lenovo Laptops Review
Below we have reviewed the best Lenovo laptops currently available on the market, which will guide you when making purchase decisions.
1) Lenovo Ideapad 330
Sometimes less is more. Thanks to its processor and Intel graphics card, this laptop is very powerful and easy to use. Don't waste a second and increase your productivity to the maximum.
It is equipped with superior processing and advanced graphics options. Available in a variety of sophisticated colors (may vary by country and availability), it's safe, durable and ready to perform the tasks of today and tomorrow.
This laptop is not just an electronic device, but an investment. That's why this notebook is designed with a protective finish that protects it from wear and tear. Rubber details have also been added to the bottom of the cover to maximize ventilation and extend the life of the components.
To ensure that this computer will serve you well in the future, Lenovo has made sure that you can choose the best specifications in a notebook and that they meet your needs.
Innovative Intel Core i7 processors up to 8th generation and advanced graphics options on the Intel HD Graphics 621 ensure smooth multitasking, immersive gaming experience, fast starts and home theater entertainment. This accelerates your productivity now and tomorrow.
Running out of battery power and don't have much time? It has up to 6 hours of battery life, depending on your use, it also supports the Rapid Charge system: that is with a 15-minute charge it will give you up to 2 hours of use.
It combines best with Windows 10, with a new update equipped with interesting functionalities. Lenovo has completely reinvented the photo application, making it easier and more fun to tell your story on video. Add a soundtrack, use transitions, implement 3D effects, etc. Plus, you can share it faster than ever, with intuitive settings that make it easy to instantly connect with the people you care about most.
Customize your laptop's storage to get only what you want without paying for features you don't need. It offers you a 512 GB SSD storage memory to store thousands of videos, photos and files. This gives you a lower boot up and faster data transfer speeds.
With a resolution of up to FHD on a 15.6-inch screen, it offers powerful visual effects on the go. Combined with Dolby Audio, it gives you a radically improved entertainment experience. Turn up the volume without any fear of distortion – you'll hear every detail.
See Also: Surface Laptop Review
2) Lenovo IdeaPad 720S
A very light, compact laptop with processing power that can easily perform all your tasks and execute all your projects. This 13-inch screen is significantly thin and light, its metal surface is made of high quality, it is equipped with revolutionary Thunderbolt 3 connectivity technology, the additional storage capacity and innovative tools such as the fingerprint reader, gives life to a stylish and powerful portable system.
It has an elegant and surprisingly modern design, with aluminum finish. You can keep it in your backpack to work or study and enjoy videos, music and images anywhere.
Made with the same technique used to mold and polish diamonds, this laptop has been redesigned with care for every detail and adding beveled edges to make it look thinner than it is.
It is available in two colors of different shades with a soft touch finish: platinum silver and champagne gold
It has a good charging performance with respect to the battery. You can continuously use this battery for about 14 hours, you can go anywhere during the day. In addition, it includes an always active charging system with which you can charge your other devices through the USB ports, even if your laptop is turned off. You'll never have to rely on a power outlet again.
It incorporates an 8th generation Intel Core i8 processor and a solid state drive (SSD) of 256 GB. You can download all your movies and store a number of photos and videos without facing any problem. In addition, thanks to its RAM memory of up to 8 GB, you will be able to carry out several tasks at the same time quickly and without complications.
The graphics performance is advanced as it offers you an Intel UHD Graphics 620 graphics card designed to satisfy your leisure and productivity needs at all times. Whether you use it to play games or to create and edit content.
The sound of this laptop is impressive. It is equipped with JBL Premium Audio speakers, technology that will help you play and enjoy a more powerful, clear, defined and distortion-free audio, with a realistic immersion audio quality.
This laptop by Lenovo includes a C-type USB port with Thunderbolt 3 technology: this revolutionary connection technology supports high-resolution displays, high-performance data devices and quick-charging systems.
You can connect this laptop to multiple displays for synchronization and backup at up to 40 Gbps – eight times faster than a USB 3.0 port. You can capture and edit real-time video streams or daisy-chain to other devices to facilitate your workflow.
See Also: Dell Laptop Review
Expert Tip

No matter where you go, whether it's the beach, town or city, dust can always affect your computer. It is advisable to contact the technical service for a general cleaning periodically. Avoid "blowing" your laptop, as this will only cause dust to be dispersed to the other parts of your laptop.
3) Lenovo S145
Designed for long-lasting performance, this notebook offers powerful and fluid processing with a simple yet attractive design. Perfect for your daily tasks, this laptop provides great sound and fast, secure storage options.
If you are a frequent traveller a laptop weighing in at 1.85 kg, is ideal for people on the go. The narrow frame offers a cleaner design and larger viewing area. So wake up the traveler in you.
Whether you're watching a video or listening to the music, you're sure to love what you hear with the crisp sound of Dolby Audio, where it gives you the gift of movie-quality, fully immersive sound and 15.6-inch anti-reflection screen in HD combined with the AMD Radeon R4 Graphics card, you can watch all your movies, series and videos with incredible realism.
It comes with an AMD A6 processor and a 4 GB RAM, which gives you the power to keep up, no matter what you do. It also includes a secure storage option, which with a solid state drive (SSD) of 128 GB guarantees fast response times.
This way, you will be able to work and enjoy your multimedia leisure time wherever you go, as its 4-cell lithium battery ensures a continuous charge duration of up to 6 hours, as long as it is lightly used, i.e. office work and casual web browsing.
See Also: MSI Laptop Review
Did you know?

Although Lenovo is one of the largest technology companies in the world, it was not always known by that name. A long time ago it was called "Legend Group Ltd and New Technology Developer Incorporated"
4) Lenovo Legion Y530
No more bulky, old video game laptops. It's time to make way for a machine worthy of you, elegant on the outside, wild on the inside. Designed to offer the ideal balance between unbeatable performance for your video games.
This 15.6-inch laptop gives you exactly what you need for a gaming experience that delivers performance and portability. Its amazingly sleek design and state-of-the-art specifications guarantee you an amazing experience.
Heat is the nemesis of gaming performance, as it is no problem for this laptop. It has a dual-channel thermal system that offers several advantages: individual cooling for the CPU and GPU to provide cooler temperatures in the system, 4 vents to improve the airflow and 70 individual fan blades per channel to reduce system noise. This laptop is thermally optimized to stay cooler and quieter.
Your keyboard is the first and last thing you play during an important game session, so those details count. The Y530 offers a regular keyboard with a large, white-backlit number pad and a quick response capability. Its keys can move from 1.7 mm for a more ergonomic and comfortable gaming experience.
Take your gaming to the next level with the amazing screen of this Lenovo laptop, including over 2 million pixels in a nearly borderless 15.6-inch anti-glare screen with narrow beveled edges, this laptop brings you an incredibly immersive gaming experience and your favorite games to life.
Featuring powerful, high-performance, 8th generation Intel Core i7 processors, it gives you ultimate performance with support for Intel Optane Technology, which is a smart technology that accelerates computer responsiveness so you can play the way you want, with up to 6 cores for high-quality gaming and professional-level content creation.
Like all gaming notebooks, you need an excellent graphics card, as this notebook brings you the best on the market, equipped with an NVIDIA GeForce GTX 1050 with NVIDIA Pascal architecture. The most advanced GPU architecture created to date.
This advanced GPU increases high definition performance and supports DirectX12 features for a super fast and smooth gaming experience, without power efficiency issues. The Y530 features NVIDIA's game-ready technologies, allowing you to experience the latest gaming titles at their best.
The expert work goes beyond the design. It incorporates a DDR4 RAM of 16 GB. This computer represents the culmination of thousands of hours of engineering on the part of Lenovo to be able to offer you a powerful, thin and portable device.
It has a hybrid storage (HDD and SSD) of 1 TB plus 256 GB, combining the experience of engineers in batteries, I/O integration, thermal systems and motherboards in order to incorporate the best hardware in a powerful laptop dedicated to gaming.
See Also: Apple Laptop Review
5) Lenovo Yoga 530
With this laptop you can unleash your creativity. It's a stylish and compact i.e. 14-inch 2-in-1 notebook with features that you will get the most out of for your entertainment and creativity.
It comes with an Intel Core i3 processor and exceptional security options, with pen support developed by Lenovo the Active Pen, and the clarity of image and sound are impressive, so it will meet all your multimedia needs.
With polished aluminum surfaces and a 360-degree hinge that helps you switch from laptop to tablet mode, the Yoga 530 is a stylish and adaptable device according to your needs and requirements. It comes in three different colors: onyx black, mineral gray and the new blue.
See Also: HP Laptop Review
The Lenovo Active Pen (which is optional) has millimeter precision and palm rejection technology, it offers a very natural experience with the pen between your fingers. You can use it with Windows Ink, to shape your ideas. Draw on a map and get directions, use a smart editor, to get creative, you can easily add detail and much more.
This laptop is equipped with the power and speed you will need to amplify your productivity and creativity. The latest generation of Intel Core i3 processors offers up to 40% performance that increases with an unprecedented touch screen, faster boot-ups and smooth multitasking.
With the Intel HD Graphics 620, you can handle powerful photo-editing tasks with ease and speed. Take it anywhere, even where you can't find an outlet.
Weighing in at 1.6 kg and measuring 17.6 mm, it's portable enough to move around from one place to another. Plus, you can stay wherever you want for a long time thanks to the battery life of up to 10 hours. If you need to squeeze a little more, with only about 15 minutes of charge you will get 2 hours more use when your battery is about to run out.
It has a fingerprint reader, you won't have to worry about remembering your password anymore. Just by placing your finger on your laptop you will be able to log in. Your personal information will never leave your device as it has three layers of security.
With WI-FI AC up to 2 × 2 and a full set of USB C, USB 3.0 and HDMI ports, it will keep you connected to the internet and all kinds of external devices.
Make yourself comfortable by watching a movie. You'll see every video in detail on the wide-angle, thin-edged, beveled FHD display with 250-nit brightness. The sound is also enhanced with the great technology of Dolby Audio Premium that the Harmon speakers installed in this system will reproduce a fully immersive sound.
See Also: Toshiba Laptop Review
Frequently Asked Questions
Is it safe to buy a used Lenovo laptop?
Simply, No. Remember that used computers (whether Lenovo or any other brand) have been sold for a reason. It could be that the computer is slow, infected with a virus or has a damaged part and you won't get to know about it until it's too late. Buying a used laptop is Russian roulette when it comes to computer security.
What is a 2-in-1 Laptop?
A 2-in-1 laptop is a device that gives you the experience of a tablet with the power, software compatibility and general specifications of a laptop. A 2-in-1 tablet has most of the features of a laptop such as a physical keyboard, a large screen and ample internal storage.
How can I speed up a Lenovo laptop?
It's good to remove the dust that is stored in the fans from time to time, you can do this with a brush or a can of compressed air. You can also check the RAM memory, the hard disk, uninstall programs you don't use, update the antivirus software and as a last resort, reinstall Windows. They are one of the ways to optimize not only Lenovo but any laptop.
Intel i5 or i7? What are the differences?
The Intel processor family (which includes the sixth generation Intel Core processors: the Skylake processor series) gives you a wide range of capacities at different prices. In fact, the Skylake Core microarchitecture has about 48 different processors. Among Intel's most powerful processors are the i5 and i7 series.
If you know the differences between these two main series, you will better understand the strengths and weaknesses of each one so you can decide which processor is the best suited for you.
Keep visiting Laptops Guide to know all the details about the laptop you're planning to buy.
References
https://www.coolblue.nl/en/advice/lenovo-laptop-setup.html
https://whatsabyte.com/lenovo-best-laptop/
https://www.lenovo.com/us/en/faqs/laptop-faqs/laptops-under-300/