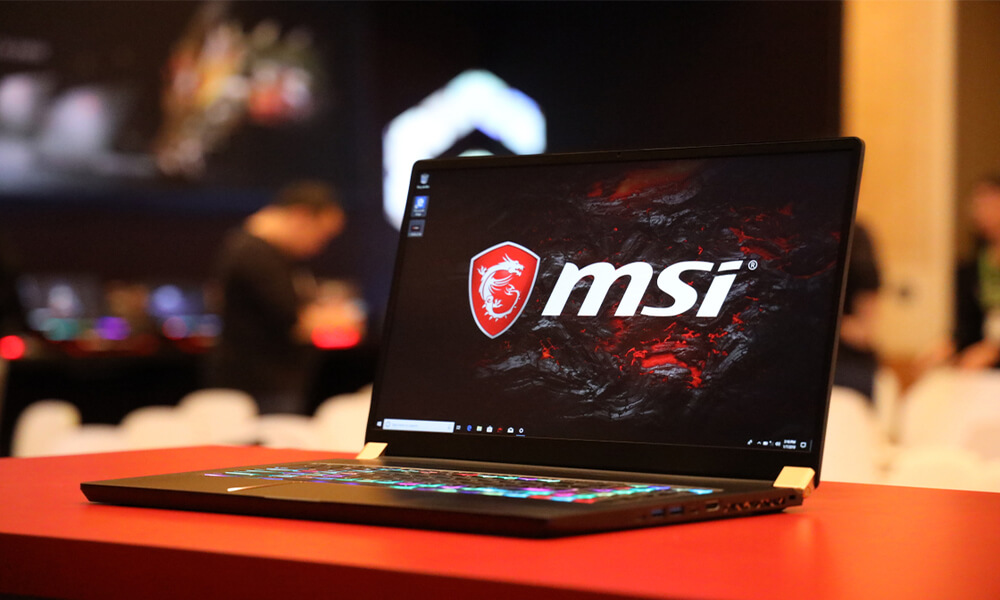 You want an MSI laptop but you don't know which one to buy, or don't know which one fits you? In this comparison we will help you choose the best MSI laptop for you, and for that, we will show you the best laptops of this incredible brand, comparing them and specifying each one of them as the good, the bad and tell which one adapts more to you and your needs.
MSI Laptops Comparison
History of MSI
Micro-Star International, Ltd. known around the world as MSI. In 1986, a small group of employees founded the company, to manufacture the first computers. But then they started manufacturing motherboards and graphics cards.
MSI is a Taiwanese multinational information technology corporation. The company designs, develops and provides computer equipment, related products and services, including everything from laptops, motherboards, graphics cards, all-in-one PCs, servers, industrial computers, PC peripherals and automotive infotainment products.
In 2001, they founded a branch office in Shenzhen, China, with the purpose of increasing their production and profits. Then, in 2003, they established another branch, in Kunshan, as a research and development center.
To this day, they still manufacture motherboards, notebooks, servers and video cards, but with chipsets of the also known brand AMD Radeon, formerly called ATI, and NVIDIA in this type of cards.
The MSI company has been a sponsor of a number of eSports teams and is also the host of the international gaming event MSI Masters Gaming Arena (formerly known as MSI Beat IT). This type of action has positioned it as a clear reference in the gaming world, as their computers have been designed looking for the perfect combinations for the most demanding players.
See Also: Read Our Review of ACER Laptop
Meet MSI
The MSI laptops are mostly aimed at the gaming area, so their laptops have elite features to give an exceptional quality of play.
This brand has been creating and developing cutting-edge technology for a long time, so they know what they are dealing with, and they have proven it over the years. All the components that their laptops have are carefully designed to offer you the best gaming experience possible.
In addition, they have great technical support that is available 24 hours a day, you can call them, write to them or you can enter their forums. They also have provided the option of downloading drivers and software for the users to keep their computers updated or for any inconvenience that may occur.
The warranty on MSI laptops is limited to one year, which is a standard warranty. But they do offer three-year warranty plans on any configurable components installed, including RAM and storage. MSI offers additional benefits for owners who register their purchases on the brand's website.
See Also: Read Our Review of ASUS Laptop
Tips for Choosing an MSI Laptop
Before buying a laptop, whatever brand it is, there are several aspects to consider. I recommend that you take a look at these points that we will detail below to help you choose the best MSI laptop for your needs.
Processor
The function of the processor is to decode instructions and process program data. It also coordinates and controls all system operations. The best manufacturers of computer processors are Intel and AMD.
Look for processors from these manufacturers that generate speeds greater than 1.5GHz and have 4 or more cores as they will help you in generating better performance and a more computing speed.
RAM memory
It is the memory that allows us to run several programs at the same time. This is where some of the programs we run are going to be made and remain active, from the operating system itself to the applications we use.
The MSI, being a brand focused on the gamer public, incorporates in the RAM memory of the laptops i.e. either 8GB or 16GB. But if you want optimal performance when playing, 16GB is the best choice otherwise an 8 Gigabyte laptop is fine.
Screen
MSI has a wide variety of laptops that incorporate different screen sizes, if you take a look at 14 and 15-inch screens, these can have UHD and even 4k image quality, while the 16 and 17-inch screens come with 720 or 1080 pixel.
Storage
This is very important since we need to store data in our laptop, if you are not a very demanding user of storage, a 256GB memory is enough. But if you have to handle a lot of data, try to look for a 500BG or 1TB memory.
Keep in mind that games today require a lot of storage space after installation, it is rare to see a good game today whose size after being installed is below 3-5GB. Remember that this option increases the price of the laptop.
Graphics Card
This will allow us to have a better quality of image and video. MSI incorporates in its laptops the best graphics cards from the best manufacturers, which are NVIDIA and AMD.
If you run programs or games that need a good quality of video and image, you should be looking for graphics cards from either of these two manufacturers and have a minimum of 2 GB.
See Also: Read Our Review of Lenovo Laptop
Price Range of MSI Laptops
When we talk about how much MSI laptops cost, the price range is high and they do not have low or medium range categories.
All their laptops are at a PREMIUM or HIGH RANGE level and are mostly aimed at the Gaming area. Therefore, their specifications have to be high and with resistant and durable components of first quality that support the great demand of the current games.
Most of these laptops are in the price range of $1500 to $3000, so if you are thinking of buying a MSI laptop, you have to be sure that you are going to spend a little more money than in a mid-range brand. But that's the price of getting an excellent gaming machine.
List of the Best MSI Laptops
Choosing the best laptop model of the brand MSI, is not that difficult and with our recommendation you can make a great choice that would fit all your needs. Here we present you the list of the best performance and quality/price models presented by this brand:
MSI GF75 Thin.
MSI GS65 Stealth.
MSI GL63.
MSI PS42 Modern.
MSI GP63 Leopard.
See Also: Read Our Review of Razer Laptop
1) MSI GF75 Thin
The MSI GF series is the slightly lighter and more advanced line of gaming laptops than the company's GV. The GF75 directly succeeds the next generation GF72 with a new narrow bezel chassis design for a noticeably smaller, lighter and more compact gaming experience.
The new GF75 Thin comes equipped with a ninth generation Intel Core i7 processor and an NVIDIA GeForce GTX 1650 graphics card. Although the core specifications have been improved from the old model, the GF72.
The GF75 Thin has an excellent 17.3-inch screen with unparalleled contrast and brightness. Allowing you to view images and videos with a wide viewing range.
The Intel Core i7 processor can also be found in high-end gaming laptops, but this laptop incorporates the latest generation of processors. It also incorporates the best graphics card on the market, the GeForce GTX 1650. This graphics card replaces the GTX 1050, GTX 1050 Ti and GTX 1050 Ti Max-Q with far superior performance levels.
The storage memory of this notebook is 512 GB SSD in which we can record sequential read and write speeds of approximately 1600 MB/s, respectively, from the Crucial SSD.
The CPU and GPU each have a fan and a pair of copper tubes that make the cooling not to overlap between the processors. This means that one processor will not be thermally affected by the other, as they do not share the same heat pipes. You will never notice the temperature when you are in an intensive gaming session.
The system's fans are almost never inactive. The noise produced by the fan is minimal, but it is possible to hear it when everything around you is quiet. When you play, the fan noise is kept relatively constant to make it quieter than many other gaming laptops.
The power consumption of this laptop is surprisingly low for the features it contains. Depending on the brightness setting and power profile, your consumption will be well below other competing brand models.
It is obvious that during games, power consumption will rise as the computer requires more power to run all the processes of such games. But this GF75 gives you 18% power savings to get roughly the same GPU performance when running DX12 (DirectX 12) titles.
So, the battery life will last a little longer than most other notebooks, you will have over 4.5 hours of continuous use. Maybe the battery capacity is relatively small for a 17.3-inch laptop, but you can easily remove the battery and keep it connected with the charging cable to keep the fun going.
See Also: Read Our Review of Huawei Laptop
Did you know?

MSI has departments that develop professional monitors with video technologies above 4K.
2) MSI GS65 Stealth
This super-portable 15.6-inch laptop comes with a thin bezel and a unique and totally premium design, the spectacular black and gold color will leave you completely speechless. It is a powerful, slim laptop that's ideal for when you go to LAN parties without having to carry the whole tower, screen and peripherals with you.
With this MSI you will be able to Maximize your vision of the game thanks to its ultra-thin bezel of 4.9 mm and a relation screen-body of 82%. The screen of this GS65 offers you the most vibrant images for maximum gaming pleasure. The top-mounted camera gives you a better angle for your game transmissions.
The performance of this laptop is amazing, it integrates an eighth generation Intel Core i7 processor with 6 cores, so you can experience improved gameplay with up to 40% faster response thanks to the additional cores of this laptop beast. The more the merrier!
The new battery design allows up to eight hours of use, giving you uninterrupted productivity and entertainment.
Get the best possible performance from your laptop with the 16GB DDR4-2400 RAM support, achieving over 32GB/s in read speed and 36GB/s in write. Giving a performance of more than 40%, speed compared to previous generations (DDR3-1600). DDR4-2400 is the new standard for laptops to take your gaming experience to the next level.
MSI's exclusive "SHIFT" technology takes the system to the extreme and minimizes noise and temperature. It will allow you to switch between different profiles, either to push the system to the extreme or to seek a longer battery life. You can activate it very easily by pressing the shortcut key combination FN + F7.
That is how the temperature does not become a problem during long gaming sessions, the computer fan features the Cooler Boost Trinity, a triple blade design that effectively increases air pressure and airflow at the same RPM. Both CPU and GPU have heating pipes, two for each component, which ensures better gaming performance, even under extreme loads.
MSI is the first in the world to incorporate the Thunderbolt 3 interface in its gaming notebooks. The latest and fastest Thunderbolt 3 interface provides data transfer rates of up to 40 Gbps and Full HD display with daisy chain capabilities. Its ultra high-speed USB 3.1 interface supports up to 5V and 3A power output for charging.
With innovative Cooler Boost cooling technology and special MSI gaming features for gamers, the latest 6GB GeForce RTX 2060 graphic card from NVIDIA will be able to provide full gaming performance.
GeForce RTX GPUs give you up to 3 times the performance of previous generation GPUs. They are built with ultra-fast FinFET, the latest high-bandwidth memory technologies, and support DirectX 12 features to give you the fastest, smoothest, and most fluid experiences.
With a perfect combination of the specifications of this MSI laptop and the NVIDIA graphics card, this laptop is ideal for a great virtual reality experience. Certified by both NVIDIA and VIVE, this laptop is supper ready for Virtual Reality (VR) gaming. Providing an exceptionally smooth and powerful mobile platform. Perfect for you to immerse yourself in this incredible artificial world and explore new forms of gaming.
See Also: Read Our Review of Surface Laptop
3) MSI GL63
The beautiful design gives this laptop a clean and elegant finish, while retaining the red lining that represents the performance of the game. With this MSI you will be able to have hours of game without losing your style.
The GL63 features Cooler Boost 5 technology, which stands out for its dual thermal module, adopting two Whirlwind Blade fans with 7 heat pipes and 4 air flows well equipped in the revolutionary cooling design.
Thanks to this technology, it helps efficiently expel the heat generated by the laptop in the system. Specially designed to generate higher performance and lower temperature.
This equipment offers first class audio features, creating realistic sounds and surround effects. Dynaudio speakers increase the power amplitude by 50%, which means a volume increase of more than 10dBA. There is no need to buy additional speakers, cables or speaker stands to appreciate the sound.
The sound of the GL63 is spectacular, since it integrates a tool called Nahimic third generation. The Nahimic 3 not only improves even more the 3D surround sound of the game, but also offers even more limited control over your music, movies and conference calls. Get ready to be surprised and experience a game immersion like never before.
This laptop is almost perfect thanks to its NVIDIA GeForce GTX 1660 Ti graphics card. With a performance that rivals the GeForce GTX 1070, is an ultra-fast supercharger for the most popular games today, and even faster with modern titles and their huge requirements. Plus, you'll appreciate all those details on its 15.6-inch screen.
Its True Color technology is very useful for all types of users, from gamers to image or design professionals. True Color adjusts the temperature of the panels until reaching 6500K, having a balance between cold and warm tones and getting a more pure whites. Ensuring exceptional color fidelity of close to 100% sRGB.
The performance of this laptop is what you expect from a gaming laptop, it has an eighth generation Intel Core i7 processor with no more and no less than six cores! Besides, it can't be complete without a 16 GB DDR4 RAM and a hybrid storage (HDD and SDD), giving you 1TB plus 256 GB. Forget about gaming latency and enjoy smooth performance
Every detail is specially calculated and designed for professional players. The keyboard that comes in this MSI, has backlighting, with an ergonomic design with keys well together for better tactile and sensitive response, optimal W A S D zone and support anti-phantom effect for up to 45 keys. The mechanical level shielding solution makes this gaming laptop's keyboard the most solid.
Killer Gaming LAN technology allows prioritizing network traffic avoiding delay peaks for gaming. You can easily manage the bandwidth for each application with the Killer Control Center which is very easy to use. Stop losing games because of the delay.
See Also: Read Our Review of Dell Laptop
Expert Tip

The antivirus when we are playing, can become our enemy. The antivirus is an application that we are always going to have in operation, so it is taking away resources that can not use our game. Most of the current antivirus have a Game Mode, which minimizes its resource consumption, but we also have the option to disconnect it during the time that our game lasts.
4) MSI PS42 Modern
It is true that MSI's laptops are mostly aimed at the gaming area, but there is a series that is for professionals. For those who are graphic designers, architects or executives, the MSI PS series is ideal for you.
This MSI PS42 is the essence of the elite. Handmade in an ultra-light brushed aluminum chassis, this laptop is an elegant, slim and prestige-transmitting machine. And all this without neglecting performance and power. Thought to work anywhere, having a compact and light design that will allow you to take it comfortably anywhere.
It has aggressive hinges that do a great job preventing the lid from wobbling, and thus allowing the equipment to be opened up to 180 degrees to improve the possibilities of use in presentations and meetings.
Its screen has ultra-slim frames. The thin 5.7 mm bezel gives you a high screen-to-body ratio on a 14-inch chassis. Enjoy the magnificent view of the anti-glare FHD IPS-Level screen, with the help of the Intel UHD graphics 620 card that is integrated into the motherboard.
Inside this aluminum chassis is hidden an eighth-generation Intel Core i7 quad-core processor. This processor is accompanied by 16 GB of DDR4 RAM and 512 GB of solid state storage (SSD).
To keep the hardware of this powerful laptop cool, it also includes Cooler Boost 3 cooling technology feature that shares the previous models we have seen, thus keeping the computer cool even in intense use.
The MSI PS42 includes a 50Wh lithium-polymer battery that provides up to 10 hours of battery life. Whether it's for work or entertainment, the PS42 accompanies your lifestyle nonstop.
Safety is very important and we all want to keep our files safe. This laptop has a built-in fingerprint sensor designed for high privacy protection and business security. You can log in just by touching the sensor with your finger.
To pursue the best of the best, this equipment meets the MIL-STD 810G military standard for reliability and durability. It refers to a U.S. Military Standard. It examines and tests the capabilities of a piece of equipment to adapt to and withstand the conditions it may experience over its entire life.
See Also: Indepth Review about Apple Laptop
5) MSI GP63 Leopard
This striking matte black laptop with some red finishes shares many similarities with the MSI GL63. It should be noted that this model not only stands out for its excellent hardware specifications, but also for its attractive design. It is a robust laptop, adding the characteristic brushed finish that we have already seen in other models of this brand.
Like the GL63, it has the third generation Nahimic tool. This will help you further improve the 3D surround sound of games, music, movies and conference calls.
See Also: Indepth Review about HP Laptop
It also has Cooler Boost 5 technology, equipped with two Whirlwind Blade fans with 7 heat pipes and 4 air flows well positioned in the revolutionary cooling design. As we saw in the GL63, this helps efficiently expel the heat generated by the laptop in the system for greater performance and low temperature.
The performance of this laptop is identical to that of the GF63. It has an eighth-generation Intel Core i7 six-core processor, plus 16 GB DDR4 RAM and hybrid storage (HDD and SDD) of 1TB plus 256 GB.
But what stands out in this laptop is its unique graphics card, a 6GB NVIDIA GTX 1060, designed to have the ability to process games with high graphics standards on a 15.6-inch screen. You can see all your games with incredible realism.
When making the keyboard of this GP63 Leopard, MSI bet on the signature SteelSeries, an advantage that translates into an ergonomic writing experience, whether you're writing office texts or playing all your favorite games. This model also has RGB backlighting in 3 independent zones and a quick response touchpad.
It integrates MSI's "SHIFT" technology that allows you to switch between different profiles, either pushing the system to the extreme or looking for a longer battery life. You can activate it very easily by pressing the hotkey combination FN + F7, or through the Dragon Center.
The GP63 has a SuperSpeed Plus transfer mode, which supports data transfer of up to 10 Gbps, 20 times faster than the previous USB 2.0 standard. The USB Type-C port is smaller than the old Type-A port and the reversible design makes it more convenient than before. USB3.1 is backward compatible with USB3.0 and USB 2.0.
This laptop also offers you the eye-catching experience of playing virtual reality games. Its powerful graphics card gives you this wonderful opportunity in conjunction with the Nahimic VR tool. It is the first audio solution in the world to bring 7.1 sound to a normal stereo headset. We provide specific audio algorithms that are able to dramatically improve the 3D sound field through HDMI and USB output.
See Also: Indepth Review about Toshiba Laptop
Frequently Asked Questions (FAQs)
How can I improve the FPS in the game with my MSI?
Some basic tips, to get more FPS in games is to check the specifications and recommended settings on the official website of the game in question, update the drivers of the graphics card, configure the graphics card for games, optimize Windows for better performance and make sure you have all the updates.
Having both the power (charger) and the battery connected, set the game graphics to medium or low values, and adjust the resolution for proper display. Close any other program that is not necessary, during the game.
Does the computer have two fans, but if the speed of both is not equal?
It is normal for the laptop's fans to run at different speeds. If the speed stays below 600 rpm, there is no reason to worry.
What is the main function of SHIFT in MSI laptops?
You might find yourself in some scenarios where you take the hardware to its thermal limit, such as playing in high temperature environments without air conditioning. SHIFT, therefore, is a useful tool that helps you control power consumption and thus the amount of heat to be dissipated.
If you don't need all the power, for example when you are playing light games You will be able to ensure that the system works cooler and quieter.
How to adjust the keyboard brightness of MSI laptops?
With MSI laptops you should use the [Fn] + [Numeric keypad: + / -] key to adjust the brightness level of the keyboard backlighting LED.
Keep visiting our website Laptop Guide and if you have any questions? feel free to leave a comment down below.
References
https://honestproscons.com/msi-laptops-advantages-and-disadvantages/
https://www.denofgeek.com/games/msi-laptops-pc-gaming/