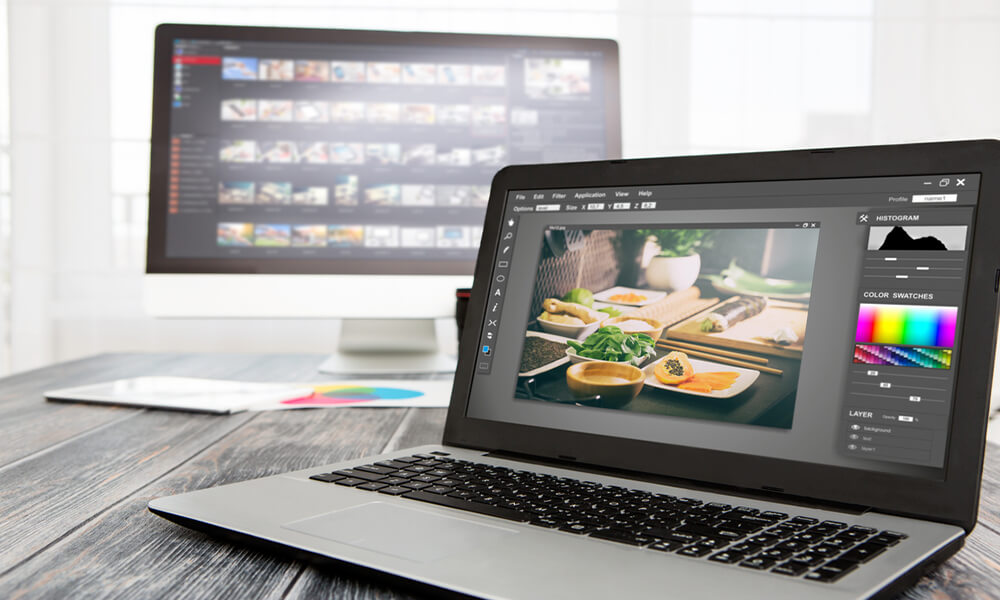 In this guide we will help you buy a laptop for photo editing. We consider the best deals on the market for professional photographers. But don't worry, if you are not, you can also use this guide to get the best cheap laptop for editing your family photos, events or just to level up your hobby as a photographer.
| Ranking | Name | Best Features | Price |
| --- | --- | --- | --- |
| 1) | Apple MacBook Pro | 16 GB RAM, TouchBar and TouchID, 8 cores, 9th generation processor, Radeon Pro 560X graphics card | Price On Amazon |
| 2) | MSI GP73 Leopard 8RE-039XES | 16 GB of RAM, Hybrid hard drive, Dedicated graphics card | Price On Amazon |
| 3) | Acer Aspire 5 | 8 GB of RAM, Lightweight, 8th generation processor | Price On Amazon |
| 4) | Lenovo Ideapad 330-15ICH | 16 GB RAM, NVIDIA graphics card, 15.6" screen size, Intel Core i7 processor | Price On Amazon |
| 5) | HP Notebook | 4-core AMD Ryzen 5 processor, 12 GB DDR4 RAM, 256 GB SSD, AMD Radeon Vega 8 graphics card | Price On Amazon |
Photography is "an art and technique of obtaining lasting images due to the action of light. It is the process of projecting images and capturing them, either by fixing them in a light-sensitive medium or by converting them into electronic signals.
Well defined the concept, we'll stick with the first one: it's an art. And like any other art, for it to transmit a true essence, it must be done with passion. That is why it is important that photography be practiced with determination, aesthetics and dedication.
See Also: Best Laptops for Industrial Design
The Laptop: A Key Tool for the Photographer
The photographer's main tool is his camera, obviously. Without it, the concept of art would not exist. But all art is hardly perfect without modifying details a little; it happens in film, music, painting, literature, to mention a few.
After the camera, comes the laptop: in it we can download the memory of our camera, we can observe in a better way the photos we have just taken, choose the ones we will decide will be the ones chosen and proceed to edit them in the best way possible to enhance what we want to convey with the image.
That's why we need a laptop that allows us to move around calmly while we carry out this process, which can be tedious if it takes longer than expected. The size of a photo taken by a professional camera can easily exceed tens of MB. Editing programs need a good amount of RAM and hard disk memory available to run without the laptop hanging up.
Therefore, the computer we are going to use to edit our photos, either for work or hobby, must meet certain specifications to ensure that we will not spend more time than convenient on our photos.
Here are the variables you should take into account when deciding whether to buy a laptop for photo editing. We also bring to you the best laptop for professional photographers as well as for beginners, with various budgets suitable for all pockets
See Also: Best Laptop for Live Streaming Videos
Laptops for Photo Editing Review
1) Apple MacBook Pro
If you think quality, power, style and simplicity: Apple. The quintessential brand for designers, photographers and programmers. Apple Macbook Pro laptop is over qualified for any work required. It has 16 GB of RAM which may be the least in terms of powerful specifications. Not much to say, this computer speaks for itself.
Other important features of this laptop are as follows:
Retina display. Apple innovations such as TouchBar and TouchID. 8 cores in a 9th generation processor. Dedicated Radeon Pro 560X graphics card with 4 GB. It has a 15″ screen. The price may be high, but it's worth it.
Let's talk about features of this laptop that could be improved.
It only comes with USB-C ports, so you need to buy separate adapters to enjoy more features.
See Also: Best Laptop for College Students
Pros & Cons
Following are the PROS & CONS of this product.
PROS
16 GB RAM
TouchBar and TouchID
8 core
9th generation processor
Radeon Pro 560X graphics card
15" screen
2) MSI GP73 Leopard 8RE-039XES
If we are looking for a good laptop for photo editing, this may be the option. MSI launches to the market this powerful laptop that has a good screen with excellent resolution, 16 GB of RAM, hybrid hard drive and a dedicated graphics card that will ensure that it will never let us down.
This laptop is so powerful that all its specifications are a plus point for it. It is a perfect choice for photo editing. It weighs a little more.
Let's talk about features of this laptop that could be improved.
The only point against it is that its audio output quality is not that good. But this laptop is for work and not to be used as a player.
See Also: Best 2 in 1 Convertible Laptop
Pros & Cons
Following are the PROS & CONS of this product.
PROS
16 GB of RAM
Hybrid hard drive
Dedicated graphics card
CONS
Audio output quality could've been better
3) Acer Aspire 5
This laptop is a bargain from Acer, because of everything it offers us. An Intel Core i7 processor, 8 GB of RAM and 1 TB HDD hard drive is not bad for the price we pay. It is a good budget option for all photographers on a budget.
Its weight is very light, it has a good value for money for all its specifications (especially its 8th generation processor), good size screen (15.6″) and a battery that ensures up to 5 hours of autonomy working.
Let's talk about features of this laptop that should've been better.
It only has an HDD (hard drive), which slows down a bit. It heats up a bit. Its battery is internal, so we will not be able to change it. It can be a bit noisy due to its fan and when pressing the keys.
See Also: Best Laptop for Interior Designers
Pros & Cons
Following are the PROS & CONS of this product.
PROS
8 GB of RAM
Lightweight
8th generation processor
CONS
Heats up a bit
Battery is Internal
A bit noisy
4) Lenovo Ideapad 330-15ICH
Lenovo is no slouch when it comes to attracting photographers. This laptop can be very useful for photo editing because of its specifications such as its hybrid hard drive, the amount of RAM that is 16 GB, its dedicated NVIDIA graphics card with 15.6 "screen and Intel Core i7 processor.
Good stylish finish, excellent sound, excellent internal specs and has a very useful backlit keyboard.
Let's talk about features of this laptop that should've been better.
See Also: Best Laptop for Music Production
The screen does not calibrate easily, its viewing angle leaves something to be desired. It doesn't come with an operating system, but nothing we can't solve.
Pros & Cons
Following are the PROS & CONS of this product.
PROS
16 GB RAM
NVIDIA graphics card
15.6" screen size
Intel Core i7 processor
CONS
Screen does not calibrate easily
5) HP Notebook
HP isn't just any brand. And it proves it with this cheap, high-end laptop for photographers. A 4-core AMD Ryzen 5 processor clocked up to 3.6 GHz, 12 GB DDR4 RAM, 256 GB SSD hard drive and an integrated AMD Radeon Vega 8 graphics card. And to top it off, 15.6″ HD display.
See Also: Best Laptop for 3D Modeling & Rendering
The price is its biggest plus point because its specs are excellent for what you pay. The colors of the screen may not be very vivid. It does not have a dedicated graphics card.
Pros & Cons
Following are the PROS & CONS of this product.
PROS
4-core AMD Ryzen 5 processor
12 GB DDR4 RAM
256 GB SSD
AMD Radeon Vega 8 graphics card
CONS
Colors of the screen may not be very vivid
What Should be Considered when Buying a Laptop for Photo Editing?
Below, we will answer this great question that we all may have: What should I take into account when choosing the ideal laptop for photo editing? Whether you are a professional or a beginner, whether your career or hobby is photography, the specifications of laptop will be measured by the same yardstick.
We explain why you should take a good look at these features and give you tips on choosing a photo-editing laptop that fits you and your pocket.
See Also: Best Laptop for Programming
Do you know?

The most viewed photo in the world is the default background of Windows XP. The image is real, it was taken by photographer Charles O' Rear who put "Bliss" on the entire landscape taken in the hills of the Napa Valley in Northern California.
Operating System
Today, there are different options in the operating system that we can use. Each one has its advantages and disadvantages, but at the end of the day we must choose the one that best suits us and has compatibility with the photo editing programs we are used to using.
Most photo editing programs have versions for Windows and Mac, so if you want a portrait for photoshop you will not have much trouble choosing one.
Something we must take into account is the type of system that uses our laptop. Currently there are two types: 32 bits and 64 bits.
The big difference between these two is that a 32-bit system has a more limited use of RAM memory than a 64-bit one. Even if our computer has 16 GB of RAM, if you have a 32-bit system you can only use up to 4 GB.
See Also: Best Laptop for Business
The opposite is true with 64-bit systems, which are able to take full advantage of the laptop's RAM.
And as for software as such, two of the most used and commercial are Windows and MacOS. Apple has exclusivity with macOS while Windows can be executed in many brands of laptops.
The recommendation we give you is that if you choose Apple, look for a laptop that has macOS v10.12 Sierra or higher. And if you are a Windows user, your choice is Windows 10.
Expert Tip

A 64-bit system is ideal for a work laptop today.
RAM Memory
In case you didn't know, RAM (Random Access Memory) is in charge of retaining the momentary data that applications need to be executed. This type of memory is volatile: the information it saves is lost when our laptop is turned off.
See Also: Best Laptop for Architecture Students
Photo editing programs such as Photoshop or Lightroom work with a lot of RAM. This is because the non-permanent data they handle is very large and therefore they need more space to process it.
When choosing a laptop for photo editing it is important to look at the amount of RAM it has, if it is an optimal amount for our plans, and if not, if it is possible to expand it.
To work normally, 8 GB of RAM will be enough because it is recommended by the developers of photo editing programs. We recommend laptops between 8 GB and 16 GB of RAM, since they will be enough for our work.
Another aspect to consider about RAM is its standard. Currently there are mostly two standards on the market: DDR3 and DDR4. The first one has lower characteristics than the second one, because DDR4 is more current.
We recommend you to choose a memory from the DDR4 standard, because it is much better. It consumes less energy, has more memory range, is faster and transfers more data per second.
See Also: Best Ultrabook Laptop
Processor
The processor is the body of our laptop and is the main architect of the speed of execution of the programs. Over time, processors have been manufactured increasingly faster, reaching frequencies of up to 4.6 GHz. This is a very important point, together with the RAM memory, that we must take into account.
Another aspect of the processor that we should consider, apart from its frequency, is the amount of cores it has. The more it has, the more powerful it will be. The minimum recommendation is to acquire a processor with at least 2 cores. More than this amount, we will be buying a real machine in terms of processing.
And if you still don't know which is the best processor, we recommend Intel Core i5 or AMD processors compatible with 64-bit systems at least. For Apple users, an Intel multi-core processor is what you should consider.
See Also: Best SSD Laptop
Storage
When we talk about storage we refer to the non-volatile memory capacity that our laptop has. Do you remember volatile memory? Well, non-volatile memory is the opposite: it is the amount of data that we can store in our laptop permanently, even when it is turned off.
Since we are talking about laptops for photo editing, the data we will want to store will not be light. As we mentioned before, very good quality photos can easily weigh many MB. In one photo session you can take more than 200 photos at ease.
Another thing we must take into account is that the operating system consumes hard disk memory, besides there are two types of memory: HDD and SSD.
If we have to choose one type, it must be an SSD. Why? This type of storage works in a faster way compared to the HDD type. Although it can be a little more expensive.
See Also: Best Laptop without Operating System
And what we recommend is a hybrid storage. What is a hybrid storage? It's when your laptop has both types of memory, both HDD and SSD. This type is the best because with the SSD hard disk it has higher speed of execution and uses the HDD hard disk for most of the storage.
Graphics
If we take high quality photos, we will need our laptop to allow us to visualize them in the best way. That is why we must take into account the graphics that the computer supports.
The graphic card is the one that makes the colors look more alive, not dull or without intensity. We don't want the resolution of the photos we have just taken to be reduced when we review them.
Our laptop must have a GPU (Graphics Processing Unit) which is the graphics processing unit, which supports part only of the graphics. In other words, a unit dedicated to making our photos look their best, without losing any color of reality.
See Also: Best Budget Laptop
We recommend that you buy a laptop with an NVIDIA, AMD or Intel branded GPU with more than 1 GB of dedicated memory and support for DirectX 12 or OpenGL 3.3.
Screen
If we only had our laptop for photo editing and not an external screen, we should have a few inches to see the details in an acceptable quality. This is important because the bigger the screen, the better the resolution.
A laptop with 15.6″ is a good option. It is recommended that our laptop has this amount of inches or more.
The best thing would be to do our photo editing work in a place where the outside light does not interfere with the way we visualize our photos. And to be able to contemplate our work with an excellent RGB (Red, Green, Blue) perception, which is the way the pixels of our laptop show us the color, the screen must have good resolution.
Otherwise we may not appreciate the real colors of our photos
See Also: Best Small Laptop
And in terms of resolution, 1280 x 800 at 100% scale factor is a good choice. Our recommendation is that you buy a laptop with 1920 x 1080 which is considered FullHD definition.
Ports
The need for your laptop to have USB, HDMI or Ethernet ports is important. Why? Imagine that you want to exhibit your photos in a gallery or exhibition, in a meeting or simply with your friends. You will need an HDMI port for this.
Doing photo editing with the touchpad is tedious and does not give you the precision you want. That's why you need a USB 2.0 or 3.0 port. Either to connect a mouse to work more comfortably or to transfer photos from the camera to the laptop, or from the laptop to a removable drive.
What if we want to transfer the photos to a CD/DVD? This can happen a lot if you work in a photo agency, events etc. You must give photos to the customer and for this you must be able to add a DVD-ROM drive to do so.
And an Ethernet port is never too much in case the wireless connection begins to fail a little.
A laptop with several ports is what we need.
See Also: Best Linux Laptop
Best Professional Photo Editing Laptop
If you have doubts about which is the best laptop in the comparison, here I make it clear:
Apple MacBook Pro.
As its description says, this laptop comes with more power, more performance, more professional. Apple is known worldwide for its quality, fast and stylish products unique to them. For the professional photographer, a MacBook will always be the best choice for all types of editing.
Why is it the best choice? Don't just get carried away by the brand, and I'll tell you why: it has a 15″ retinal screen with True Tone technology, 32 GB of DDR4 RAM that leaves other laptops behind, a ninth-generation Intel Core i9 processor with 8 cores!
It reaches a frequency, superior to any other, of 5 GHz Turbo Boost. It has a dedicated Radeon Pro GPU along with 4 GB of GDDR5 memory that gives us a huge performance. As for storage, only 4 GB of SSD memory, so you don't even think about expanding it.
In terms of ports, this laptop includes 4 Thunderbolt 3 ports. This port has a data transmission rate of up to 40 GB / s and can be used for both data input, video output or with an adapter set for mouse or DVD-ROM drive.
And two Apple innovations like the TouchBar and the TouchID. These two tools are very useful because the TouchBar can be adjusted for various photo editing functions while the TouchID offers security and speed when starting the laptop.
See Also: Best 4k Laptop
Still have doubts? This laptop is ideal for the professional photographer who wants to invest well in his work, because it is not a cheap product. It is an expensive computer but as it is worth it.
Best Cheap Laptop for Photo Editing
For tight pockets we also have a very good option. Whether you're a beginner or a professional photographer, the HP 15-db0045ns laptop is up to the task at hand, for an affordable price!
Just by looking at the specs of this laptop and then its price, you'll want it to be yours immediately. And with the HP quality seal, that doesn't disappoint.
What does it offer? It comes with an excellent 15.6″ screen with HD resolution (1366 x 768), an AMD Ryzen processor with a frequency of up to 3.6 GHz with 4 cores.
Its RAM is the perfect midpoint: 12 GB DDR4 and a 256 GB SSD hard disk. It also has an integrated graphics card AMD Radeon Vega 8, good level. It includes Windows 10 Home 64-bit.
See Also: Best Lightweight Laptop
It is a cheap laptop perfect for photo editing. If your budget is tight, this laptop can make your money well spent.
Frequently Asked Questions (FAQs)
Do the laptops for photo editing in the comparison include the editing programs?
No. Editing programs such as Photoshop or Lightroom must be purchased with an internet connection on the laptops. Or by getting the installation drivers on CD. For this type of installation we need a DVD-ROM drive.
How much RAM does a laptop need to edit photos?
If we look at the minimum specifications that photo editing programs ask for, the recommended for them is 8 GB of RAM. We recommend 8 GB, 12 GB and up to 16 GB of RAM.
Can I improve the resolution of my photos with a photo editing program?
No, this is not possible. The editing programs are for retouching, enhancing, formatting the photos we take. The resolution or quality of the photo is given by the amount of Megapixels of our camera.
My camera is brand X, do I need a special type of laptop?
No matter the brand of your camera, it should include the necessary drivers to transfer the photos to your laptop. With these drivers, you can transfer your photos to any laptop you want.
Won't my laptop hang up using Photoshop or other editing programs?
It all depends on the amount of programs you have open simultaneously, the amount of RAM they consume and the data traffic. But if you ask if any of the laptops in the comparison will hang up, I assure you that they will not. Certified quality.
Keep visiting Laptops Guide to know all the details about the laptop you're planning to buy.
References
https://www.intel.com/content/www/us/en/tech-tips-and-tricks/creators/best-laptop-for-photo-editing.html
https://99designs.com/blog/tips/best-computer-graphic-design/
https://digitalphotographycourses.co.za/best-computer-photo-editing/