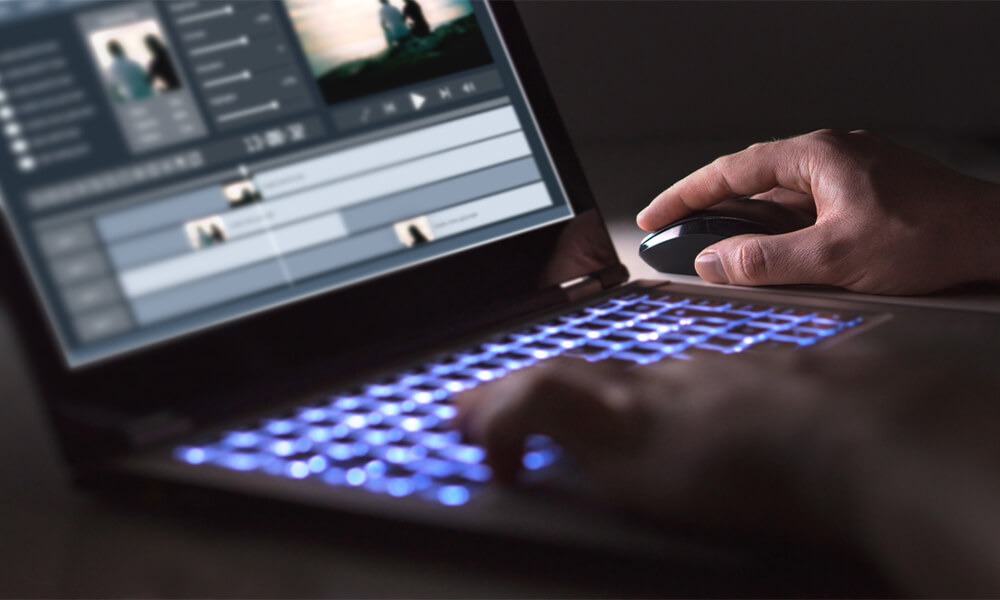 Every brand relies heavily on code snippets, vlogs, short films and other relevant creative tools to stay ahead of the marketing game. In addition, social influencers, youtubers, editing enthusiasts, art connoisseurs, and film students and creators also need the computing resources necessary to create, edit, and process videos that meet their professional requirements.
This is where buying a good laptop becomes even more important, but how do you find the right one for you?
Video editing is not a one-dimensional domain, it refers to a number of factors. While certain aspects like VFX, motion tracking and multicam editing are associated with specific custom video requirements, color grading, b-roll, video compression, cropping, Foleys, cuts, jump cuts, L-cuts and video rendering are common editing venues and generally sought after.
However, as a video editor, you need to buy laptops based on the complexity of the projects and your professional skills. You don't want to spend a large amount of money on a top-of-the-line processor (i.e. Intel Core i9) and workstation-level GPU (i.e. NVIDIA RTX 2080) if you are only interested in adding text overlays to certain clips.
Therefore, the nature of video editing, the expected quality of the final project, and budget are the main determinants when it comes to laptop purchases.
In terms of laptop choice, a gaming laptop is often sufficient to handle various video editing tasks and processes with ease. However, if you are a smart shopper, the nature of content, working conditions, external gear pairing options, OS-centric software compatibility and color grading standards would end up determining your selection.
For starters, a processor with a higher clock speed followed by a similarly paced ram module is preferred. Also, you would need a good dedicated GPU for anything more than low-level editing as the processor automatically offloads several processes to the GPU even during minimally demanding processes.
In case you are planning to focus specifically on the GPU, it is better to concentrate on fps and clock speed, to experience better outputs.
Besides that, high-speed ports are desired by professionals looking to connect external displays, platforms and data repositories to make the process more productive. For relevant filmography and editing, a good acoustic setup is also necessary, especially high-fidelity speakers.
Video editors also prefer laptops with vibrant, color-accurate displays, while when it comes to storage, they are more inclined toward SSDs. However, for more budget-minded buyers, dual storage drives are better bets.
Moreover, in addition to the aforementioned specifications you also need to be aware of the operating platform, as there are quite a few software solutions that are relevant only to the Windows 10 or macOS platform.
For example, if you are an Apple MacBook user, Final Cut Pro X should be your go-to software, unless you are willing to go for platform-independent solutions. However, if you are more of a Windows 10 user, Adobe Premiere Pro and Filmora 9 should be your go-to resources, as they have somewhat restricted macOS functionality.
Your video editing experience and requirements also determine the choice of software with vimeo create dedicated to social media snippets. Similarly, beginners can rely on Adobe Premiere Elements, Pinnacle Studio and Corel VideoStudio Ultimate to get the job done.
Finally, if you're looking for the highest performances, feature sets and even have a high-end laptop, DaVinci Resolve is a more reliable choice.
Laptops for Video Editing Comparison
Laptops for Video Editing Review
Frankly, the perfect laptop for video editing doesn't even exist. While you would always want to get your hands on the best machine with a super-fast processor, the latest GPU and almost every gigabyte of RAM in the world, you have to be mindful of accommodating and price-focused limitations. In addition, if you are a publisher on the go, portability will also play a major factor in the impact of your choices.
Taking all aspects into account, our reviewers individually tested 63 incredibly powerful laptops, across various price points, to ultimately arrive at the 12 best options for video editing.
While each of these gadgets can be instantly picked as a powerful gaming machine, we at Laptop Guide tested performance, longevity, mobility, responsiveness to certain software solutions, and other aspects before taking the call.
1) MSI GE66 Raider – Best Overall
The first gadget on our list, MSI GE66 Raider easily justifies the position, courtesy of a relevant and beefed-up spec sheet. While the processing conglomerate easily syncs up with all professional requirements, it's the long battery life that separates it from the pack.
While you can always consider the variant that houses the i9 processor, our reviewers would suggest in favor of the version with the Intel Core i7-10750H CPU. The existing chipset allows it to handle various video editing tasks such as panning, non-linear editing, B-balancing, compositing and color grading at enviable speeds, courtesy of the turbo clock speed limit that reaches up to 5 GHz. The hexa core and 12-threaded architecture can also be a handful if you are considering external workflows.
In case your preferences lie with high-resolution video editing and optimal use of effects, rendering and encoding capabilities, the GeForce RTX 2080 Super Max-Q GPU is expected to come in handy. It comes with a decent clock speed of up to 1230MHz when boosted followed by the availability of 3072 CUDA cores for better GPU-accelerated performances.
With the CPU relying entirely on system memory to access editable files and clips, 32GB of ultra-fast, dual-channel RAM is rather an elixir for video editors, mainly interested in 4K videos from a GoPro or other high-end camera. Most importantly, the featured RAM processes data at 2666MHz, which in turn supports faster edits and performances.
As for storage, the 1TB solid-state drive might barely be enough for professionals dealing with massive source files and completed projects. On the other hand, the featured SSD with NVMe support is more than adequate for mid-level professionals and is also responsible for booting Windows 10 OS at enviable speeds.
Most importantly, the featured interface also allows you to enjoy multi-camera and 3D video editing, via Premiere Pro and other relevant application programs.
Video editors can benefit greatly from the 15.6-inch display that is extremely accurate in color and projects wide-angle images. In addition, the 300 Hz refresh rate is not only a gaming asset, but also useful for professional video editors, invested in multi-camera capture and collaborative operation. MSI also launches the powerful Dynaudio speakers that offer a brilliant acoustic environment, facilitating fairlight audio support and better mixing through DaVinci Resolve.
Professionals can delve into the Steel series keyboard with per-key backlight support followed by the revolutionary Cooler Boost 5 technology. Despite missing out on Thunderbolt support, MSI GE66 Raider gives way to USB 3.2 Gen 2, Type-C, Mini DC, HDMI and other functional ports to connect devices and displays at will.
Not only that, the device in question is still quite portable at 5.25 pounds and even assumes an above-average battery backup of up to 7.5 hours. So, if you're in the market for an all-inclusive video editing eng workstation that doesn't compromise on gadget autonomy, the MSI GE66 Raider is the name to consider.
Pros & Cons
Following are the PROS & CONS of this product
PROS
10th gen processor with insane turbo clock speed limit
High-end GPU with Max-Q design
Brilliant thermal design
Dual-channel RAM
Excellent anti-glare display
VR ready
CONS
Lacks thunderbolt 3 support
2) CUK ROG ROG Strix G15 – Best Finalist
Our experts had a gala time testing the incredibly powerful Strix G15 upgraded in CUK with it hosting an all-inclusive spec sheet. Unlike the vanilla variant, the CUK version boasts a heaping storage capacity followed by a more than adequate chunk of system memory.
At the core, you get the ever-reliable Intel Core i7-9750H processor, which is more than capable of clock speeds up to 4.5 GHz. Needless to say, it's the higher clock speed that helps drive exceptional video editing performances, regardless of software selection. Therefore, you can achieve the highest possible levels of color correction, fairlight editing performances and collaborative operation with this hexa-core SoC at the helm.
In terms of graphics support, there is the RTX 2070 GPU to work with. Clubbed with 8 GB of VRAM, this graphics card can accelerate various GPU-accelerated processes. This GPU comes to the rescue when you also plan to make use of CAD-centric resources including AutoCAD, Revit, Cinema 4D and more; implementing color correction, compositing and other functionality.
The availability of 64 GB of RAM in a laptop is encouraging for filmmakers and high-end editors who are more inclined toward DaVinci Resolve and Lightroom for their comprehensive tools and resources.
Moreover, the RAM processes data at 2933MHz, thus promoting the processing capabilities of the CPU. Not only that, it's the 2TB SSD support that makes all the difference, in terms of storage and boot performances related to applications and the Windows 10 Home operating system.
As it is predominantly a gaming laptop, the 15.6-inch display is expected to have its own share of thrills, including an overall resolution of 1920 x 1080 pixels. The wide viewing angles are perfectly complemented by the 240 Hz refresh rate, which is an underrated video editing asset for professionals. Plus, working for longer hours is not a problem with the anti-glare support offered.
ASUS also houses a reliable 4-zone backlit keyboard followed by amplified speakers, a smart cooling design, and a beefed-up professional suite, which includes a functional trackpad and high-speed Wi-Fi 6 connectivity standard.
The port layout is satisfactory, with USB 3.2 Gen 2 Type-C being the essential inclusion followed by Type-A support and HDMI. However, ASUS disappoints in the battery department with the pre-existing module capable of producing only 4 hours at a time.
Overall, the 5.30lb CUK-enhanced ROG Strix G15 is good enough to buy on its own if you're looking for a premium spec and aren't worried about daunting battery life.
Pros & Cons
Following are the PROS & CONS of this product
PROS
Powerful CPU
High-end GPU with RTRT support
Substantial storage capacity
A huge chunk of RAM
Editor-friendly screen
CONS
Middling battery
Heavier than expected
3) Alienware M15 – Best Desktop Replacement
The new Alienware M15 is powerful, lightweight and just about everything a professional video editor and animator could want. However, the battery department dissuades us from considering this as a full-fledged professional workstation.
The processing cudgel is carried forward by the Intel Core i7-10750H CPU, which is more than adequate for various video editing processes such as color correction, video compression, trimming and more.
The 5 GHz turbo clock speed is expected to come in handy if you're stuck with foleys and sound-focused video production.
Compatible with the CPU is the SUPER GPU RTX 2070. The CUDA 2560 cores and 256-bit data bus associated with the graphics card ensure outstanding performance.
Most importantly, the clubbed graphics card with 8GB VRAM, is more than capable of pushing through various GPU-accelerated video editing tasks, including 3D editing, rendering, encoding and more.
The 16GB RAM is a necessary resource for various linear and non-linear editing processes. As for storage, Alienware stacks in 1 TB of M.2 SSD to house source files, completed edits, application programs and the Windows 10 Home operating system.
Next in line is the extremely reliable, 15.6-inch, color-accurate display. It wouldn't be wrong to state that the featured display is probably one of the best on the list, courtesy of the 100 percent color palette.
Therefore, the M15 is a great professional resource with functionality not limited to part-time editing. In addition, the gadget also offers a decent refresh rate of 300Hz that is further complemented by anti-glare support and minimized blue light emissions.
What works well for this laptop is the inclusion of a bright backlit keyboard with a decent 1.7mm key travel. In addition to the pioneering professional appeal, Alienware also makes available a decent acoustic setup and top-of-the-line thermal design, presided over by Cryo tech support and vapor chamber technology. From a structural perspective, the 4.65-pound device is one of the lightest on the list.
The port layout is cleverly segregated with Alienware M15 offering fast Thunderbolt 3, HDMI, Type-A and other slots to accommodate legacy peripherals. As a video editor, you may need online connectivity to access off-premises solutions in Adobe CC and this is where AC Wi-Fi support comes in as a useful resource.
In terms of battery life, you get 4 hours of battery backup, which qualifies the Alienware M15 as a desktop workstation. So, if battery life isn't an issue, this laptop is certainly worth investing in.
Pros & Cons
Following are the PROS & CONS of this product
PROS
Future-proof processor
Thunderbolt 3 support
Stellar display
Top-notch GPU
Exceptional keyboard
Light and mobile
CONS
Subpar battery support
Lacks wi-fi 6 standard
4) MSI GL65 Leopard – Best Value for Money
Despite the MSI GL65 Leopard being a budget-focused workstation and a slick gaming laptop, it makes the list for people looking to get the most out of the sub-1500 price tag.
That said, the gadget still features the future-proof Intel Core i7-10750H chipset, best known for the highest possible clock speeds of up to 5 GHz. This processor is more than capable of handling various video editing applications like Premiere Pro, Elements, Lightroom, DaVinci Resolve, and more.
On the other hand, if you end up requiring intensive graphics support for offloading mid-range tasks, the RTX 2070 with 8GB VRAM can be quite a handful.
As the GPU comes with RTRT and DLSS support, the machine becomes powerful enough to handle CGI, VFX and other forms of digital content creation apart from video editing. In case you want to enjoy gaming, the discrete graphics card has more than basic firepower to keep you busy.
The 16GB RAM can process multiple files, clips and data sets with precision by speeding up processor access. Since this is a dual-channel allocation, you can expect the existing part of the system to be faster than usual. However, the 512 GB SSD is somewhat disappointing for professional video editors considering the huge size of source files and video editing.
In case you're worried about the operating system, MSI offers Windows 10 Home edition, straight out of the box.
Video editors can specifically benefit from the 15-inch color-accurate display. With 72 percent NTSC and a 100 percent sRGB color gamut to rely on, the outstanding display represents even the smallest of video-centric details accurately.
MSI also accommodates a standard Steelseries backlit keyboard, HD webcam and powerful 3W speakers with 24-bit Hi-Resolution acoustic enhancement. The audio-centric support is useful if you practice editing Foleys and Fairlight.
In case you are concerned about laptop usage, there is a dedicated Dragon Center user interface to work with, which helps you optimize resources and patterns according to the task at hand. In addition, MSI integrates reliable cooling hardware to keep heat generation to a minimum. Despite the inclusion of Cooler Boost technology and 7 heat pipes, the gadget still weighs about 5 pounds and is not unnecessarily thick like some of the contemporaries.
The connectivity suite is pretty standard, with Type-C, USB 3.1 Gen 1 and Wi-Fi 6 as the expected inclusions.
Like most gaming laptops, battery life is a disappointment with MSI promising only 4 hours, on a single charge. All in all, the MSI GL65 Leopard is an exceptional gaming laptop that doubles as a mid-range video editing workstation, despite the lackluster battery module.
Pros & Cons
Following are the PROS & CONS of this product
PROS
10th gen SoC
Upgradable RAM
Giant speakers
Brilliant display
Wi-Fi 6 support
CONS
Restricted storage space for publishers
Middling battery
5) Apple MacBook Pro – Best with MacOS
So we finally took the MacBook Pro 16 for discussion, considering its synonymy with Final Cut Pro X, iMovie, DaVinci Resolve 16, and other relevant applications.
While Apple has a very selective stance towards video editing, the quality of the final product often surpasses a mid-range Windows-powered laptop, due to the software-hardware cohesion.
The MacBook Pro brings the Intel Core i7-9750H CPU, which is extremely popular and one of the most common processors in high-end laptops. Complementing the chipset is the turbo clock frequency of up to 4.5 GHz, which handles most tasks and video editing processes.
It also gains access to the AMD Radeon Pro 5300M GPU, which is more of a workstation-grade GPU and capable of powering the gadget to the highest levels of compositing and color grading.
The 4 GB VRAM, associated with the graphics card, is more of a texture-consuming resource that enables it to manage encoding and rendering with perfect precision. The 16 GB RAM provides additional processing assistance and is capable of handling disk cache, images, videos and temporary files at 2666 MHz. MacBook also features a 512GB SSD module that houses macOS Catalina, relevant video files, and helps retrieve them at speeds up to 3200Mbps.
The 16-inch display sees perfection, courtesy of backlit LED technology and an overall resolution of 3072 x 1920 pixels.
However, Retina Display technology offers the best viewing experience to video editors when hit with extended P3 color gamut, liquid crystal enhancement and brilliant levels of color accuracy.
Apple also brings a Magic Keyboard to optimize typing experiences. However, it's the six-speaker acoustic setup that steals the show by offering the best fairlight and Foley's editing premise.
So, if you're looking to enjoy digital content creation in addition to basic video editing, the MacBook Pro 16 also has the audio setup needed to complement your choices.
Plus, if you want additional productivity-enhancing specs, MacBook Pro 16 has you covered with Touch ID, app-centric touch bar, T2 security chipset for more secure startups, FaceTime-powered webcam, and studio-grade microphones. Apple also supports four Thunderbolt 3 ports, allowing you to connect eGPUs, additional 4K displays and other peripherals to set up productive editing workflows.
In terms of battery life, the existing battery module is capable of producing about 11 hours of standard usage. So, if you're on macOS and in search of a high-end laptop for various video editing indulgences, the 4.3-pound MacBook Pro 16 is certainly a productive buying decision to make.
Pros & Cons
Following are the PROS & CONS of this product
PROS
Hexa-core Processor with Turbo Clock 2.0
4 Thunderbolt 3 Ports
Brilliant display
Long-lasting battery module
Ultra-fast storage module
CONS
Lacks Wi-Fi 5 support
Predictable design
6) MSI Creator 15 – Best 4K Video Editing Laptop
As the name suggests, the MSI Creator 15 is a machine, precisely designed and crafted with content creators and editors in mind. While the UHD display steals the show with its insane brightness, the gadget has plenty of other advantages to offer professional video editors.
When it comes to processing performance, MSI Creator 15 swears by the Intel Core i7-10875H CPU. The octa-core processor assumes a turbo clock speed of up to 5.1 GHz, which easily presents itself as a reliable video editing resource. Not only that, this is one of the best mobile SoCs in the retail arena that processes Foleys much better than its contemporaries, while being highly accommodating towards b-rolls, L-cuts, jumps and other indulgences.
The RTX 2060 is a fairly decisive graphics-intensive addition to the spec sheet, best known for ray tracing support for better CGI and VFX performances. Furthermore, the powerful graphics card is capable of clocking at 1.2 GHz and allows it to render videos much more efficiently compared to contemporary 16 or 10 series gtx.
In terms of RAM allocation, you get a dual-socket module with each unit housing 16 GB of system memory. The 32GB RAM is perfectly complemented by a 1TB solid state drive that is fast, extensive and capable of booting the Windows 10 Pro operating system faster than the hard drive. The MSI Creator 15 is best known for the mesmerizing 4K visual experience, which is an asset for professional video editors.
While the overall resolution of 3840 x 2160 pixels adds to the brightness levels, the thinner bezels further add to the credibility of the existing visual object. To combat the addictive spread, MSI also launches anti-reflective properties that easily minimize the strain a 15.6-inch 4K display can have on the eyes. Not only that, you also get access to the True Pixel touchscreen, which is color accurate, accessible and incredibly responsive.
Aside from that, you also get access to a brilliant set of Nahimic speakers, further bolstered by Hi-Res audio enhancement, which in turn improves your chances of driving excellent audio-centric editing performances.
MSI also offers a backlit keyboard and navigable trackpad followed by the elusive Cooler Boost Trinity technology. Despite the heat-sink hardware, the gadget weighs a mere 4.60 pounds, thus qualifying as a portable piece of hardware.
Editors can make good use of the featured Creators Center that allows you to manage system resources at will. In addition, there's an integrated fingerprint scanner to rely on followed by the face detection webcam, specifically curated as biometric security enhancements.
From a structural perspective, the 180-degree is an innovative addition, best paired with touchscreen and stylus support.
In terms of port layout, MSI Creator 15 gives you access to USB 3.2 Gen 2, Thunderbolt 3 and other resources precisely for connecting data drives, external storage devices and external displays, if and when needed.
The 10th Gen processor also gives way to Wi-Fi 6 support, which in turn allows you to establish faster Internet connections with seamless ease.
One of the highlights of the gadget is the 99.9Whr battery module that guarantees 10 hours autonomy, moderate usage. Overall, the MSI Creator 15 is one of the best gadgets in the market for video editing, provided you invest in brilliant visuals and the elusive flip-n-share functionality, which easily adds up to the portability quotient.
While there's no denying the brilliance of the MSI Creator 15, you can opt for the more cost-effective laptop or the MSI Prestige 15 for your mid-level video editing indulgences. While you get a U-series i7 processor to work with, the Windows 10 Pro operating system is preserved.
However, MSI pairs the underpowered CPU with a mid-range GTX 1650 Max-Q graphics card and 16GB of dual-socket RAM module.
The MSI Prestige 15 boasts a 4K display, but beats the Creator 15's battery backup by nearly 6 hours.
Pros & Cons
Following are the PROS & CONS of this product
PROS
Octa-core processor
Innovative cooling technology
RTX 2060 GPU
Long battery life
True Pixel, 4K display
CONS
Shallow keyboard
Doesn't work as a standard convertible
7) Razer 15 Blade – Best for Rendering
The Razer Blade 15 is a moderately powerful video editing laptop that excels when it comes to structural innovation, firepower processing and memory upgradeability.
Handling the processing requirements is the powerful and high-end Intel Core i7-10750H chipset, which is more than capable of managing CPU-intensive editing tasks with ease.
Therefore, video compression, color correction and other processes can be handled smoothly with this chipset at the helm, which also assumes a turbo clock limit of up to 5 GHz. GPU-accelerated processing, 3D editing and encoding are taken care of by the RTX 2060 GPU and 6 GB of integrated VRAM.
The existing processing configuration allows you to handle various professional 3D activities and high-end games, if and when needed. In case you need additional processing support, the 16 GB dual-channel RAM comes as a useful resource. The existing part of the system memory is enviably fast at 2933MHz, making it one of the fastest laptops to run DaVinci Resolve 16 and other relevant applications.
The 512GB SSD module may seem restricted in terms of space, but it allows you to upgrade the same via the four PCIe 3.0 slots on offer. However, there's no denying the extremely high Windows 10 OS and application loading speeds of the featured bootable drive. The existing 15.6-inch display is more of a video editing staple, courtesy of the 100 percent sRGB color gamut, 1080p resolution and slimmer bezels. The 144Hz refresh rate is also an underrated video editing asset.
While we're not a big fan of the backlit keyboard on the Razer Blade 15, it still features decent key travel and Razer Chroma functionality. Other relevant specs include a handy webcam, a smooth precision touchpad, an aluminum-clad chassis, and a sleek build that encapsulates an industrial-grade thermal design.
Amidst the barrage of Type-C, Type-A, HDMI and the elusive Thunderbolt 3 port, this laptop also boasts Wi-Fi 6 and Gig Ethernet connectivity advantages, precisely to help you access online resources with ease.
The slim and aesthetically pleasing design ensures that the weight is kept to a manageable, 4.7 pounds. However, the portability quotient is outweighed by the average but efficient battery module, capable of producing 6 hours of battery life, on a single charge.
Overall, the Razer Blade 15 easily qualifies as one of the go-to video editing laptops whenever you are looking for something more portable and affordable.
Pros & Cons
Following are the PROS & CONS of this product
PROS
Ultra-fast processor
Upgradable storage capacity
Fast ram module
Accurate color display
Flaunts the latest connectivity suite
8) Acer Predator Helios 300 – Best Value for Money
Acer Predator Helios 300 is one of our go-to laptops for almost all demanding computing requirements. While it's a pretty slick gaming laptop, our experts found it to be equally useful for high-end video and photo editing, regardless of local or off-premises application use.
For starters, it's the 10th gen processor that makes the difference. The Intel Core i7-10750H CPU boasts Hexa-core architecture and a turbo clock speed of 5 GHz. These features work in cohesion and ensure perfect excellence in multitasking and single-core processing united.
Therefore, with this chipset to work with, although with the NVIDIA GeForce RTX 2060, 3D editing, color correction, grading, compositing and other forms of DCC tasks are easier to execute.
The RTX 20-series GPU is also a brilliant gaming resource for playing Fortnite, PUBG, SIMS 4, Minecraft, and more titles with ease. The 6 GB VRAM is also useful for high-end rendering and texture-intensive processing.
The 16 GB dual-channel RAM is one of the best features to rely on, considering the speed of video processing. As for storage, the 512 GB SSD is one of the fastest on the market, considering Windows 10 boot speeds.
However, professional editors can always use the upgradeability in play, courtesy of the M.2 slots and HDD bay, to expand storage capacity, if and when needed. Acer Predator Helios 300 focuses a lot on display quality with the 15.6-inch screen boasting a 72 percent NTSC palette and a brightness level of 300 nits.
In addition to being color accurate and bright, the display is also efficient due to the 144Hz refresh rate, which is an underrated video editing and B-balancing asset.
The backlit keyboard is a necessary addition for content creators followed by the inclusion of stereo speakers with DTS X: Ultra support and Acer's True Harmony technology. Needless to say, the brilliant acoustic setup steals the show when fairlight audio inclusion and Foleys are concerned.
In addition, you also have access to an HD webcam, rugged chassis that weighs about 5.50 pounds, and advanced cooling technology with 3D AeroBlade enhancement.
Acer gives way to PredatorSense UI for sequential resource allocation followed by a decent range of connectivity specs, including Type-C, USB 3.2 Gen 1, HDMI, Wi-Fi 6, Gig Ethernet, and more.
Not only that, Killer DoubleShot Pro support helps you further prioritize system bandwidth to drive exceptional performances. Last but not least, the outstanding battery unit offers a constant 6-hour backup in moderate to minimal usage.
For the given price, not many gadgets can offer the same value for money as the Acer Predator Helios 300, especially when it comes to video editing.
Pros & Cons
Following are the PROS & CONS of this product
PROS
10th gen processor
Wi-Fi 6 support
Stellar display
High-end GPU
Dual-channel RAM
CONS
Restricted onboard storage
Lacks thunderbolt 3 support
9) Gigabyte AERO 15 – Best for Color Accuracy
First of all, the Gigabyte AERO 15 will never sell you short on features, especially those that are relevant to its cause. While it's an extremely appropriate video editing masterpiece, it mainly makes a cut due to the full range of productivity-enhancing specs.
The Intel Core i7-9750H processor kicks off the proceedings by offering 6 cores and a maximum turbo clock speed of up to 4.5 GHz to rely on. However, this 9th gen cpu is more than capable of handling every video editing process, regardless of the software in play.
While the AERO 15 misses out on an RTX-powered GPU, the GTX 1660 Ti is also more than capable, courtesy of 6 GB of VRAM, Turing architecture and a decent share of CUDA cores to accelerate GPU-intensive tasks. If you're a part-time gamer, the existing graphics card is expected to drive decent performance.
Most importantly, it's one of the few gadgets on the market to showcase NVIDIA Optimus technology, allowing you to take advantage of the integrated UHD 630 graphics, should the dedicated GPU not be required.
The AERO 15 incorporates a 16GB DDR4 SDRAM module to lend assistance to the CPU when it comes to multitasking and video processing.
When it comes to storing source files and edited videos, the 512GB SSD module with Intel 760p, ultra-fast technology is worth applauding. The Windows 10 operating platform deserves a special mention, with the slick Azure UI, making it easy to allocate resources without interruption.
In addition, you also have access to the Cortana voice assistant to better manage tasks.
The display of this masterpiece assumes conventionality, due to the standard 15.6-inch screen. However, instead of a basic FHD display, you get it from an X-Rite, Pantone-certified 4K panel that's based on AMOLED display technology.
Most importantly, it's the 100 percent DCI-P3 color gamut that addresses color accuracy while paired almost perfectly with slim bezels and a screen resolution of 3840 x 2160 pixels.
GigaByte takes productivity to a whole new level with several nifty enhancements, including programmable, backlit keyboard, Nahimic speakers with 3D audio enhancement that is useful for audio editing (Ableton Live, FL Studio, Pro Tools, etc.), stunning webcam with physical cover, and the sneaky Supra Cool 2 technology, with 11 vents and 5 stealthy heat pipes to rely on.
Therefore, it is possible to get 30 percent better cooling performances with this device, compared to some of the other laptops in the same category.
The AERO 15 comes equipped with several other bells and whistles, including a responsive fingerprint scanner, handcrafted aluminum-clad CNC chassis, precision touchpad and a decent set of ports.
These include Mini DP 1.4, Thunderbolt 3, HDMI 2.0, UHS-II card reader and more. Adding to the credibility of this feature-packed laptop is the Wi-Fi 6 standard and Bluetooth 5.0 Low Energy.
However, despite stacking in a 94Wh battery module, the 4.4-pound AERO 15 only lasts up to 5 hours with heavy use. Overall, if you're looking for various thrills along with the premise of video editing and performances, the GigaByte AERO 15 is the perfect choice to invest in.
Pros & Cons
Following are the PROS & CONS of this product
PROS
Reliable processor
Ingenious fingerprint scanner
Optimal thermal hardware
Stylish and portable
Accurate color display
Thunderbolt 3 port
CONS
Battery middling
Restricted onboard storage for video editors
10) Lenovo Legion 5 – Best powered by AMD
the Lenovo Legion 5 is one of the few AMD-powered laptops on the list, best characterized by the dual-combustion user interface, intriguing thermal design, and an incredibly fast RAM module.
In fact, the octa-core AMD Ryzen 7 4800H makes sure it doesn't miss out on comparable Intel chipsets. Instead, the Zen 2 cores exhibit a higher base clock speed of 2.9 GHz. When it comes to increased clock speeds, the SMT-capable CPU assumes 4.2 GHz, as an upper limit. This feature allows the Legion 5 to handle almost all video editing requirements, including color correction, jumping and more, with precision.
Graphics-accelerated tasks such as rendering, encoding and 3D content creation are ably handled by the NVIDIA GeForce GTX 1660 Ti graphics card. Clubbed with 6 GB of VRAM, the featured GPU is more than capable as a video editing and even gaming resource.
As for system memory, you get access to an ultra-fast portion of system memory, capable of processing files at 3200MHz.
The 16GB DDR4 RAM is ably assisted by a 512GB solid-state drive. The featured SSD is more than capable of storing and retrieving videos in no time while speeding up Windows 10 Home OS boots. In addition, the Legion 5 also houses a vibrant 15.6-inch, 1080p display with a 144 Hz screen refresh rate, slimmer bezels and 100% sRGB color gamut. Lenovo also lends additional help to creatives with Dolby Vision enhancement.
Other relatable specs include TrueStrike keyboard with a numpad keyboard and decent 1.5mm key travel, lightweight refracting laptop hinge, thermal efficient chassis with Coldfront 2.0 at the forefront, loud Harman Kardon speakers, HD webcam with an integrated privacy shutter (which is a must for online education) and studio microphones.
When it comes to weight, the Legion 5 weighs about 5.5 pounds. Despite the fragmentary buildup, it's still a good buy considering the decent selection of ports and connectivity-focused specs, including USB 3.1, Type-C, HDMI, Wi-Fi 6, and more.
As for battery life, the featured battery module is more than capable of lasting up to 10 hours, making the Legion 5 one of the best video editing laptops in terms of usability.
Pros & Cons
Following are the PROS & CONS of this product
PROS
Octa-core processor based on 7nm architecture
Reliable GPU
TrueStrike keyboard
Powerful speakers
Wi-Fi 6 support
CONS
Heavier than usual
Heats up a bit more than expected
11) HP Pavilion 15 – Best 4K on a budget
Despite being a budget-focused laptop, the HP Pavilion 15 comes with enough firepower to enjoy mid-level video editing, basic color grading, L-cutting, video compression and other relevant activities.
At the core, HP houses the Intel Core i5-9300H processor, capable of turbo clock speeds of up to 4.1 GHz. The quad-core processor relies heavily on HyperThreading technology, but doesn't compromise performance for applications like Adobe Premiere Elements, Corel VideoStudio Ultimate and more.
Not only that, this is probably the best notebook to buy if your preferences include PPT editing or adding text overlays to specific clips.
In case you are still concerned about video rendering and encoding, the mid-range, GTX 1650 can provide the necessary levels of graphics-intensive support. Coupled with 4GB of VRAM, this graphics card is more than capable of handling various GPU-accelerated video editing tasks, no problem.
Although this is a mid-range notebook, you still get access to a 12 GB RAM module, which seems more than enough for basic to moderately demanding video editing indulgences.
However, the existing chunk of system memory can be upgraded, if and when needed. Storage capacity on the HP 15 DROP is mostly limited to 512GB, but you can always make strategic use of the pre-existing 32GB Optane module, facilitating faster application access and Windows 10 OS boots.
As for the display, the 60 Hz, 15.6-inch panel is a reliable asset, with an overall display resolution of 1920 x 1080 pixels. HP flaunts power-efficient, wide-angle LED backlight technology, followed by anti-glare panels that minimize strain.
HP takes ingenuity to a whole new level with an integrated webcam, full-size backlit keyboard, powerful speakers and an innovative heat management system.
Regardless of the thick design, the HP Pavilion 15 is not the heaviest at 4.92 pounds. Moreover, the connectivity suite is quite diversified for an affordable laptop with Type-C standard, USB 3.1 Gen 1, Type-A, HDMI and Wi-Fi 5 being the main inclusions.
Despite being a gaming laptop, the battery unit is more than capable of lasting up to 8 hours and 30 minutes, on a single charge.
Overall, the HP Pavilion 15 is one of the best sub-1000 laptops on the market for video editing, best known for its RAM upgradeability.
Pros & Cons
Following are the PROS & CONS of this product
PROS
Reliable quad-core processor
Mid-range GPU
Long battery life
Decent share of system memory
32 GB of Optane storage memory
CONS
Lacks Wi-Fi 6 support
Not intended for power users
12) Lenovo IdeaPad L340 – Cheap but Good
Lenovo IdeaPad L340 is an all-season laptop best known for its professional relevance and creator-friendly spec sheet. While the processing conglomerate isn't powerful enough to run high-end DaVinci Resolve, Lightroom and Blender tasks, it's still a hugely capable laptop when mid-range video editing is taken into account.
Under the hood, Lenovo houses the Intel Core i5-9300H processor, with Turbo Boost 2.0 and HyperThreading technologies. The quad-core processor is good at handling text overlays, b-roll generation, video compression and selective use of tools like Camtasia, Filmora and Premiere Pro.
Graphics-accelerated processes such as rendering and encoding are ably managed by the GTX 1650 GPU working in conjunction with 4 GB of VRAM.
In terms of memory allocation, the 8 GB of RAM is more than enough for basic video editing and production requirements. However, professionals might find this configuration hugely disappointing. Next in line is the 512 GB storage space, best attributed to an NVMe-compatible storage module.
Needless to say, 512GB is the bare minimum for video editing enthusiasts and professionals, and Lenovo claims it's fast enough to load Windows 10 OS, in a jiffy.
Since it's a gaming laptop, the 15.6-inch display is expected to be bright, crisp and color-accurate. While the 1920 x 1080 cumulative resolution makes all the difference, it's the in-plane switching technology that takes care of color accuracy and visual brilliance. To top it off, Lenovo features patented Eye Care technology to minimize eye strain.
The IdeaPad L340 is one of the best laptops on the list in terms of resource allocation, as the user interface introduces Fast and Quiet modes to simplify laptop usage. In addition to that, you also get access to productivity-focused attributes, including a backlit keyboard, powerful speakers with Dolby audio support for an enhanced music listening experience, a 180-degree hinge, an integrated webcam with privacy shutter, and an optimal thermal design that relies on efficient heat dissipation.
Most importantly, this gadget is still quite light at 4.84 pounds and houses a decent enough battery unit that is capable of lasting up to 6.5 hours or a little more, on a single charge.
In case you're interested in the connectivity suite, the IdeaPad L340 comes equipped with the necessary Type-C, USB 3.0 and other legacy slots.
Overall, the Lenovo IdeaPad L340 is a gadget intended for mid-level video editing and is more of a semi-professional resource.
Pros & Cons
Following are the PROS & CONS of this product
PROS
Brilliant aesthetics
9th gen chipset
Fast storage module
Anti-glare display
Privacy shutter on webcam
CONS
Not enough ports
Middling battery life
Conclusion & Final Verdict
Every video editing gadget on our list can double as an empowering gaming laptop. However, the preferred selection takes into account several aspects, including the nature of the edits, the quality of the videos to be edited, the associated productivity features, and certainly the budget.
The CUK-upgraded ROG Strix G15 would be our first choice, considering future-proof hardware and a huge SSD storage capacity.
In case you're more into film and audio production, the MSI Creator 15 is one of the best machines on the list, considering the processor quality and on-screen portability.
If you're interested in thrills and spec sheet size, the Gigabyte AERO 15 is one of the wiser selections.
Last but not least, if you are a video editing enthusiast or social influencer, interested in presentations, text overlays, and social snippets, the budget-friendly, Lenovo IdeaPad L340 is the perfect choice to make.
If you haven't found the right device yet, feel free to leave a comment down below. Our team will try to answer your query as soon as possible.
Frequently Asked Questions (FAQs)
How Important Is RAM in Video Editing?
A sizable chunk of RAM is necessary to speed up video editing tasks. As the CPU draws on RAM to access files and videos to render effects, it is important to have at least 8 GB at your disposal. However, if you are investing in 4K edits and additional effects per video, 16 GB is the minimum.
Why Is It Advisable To Invest in a Laptop With a High-End CPU for Video Editing?
Most high-end video editing applications such as Final Cut Pro, Adobe Premiere and even Lightroom make use of the highest possible processor clock speed and even the number of cores and HyperThreading technology. This is why it is advisable to buy a laptop that does not make CPU-centric compromises.
Why Is a Discrete Graphics Card Necessary in a Video Editing Laptop?
You can only eliminate a dedicated graphics card if you are into low-level video editing tasks. Anything mid-range and demanding would require graphics-intensive firepower, especially if you are planning to enjoy compositing, rendering, 3D editing, DCC tasks and encoding. A graphics card allows your laptop to offload certain processing tasks from the CPU, thus speeding up edits.
Should You Opt for SSD-Equipped Laptops or Hard Drives Are Fine?
SSDs are fast when it comes to data, source files and edited video retrievals. A powerful SSD can achieve data read speeds of up to 3200Mbps or even higher, which becomes important for tackling 4K footage.
Laptops with SSDs are cheaper and it is easier to stack in a large amount of usable space on a budget. However, the best configuration is a dual storage module, with an SSD boot drive for the OS and important applications and an hdd module to store the more static files and completed edits.
What Is the Main Distinction Between a Portable Processor and a Desktop Processor, Specifically When It Comes to Video Editing?
In case you are building your own desktop or buying a stationary unit, you can opt for intel-powered or AMD Ryzen X-series HK-series processors, regardless of TDP levels and heat generation. However, when it comes to laptop shopping, you need to focus on thermal management and even be weight conscious, keeping in mind the portability.
Keep visiting our website to learn about the features and specifications of laptop you're planning to purchase.
References
https://www.intel.com/content/www/us/en/tech-tips-and-tricks/creators/best-laptop-for-video-editing.html
https://www.adobe.com/creativecloud/video/discover/best-laptop-video-editing.html