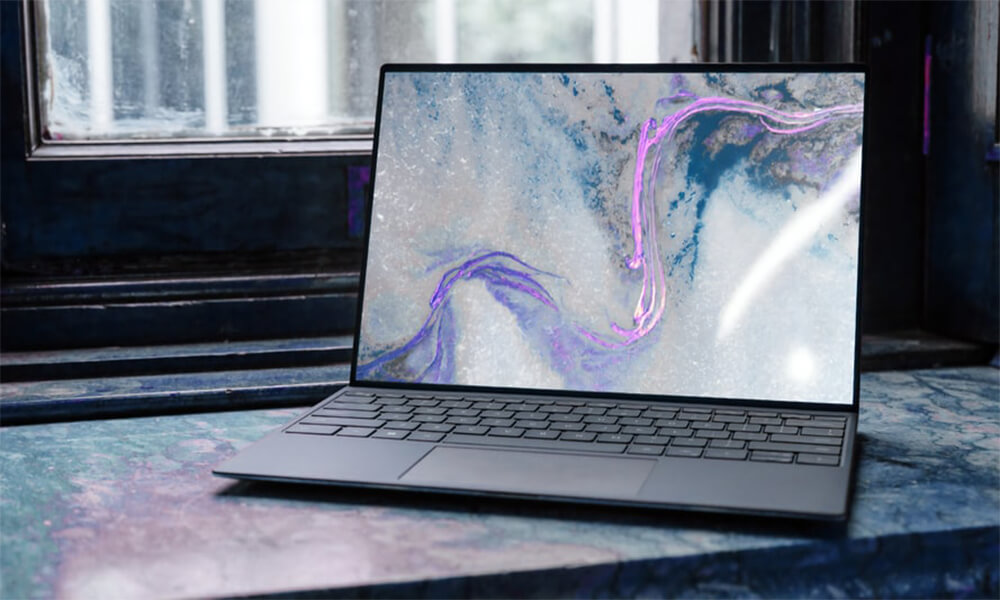 Can a laptop replace a desktop computer? Can a laptop be your only computer? The answer to this question, asked some years ago, is: Yes, totally. In fact, the question should be: can a laptop outperform a desktop?
In this sense, the answer is still yes. You'd be surprised what you can get from one of the powerful tools below, from one of our recommended 17-inch laptops.
17″ laptops Comparison
To help you choose, here is a comparison of the best 17-inch laptops you can buy as of today. Based on our research and experience, we have shortlisted some of the best 17-inch laptops classified by different budgets, features and uses.
1) ASUS ROG: The 17-Inch Laptop With the Best Quality-Price
Selecting a good value laptop of this size is not easy, as most are designed for gaming and therefore have higher performance and price. That's why, instead of just judging the price, for this category we've taken into account its relationship with the features and performance offered by each model.
In this sense, the ASUS ROG GAMING, with an approximate price of about 1700 dollars, offers a great balance between price and features. It has a fast Core i7 quad-core processor and a GeForce GTX 2070 graphics card that makes it capable of doing any task you put in front of it.
At just over 3.2 centimeters thick, it's a relatively thin laptop, but it's durable construction makes it a bit heavy.
This 17-inch laptop doesn't have a touch screen but it is not the norm for laptops of this size. Perhaps it is as fast as other models of its size and higher range, since it works through a 512GB SSD. In short, it is a very solid and fast general-purpose laptop.
See Also: 11 Inch Laptop Review
Honorable Mention
Acer Aspire Nitro Black Edition – with a price of around 1500 dollars, this new 1-inch thick Acer laptop is surprisingly affordable. It offers faster storage thanks to its combination of SSD and hard disk. In addition, its screen, although not touchable, is very pleasant. Unfortunately, its average battery life is shorter.
2) MSI GL75. The Best 17-Inch Gaming Laptop
Most users looking for a laptop of this size do so because they want to use it for gaming. This means that they want a laptop that has extreme performance. If, for you, the size of your laptop is not an issue, the MSI GL75 Leopard is an impressive laptop beast, both in size and performance.
It uses the latest NVIDIA GeForce GTX 2070 graphics card and a Core i7 quad-core processor, plus solid-state hard drives (SSD) will handle any game you throw at this incredible machine.
Although it is the best 17-inch to play, it is worth more than 1500 dollars, so we recommend this gaming laptop with a 15-inch screen.
The best thing about this laptop is that it gives maximum performance without getting extremely hot. If everything we've told you isn't fast enough for you, you can upgrade to a faster processor or an SSD quad drive in a RAID array.
However, all these features come with some drawbacks. The construction is not as nice as other laptops and the keyboard could be bigger. In addition, the price is a little higher than many users are willing to pay, approximately 1500 dollars.
See Also: 12 Inch Laptop Review
Honorable Mention
ASUS ROG – if the MSI is too expensive, the ASUS laptop could be a great alternative for those who need to be able to play fast and with good graphics. It has a GTX 2070 card that is fast enough to get maximum detail in resolution and a screen with great brightness and color. However, on the negative side, this model uses a traditional hard drive, which keeps it at a price of around 1800 dollars.
3) Lenovo Legion Y740. The Most Portable 17-Inch Laptop
More and more brands are starting to produce thinner and lighter 17-inch laptops to try to make them as portable as possible. MSI has done an excellent job with this model by manufacturing an extremely thin and light system without sacrificing performance.
It's only 1.9 centimeters thick and weighs less than 2.25 kg, but it includes a Core i7-9750HQ quad-core processor and the new GeForce RTX 2080 graphics card to deliver dizzying gaming performance.
To make it even faster, this model has a 512GB SSD along with a 1TB HDD that substantially improves boot and load times.
The only drawback is that it can get a little hot sometimes and the screen could offer better colors and brightness. The price, around 2000 dollars, is a little expensive but its performance is very solid.
See Also: 13 Inch Laptop Review
Honorable Mention
Acer Aspire V17 Nitro Black Edition – the new Acer gaming laptop is only 2.54 centimeters thick and weighs less than 3 kg. It may not be as fast as our recommended one, since it uses the GeForce GTX 2070.
4) Lenovo Ideapad 330. The 17-Inch Notebook With the Best Battery
With so much emphasis on performance and larger screens that require much more power, 17-inch laptops aren't exactly known for their long battery life. In this regard, Asus seems to have realized that some people want longer battery life times and so have designed the i7 low voltage processors that can provide over six hours of digital video playback, which is fifty percent more than most laptops of this size.
Of course, its performance is somewhat lower due to this low-power processor, making it a general-purpose laptop more than anything else. Its price is around 700 dollars or less.
See Also: 14 Inch Laptop Review
Honorable Mention
HP Envy 17 – although this HP model does not offer the longest battery time, its approximately five hours of operation without recharging, is still more than most models of its size. The big difference is that HP uses a more powerful Core i7 quad-core processor that improves its overall performance.
5) LG Gram: The 17-Inch Laptop With the Best Screen
When you think of high-end screens, LG is not the first brand that comes to mind, especially when it comes to laptops. That's why the LG Gram is so surprising.
This model includes a 17-inch IPS panel-based display panel that offers incredible levels of brightness and color and a fantastic viewing angle, making it a great choice for users looking for a high quality screen to do graphic work or play games.
This model also has other great features such as a quad-core processor Core i7 and a large SSD 512GB.
In terms of size, this is a fairly compact laptop of 1.7 centimeters thick and 1.3 kg. It's great disadvantage is its battery, which has a shorter duration. The price is around 1500 dollars.
See Also: 15 Inch Laptop Review
Honorable Mention
ASUS ROG G751GT – although it was designed with gaming in mind, the ASUS ROG G751 series also offers an impressive IPS display panel. It may not have the same color or brightness level as the Acer, but it is still very good and, after calibration, can be impressive. Graphics performance is also better thanks to the GTX 970M, but is a bit slower because it has a hard disk instead of an SSD. It costs about 1200 euros.
Thinking about Buying a 17-inch laptop?
When you see a 17-inch laptop two things can happen: that you love it or that you hate it. It's not a laptop for everyone.
There are two different groups of users who curse laptops of this size. The first are those who are looking for the same experience they had with their desktop computer on their laptop.
While no laptop has the ability to upgrade or expand from a large tower, a large number of 17-inch models allow you to expand RAM or storage or have room to put in more ports and other features than smaller laptops.
In addition, and this is the most important thing for daily use, their screens and keyboards are much larger and more comfortable.
A 17-inch laptop is one of the most powerful laptops available and can perfectly replace your PC. These laptops have features and functions that make them compete equally with a desktop computer. With increasing performance in smaller systems, laptops of this size have become specialized in video games.
As advantages of a 17-inch laptop we obviously have the screen size, even some models already have 4K resolution so it is a real pleasure for the eye.
Another advantage of these laptops is that, as a rule, usually carry powerful hardware so they are a good substitute for the classic desktop computer. If you want to play games, edit videos or need power anywhere in the world, you will have to choose one of this size.
As a main negative point we have is the size and weight. 17-inch laptops are usually big, thick and heavy laptops. The difference with a 13-inch one can be half the weight today so it is a very important point to take into account.
We Recommend a 17-Inch Laptop If:
You can't have a desktop computer at home
You need a lot of power and you travel often
Weight and size are not important to you
If your philosophy fits any of these points, then you will be happy with the purchase of a large laptop. If, on the other hand, you think it will be too heavy to carry around with you, perhaps you should look at these 15-inch laptops.
Keep visiting our website to learn about the features and specifications of laptop you're planning to purchase.
References
https://www.binarytides.com/best-17-inch-laptops-under-500/
https://best17inchlaptops.com/should-i-buy-a-17-inch-laptop/