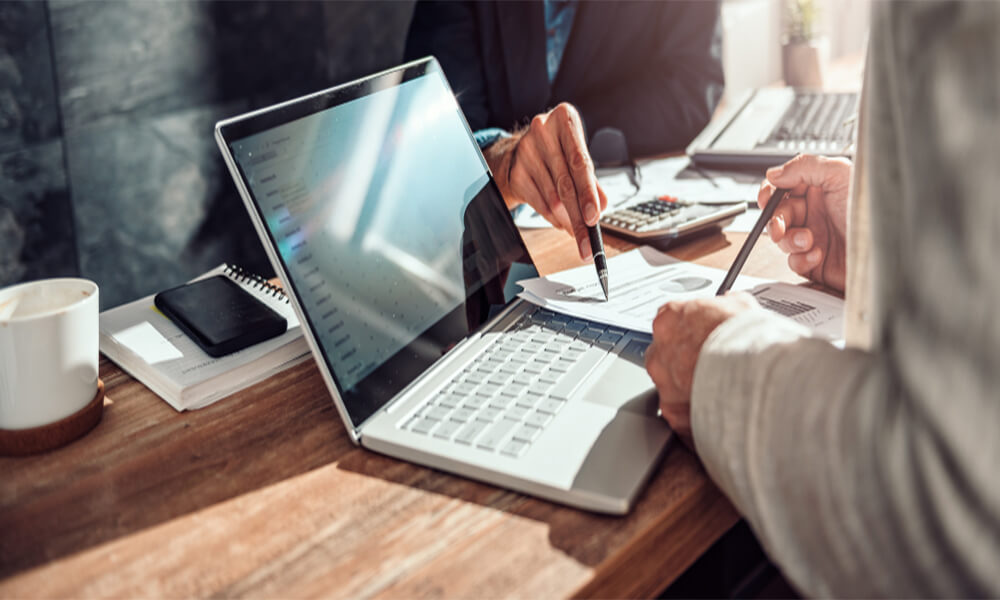 A standard-size laptop is one with a 15-inch screen, more specifically 15.6″. There are some larger ones for those who need to see the content in a larger area, but there are also much smaller ones whose main reason for being is their mobility.
Among these smaller laptops, there are some very limited ones with 10 inch screens, but if we want something more powerful it is worth buying a 14 inch laptop.
Many of the lightest laptops on the market, or rather, the lightest laptops worth having on the market have a screen that is between 13 and 14 inches. Their size allows us to take them anywhere, but also to include medium-advanced components with which we can do practically any task without any limitation. In this article we tell you everything you need to know about 14-inch laptops.
Best 14-Inch Laptops Comparison
14-Inch Laptops Review
1) HP 14-dk0017ns Notebook
The HP 14-dk0017ns is a 14-inch laptop for those looking for the highest performance in a lightweight laptop without having to spend a lot of money. It stands out for including powerful components, such as the AMD Ryzen 7 processor, 8GB of RAM and an SSD hard disk, 256GB in this case, so we can do almost anything with fluidity and speed.
The screen has a full HD resolution, something that, once you try it, you can not use anything less. Also related to the image, its dedicated graphics card AMD Radeon RX Vega 10 ensures that we can also move many games without major problems.
The operating system with which this laptop comes is Windows 10 Home and its price, surprising for its specifications, is less than 800 dollars, being able to get it in some specialized stores for less than 700 dollars.
See Also: 11 Inch Laptops
2) Lenovo Ideapad C340-14API RYZEN
All Lenovo Ideapads offer good value for money, although in many cases the quality drops a bit so that the price can drop a lot. In the case of the C340-14, what has dropped most is the price, maintaining internal components that ensure we can work with some fluidity and stability.
And, with all that we can get this Ideapad for just over 600 dollars, which is surprising because of the specifications included.
This Ideapad is not a normal laptop, but is a convertible. A convertible laptop is a laptop that can be used as a laptop or tablet, so in the previous price we would be paying only one of the options and we could say that the other comes as a gift.
As for its outstanding specifications, we have a 14-inch Full HD screen, which I do not tire of saying that is an option that when you use it you do not want anything less, an AMD Ryzen 5 and an SSD, 512GB in this case, with which we will open any app or file at good speed and 8GB of RAM that will allow us to work with relief.
Undoubtedly, an option to take into account if we want something good, nice and cheap.
See Also: 12 Inch Laptops
3) ASUS VivoBook Flip 14
If you're looking for a laptop with a 14-inch screen for personal and everyday use, chances are you're looking for something like the ASUS VivoBook Flip 14. Among its main attractions we have its price, just under 700 dollars at the official store but available for less if we look for it in online stores like Amazon.
This VivoBook is not the fastest of its kind, but neither does it pretend to be. In its specifications we have a Full HD screen, which I would say is one of its most striking points, an Intel i3 processor, 8GB of RAM and 256GB of SSD hard disk, which is enough to move the Windows 10 operating system that comes installed by default.
See Also: 13 Inch Laptops
4) ASUS ZenBook 14
The ASUS ZenBook 14 is a laptop that we can use for personal use as well as for certain jobs. Its 14-inch Full HD screen will allow us to see all the action with a good quality, so much so that once we test it (the FHD) you won't think about anything else.
Inside, the Windows 10 that comes installed by default will be moved by an Intel i5 processor, 8GB of RAM and an SSD hard disk, 512 in this case. It includes a dedicated Intel UHD graphics card, which will improve performance when performing some tasks or working with software that requires it.
We can get this ASUS ZenBook for a price of just over 700 dollars and is also available with Intel i7/AMD Ryzen 7 processor, up to 32GB of RAM, 512 SSD and better graphics cards.
See Also: 15 Inch Laptops Review
5) MEDION S4403
If you are interested in just one laptop with a reasonably sized screen and the lowest possible price, you should take a look at the MEDION S4403. Its main attraction is its price, and that is that we can get it for less than 500 dollars. It is such a low price that until recently it was more or less what laptops with 10.1 inch screens were worth, and this MEDION has it at 14 inches.
As for other specifications, the mentioned 14-inch screen is Full HD, which is becoming the minimum standard because it offers great quality and, once we try it, we don't want anything less. For everything else, includes discrete components pulling for loose, as an Intel Core i3 processor, 4GB of RAM and 128GB of SSD storage.
The operating system that comes installed by default is a Windows 10 that will move a little slow, but it is something that is compensated with the low price and quality screen.
See Also: 17 Inch Laptops Review
Things To Consider Before Buying a 14 Inch Laptop
Following are the important things to consider if you're planning to buy a 14 inch laptop:
Quality and Price
14-inch laptops are not designed for demanding users. Although there are some really powerful ones, they are designed to offer good mobility in a solvent device, which in other words means they have good quality-price ratio.
The reduction of the screen is reflected in a price reduction but, although they are usually less powerful than their big brothers, it is not reflected so much in their internal components.
14-inch laptops are big enough so that we can fit the best components in them, which includes good processors, a good amount of RAM, the best hard disks and medium size batteries, which gives them a very good autonomy.
Therefore, they are a good option if what we want is a good laptop for a slightly lower price, remembering that their screen will be a little smaller than the standard size (15.6″).
Performance
Although it will depend on the laptop chosen, 14-inch laptops offer good performance. As we have explained in the previous point, they are smaller, but not so small that manufacturers have to cut specifications a lot.
Therefore, there are options that have good processors, RAM and other components such as the graphics card. On the other hand, some have, besides a smaller screen, lower resolution, which makes it lighter and the laptop can focus on processes that really matter.
Lightness
14-inch laptops are lighter than 15.6-inch laptops, which is the standard size for laptops. Logic tells us that, all things being equal or with the same design and equivalent components, the smaller will weigh less.
In addition to the weight, the size will also make it easier to carry and easier to fit in any backpack or purse than a laptop that is about 2 inches larger diagonally.
Many laptops known as Ultrabooks have a screen that is between 13 and 14 inches. These laptops always weigh less than 1.5kg, but there are some that weigh less than 1kg. If we have to move it constantly, we are more interested in a 14-inch laptop than in a standard-sized one.
Slightly Larger Screen
Yes, the 14-inch laptops have a slightly larger screen because, in reality, they are usually laptops in which they have put 14 inches in the size in which they used to put 13 inches.
This has been possible thanks to the reduction of frames: now, practically any laptop on the market has a few frames of just over a centimeter on each side, maybe two on the top margin, but before the margins were larger.
Therefore, it has been possible to put a larger screen in the same space, weight and size in which before they put a screen an inch smaller.
Best Brands With 14-Inch Laptops
HP
HP is a company that began to gain popularity for its printers, but now it is a whole multinational company that is dedicated to information technology.
Years ago, it created laptops with extra buttons that many didn't like, but today it's one of the best options when looking to buy a new laptop. In their catalog we will find all kinds of laptops, among which we will have 14-inch quality laptops like the Pavilion series.
Lenovo
Lenovo is a general technology company based in Beijing, China. As a manufacturer in the Asian country, they offer almost everything at a good price, which does not always mean that their resources are limited.
In their catalog we will find laptops of all types, such as some very interesting 14-inch laptops like those in the Ideapad series, although in the same series we will also find laptops with larger and smaller screens.
ASUS
ASUS is a Taiwanese company that is dedicated to electronics and robotics, but if for something they have achieved some popularity is for being also specialists in hardware. Among their hardware we find laptops of all kinds, such as some 14-inch laptops that we can find in their VivoBook and ZenBook series. They manufacture quality laptops, so much so that some even rival the all-powerful Apple.
Keep visiting Laptops Guide to know all the details about the laptop you're planning to buy.
References
https://www.digitaltrends.com/computing/best-14-inch-laptops/