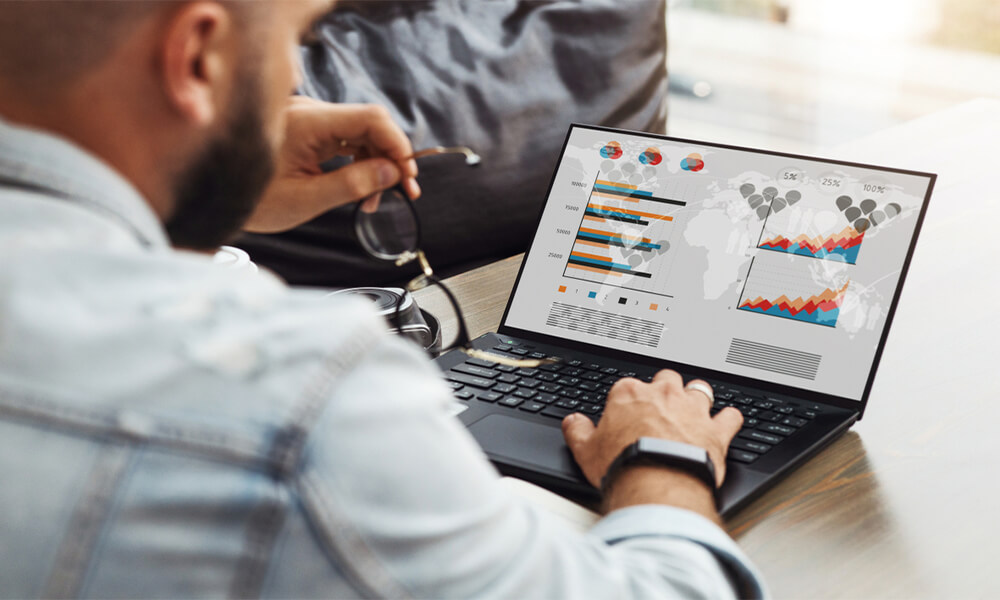 Knowing what specifications your next new laptop needs is very important if it is going to be your main tool when doing interior design projects. In this buying guide we give you a broad perspective on what features your laptop should have in order to use it in interior design in a professional way.
From the processor to the resolution of the screen and the tools that every interior designer should consider, this guide gathers the advice of experts, good practices and data of interest to you when considering investing your money in a new laptop.
The interior designer is in charge of making plans, elevations and details, as well as illustrating the different conceptual design elements. This includes the layouts and locations of the electrical and other communications, the ceiling, the lighting design, the furniture arrangement, and the materials to be used in the interior.
For this, the laptop is important for the interior designer because he must perform these actions in addition to many more related to the permits and contracts of the properties and more. Next, we will talk about the laptop focused on the use of an interior designer.
| Ranking | Name | Best Feature | Current Price |
| --- | --- | --- | --- |
| 1) | MSI PS42 Modern 8MO-023EN | Intel UHD Graphics 620 graphics card. | Price On Amazon |
| 2) | Acer Aspire | AMD Ryzen 7 2700U 4 core processor | Price On Amazon |
| 3) | ASUS ZenBook Pro | 16 GB of DDR4 RAM & 512 GB SSD | Price On Amazon |
| 4) | Lenovo Ideapad 330-15ICH | Intel Core i7-8750H & 4GB NVIDIA GTX1050 | Price On Amazon |
| 5) | HP 15-db1011ns | AMD Ryzen 5-3500U processor with a maximum clock frequency of 3.7 GHz | Price On Amazon |
What Is the Most Important Thing in a Laptop for Interior Design?
Nowadays, there are many web applications used by professional interior designers. This relieves some of the burden on the laptop in terms of performance, but does not limit it to having a certain minimum level to work efficiently.
Interior design programs or applications are characterized by having 3D modeling, which is not supported by any computer that only has 2 GB of RAM and an Intel HD graphics card. Nothing like that.
See Also: Industrial Design Laptops
When we refer to 3D modeling, rendering or three-dimensional design we are talking about specifications of a certain level that we must have.
Operating System
The programs and applications required by an interior designer are hardly executed at 100% of their capacity in laptops whose system is 32 bits. It is important that our laptop is 64-bit because the vast majority of software is oriented and developed for this type of system.
And as for the system software, Windows and Apple are the two great developers. Either of the two operating systems is of good quality, what we must take into account when choosing is the software we like or use the most.
Why? Because there are unique programs for MacOs and unique programs for Windows 10. I recommend you choose Windows, because it is more extensive in terms of brands that can run in addition to having an excellent range of software. Windows 10 is the ideal choice.
See Also: Photo Editing Laptops
RAM Memory
Random Access Memory (RAM) is the opposite of what its name implies. It is not random, on the contrary, it is the memory that stores the volatile data of our laptops. Call everything that is deleted when the power supply is cut volatile.
This memory is very important because it is in charge of retaining all the data that the programs and applications we will use will need. The bigger it is, the more data it will be able to retain and thus we will be able to work with more momentary information.
RAM memory is manufactured with a characteristic standard. DDR3, DDR4 and even DDR5 are the manufacturing standards available in the market today. The newer the standard (DDR5 is the newest standard), the better our RAM will be.
See Also: Live Streaming Laptops
I recommend that you choose at least 8 GB of RAM with the best standard you can get. If you can afford a laptop with 16 GB of RAM or more, you are welcome to do so. But at least 8 GB is the ideal amount for our purposes.
Processor
It is the most important part of the laptop, since it is the one that processes everything we do. It is the main data processing unit and year after year new technologies are developed that increase the performance of the laptops that come to market.
For interior design a good processor that is multicore, last generation and with a clock frequency of several hertz is very important. It is best to choose a laptop with the best generation processor you can get, with at least 2 cores and a frequency higher than 2 GHz.
Do you know that?

To prolong the life of the battery, it is recommended to connect the power only when required.
Storage
As we are interior designers, we will need a good amount of storage memory available to be able to save the contracts, plans and designs we make.
Interior design programs usually do not require more than a few free GB of storage memory. That's why having a good amount of storage is important so that we don't worry about anything related to it.
See Also: Laptop for College Students
Currently there are 2 types of hard disk storage: the HDD or Hard Drive Disk and the SSD or Solid-State Disk. The first type is the first one that was created and it is just the old type of storage. The second type, also called solid-state hard disk, is a new storage technology.
This technology is based on the concept of saving all information in packages, which allows faster access to information. This type of storage is more expensive, but it is much faster. I recommend that you opt for solid state storage because although it is more expensive, it offers us greater performance.
You can also opt for a hybrid storage that is HDD and SSD together. The best of both worlds for you to save all your important data.
Graphics Card
Also known as GPU for its syllables in English Graphics Processor Unity, is responsible for us to see a solid image without green boxes or loss of pixels. The graphic card is very important together with the resolution, because with it we will be able to obtain a clear view of the products that we use at the moment of designing.
See Also: 2 in 1 Convertible Laptops
An NVIDIA or AMD graphics card with a dedicated GRAM memory of at least 1 GB is ideal for interior design programs and applications. We recommend that you take a good look at this part before you spend your money.
It is important that our laptop has OpenGL 4.5 or higher technology. This is the one in charge of executing 3D animations, 3D design and everything related to the three dimensions.
Screen
A good amount of inches along with an optimal resolution is what we are looking for. The minimum size that we recommend is 14 inches, more than that is a safe gain. Besides having a minimum resolution of 1320 x 768 pixels.
The best option would be a 15.6-inch screen with a FullHD resolution of 1920 x 1080 pixels, so we can make the most of our laptop.
See Also: Music Production Laptop
Ports
This part of our laptop is important and I'll tell you why. Interior design programs and applications require the use of a three-button mouse in addition to a wheel. That is why it is necessary to have USB ports that allow us to connect our mouse.
In addition, HDMI ports, SD card slot and Ethernet are really useful. We recommend that you buy a laptop that has at least 2 USB ports, an SD slot, an HDMI port and an Ethernet port.
Expert Tip

Always remember to look to upgrade the components of your laptop, so you can give it a longer use and great performance.
Best Laptops for Interior Design Work
1) MSI PS42 Modern 8MO-023EN (Prestige and Style)
MSI has always been known for bringing processor and graphics card power to the portable market. And this is no exception.
See Also: 3D Modeling & Rendering Laptop
The MSI PS42 Modern 8MO-023ES is a laptop that has very powerful specifications that allow us to do almost any work with it. Let's see why.
With a 64-bit operating system and Windows 10 Home software, this laptop comes with an integrated Intel UHD Graphics 620 graphics card. Not bad but not excellent, and it still works for us to run the interior design programs we need.
In addition to that, a 512 GB solid disk is what ensures us speed of response. Adding its 16 GB of DDR4 RAM and a 4-core Intel Whiskylake i7-8565U processor with a maximum clock frequency of 4.60 GHz, this machine almost flies.
In terms of inches, the MSI PS42 laptop has an ultra thin 14 LED frame screen with FullHD 1920 x 1080 resolution with 100% RGB IPS panel. Perfect for viewing the actual colors of our furniture catalog and more.
See Also: Programming Laptop
Its 2kg weight is not as light but it is not a hindrance. With the power it carries, that weight was to be expected. It also has the ideal number of ports for everyone which are 2 USB 2.0, 2 USB 3.0 and an HDMI port.
MSI doesn't disappoint with its high end laptops and considering it to make our work more efficient is very important.
2) Acer Aspire (Economy for the Novice and Experienced Designer)
If you are looking for a cheap laptop but still meets all the needs of an interior designer: Acer Aspire is a perfect choice.
See Also: Business Laptop
The Acer Aspire notebook is an option to consider if you have a somewhat tight budget. It has quality specifications to run the interior design programs and all for a not so high price.
This notebook comes with 15.6 inches of LED LCD screen with a resolution of 1920 x 1080 pixels, which are an explosive combination for our eyes. In addition it includes an integrated Radeon RX Vega 10 graphics card that is sure to support image quality.
In terms of performance, it has a 4-core AMD Ryzen 7 2700U processor with a base frequency of 2.2 GHz and a maximum of 3.8 GHz along with 8 GB of DDR4 RAM just needed to run the design programs.
See Also: Architecture Students Laptop
And with a hybrid storage, it has response speed plus a lot of memory to save your designs. It has 128 GB of solid-state hard drive and 1 TB of classic hard drive storage.
It weighs in at 2.82 kg, which is a bit high, but it's a lot of content. It has HDMI and USB ports and has by default the Windows 10 Home operating system.
This laptop is a great option considering the price to pay, it offers security and speed when designing. Do not hesitate to take a look at it when choosing a laptop to design.
See Also: Ultrabook Laptop
3) ASUS ZenBook Pro – A Laptop for Professionals
The interior design professional must have the best tools at his disposal, so it is very important that the laptop is updated in terms of specifications.
The ASUS ZenBook Pro 15 is an infallible option for the recent graduate or experienced interior designer and only needs to be checked on its specifications to confirm this.
This laptop has an Intel Core i7-8565U 4-core processor with a 1.8 GHz base frequency, as well as 16 GB of DDR4 RAM. Guaranteed power in processing and program execution.
See Also: SSD Laptop
It also comes with a 512 GB solid disk storage, which gives us an ideal response speed. It can take no more than 10 seconds for ZenBook to boot the operating system. And for the graphics that design programs may require, a dedicated 2GB NVIDIA GeForce GTX1050 graphics card.
The display is an ideal resolution of 1920 x 1080 pixels that together with your graphics card, will never let us down. Its weight is light, 1.8 kg, but when carrying it feels much lighter because of its material. Its factory operating system is Windows 10.
It comes with a sleek black finish, a backlit keyboard and an auxiliary screen on its touchpad so we can multitask smoothly and efficiently.
See Also: Laptop without Operating System
This laptop is powerful, fast and high-performance, perfect for the professional interior designer who wants to not skimp on his or her primary work tool.
4) Lenovo Ideapad 330-15ICH – High Performance for Experienced Designers
If we are experienced interior designers, you know what we need to be able to work comfortably. The Lenovo Ideapad 330-151ICH laptop is a real option if we want to have everything and not disappoint us in anything.
With a 15.6-inch screen with FullHD resolution we can see in excellent definition our work. It is important to have a good video card for this. That is why this laptop has a dedicated 4GB NVIDIA GTX1050 GRAM.
See Also: Budget Laptop
And what is inside the laptop is almost worth gold. An Intel Core i7-8750H processor along with extensive 16 GB of RAM ensures that performance will not be lacking. And storage either, since this Lenovo computer comes with hybrid storage of 256 GB of SSD memory and 1 TB of HDD storage.
Its presentation comes in a strong black color that along with its weight of only 1.46 kg is ideal for the designer who does not stay static. You should consider this laptop if you are looking to invest your money very well in your main work tool.
See Also: Small Laptop
5) HP 15-db1011ns – Work with Elegance and speed
HP brings us a laptop like no other that meets quality specifications. The HP 15-db1011ns laptop has an integrated AMD Radeon Vega 8 graphics card which is an excellent choice for our interior design purposes.
See Also: Linux Laptop
In terms of processing, this machine comes with a 4-core AMD Ryzen 5-3500U processor with a maximum clock frequency of 3.7 GHz with 2.1 GHz base frequency. It is a high level processing unit to run the applications we need.
It has two 4 GB RAM slots for a total of 8 GB of DDR4 RAM and 256 GB SSD storage along with 1 TB of HDD storage. Speed and capacity is what this laptop brings to us.
See Also: 4k Laptop
It comes with 15.6 inches of screen with resolution 1920 x 1080 FullHD which is optimal for viewing all our work perfectly. It comes in a light silver color, which transmits a lot of style and is light with 1.8 kg of weight.
It has USB 2.0, 3.0, HDMI and Ethernet ports. With a battery life of about 6 hours in basic work, this HP 15-db1011ns laptop is an excellent option to consider. Everything we might need is here.
See Also: Lightweight Laptop
Frequently Asked Questions (FAQs)
Q: Do the laptops in the comparison include the programs for interior design?
The interior design programs are not installed on the laptop by default. In order to have them we will have to download them directly from the developers' website or use the web tools that are easily available.
Q: Which are the recommended programs for interior design?
One of the programs most used by professionals is pCon.planner, which has many tools and an extensive catalog. There is also IKEA Home, FloorPlaner and Homebyme which are web applications.
Q: How much RAM is recommended for interior design programs?
The developers of the executables for interior design recommend having 16 GB of RAM in order to enjoy the tools to the fullest. Although they also consider that 8 GB is optimal.
Q: Do the laptops in the comparison support 3D designs?
Yes, only laptops with graphic capacity support 3D design, rendering and bright colors that allow us to visualize the items in the furniture catalog or others were considered.
Q: Won't my laptop hang up while I'm making a design?
No, not at all. These laptops that we consider have been tested with all interior design programs in various scenarios. We recommend that you run one design program at a time.
Keep visiting Laptops Guide to know all the details about the laptop you're planning to buy.
References
https://linuxhint.com/best-laptop-for-interior-design/
https://www.reddit.com/r/SuggestALaptop/comments/je7xl1/laptop_for_universtiy_for_interior_design_and/