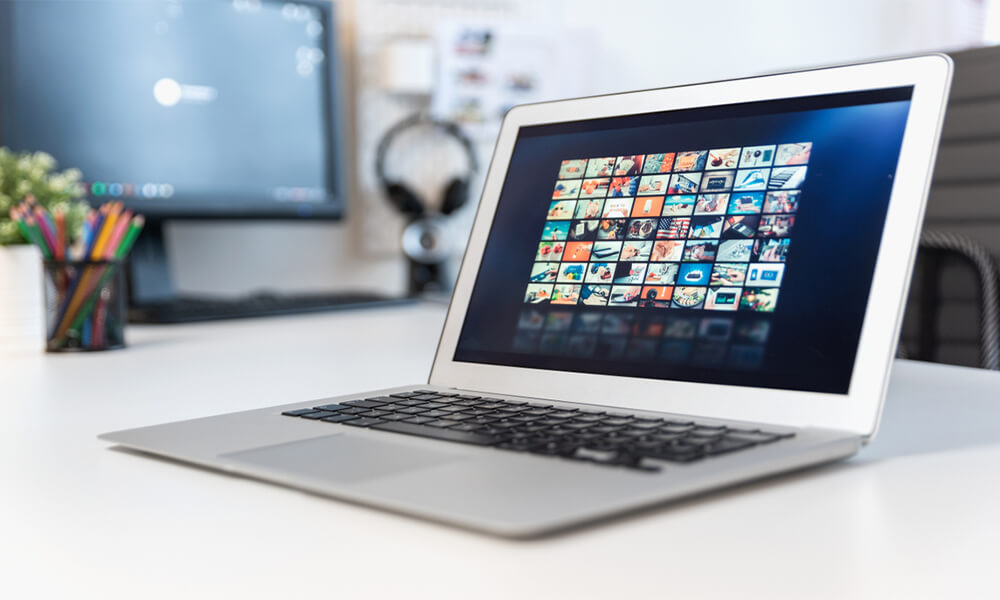 When we talk about laptops or any other device with an operating system, we usually mention first its processor and RAM memory, maybe in a different order, then it's hard disk and then everything else.
In many occasions we leave specifications like the screen for the end, but is this a good idea? I think it is not, and even less if we have to work on something where we need good image quality. If this is the case, it is worth considering a laptop with a 4K screen.
We could say that a good screen is the one with a minimum resolution of 1920×1080 pixels, which coincides with a Full HD one. Although these screens already offer good quality, there are still at least two more steps above that can come in handy depending on our work: the 2K and 4K.
In this article we will reveal all the secrets you need to know about 4K screen laptops, equipment designed for the most demanding users.
See Also: Affordable Laptops for Industrial Design Work
4K Laptops Review
1) Lenovo YOGA C930
If you're looking for a "less expensive" 4K screen laptop, you might be interested in the Lenovo Yoga C930. It is a laptop whose 13.9-inch screen is touch-sensitive, allowing us to take advantage of the tablet functions of Windows 10. Thanks to its reduced size, this is an ultra-light computer that weighs only 1.37kg.
See Also: Affordable Laptops for Photo Editing
The operating system will be moved by advanced components, such as the Intel i5 processor, 8GB of RAM and the SSD hard disk, 256GB in this case. This is a laptop with which we can perform virtually any task quickly, smoothly and stably.
And if you're thinking that this is an expensive laptop by its specifications, you're wrong, at least halfway. Because it's much lower price than the one we are asked for other laptops of more popular brands for similar specifications.
See Also: Affordable Laptops for Live Streaming
2) Acer Predator Triton 900
The Acer Predator Triton 900 is a laptop that fits the name: predator. It's a 17-inch 4K touchscreen laptop with an eye-catching design that will appeal to gamers. In addition, this design also allows us to put the screen in different positions.
Inside, this "predator" has one of its strongest in 16GB of RAM, but it's NVIDIA GeForce RTX 2080 8GB graphics card is not far behind. Nor is far behind in storage and brain, since it includes two SSDs (256GB + 256GB) and an Intel i7 processor with which we will get a great speed whatever the task we are going to do.
See Also: Affordable Laptops for Students
But this predator with a rotating screen from Acer will not be only for its performance, but also for the pockets for the price it comes.
3) MSI NB Prestige 14
This MSI Prestige is an ultra-lightweight laptop, which means it weighs less than 1.5kg. Specifically, it weighs 1.29kg, very little if we consider some of the specifications included in this laptop. To achieve this lightness, the company has opted for a 14-inch screen, but one that offers great quality thanks to its 4K resolution.
Inside, the Prestige 14 includes an i7 processor that will make many of the tasks we perform almost a matter of opening and closing our eyes, to which the hard disk in SSD, 1TB in this laptop, and no less than 16GB of RAM contribute, so we can do a lot, very fast and all at the same time.
See Also: Affordable 2 in 1 Convertible Laptops
As most laptops with 4K screens, we can not say that this MSI is cheap, taking into account its specifications, are little if we compare it with other laptops from more important brands.
4) Apple MacBook Pro
The Apple MacBook Pro is a very popular laptop and there are many reasons for this. In part it is because of the operating system, a macOS that offers good performance, good design and an enviable ecosystem.
See Also: Affordable Laptops for Interior Designers
On the other hand, we also have the components that mount, among which we would highlight the Intel i9 processor that ensures speed in abundance. But in addition to speed, we can also do many things at the same time, since it includes 16GB of RAM. The set is completed with an SSD disk that can reach up to 1TB of storage.
The latest model includes the Touch Bar. Basically, it is a touch bar that replaces the function bars to give them more life and we can use it to improve our productivity. It is also interesting that it incorporates the Touch ID that the company popularized several years ago, which gives us more security and comfort when unlocking the computer or even making payments over the network.
See Also: Affordable Laptops for Music Production
Other points to take into account are the 16-inch True Tone screen that will change the tone of the colors depending on the environment so that the view does not get tired or that incorporates six speakers, which ensures that everything we hear will be done with the highest quality that a laptop can offer.
The price for which we can acquire the 1TB MacBook is not very pocket friendly, something that may be worthwhile if we consider the performance and everything that offers the best laptop brand of the apple.
5) Microsoft Surface Book 2
Please note that the Surface Book 2 is not a 4K screen laptop, but it is listed here for several reasons. The first one is that its resolution 2880×1920 would not fit in any other category because it is between 2K (2560×1440) and 4K (3840×2160). The other reasons have to do with what this equipment has to offer us, which is no small thing.
See Also: Affordable Laptops for 3D Modeling & Rendering
It is a convertible laptop from the company that develops the most used desktop operating system on the planet. That it is convertible means that we can either take the keyboard off it and use it as a tablet, taking advantage of the Windows 10 interface designed for it, or leave it and use it as a desktop computer. Needless to say, in order to use it as a tablet, the screen has to be touch-sensitive.
As for other important specifications, perhaps your Achilles' heel is an i5 processor that we cannot say is bad, but it will go a bit right if we take into account that you have to move a screen with great resolution. Where it will go more relaxed is in a 8GB RAM memory and an SSD hard disk (128GB the input model) that will make everything work properly despite mounting a medium processor.
The screen of this Surface is 13.5 inches, which ensures that we will have a lightweight computer on the one hand and a tablet size "Pro" on the other. We can get this convertible for a price of just over 1000 dollars.
4K Laptop or Full HD?
This is a little or very subjective. As we will explain later, it will depend on what we are going to do with it and the money we want to spend. A 4K screen is more expensive and usually also costs more to move, so you will need more powerful internal components.
See Also: Affordable Laptops for Programming
All this translates into a higher expense, so before buying a laptop with 4K screen we have to think if we are going to take advantage of it or it is just a luxury we do not need even if we can afford it.
On the other hand, Full HD or FHD is a resolution of 1920×1080 pixels, which is more than fine for most cases. If I have an FHD laptop I would not recommend less, as long as we could acquire a computer with that resolution, but I would not recommend more either unless it was necessary for our work or hobby.
For my use, I would say that it is better to opt for a Full HD screen because of the quality-price-performance ratio. For your use, especially if you work in a profession related to image editing, maybe you are more interested in a 4K, or at least a point in between that stays in the 2K.
See Also: Affordable Laptops for Business
Are There Cheap 4K Laptops?
Well, this is going to be difficult. There are not many cheap 4K televisions, and these are devices that do not use a desktop operating system. Computers have to move an entire operating system and it must do so on the 4K screen, one that is very heavy because of the amount of information (image quality) it handles. To achieve this, it needs more powerful components, which also means a higher price.
Personally, I don't like to be strict and I won't simply say no, but it is very difficult. Computers with 4K screens are aimed at a demanding public and these users are looking for a good screen, good processor, good RAM, good hard drive, good graphics and, in short, what is commonly known as a "piece of cucumber" made computer.
The best computers are expensive and, at most and to be benevolent, I will say that there may be "less expensive" 4K laptops, but they will still be expensive if we compare them with a Full HD or HD only one. Not just because of the screen, but because the rest of the equipment accompanies you to a higher level.
See Also: Affordable Laptops for Architects
How the Ultimate 4K Laptop Should Be
Processor
A 4K screen is not a normal screen. Even though it is the same size, it is as if it were much bigger. Its size is not related to the dimensions, but to the amount of pixels on it. Therefore, we are talking about a screen that costs more to move, and to move the heaviest things we need a more powerful engine.
We could say that the engine of computers is their processor and a laptop with 4K screen cannot have a discrete processor.
See Also: Affordable Ultrabooks
In 2021, practically any notebook that is worthy of being mounted on an Intel i5 or AMD Ryzen 5 processor, this is talking about computers with normal screens. More and more good offers are appearing with i7/Ryzen7 processors, two processors that make everything work perfectly in computers with full HD screens.
The vast majority of computers with 4K screens include a processor equivalent to the 7 of Intel and AMD, but there are also some with their little brothers of the 5. Personally, I would not recommend it and the minimum I would advise is the i7 or Ryzen 7.
RAM
RAM should not be one of the most important points when we choose a computer with a 4K screen or another, or that is the first thing we can think.
See Also: Affordable Laptops with SSD
RAM is the memory we are using, which allows us to have several processes open. With this in mind, if the processor and the hard disk have already opened an image and it is being displayed, the RAM will not be working… on still images. The problem may already appear if what we are seeing is in motion.
Most computers with 4K screens that we can find on the market have 8GB of RAM. There are computers with more and less RAM, but we could say that this amount is becoming the standard for all types of computers.
Therefore, it is recommended that the minimum RAM memory that a laptop with 4K screen has to have is 8GB of RAM. Logically, if we can afford it, we can acquire a computer with more memory, that we can never know when we will need it and it is better than missing it.
SSD
Although in 2021 they still need to lower their price a little, SSDs are already the present. Practically any laptop that wants to attract our attention uses an SSD and the truth is that it greatly improves the performance of the operating system thanks to its higher read/write speed.
See Also: Affordable Laptops without Operating System
When we buy a laptop with a 4K screen, it is assumed that it is because we are demanding users who do not want a slower laptop, so we should buy the whole lot and acquire something with an SSD.
As for its capacity, it will depend on the use we are going to make of the computer, but we must take into account that if we buy a laptop with 4K screen we will take advantage of its quality, which means that we will store many photos and high resolution videos.
These files are much larger, several MB a photo in 4K, so the hard drive must have a greater capacity than if we buy a laptop in which we just handle lower quality files.
In addition to the normal SSD or its entirety, there are also hybrid discs, with part in SSD and part in HDD. The good thing about these discs is that they practically keep the price of a normal disc, they take advantage of the SSD part so that the operating system moves easily and in the HDD part we can save a lot of information, there are relatively cheap options that include, for example, a part of 128GB in SSD + 1TB in HDD. They are another option to take into account, but remembering that the HDD part is still slower.
See Also: Affordable Laptops for Beginners
HDR
HDR (High Dynamic Range) allows images to show an improved dynamic range of luminance between the lightest and darkest areas. In other words, it improves what is commonly referred to as contrast.
If we buy a 4K screen, it is because we want it to show the best quality images, so it is worth buying a screen that supports HDR. It is worth saying that we must also use other hardware (such as cameras) and software that support this technology, or else it would be like putting a film that is in 1080p quality and want to see it in 4K because our screen is capable of showing that resolution.
Logically, for something to be shown in the best quality, it must be well treated from the moment the capture is taken.
See Also: Affordable Small Laptops
Screen Size
The size of the screen is not an important consideration. That is to say, it does not have an important relation with respect to 4K, but it will be important depending on where and for what we are going to use the equipment.
If we want to move the laptop constantly, we are probably interested in a laptop with a 13-inch screen, but if we are going to move it a little less I think we are more interested in one with a 15.6-inch screen or even a 17-inch one.
Personally, I don't usually take my laptop out of the house, I prefer laptops with 15.6 inch screens, but gamers should opt for a bigger one. We are the only ones who know what we are going to do with a laptop and only we know which screen we are interested in.
The 4K is used and seen perfectly in screens, monitors or televisions of 40 inches or more, so we will not appreciate any difference in quality between 13-17 inches computers. Our decision should be based on other factors, such as mobility.
See Also: Affordable Linux Laptops
Who Should Buy a Laptop With a 4K Screen?
Basically, laptops with 4K screens are intended for "power users", that is, the most demanding users. For most of us, it is not necessarily a screen that offers so much quality and it is not enough with a Full HD one, but everything depends on what we are going to use the equipment for. I
f there are 4K screens in laptops, it is for a reason and that something has to do with, of course, the quality and accuracy of the images.
Therefore, we should only consider a 4K screen if we are photographers who need to see the perfect images, which also includes editing them. As for editing, the 4K screen is also interesting if we are going to edit video, practically for the same reason as for photos.
See Also: Affordable Lightweight Laptop
It can also come in handy if we are gamers who want to enjoy our titles with the best image or if we want to see content in the best way, but I think that for the latter there are already televisions.
Keep visiting our website to learn about the features and specifications of laptop you're planning to purchase.
References
https://www.thesharedweb.com/4k-vs-1080p-laptop/
https://www.thebestintech.com/cheapest-4k-laptops/