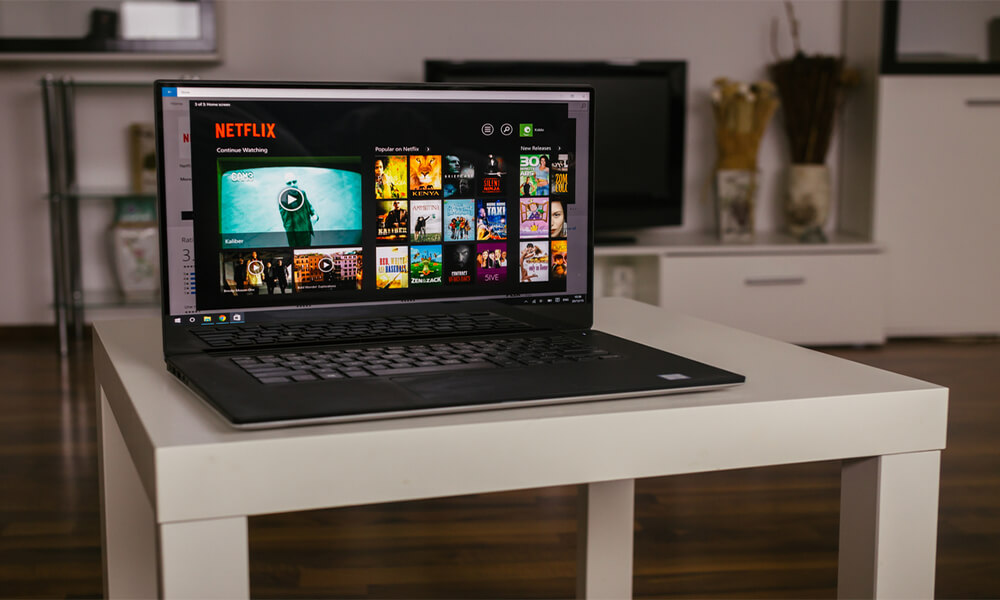 In this guide that will not only help you choose the best laptop for streaming, but also show you the best options available in the market. In addition, we will give you expert advice, fun facts and more. So, at the end of this guide you will be able to choose the best streaming laptop according to your needs, budget and requirements.
Streaming has been around since the early 2000s and is the main form of information transmission, whether video or audio. Nowadays, companies like Netflix and Spotify, take advantage of streaming to make a profit. Streaming is the easiest and fastest way to transmit information on the Internet today.
See Also: Best Laptop for Industrial Design
Live broadcasting or streaming is the digital distribution of multimedia content over the Internet, so that the user uses the product while downloading it. This tells us about a continuous flow of information that flows without interruption.
Types of Streaming
There are two types of streaming which are: live and deferred.
The live streaming is when we see a public figure, some artist or videoblogger performing live. Thanks to streaming the scope of content is much greater and with less preparation.
See Also: Best Laptop for Photo Editing
Delayed streaming is when we are on Netflix watching a series or movie or when we are on Spotify listening to our favorite artist. This way we can enjoy the content we like without the need to download it to our laptop.
The popularity of streaming was mostly exploited by companies like Netflix or Spotify.
What Do You Need To Stream?
Without knowing why you are looking for a laptop for streaming, either to consume content or to create it, we will give you both points of view.
If you need a laptop to consume streaming content, it is not enough to have a good laptop with a good internet connection, a good graphics processing unit along with a screen of excellent resolution and a good audio output.
See Also: Best Students Laptops
The streaming is done through web portals because through them we can access the servers that have stored the content we want to view or listen to. It is a not very complicated process, we invite you to investigate them and learn what happens on your laptop when you listen to the radio or watch a streaming video.
Now, if we are looking for a laptop to create streaming content, it is very important to take into account what we mentioned before, as well as other factors such as the speed of the laptop's processor, the image quality of the camera in case we do not have a separate one, and an Ethernet port, which is not too bad in case the wireless connection is not very Catholic.
Do You Know

Bandwidth is the amount of data you can consume or have consumed in a given time.  It can be measured in Kb/s, Mb/s and Gigabit/s
The specific characteristics of the laptop will depend on the use. For example, if it is to create gameplay videos and upload them to a page or just record us doing any other action.
See Also: Best 2 in 1 Laptops
The power of our laptop will depend on this that we have mentioned previously, because it is what will allow us to use it without problems or delays. What we must take into account is the bandwidth when we want a good reproduction in streaming.
To put it from another point of view: we are on Netflix and we want to watch a movie. To watch it without interruptions we would need an internet connection with a bandwidth that is equal to or greater than the bandwidth of the Netflix website. Did you get the idea?
If not, we won't be able to enjoy a smooth transmission or rebroadcast. We must know that there are wireless connections with a bandwidth of up to 300 Mbits/s and Ethernet cable connections of up to 10 Gbits/s.
See Also: Best Interior Design Laptops
What Are the Best Specifications for a Streaming Laptop?
Now let's talk directly about the specifications of the laptop, without considering the internet connection. Here is what kind of technical specifications your laptop should have for streaming. From the beginning to the end.
As I mentioned before, it all depends on what you want to use the laptop for besides streaming. That's why we have taken into consideration good laptops so that we are safe in all aspects.
Here we present you the variables that you must take into account to choose the ideal laptop for you, so we have chosen and ranked the best laptops for streaming videos.
See Also: Best Music Production Laptops
Tips for Selecting a Streaming Laptop
Operating System
The most important software of our laptop. With it we will be able to install the browser of our preference for streaming, the video games we want, the programs we need and everything else.
I highly recommend that you use Microsoft Windows 10 Home 64 bits. And if you are an Apple user, macOS v10.12 or higher. They are the best options.
You should also consider the type of system of the laptop. 32-bit systems have become obsolete compared to 64-bit systems. That's why your laptop should be 64-bit.
See Also: Best 3D Modeling Laptops
RAM Memory
This part of our computer is what will give us agility in the execution of applications simultaneously. The RAM (Random Access Memory) is the one that keeps the data that the programs need at the moment, which are eliminated when the PC is turned off.
When we talk about RAM the slogan for all is: the more RAM, the better. That's why a good amount of RAM is recommended. Between 8 GB and 16 GB of RAM is excellent and if we talk about a DDR4 standard, much better.
DDR4 standard? What? Don't worry, it's not a big deal. RAM is manufactured according to a standard. According to this, it will change its reading speed, writing speed, power consumption and data transfer width.
See Also: Best Programming Laptops
The recommendation we give you is to buy a laptop with DDR5 or DDR6 RAM, as they are the newest standards in the market. DDR3 is already obsolete and the new DDR6 memory was launched in 2020.
Processor
The speed of our laptop depends mostly on the processor. We are looking for a laptop that allows us to record while we play, edit the videos that we will upload to our blog or simply allow us to have several applications running simultaneously.
For this, a powerful processor is the solution. Manufacturers like Intel or AMD have in the market CPUs or central processing units that are a pass because they reach very high speed frequencies.
See Also: Best Business Laptops
Our recommendation is that your laptop should have a processor that is multicore, so that it never leaves you behind in addition to being fifth generation upwards. And as for the frequency, with 2 GHz it will reach, it will be excellent.
Storage
An important feature of our laptop, as it will serve to record the streams and then upload them to Youtube. Each video we make will occupy an amount of GB, usually each game depending on the game can last more than 30 minutes. We will need a place to store our content.
There are two types of hard disk that are the classic hard disk HDD (Hard Drive Disk) and the SSD (Solid-State Disk). The second one is faster and more expensive than the first one. Keep this in mind when choosing your laptop.
We recommend you to lean towards an SSD hard disk because it is faster when accessing data and saves us time when booting the laptop. But this is not strict, that's why you can also buy a laptop with an HDD. And if so, make sure it's no less than 1 TB of storage.
See Also: Best Architects Laptops
There is also the option to acquire a laptop with hybrid storage which has both hard disks, the SSD and the HDD. This way we have the best of both types.
Do You Know?

The SSD is faster than the HDD because of the technology it has that saves information in packages. This makes it access data faster.
Graphics Card
If we're talking about consuming or creating streaming content it's best to have the best possible image quality, right? That's why our laptop needs the colors it generates to be vivid and not sad. For this the laptop needs a dedicated GPU.
What is a GPU? It is the Graphics Processing Unit that is in charge only of the generation of the graphics of the PC. This unit is very important because it ensures an image quality for videos or images.
In the market, manufacturers such as NVIDIA or Intel, have a large catalog of GPUs with VRAM memory dedicated only to graphics. The ideal is that the laptop has some of these.
See Also: Best Ultrabook Laptops
Our recommendation is that you think about buying a laptop with an NVIDIA or Intel branded graphics card, high level with at least 2 GB of VRAM memory.
Display
A very important aspect for streaming, because the size in inches of the laptop screen and the maximum resolution it supports, are what will allow us to see an excellent image while we broadcast or receive the stream.
In this comparison we do not consider laptops with screens smaller than 15.6″ because we consider this to be the optimal minimum size for those who want to use it for streaming. If it is bigger than this, better than better. We also only recommend a resolution of 1920 x 1080 which is FullHD.
And that the laptop has the video output capacity of 4K or more, in case we want to see some streaming on an external screen.
See Also: Best Laptops with SSD
Expert Tip

If you only have a laptop screen, it's best to make sure it's a good size and has a good graphics card. The NVIDIA GeForce GTX series is highly recommended.
Ports
Keep this in mind: you are with your friends gathered at your house, they want to see a movie, watch a live concert or watch a live video of a vlogger they like. What do you need? An HDMI port to be able to transfer the image and sound to your external HD screen.
But that's not enough, the wireless connection is failing. The bandwidth is not sufficient to view your content without interruption. What is the solution? Your laptop has an Ethernet port so you can connect it and expand the bandwidth. That way you won't miss anything at any time.
USB 2.0 or 3.0 ports are never out of place because they are useful when transferring data from one laptop to another. Besides, we can use a mouse or a DVD-ROM drive for any utility we need.
We recommend you not to despise the ports of your laptop and to know well which ones are included and which ones are not. A computer with each type of port would be ideal.
See Also: Best Laptops without OS
Best Laptops for Streaming Videos (Our Top Pick's)
We know you are looking to invest your money very well, that is why we bring you two unmissable economic options: Medion Erazer P6705 and HP Pavilion 15-bc450ns.
1) HP Pavilion 15-bc450ns
I start talking about the HP Pavilion that has a 15.6-inch screen of 1920×1080 pixels FullHD resolution along with an NVIDIA GeForce GTX1050 graphics card with 4 GB of VRAM GDDR5 memory with excellent graphics power.
See Also: Best Affordable Laptops
It has an Intel Core i5-8300H processor with a 2.3 GHz quad-core base frequency that reaches up to 4 GHz with Turbo Boost. With a RAM of 8 GB DDR4, not expandable. And in terms of storage, this laptop is a hybrid as it has 1 TB of HDD plus 128 GB of SSD.
It has no operating system but nothing that can't be solved on our own. Besides, it comes with HP fast charging technology which ensures 50% of the charge in less than an hour. HP is a recognized brand and with this laptop they win our hearts and pockets.
2) Medion Erazer P6705
Now let's talk about the Medion Erazer which has a 15.6 inch screen of (1920×1080) Full HD but has a better graphics card with an NVIDIA GTX1050Ti 4GB GDDR5. Powerful graphics guaranteed.
See Also: Best Mini Laptops
This laptop has an Intel Core i5-8300H processor identical to that of the HP, only this one has 6 cores. 2 cores more speed! It also has a base frequency of 2.3 GHz and reaches 4 GHz with Turbo Boost. 8 GB DDR4 RAM, not expandable.
In storage it is also hybrid, it also has 1 TB of HDD but it doubles the SSD hard disk of the HP, with 256 GB SSD. The laptop comes with Windows 10 ready for streaming. Another difference between these two good laptops is that Erazer does not have an Ethernet port while HP does.
These two options are cheap, adjustable to most pockets looking for money to be spent wisely. Do not hesitate to consider these two laptops to enjoy streaming as intended.
See Also: Best Linux OS Laptops
3) MSI GS65 Stealth Thin 8RE-252ES
The best option we bring you for streaming (and much more) is the MSI GS65 Stealth Thin 8RE-252ES. This laptop as its name says is super thin and light, because it only weighs 1.8 kg ideal for transporting it wherever we want.
See Also: Best 4k Screen Laptops
And if we talk about its features and other specifications, this laptop has an Intel Core i7-8750H 6 cores processor that comes with MSI Cooler Boost 5 technology that ensures that it will not overheat, increasing its performance considerably.
It has 16 GB of DDR4 RAM that is excellent for any program you want to run, whether for graphic design, gaming, programming or rendering. This laptop has great speed because of its 512 GB solid hard drive that gives users a very fast start.
As for graphics, it comes with a graphics card NVIDIA GeForce GTX 1060 model of 6 GB GDDR5 only to see the most vivid colors and appreciate a sharpness unmatched in its 15.6-inch FullHD screen of 1920×1080 resolution.
The MSI GS65 Stealth Thin comes with Windows 10 Home Advanced 64-bit which will be upgraded at first, but then gives us only the basics we will need. This laptop is suitable to solve any challenge you put in front of it. Still have doubts? This computer is for the professional who needs security in his work. Don't hesitate to consider it if you are thinking about streaming.
See Also: Best Ultra Portable Laptops
Do You Know What You Are Looking For?
Streaming doesn't need much more than a good internet connection with good bandwidth. Therefore, the best option in laptops for streaming should be one that allows us to even perform other activities. To play, design, edit or program.
Frequently Asked Questions (FAQs)
Q: Do I Need Any Special Program To Enjoy Streaming?
The only thing you need in terms of software is a browser. Streaming is a simultaneous data transfer via a web portal. And to access a web portal you need a browser where you can enter the address so you can start enjoying the streaming.
Q: How Do I Know if My Internet Is Good Enough To Enjoy Streaming?
You should ask your internet provider for the bandwidth it offers you with the connection. From there you will know if your internet is good enough to watch Netflix without interruptions or listen to music on Spotify. There are also programs that calculate the bandwidth of your connection, you can look them up.
Q: How Much RAM Is Needed for Streaming?
As WE told you before, streaming is not a process that requires very powerful specifications. But since you are not looking for a laptop just to watch streaming, but to create content that you want to broadcast, it is important to have a good amount of RAM. Between 8 GB and 16 GB DDR4 is enough.
Q: I'm Looking for a Laptop for Live Streaming. Which One Do You Recommend?
If you want to use your laptop for live streaming, be it for your blog, your Youtube channel or any social platform, the best thing to do is to choose the one recommended in this guide, the MSI. But if your pocket doesn't reach those levels of power and security, we also offer you two affordable laptops that are also very useful.
Q: I Want To Stream What I Do on My Laptop. Is This Possible? What Do I Need?
Yes, it is possible. You just need the right software that allows you to record live on your laptop. There are different programs for this. We assure you that laptops recommended in this guide are suitable for this.
Keep visiting Laptop Guide to read latest reviews, news related to upcoming laptops and more.
References
https://www.reddit.com/r/Twitch/comments/4rdz9v/best_laptop_for_streaming/
https://www.xsplit.com/blog/finding-the-best-laptop-for-live-streaming
https://www.discovergeek.com/best-laptops-for-streaming-twitch/