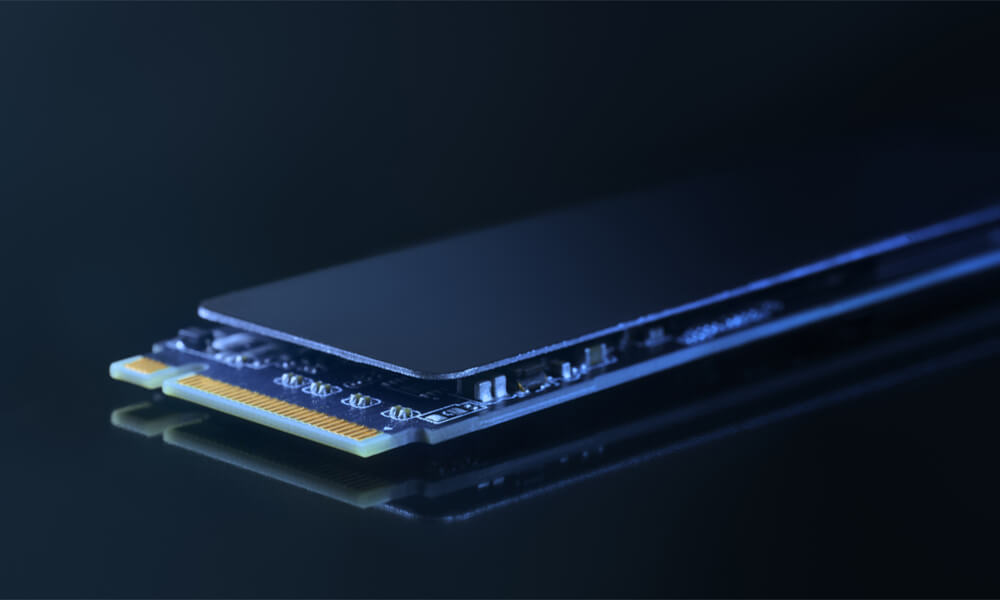 Solid state storage drives have become a great storage standard for the consumer market, taking the lead over conventional hard drives.
Installing a solid state drive (SSD) to a laptop or computer brings a lot of advantages, if you have been a bit clueless in the advances of the beautiful world of computing, I will let you know some benefits so that when you finish reading this article, you already have clear mind which model of the ones presented here you are going to choose.
This is the main objective of the article, that you know the functions and likewise, the advantages and disadvantages that these hard drives can give you, if you are not knowledgeable about the subject, do not worry, it is a topic not very common among users, but here all your doubts will be resolved and you will know what is best for you.
Solid State Drives (SSD) For Laptops Comparison
| Ranking | Name | Best Feature | Current Price |
| --- | --- | --- | --- |
| 1) | Crucial MX500 CT1000MX500SSD1(Z) | speed can reach up to 560/510 MB/s on all types of files | Price On Amazon |
| 2) | Samsung 860 EVO | It provides a sequential speed of up to 520 MB / s | Price On Amazon |
| 3) | Samsung 860 EVO MZ-76E250B/EU | 250 GB of storage | Price On Amazon |
| 4) | Western Digital WDS500G2B0A WD | provided a reduction in power consumption of up to 25% | Price On Amazon |
| 5) | SanDisk SDSSDA-240G Plus | read/write speeds of up to 535 MB/s/445 MB/s | Price On Amazon |
Things You Should Know About Solid State Drives (SSD)
The SSD (Solid – State Drive) storage devices, due to the drop in price of NAND memories, are becoming popular, are a type of device that uses a non-volatile memory, something similar to flash memory, which likewise, serves to store data, are a great replacement for magnetic platters or disks of conventional hard drives.
See Also: Laptop Sleeve Review
These solid-state drives can extend the life cycle and improve the performance of your laptop in many ways, providing greater speed and stability for your computer.
It uses solid state semiconductor memory to store all your information, this technology is the same used by USB storage devices and also SD cards that are quite commercial nowadays.
You should know that the SSD does not have any kind of mechanical part, therefore; you can access your stored data. In this way, a laptop that has a solid hard drive inside and the operating system installed on it, has the benefit of loading faster and running programs and files at a higher speed.
Having no mechanical parts means that your laptop does not run any risk of data loss if your hard drive is knocked or dropped while reading content.
See Also: Top Rated Laptop Table
It also avoids friction, this means that it reduces the heating of the system by the use of the hard disk, at the same time it also reduces the noise emission.
As a negative point, it stands out that the price of the GB is higher, and when it reaches the end of its useful life, it usually breaks down without warning, but it is not something you should worry too much, because as you know, this is improving day by day, as well as the speed.
Clarifying these points, now let me introduce you to some features that you should take into account before making your purchase, in order that you do not get disappointed when you receive your order and go directly to the model that meets the requirements that suit your needs.
See Also: Top Rated Laptop Cooling Pad
Function of a Solid State Hard Disk (SSD)
They are made up of two memory areas, the first stores all the information and the other, the so-called cache which accelerates the processes, both are managed by a controller that manages all the elements.
It has memory blocks that act as a RAID (disk array), this allows a higher speed because it uses several reads and writes at the same time, and also takes care that the hard disk has the minimum of errors.
The most important part of the whole structure is the controller, which is in charge of putting the hard disk memory in contact with the rest of the equipment. This controller, together with firmware, is responsible for performance.
See Also: Top Rated Laptop Mouse
Benefits of an SSD
Following are the benefits of an SSD that you should consider before buying one for your laptop:
Performance
To better understand the concept, I will give you a simple example; usually a laptop system takes approximately 11 seconds to boot up, with a solid state drive, the laptop boots up in just 1.48 seconds, a very significant difference.
Resistance
As I mentioned before, these hard drives do not have any mechanical parts inside their shells, this is something quite good, as they are more resistant to shock and vibration, a factor that results in a long life for both the device and your computer or laptop.
See Also: Top Rated Laptop Speaker
Power Consumption
These devices have the main advantage of reducing power consumption for its operation, improving the performance of your laptop or computer. As they have no moving parts, they do not need any ventilation, this is reflected in energy savings.
Noise
By not having any moving parts, noise emission is considerably reduced, this also influences the low heat generation, there will be no problems due to overheating.
Easy Installation
Installing a solid state hard drive is as easy as installing a CD drive. There are complete kits that provide everything you need so that you do not have problems, whether you require it for internal or external use.
See Also: Top Rated Laptop Charger
Why Should You Choose a Solid State Drive?
Even after knowing the function and benefits of a solid state drive, you are still wondering why you should choose one. Well, you should know that adding an SSD drive to your desktop or laptop that already uses a standard hard drive is the smartest way to upgrade your system.
Transferring all your files and installing your operating system to an SSD allows you to use the solid state drive as your system's boot drive, which is a great advantage for faster booting of your laptop or computer.
The SSD and HDD can coexist in your system, which means that they will give your laptop optimal performance during the upgrade process, increasing its durability and making your investment absolutely worthwhile.
See Also: Top Rated Laptop RAM
Capacity
Something important that you should always keep in mind when making your purchase analysis, is to check the capacity of each model, keep in mind that these hard drives are not of a huge capacity (nothing compared to external ones), the capacity of these units ranges from 32 GB to 2 TB of capacity, but do not be discouraged if you consider that this is too little. Well, currently manufacturers are devoting more development and improvement, to provide us later, models of higher speed, capacity and above all, smaller size.
A fairly simple example that I can mention; to improve the performance of your laptop, just have on hand a 120 MB disk, just to install the operating system and some everyday applications, which will have better performance when running on your SSD.
However, if you are looking to improve performance to run some 3D video games, it is advisable to acquire a larger capacity SSD, this decision is up to you.
See Also: Top Rated Laptop Stickers
Data Access Time
If there is something we should highlight about these disks, it is that their type of technology considerably reduces the waiting time. They have a random access time of about 0.1 milliseconds and there is no acceleration time.
In addition, they also offer more consistent read times, due to their high performance, no matter where on the disk the file is stored.
For this reason, experts highly recommend the use of these drives in laptops, you will notice that when booting an operating system installed on these disks, the process is streamlined, its design has allowed you to get this benefit to laptops, although it is also being implemented on desktop PCs.
See Also: Top Rated Laptop External Optical Drive
Transfer Speed
If you had any doubts about the speed offered by an SSD, you should know that this is a very positive benefit for your laptop. Both reading and writing is approximately twice as fast as what we are used to from a conventional hard drive.
In this case, it only takes half the time to copy the information (as long as it is from one SSD to another). Remember that the transfer speed may vary depending on the model and brand of the device.
If you are wondering how is this possible?
Well, this is because solid state drives (SSDs) do not have mechanical parts, as I mentioned at the beginning, although of course, also influences the medium in which the information is stored.
Before You Buy
Now that you know everything you need to know about these hard drives, it is time to choose the one that suits your needs, of course, also taking care of your pocket.
Keep in mind that the price has increased, because they are more powerful, although within the market you will also find economic models, it all depends on the brand and capacity. Remember that SSDs have been the solution to many of the drawbacks of conventional disks, and that is why their cost is higher.
See Also: Top Rated Laptop Replacement Battery
The purchase you are about to make has many benefits for you and your laptop, better response times, durability and reliability, or in other words, prolong the life of your computer.
I advise you to always make backups periodically, I understand that sometimes we get lazy and we leave it aside, but it is not too much, you know, in case of any unexpected failure of the unit or any other event, do not trust at all and always keep your information safe.
Remember that having a great guardian of your information does not compare to any price, so if you are looking for an easy and economical alternative to improve the performance of your laptop, SSD drives are your best option.
Best Solid State Drives for Laptops Review
Now let me introduce you to the 5 solid hard drive models chosen by the experts for you, the most outstanding ones on the market at a great price and above all, quality:
See Also: Top Rated Laptop External Graphic Card
1) Crucial MX500 CT1000MX500SSD1(Z)
The Crucial MX500 hard drive is all about quality, speed and security, fully backed by helpful service and support. If you don't know how to install this drive to your laptop, don't worry, it has a guide that will explain clearly and precisely the process to follow, something that is absolutely worth it.
This SSD drive allows you to boot your system in a few seconds, accelerates and loads your data instantly and even allows you to run the most complex applications. Its Dynamic Write Acceleration technology uses a set of flash memories that provide your laptop with incredible speeds.
Its read and write speed can reach up to 560/510 MB/s on all types of files and random reads and writes up to 95/90k on all types of files.
See Also: Top Rated Laptop Stand
Its 2TB storage allows you to store a large amount of photos, music and videos comfortably and securely, its fast access allows you to enter your multimedia at an incredible speed, you can not miss this great opportunity.
Its 256-bit AES hardware-based encryption keeps all your data safe and out of reach of anyone outside your computer or computer thieves.
All of its components are state-of-the-art and designed to be more efficient compared to its competition. As a result of all this technology, the Crucial MX500 uses a minimal amount of power and still continues to deliver high performance. Enjoy a faster, cooler and quieter computer in your home.
With the great Crucial MX500 you can have split-second speed, long-lasting reliability and many other benefits. A great combination of quality, performance and security that really pays off.
2) Samsung 860 EVO
Samsung's large SSD is designed for high-end laptops and desktops, features Samsung V-NAND technology, equipped with a robust algorithm-based controller, available in different form factors and capacities.
This model equipped with 500 GB allows you to store a limited amount of files, photos or videos, as well as your operating system to give your laptop or computer a faster boot speed. Its protective shell is made of high quality aluminum, which gives it a very elegant look and makes it resistant to wear and tear.
Its great performance allows you to enjoy a constant speed even in heavy workloads, it provides a sequential speed of up to 520 MB / s, this is thanks to its Intelligent TurboWrite technology, and also has a sequential write speed of up to 550 MB / s.
See Also: Top Rated Laptop External Hard Drives
As for the interface connection to the notebook, it is a SATA III 6 GB/s port which is available on all motherboards and most notebooks on the market, ensuring better compatibility.
Its ECC (error correcting code) algorithm and MJX controller provide this great SSD with higher speeds, while its TRIM command queue favors its compatibility with Linux at all times. Its advanced technology makes it more compatible with your operating system.
What makes this large SSD special is that no matter the size of your laptop or desktop computer, there will always be a suitable size for your laptop. It is best to choose the 2.5-inch model, or the SATA M.2 or mSATA model for ultra-thin computers.
The large Sanmsung EVO 860 is encrypted by a 256-bit hardware that does not adversely affect performance. You can rest assured that your data will be safe at all times.
If you are looking for a high quality SSD, backed by a great brand, in addition to having good features, the Samsung EVO 860 SSD is your best choice. With this solid hard drive, your laptop will have a better performance that will surprise you, you will notice the difference if your laptop has a conventional HDD.
3) Samsung 860 EVO MZ-76E250B/EU
The great Samsung 860 EVO is an incredible solid state drive with SATA interface, equipped with 550 Mb/s read and 520 Mb/s write, it is designed for high-end computers and laptops, features Samsung V-NAND technology and an excellent algorithm-based controller, available in different capacities.
This model is similar to the previous mentioned, the only difference is the capacity, because this model has 250 GB of storage, this memory allows you to enjoy a great speed even when you have heavy workloads.
Its cutting-edge technology gives you faster and more fluid communication to your laptop, in addition, its constant improvement is allowing the Samsung 860 EVO to have greater compatibility with various brands and models of laptops, including Linux.
It should be noted that its size and model are ideal for you, because no matter if you have a desktop computer or a small laptop, there will always be an 860 EVO ready to help you.
See Also: Top Rated Laptop USB Fans
The most recommended size is 2.5 inches, whether you choose the SATA M.2 or mSATA model, if you have an ultra-thin laptop.
The SSD 860 EVO guarantees a better performance to your laptop, it will ensure you get a faster boot on your laptop, its storage is ideal for installing the operating system of your choice and at the same time, the applications of daily use.
It gives you a faster reading speed of your files and likewise, the transfer. Ideal for storing your photos, videos and music of your choice. A very compact and comfortable model that can go everywhere with you.
Do not hesitate and give yourself the opportunity to improve your laptop with this model of good quality and above all very economical.
4) Western Digital WDS500G2B0A WD
The WD Blue SSD SATA 3D NAND SSD uses Western Digital's 3D NAND technology to provide higher capacity drives and even higher than previous models, but that's not all, because these models help to significantly reduce interference between cells, this in order to provide greater reliability.
Its constant improvements and advances have provided greater resistance, this has provided a reduction in power consumption of up to 25%, a value that has stood out for being lower compared to previous models.
With its 500 GB of storage you can save your photos, videos and even some video games and of course, all your important documents, all in one place, easy to carry, comfortable and safe.
Its sequential read speeds up to 560 MB/s and sequential write speeds up to 530 MB/s, allows you to successfully run the most demanding applications, and also contains downloadable software that you can use to update the SSD system without problem or risk of data loss.
See Also: Top Rated Laptop Backpacks
If you are a gamer and you are interested in giving more speed in the execution of your games, you can achieve this by using a 3D NAND SATA SSD WD Blue, its compact 2.5-inch model allows it to be compatible with most laptops on the market, as well as with desktop computers.
In addition, if you intend to combine your unit, you can be sure that by using an SSD and an HDD, you can get a great speed and capacity to your laptop and install your operating system and everyday applications on the WD Blue SATA 3D NAND SATA you will get a boot on your laptop faster than conventional.
An SSD that can be your best ally in terms of storage and speed, a very effective model at a very affordable price.
5) SanDisk SDSSDA-240G Plus
With the great SanDisk SSD you will give your desktop and laptop a longer life, but that's not all, you will also enjoy a faster startup and shutdown of your laptop; likewise the response time in running applications will be superior to a standard SSD.
In addition to this, you will have a cooler laptop, because SanDisk contains no mechanical parts that retain heat, you will not hear any noise or excessive battery consumption.
In addition, you will have the certainty and confidence of its proper functioning, because during its manufacture it was subjected to various tests and the result was satisfactory, it is resistant to shocks, falls and vibrations, so no matter how much you use your laptop, SanDisk will always be working with you.
See Also: Top Rated Laptop Graphics Card
It is equipped with great software that will allow you to constantly monitor the status of the disk, including some tools that will optimize your laptop whenever necessary to ensure its proper functioning.
By downloading this software you will also have access to a protection system for your files, thus preventing third parties from copying and misuse of your data.
With read/write speeds of up to 535 MB/s/445 MB/s, you'll enjoy a great file transfer and execution experience, even though it's an entry-level solid-state drive, but from a good brand you can always rely on.
SanDisk is designed to give you a very impressive improvement to your laptop, enjoy a great speed in your daily applications, the reproduction of your multimedia content and even your favorite video games, even having 240 GB (sounds little compared to other models) will be of great help in all your tasks.
Do not think more and start enjoying an SSD in which you can fully trust, it is of great quality and above all, very economical.
Frequently Asked Questions (FAQs)
Q: Why Is a Solid State Drive Better?
Good question, the reason why a SSD is better than the conventional ones, is because it does not contain mechanical parts, you get better performance in your laptop, in every way. More reading speed and file transfer, cooled equipment and a remarkable saving in your battery.
Q: What Is the Reason for the Higher Price?
This price increase is due to the fact that solid state drives are more powerful than conventional ones, a new technology that can transform a basic laptop into a faster one. Its price does not compare to that of a new laptop that can cost double or triple the price of an SSD.
Q: What Guarantee Do I Have That My Laptop Will Be Faster?
All the manufacturers of these SSDs guarantee that your laptop will be better, you can check the reviews of users who are already using a solid state drive. All of them are satisfied with their purchase and the results obtained. Be confident that your purchase is safe and you will not regret it.
Q: Are These SSDs Compatible With Any Laptop?
Sure, all solid state drives are designed to be compatible with most desktops and laptops, their compact design allows you to install it internally without problems or you can purchase an adapter cable if you intend to use it externally.
Keep visiting our website to learn about the features and specifications of laptop you're planning to purchase.
References
https://www.intel.in/content/www/in/en/products/docs/memory-storage/solid-state-drives/ssd-vs-hdd.html
https://www.crucial.in/articles/pc-users/how-to-make-a-laptop-faster
https://www.gamingpcbuilder.com/ssd-ranking-the-fastest-solid-state-drives/