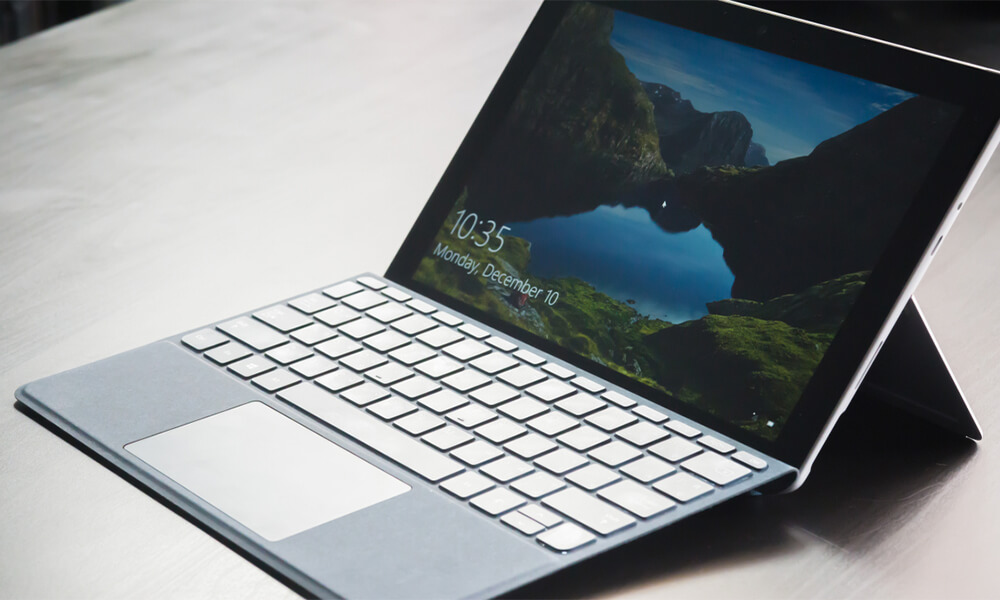 Are you in search of a Surface laptop, but are in the dilemma of not knowing which one to buy, or not knowing which one suits you best?
Don't worry, because in this article we will help you choose the best Surface laptop for you, and to do so, we will review the best models available on the market today, and give you the opportunity to compare and specify the one that best suits you by following their features and functionalities that makes them unique.
Surface Laptops Comparison
| Ranking | Name | Best Feature | Current Price |
| --- | --- | --- | --- |
| 1) | Microsoft Surface Pro 6 | Intel Core i7 8th Gen Quad-Core Processor | Price On Amazon |
| 2) | Microsoft Surface Laptop 2 | 14 Hours Battery Backup On Multimedia | Price On Amazon |
| 3) | Microsoft Surface Go | Support 4G LTE | Price On Amazon |
| 4) | Microsoft Surface Book 2 | 16 GB of RAM & NVIDIA GeForce GTX 1050 2 GB | Price On Amazon |
Microsoft, and its Powerful Surface Series
Microsoft Surface is a line of electronic devices, such as laptops, desktops, touch screens, tablets and others, that have been created and designed by the company of excellence Microsoft.
However, it is also important to point out that this company has renamed itself in the executive area with its Surface Hub line.
This was possible thanks to the fact that on June 18, 2012, Microsoft's CEO, Steve Ballmer, presented the first tablet versions of Surface, highlighting features and functionalities that only they had been able to develop. Another determining factor in their history is that they have caused great impact by exploring areas of the digital world that many did not dare to see, such as the removable keyboard or the adjustable stand, which was integrated at the time.
Another aspect that put the Surface laptops in first place was when on October 6, 2015 their new editions were presented that had long threatened to dethrone the common laptops by the more practical and compatible with modern technologies.
This was possible because the notebooks that came out in this edition stood out showing new features, such as the removable screen and double GPU included in the keyboard, this marked a before and after in how the market looked at the time.
Today it is a brand that has been revolutionizing the executive world, but also for our homes, studios, and even gaming, taking into account that, apart from its line of laptops, there are its high capacity touch screens.
Microsoft has more than 10,000 patents: most of these are related to software aspects.
See Also: Guide to Buy ACER Laptop
Microsoft Wants the Best for You
Microsoft Surface was a division of the Microsoft development program that consisted of creating new portable devices that could facilitate the work of the users that would buy them, since they have superior characteristics to many portable computers and everything for a more compact and easy to carry model, in addition, it provides support to other areas that were unexplored before, like the touch screen, and the facilitation of the same one for the graphic designers.
Microsoft has exceptional technical support, if you have any problem with your computer, you can find help on their website where you can find a solution with their online services such as FAQs or download drivers for the device and even instruction manuals.
Their service team can also personally answer all questions about your Surface. You can contact them simply: in writing via the contact form, by phone via the hotline, or go to the nearest service and customer support center, which you can find on their website.
For some products, Microsoft may extend the warranty (usually through an extended service plan or an accidental damage plan) available for their devices at an additional price.
The default warranty on your devices is one year, but the extended warranty is optional. Plans typically extend the manufacturer's warranty coverage for an additional period of time, although each plan is different. Extended warranty plans may be available through other vendors even if you purchase a product from the Microsoft Store.
See Also: Guide to Buy ASUS Laptop
Tips for Choosing a Surface Laptop
Before you get a Surface laptop, there are several things that you need to consider. Also, it is significant to emphasize that there are several laptops or desktop computers that could meet those qualities that you need to satisfy so much, that is why, if you are dedicated to a particular area of work or not, we recommend you see these points to help you choose your laptop well, or find the one that best suits your lifestyle.
Processor
The function of the processor is to decode instructions and process program data, as well as to coordinate and control all system operations. The best manufacturers on the market at the moment, who have also excelled in this area, are the processors for Intel and AMD computers.
If your quality is the speed and good processing, and not having in mind the processes and applications you have open, then make sure the processors of these brands, and that are capable of generating speeds above 1.80GHz and have 4 or more cores as they will allow better performance and a more fluid computing speed.
RAM Memory
It is the one that allows us to run several programs at the same time. This is where some of the programs we have run are going to be made and remain active, from the operating system itself to the applications we use.
Surface laptops have the capacity of 8GB RAM or for some devices 16GB built-in, so if you want optimal performance look for 16GB, otherwise an 8 Gigabyte laptop is fine.
See Also: Guide to Buy Lenovo Laptop
Screen
Without a doubt the screen counts as the most important aspect in anyone's mind, since we live in the 21st century and we need a wide image quality without a doubt. Surface laptops come in a variety of screen sizes. So get those with 13 to 15 inches, as these can have UHD image quality and even 4k, while the 16 and 17 inches, qualities of 720p or 1080p.
Storage
Storage will also play a big role in our computer as it will give us the ability to be flexible with what we store and have for either work or study. If you are not a very demanding user of storage, a 256GB memory is enough. But if you have to handle a lot of data, try to find a 500BG or 1TB memory. Remember that these last two options increase the cost of the laptop.
Graphics Card
This will allow us to have better image and video quality, some manufacturers incorporate their own video cards in the computers, but for very basic uses.
The best manufacturers of graphics cards currently are NVIDIA and AMD. If you run programs or games that need good video and image quality, look for these manufacturers' graphics cards that have a minimum of 2 GB.
See Also: Guide to Buy Razer Laptop
Price Range
Laptops for less than $500
They are usually low or medium range laptops. They offer somewhat poor or decent specifications. In this category you can find the Surface Go
Laptops between $500 – $900
These are medium to mid-high range laptops. They will provide you with good performance specifications such as: processors, storage memories, large screens, RAM and other specifications.
Laptops over $900
Here you will find HIGH RANGE or PREMIUM laptops. They will give you the best of the best, with most of their specifications at the limit or maximum capacity that there is in the market. The Surface Laptop 2, the Surface Pro 6 and the Surface Book 2 enter here because they have these characteristics.
See Also: Guide to Buy Huawei Laptop
Surface Laptops Review
Below we have reviewed the best Surface laptops that are currently available on the market and will guide you when making your choice:
Microsoft Surface Pro 6.
Microsoft Surface Laptop 2.
Microsoft Surface Go.
Microsoft Surface Book 2.
1) Microsoft Surface Pro 6
The Surface Pro 6 laptop is a 2-in-1 device that has great computing properties, mostly intended for business use, which is why it stands out in the integrated use of the Office 365, which is a great advantage due to the use of these applications. Another highlight of this laptop is how easy it is to carry and its compact design allows us to have it and move it around at any time.
Firstly, its screen has a 10 touch sensitivity so you can move around quickly without losing quality time, this accompanied by its high quality processor. The screen is 12.3 inches with a resolution of 2736 x 1824 and an aspect ratio of 3:2, which makes it very powerful for different jobs in your area, in short, your screen will not leave you bad.
The performance of this computer is very optimal to be a 2 in 1, has a RAM memory of 8GB, but what makes it travel quickly between files, is its processor that accompanies this RAM memory, which is an Intel Core i 5 eighth-generation quad-core. And if you decide to use it with business properties, then its Windows Hello will be active for your protection.
As for its memory, don't worry about the files, games or other things you have stored in your local memory, as it expands from 128 GB to even 1 TB. As far as the duration of its battery, you will be able to enjoy 13.5 hours of use without losing quality, this taking into account the processes that you carry out.
See Also: The Best Dell Laptop
2) Microsoft Surface Laptop 2
This quality laptop within the Surface range is the Surface Laptop 2. Which was a direct sale against the MacBook Air laptop, that is why this edition is much stronger and better prepared than the one mentioned above, being still more affordable than its direct competitors, and of course with even more power. This laptop was thought for those who need a powerful surface laptop without sacrificing the traditional laptop.
This laptop has a comfortable and compact design, besides being very customizable, because we can choose between several colors of cover in its facade, following this we have a very powerful screen. It has a 13.5-inch PixelSense screen, plus a 10 point multi-touch system, so it will be very agile and quick to use.
Its processor also leaves us perplexed with its power, since what we need now is great processing speed. Intel has demonstrated its fidelity and confidence with Microsoft, that is why this laptop has an integrated Intel Core i5 processor of 8th generation of 4 cores, this is complemented with a RAM memory of 8GB.
If you are one of those who prefers to save everything in the laptop and not in the cloud, we understand you and Microsoft too, that's why this quality laptop offers you a 128 GB solid state storage (SSD) memory.
And if you also like to watch movies and series on your computer all day long, this laptop won't let you down, as it features 14.5 hours of uninterrupted video playback.
See Also: The Best MSI Laptop
Do you know?

The first mention of Micro-soft: was in 1975 in a letter sent by Bill Gates to co-founder Paul Allen. Microsoft was officially registered in 1976 in November in New Mexico, where it worked until 1986 when it moved to its current campus in Redmond.
3) Microsoft Surface Go
If you are one of those who goes around with your laptop in hand and not knowing where to work or be quiet for a moment, we understand you, and the best thing is that Microsoft has thought of you, and has made a plan to show you that you are in their mind, this we can see and touch just by purchasing this product.
The Surface Go is a 2 in 1 laptop of good power that stands out in being thought for those students or workers who spend it in movement. At just 522g and 10 inches, the Surface Go is the smallest and lightest in its range. It fits in any bag or briefcase and offers the performance of a laptop, with the portability of a tablet.
This laptop is high capacity due to its affiliations, including its 10 inch screen that stands out for its sensitivity, perfect for promoting flexibility. In addition to having a state-of-the-art touch system, perfectly complete for those who are animated in illustration or design in general.
It counts on a level of enterprise security provided by Windows Hello, besides also the possibility of a month of test to enjoy the system of Office, in case your field deserves it. Another interesting aspect is that it has 4GB of RAM memory which shows the power it has in terms of processing applications.
The Surface Go has a 64 GB flash storage memory (eMMC) where you can store your most important files without the need to use external storage memory.
It has a battery that can last up to 9 hours in video playback use with its 4G lte Advance active. Its Intel Pentium Gold processor ensures you keep working with the best performance, in addition, its connectivity is intensified because this laptop has the work of an LTE system, which makes your work faster.
See Also: The Best Apple Laptop
Expert Tip

The Surface Pen can act as a wireless remote control for your device. Click once on the top of the Surface Pen and the Microsoft OneNote application will open. Keep the pen up and you will get access to Cortana. And if you click twice on the top of the Surface Pen to take a screenshot and send it to OneNote. You don't have to press the power button first for these shortcuts to work.
4) Microsoft Surface Book 2
Without a doubt one of the best editions of the moment as far as the line of Microsoft Surface is concerned. We are talking about nothing more and nothing less than a laptop of great quality and design, this is because, so far, is one of the laptops that has more power in terms of hardware, filling our house or work of power.
First of all, we are shown its high quality and sharp screen, which has 13.5 inches and a 10 point multi-touch system that has been implemented in Microsoft laptops, but with the slight change of supporting now in this edition the multi-touch. This varies according to the edition you get, as there is one that has 15 inches on its screen, but both with the same touch power.
See Also: The Best HP Laptop
Its strength and power is also reflected in the power of its RAM which is 16 GB, but always ensuring the best speed. It also works in conjunction with a powerful processor, an Intel Core i7 eighth generation quad-core, allowing immediate speed and fluidity, which is what we simply need.
But that's not all, for the first time, we are shown in a laptop Surface 13.5 inches a super powerful graphics card, an NVIDIA GeForce GTX 1050 2 GB. Designed to have the ability to process programs or games with high graphic standards. You will be able to visualize all your applications and games with an incredible realism.
For its part, the storage memory that has this laptop is 512 GB of solid state (SSD). In addition, its battery can last up to 17 hours with uninterrupted video playback. These are great features that make it the star of the Surface series.
See Also: Guide to Buy Toshiba Laptop
Frequently Asked Questions (FAQs)
Q: How do I activate Office 365 on my Surface?
When an Office application that is not activated starts, it will ask you to log in to Office. Be sure to sign in with the Microsoft account, or professional or educational account, that you use to purchase or subscribe to Office. Once you've done that, follow the prompts to activate Office.
Q: Is it possible on the physical keyboard to make all Fn keys active, instead of previously using the fn + f1 f2 f3… key?
To perform this process, just see if the Led of the "Fn" key is on, if so, keep it pressed until the Led turns off and check the operation of the keys in question, if it still remains active, run the test of deactivation with the key on.
Q: If I get a Microsoft Home Account, how can I incorporate members of my family?
In this case, you must first inform the type of account you wish to link, i.e. a Microsoft Family account or an Office 365 Home subscription; however, you will get more information on their website with the steps to follow.
Q: Can I zoom in with my fingers on the touchpad as I do on the computer's touch screen?
Depending on the application you are using, you should be able to zoom in from the touchpad as you do from the screen, as both have a multi-touch option.
Keep visiting Laptop Guide to read latest reviews and if you have any questions, feel free to leave a comment down below.
References
https://www.cnet.com/reviews/microsoft-surface-laptop-review/2/
https://www.quora.com/What-do-you-think-about-the-Surface-laptop-the-newly-announced-Microsoft-product
https://blogs.windows.com/devices/2020/10/01/introducing-surface-laptop-go-new-updates-to-surface-pro-x-and-new-accessories/