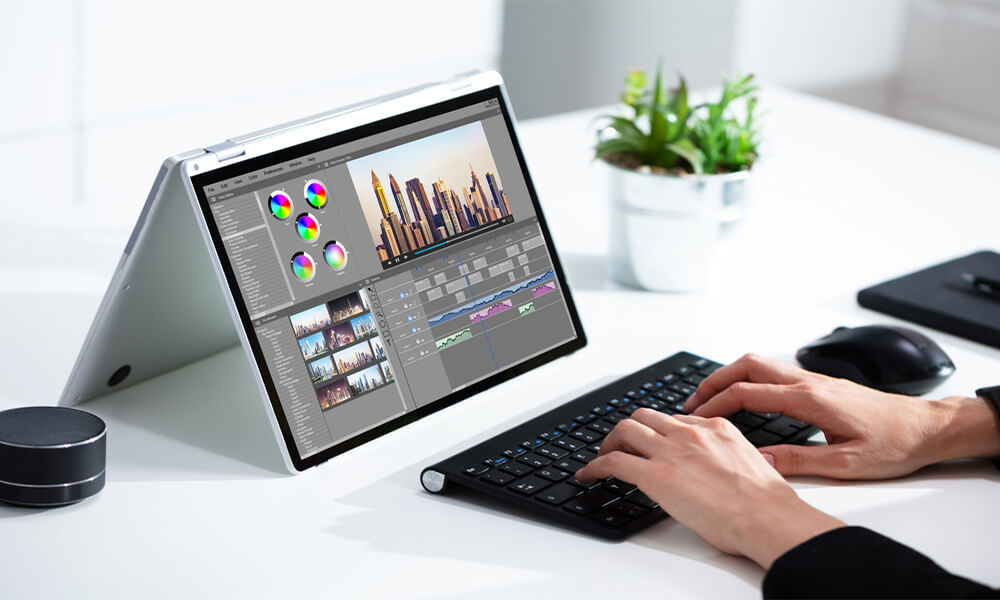 Convertible laptops (or a 2-in-1 laptop as some call them), are not necessarily a new specimen of portable computers. Notebooks have been used in work environments since 1990, but have become much more popular with everyday users in recent years. The drop in prices has been one of the factors that have led them to enter this market.
In this comparison we will see the best convertible laptops in terms of quality-price ratio. But first we will see what we would have to expect from a device of this type. Firstly, we should say that convertible ultrabooks need to be light and thin, and secondly, they need to have a screen that can be removed. This is what makes them a normal laptop, since it allows us to use them as tablets, flat on the table or held in a case. In other words, transforming the laptop we knew in the past into a much more versatile device.
If you're looking for the best convertible laptop, here's a comparison chart that will help you choose the model that best suits your needs and budget.
A convertible laptop comes in many forms and factors right now, with a variety of features and prices. In addition, we will divide the item into two sections. So you will find a section that will help you choose the best 2-in-1 laptop and another one where we will show you the cheap and quality convertible laptops you can find.
At the end of this article, you will have a clearer idea of which 2-in-1 laptop you are interested in according to the features you are looking for and your budget. Even if you see that you are not clear, do not despair, because you can leave a comment and we will help you solve your doubts.
Price
If we have to put a "but" to the 2 in 1 laptop, it would have to do with the price. But make no mistake: it's not that they are not worth it, it's that what we are going to buy are two devices in the same device. Seen like this, we can say that the price is lower than if we buy them separately, but more expensive if we are only interested in one of the two. Therefore, it is worthwhile to look for an equipment that has a good quality/price ratio.
The best convertible laptop considering what it offers us and that its price is not too high is the Lenovo Yoga 720-13IKBR. It is a laptop with a 13″ Full HD screen with 1920 x 1080 resolution, which is a good screen that will allow us to enjoy all kinds of content.
Performance & Processor
As for its resources and performance, it has a quad-core i5-8250U processor with a clock speed that is between 1.6GHz and 3.4GHz. With it we can do anything, but this type of processor is designed for everyday use, for users who do not need to perform very demanding tasks.
As for the memory, this Lenovo offers 256GB in SSD, which will make accessing and opening our files a matter of opening and closing our eyes. Its 8GB of RAM ensures that we can perform many tasks at the same time, but not if some of them are heavy tasks such as multimedia editing.
The operating system that includes the Yoga 720-13IKBR is a Windows 10 that offers all kinds of possibilities, both desktop and when using the computer as a tablet.
Cheap 2-in-1 Convertible Laptops for Everyday Use
In this first section you will find the laptops that suit you best considering the price. In the second section we will talk about the best on the market but those will be more expensive.
1) Lenovo: Yoga 3, Yoga 530 and Lenovo Yoga 700
The Yoga model was launched in 2013 and Lenovo has launched a few successors since then. The Yoga 2, was a Haswell equipped version that saw the light in 2014 while the Yoga 3, a powerful line from Broadwell was launched in early 2015. Finally Yoga 700 is the one that came out at the end of 2017 with Skylake hardware, and these are the ones we will talk about first, because they are really worth it.
See Also: Best Industrial Design Laptop
The Yoga 3 consists of an 11-inch and 14-inch convertible laptop. This first one has a screen of specifically 11.6 FHD, a really light body (about 1kg) and a Core M hardware. It doesn't have a fan, but somehow it is much faster than its previous model as well as lasting more years of life. However, it sells more expensive and it gets a little warmer. It will gradually become more affordable, which is why we recommend using the offers that we attach to the page, because if you want to buy it you will surely not miss the best price.
As for the 14-inch version, it's the one that has been named Yoga 740, and it's the substitute for Yoga 510. We have an HD IPS screen and Lenovo says they've put 14 inches inside a 13-inch body.
The other big changes are also on the inside, as the Yoga 740 has a fast Intel Core i5 and i7 processor as well as dedicated graphics on the top-of-the-line models. So we can say that the graphics are outstanding. Apart from this, only part of the connectivity has changed, which offers us more connection options in the corners.
On the other hand we can say that Yoga 740 is a little more expensive if we compare it with its convertible laptop brother. But, we must also take into account that it comes better equipped and has been recently updated, so we will take the latest hardware home.
2) Asus ZenBook Flip
There are several models in this series of 13 and 15-inch convertible laptops, but these two are the ones that have caught my attention the most.
Equipped with the latest generations of Intel processors, the hardware of this laptop comes along with 16GB of RAM and 2TB internal storage to which we can add 256GB or 512GB SDD to choose from. The screen is 13.3 inches touch screen with FHD or 2K and IPS convertible (clear) and 52Wh of battery power.
See Also: Best Photo Editing Laptop
Along with the other convertible computers on the list, the Asus ZenBook Flip occupies little and some consider it as one of the lightest convertible laptops on the market (about 1.1kg), but that's basically because of its Macbook-like body.
While devices such as the Dell Inspiron 13 7000 or the Lenovo Yoga 3 we talked about earlier have plastic shells. You will notice the difference with the aluminum covered body of this tablet laptop.
Besides this the price is usually 50-100 dollars cheaper than convertible laptops with similar features from Dell, HP or Lenovo brand although it may vary a bit by country and store.
In general it is such an impressive convertible laptop but it is cheaper with some configurations than to leave it to your liking. It keeps the touch screen, the shape, the metal body and adds the NumPad keyboard as well as more connections and options for Intel UHD 620 in the graphics, but the battery has a little less capacity (48 Wh).
3) HP x360
These convertible laptop models are similar to a Windows tablet laptop that you can use as a "standalone" device, or connect them to a multi-function station. They come with a keyboard, trackpad (the box to move like a mouse) and in some cases other features such as connection ports and extra batteries. No doubt an interesting hybrid laptop model.
See Also: Best Live Streaming Laptop
The HP x360 is the most economical model of this type, which carry Intel Core i5 hardware at 4.2 Ghz. One of these convertible laptops has a fan but is very quiet (that means no noise), enough autonomy for daily use activities and approximately 6 hours of battery life. It offers a 14-inch screen with LED backlighting and has a resolution of 1920X1080 screen pixels.
The x360 is lighter and thinner and has a more luxurious feel to it compared to other convertible laptops at the same price. However, some functionality is sacrificed, which in this case is simply the Bluetooth keyboard. For its part, the X360 is physically connected to the tablet laptop and includes ports and space for a 2.5″ size hard drive (standard) inside.
4) Lenovo Yoga 520 (Flex 14 and 15)
This is Lenovo's line of affordable convertible laptops. As you can see it seems that this manufacturer takes the lead in what it does to this sector. The Flex 5 is available with 14 and 15.6 inches.
You get decent technical specifications, a lot of connectivity and a screen that if you turn around behind, like the Yoga but around 270 degrees. This means that unlike the Transforms we talked about earlier, Flex cannot be used as a tablet, only as a presentation type laptop.
See Also: Best Student Laptop
5) Lenovo Yoga 930
The Yoga 930 has an 8-hour battery life and weighs approximately 1.7kg. This means your battery will last a long time in daily use with a Core i5 processor configuration. It has a 14-inch touch screen and 4K resolution, which puts it on a higher level compared to the Asus line with IPS.
On the other hand, it is 150 to 200 euros cheaper than a similar hybrid laptop from the Transformer Book line we talked about earlier.
Lenovo on the other hand performed better in the areas where every tablet laptop we talked about before failed. First, they have Intel Kaby Lake hardware. Second, they have optional FHD IPS panels that can be converted with 360 degrees, just like the Yoga model, although the base models are still offered with TN HD screens. Third, they are a bit more compact and lighter than before with Nvidia's graphics option.
See Also: Interior Design Laptops
Despite all these things, the Yoga convertible computers are cheap compared to the others. The 14 and 15 models are less than 1000 dollars. Even the Flex 3 11 model (known as Yoga 300) was introduced, which can also be converted to a tablet at a price of less than 400 euros, but the technical specifications are not as good (logically) since it goes with Celeron hardware and a 1366 x 768 screen. It is a decent competitor for Dell Inspiron 11 3000 and HP Pavilion 11 X360.
Best Hybrid 2-in-1 Convertible Laptops
If you want the best hybrid laptop on the market, you will find it in this section. Of course, in this case, don't expect it to be completely cheap.
1) HP Spectre X360
If you are willing to spend more than 1000 dollars on a convertible tablet laptop, the HP Spectre should be at the top of your list. Here's why.
HP has done a very good job with this machine. They have built it from metal and not plastic, a fact that makes it strong but also beautiful, besides having a keyboard that lights up from below with a great screen. You can choose from a couple of options, and even the base model has a UHD (4K) resolution and an OLED panel, which is great. It also includes a digitizer and an active pen holder, so the HP Spectre is convenient for making sketches or illustrations. By the way, keep in mind that the pen is not included when you buy it, but it is still worth it.
It pairs the screen with a fast Broadwell or Skylake hardware of your choice and up to 16 GB of RAM with SSD memory. Factors that make Spectre fly smoothly with daily use offering up to 8 hours of battery life on a single charge, something you can't find in every 2-in-1 laptop.
See Also: Music Production Laptops
On the other hand, the good aluminum construction clearly affects its weight, which still seems not to do it because it does not reach 2 kg. Although if you are looking for lightness you will find another laptop that can be converted into a lighter tablet without much effort (look at the previous ones for example).
As things that can be improved, we think that Spectre could have been better if HP had taken more care of the glass on top, but it is usually a convertible laptop that we have liked a lot.
For some pockets this model will be a bit backwards, but the cheaper options will be around 1000 dollars although once bought you will know that the investment will have been worth it.
2) Surface Pro 7
The Surface Pro (7, Go and the new ones) is a laptop convertible into a different tablet since it is a Windows tablet that can be paired with a keyboard sleeve to have a tablet-like experience. This makes it more compact and lighter than any other 2-in-1 notebook model. We recommend it to give you more life on your desk, table, office or any other flat surface and not so much for travel or your lap.
See Also: 3D Modeling & Rendering Laptops
The Surface Pro has some deluxe features like the 3:2 high resolution screen with narrow bezels and design support (includes N-Trig and a pen). It also has an adjustable shelf with several angles in the back and a very durable body, as well as a very quiet cooling system even when using a fan.
Besides all this the Surface Pro comes with a powerful Intel core i5 or i7 hardware, but with an upgrade to make the Surface Pro 7 output at the end of last year. An option that you can consider very interesting with this offer that we link to you.
At the end of the day, while Surface Pro is one of those convertible Microsoft-based laptops and the best rated of these features to date, it is not necessarily the replacement for a laptop that many users want to believe it is. It simply performs other functions.
For example, we do not recommend it for use on your legs or lying on your bed, as this can be done with any of the cheap laptops out there. It lacks a better keyboard experience so if you are looking for something light but durable you might want to look at cheap ultrabooks.
This doesn't mean that the Surface Pro can't be the best choice for you, especially if you want a 2-in-1 laptop to use as a tablet most of the time and not primarily as a netbook. But as you've seen, you won't find it exactly cheap.
The basic configuration with an Intel Core M processor comes with 4 GB of RAM and 128 GB of memory space, starts at about 700-800 dollars and upgrades can pass the 1000 dollars without problems. Just remember that the keyboard case is not included and can cost you around 100 dollars.
See Also: Programming Laptops
3) Lenovo ThinkPad Yoga (Lenovo Yoga 940)
We are talking about Lenovo again and it is the one that goes ahead of the convertible laptops we have seen in the market. With advanced standards in the ThinkPad line, comes the ThinkPad Yoga, now more hybrid than ever. There are three different models in stores during the development of this comparison, the 12.5-inch, 14 and 15.6.
As for the just over 14-inch model, the latest generation comes with a tenth-generation Intel handheld hardware construction, both i5 and i7 for those looking for maximum power. We also can't forget about its 4K resolution IPS screen, one of the best we've seen on this page
Besides this, you have a good selection of connection ports available, a very comfortable ergonomic keyboard and some extra features compared to any Yoga Pro. The buttons are mechanically locked when the device leaves "portable mode" so they are not as exposed compared to the Yoga.
See Also: Business Laptops
ThinkPad Yoga is superiorly strong, made to survive in business and corporate settings, so entrepreneurs have these convertible laptops on file. Don't forget to keep the charger handy because the average battery life is about 7 hours per charge. Not enough for the whole day but it is enough to make some presentations or to present works.
Some users may think ThinkPad Yoga 940 may be a little bulky and heavy but nothing could be further from the truth as it only weighs 1.56 kg.
So the price of the ThinkPad Yoga starts at around 900 dollars, with a base version of Intel Core i5 10th gen processor, with 16 GB of RAM and 1T of SSD memory (the fastest). There were cheaper versions (the previous generation but no longer in stock).
4) Acer Alpha Switch
Of all the convertible notebooks we can say that the Acer Switch 12 is one of the rare ones… It offers a 12-inch touch screen that rotates inside its bezel. This makes it a design that does not expose its keyboard in tablet mode, but that appeals to users looking for a 2-in-1 notebook in this comparison.
Once you've overcome the issue of design and aesthetics of this laptop-tablet, you'll see that the R13 is worth valuing in this review. It weighs less than 2kg and has a good screen quality along with the pencil which by the way is not included. As hardware we have the already known Haswell, Broadwell and Skylake with up to 8 GB of RAM and several amounts of SSD memory to choose from.
The keyboard lacks the line of function buttons that had previous versions so you will need some time to get used to it.
See Also: Architects Laptops
Finally, the price of this convertible is solid, the base costs about 1000 dollars and includes Core i5 as a processor along with 8GB of RAM and 512GB of SSD hard disk, although for a little more we have the version with Core i7 which is much more powerful.
Anyway do not worry, by the time you read this the prices have probably dropped so I recommend you use the links we have put in this comparison to go to the cheapest offers.
5) ThinkPad Yoga x380
Moving on to ThinkPad Yoga x380 is slightly better. It is built on the same model, but has no pencil or digitizable media, replaced by dedicated graphics. This convertible laptop model comes with a 13.3-inch IPS touch screen, Broadwell or Skylake hardware, up to 8GB of RAM, and several types of internal memory with Intel UHD 620, all placed inside a body of about 1.43kg almost.
These aspects might make you think that ThinkPad Yoga is a competitor that can with the daily tasks, multimedia content and some stunning games. It is not as portable as for example the Zenbook we talked about in the ultrabooks article although they share similar features, but hey, it is a 2 in 1 laptop and it is hybrid and convertible. Whatever you want to call it. Besides being cheaper and faster since its basic version has a price from 1000 dollars.
Finally you also have the ThinkPad Yoga 15 version which is the size of a full laptop with a 15.6 inch screen. In fact it is one of the few convertible laptops of this size, so we recommend it as the first if you want something with a 15-inch screen.
See Also: Ultrabook Laptops
Built on Broadwell and weighs about 2.5kg offering 16GB of RAM, dedicated graphics and NumPad keyboard with different storage options. This model starts with a price of around 950 dollars in its most basic configuration.
What Is a Convertible Laptop?
A convertible laptop is a special kind of laptop. It has the possibility of removing the keyboard, so it becomes a tablet. They are also known as 2-in-1 laptops or simply 2-in-1 convertibles. If you ever come across any of these names, know that they are the same, or refer to the same product.
By being able to serve as both a tablet and a laptop, the possibilities for the user are greatly expanded. You will be able to use it in a normal way as both devices. It is a good option in this sense, because it can be given all kinds of uses. From working to consuming contents, when removing the keyboard. Each user can take advantage of it.
See Also: SSD Laptops
The normal thing is that a convertible laptop arrives with Windows 10 as an operating system. It is the most common in the market, since current laptops almost always use the Microsoft operating system. So the tablet you use will also have this operating system.
Which Convertible Laptop To Buy
If at this point you still have doubts about which convertible laptop to buy, then we will give you a series of tips that will help you make the choice easier (remember that you can also ask us and we will help you),
The first thing you should be clear about is that a convertible or 2-in-1 laptop is one that can be converted into a tablet, so they usually have a touch screen that can be placed in multiple angles and positions to facilitate the use of the computer in touch mode.
After the above, we recommend that you only buy this type of laptop if you are going to use it in tablet mode, otherwise you will be paying an extra cost for a feature that you will not take advantage of. If this is not your case and you consider that the 2 in 1 mode is essential, take into account these tips when choosing a convertible laptop:
Screen Quality
Our opinion is that the screen is the most important point you should value when buying a cheap 2-in-1 laptop. Good resolution and viewing angles are a must, being at least Full HD to enjoy multimedia content.
It is also important that you pay attention to the mechanism of the hinges that allow the rotation of the screen (in some cases 360º). We are in favor of two systems:
Removable screen to which we connect a keyboard: this would be the case of the Microsoft Surface. As it has no moving parts, there is nothing that can be broken over time.
2 hinges: if the screen and keyboard assembly of the convertible laptop is going to be joined, it should be by the use of 2 hinges. It is a mechanism that is already more than proven and it will be rare to see "play" or noise over time.
Flee from complex and modern mechanisms, they will only give you problems in the long run. In addition, since it is a touch screen, you must take into account these other factors to achieve the best possible user experience:
Response Time
The time that passes between the moment we touch the screen and its reaction has to be acceptable. A slow response time can translate into lower productivity. Also, if it is very bad, it can be confusing because we can think that the screen has not managed to register the touch, which can lead us to doubt: "have I touched it?
See Also: Laptops without Operating System
Multi-Touch Screen
The first touch screens were resistive, but now the most widespread are capacitive and multi-touch. A multitouch screen allows us to be more productive by offering us extra gestures, such as launching a menu, zooming with two fingers or rotating images.
Compatible with Stylus
A stylus is a "pen" with which we can interact with the screen. It is not worth it if what we want is to make simple touches, since we all have fingers that are more precise, but if what we want is, for example, to draw. If this is what we need, it is worth looking for a laptop with a screen compatible with stylus and a good response time.
Weight
In this section we have to differentiate different cases. If the use you are going to give to the convertible laptop is domestic, we recommend that it is as light and compact as possible so that using it will not cause you any discomfort.
If you are going to use it professionally or you need a laptop for students, we recommend you to buy convertible laptops with 14 or 15 inch screens so you can work more efficiently, teach presentations or reports, etc. Having a generous screen will also make you work more fluently
Hardware
Here it already depends a little bit on the budget you have. Our opinions about the convertible laptops tell us that it is more than advisable to have 8GB of RAM and SSD hard drive to speed up the loading of applications, especially in touch mode to make the experience much more pleasant.
At the level of processor and graphics, the use that is usually given to this type of device is not very demanding so we can buy something midrange or even low without problem. The SSD and RAM will make the performance fantastic.
The Best Brands in 2 in 1 Laptops
Although they have been on the market for many years, not all brands offer this type of product to buy. This is the list of the best brands in convertible laptops:
HP
Offers a wide variety of laptops 2 in 1 and for all pockets, so it will be very difficult that you do not find the model you are looking for in this brand.
See Also: Budget Laptops
Lenovo
Lenovo is another company that offers more models of convertible laptops today. We like Lenovo because it has quite innovative and well built models, so it is a quality bet without any doubt.
The best thing about Lenovo is that it has computers for any type of user, among which we have user/home, professional or even gaming level. Among its ranges, stands out the Yoga.
Its name has been inspired because it is equipment whose screen can be put in any position, but this is not the only interesting feature of the Yoga. We also have equipment with the latest technologies, among which we have the most modern processors and touch screens, and the best designs.
Medion
Their equipment is more focused on the low end so it is a good option if our budget is very tight.
ASUS
A few years ago they offered more models to choose from but the Transformer range still has very interesting options that you should take into account if you are looking to buy a cheap convertible laptop.
Microsoft
This is the high-end option that you should consider if you have a large budget. The quality of its screen is sublime and there are many hardware configurations for us to choose what best suits our needs. Without a doubt, the Surface will not disappoint you.
Where To Buy the Best Convertible Laptop
The popularity of these products has increased significantly over time. Therefore, it is very easy to buy a convertible laptop today, as many stores have models available. Although there are some stores that are worth considering:
Amazon: The online store has the largest selection of these models. A very wide range, with all kinds of brands, models and prices. Therefore, it is impossible not to find one that fits what we are looking for in this regard. In addition, there are offers and promotions all year round, so we have access to good discounts.
Carrefour: The chain of hypermarkets is a good option, because they have a good selection of convertible laptop models. They usually have a little bit of everything in terms of prices, with very accessible models. So it's a store that many people should consider, especially if they're looking for models with lower prices.
See Also: Small Laptops
Tablet or Convertible Laptop? Advantages and Disadvantages of Each
There may be many users who have doubts about what they should buy, whether a tablet or a convertible laptop. There are a number of advantages and disadvantages to each of the products, which should be taken into account. That's why we talk to you about these issues below:
Convertible Laptop
The main advantage it leaves us is its versatility. It is a product that we can use in all kinds of situations in a simple way. We can use it to work, study, navigate, edit photos or videos without problems. If we want to use it in leisure, we can extract the keyboard and thus be able to use it as a tablet in a more comfortable way for us.
Another advantage is that they are more powerful than a tablet. So if we have to work or study, we will not have problems. We will be able to use it as a normal laptop in this sense, having access to all the tools there are.
One of the big disadvantages of a convertible laptop is its price. Its price is more expensive than a tablet. Besides being also more expensive than many laptops. Something that undoubtedly ends up affecting your sales and is not accessible to many users.
Tablet
The tablet has its comfort of use and that is ideal for browsing or consuming content as the main advantage. The absence of a keyboard at all times makes it light and easy to carry. In addition to giving an experience similar to that of a phone.
In addition, a tablet is much cheaper than a convertible laptop. This is something that also has to be taken into account, as the price differences can be significant in this regard.
See Also: Linux Laptops
On the other hand, we have to take into account that it gives us less options. A tablet is not a good option if we have to work, especially because most use Android or iOS and those with Windows are usually expensive. So in that sense it is more limited for users.
In addition, in the case of a tablet, unlike the convertible laptop, we have to buy the keyboard separately. So we have to find one that fits the tablet and buy it. An additional expense in this case.
Reasons To Buy a 2-in-1 Convertible Laptop
Powerful and Efficient
The 2 in 1 laptops are computers that include hardware designed for just this. They have hardware as powerful or more than many laptops, but also one that is designed to work perfectly with the operating system that is installed by default. All this allows them to be laptop that work perfectly, offer more options and consume less energy.
Versatility
2 in 1 laptops are both a tablet and a computer. This allows us to use mobile applications that we can use with our fingers, which includes mobile games (if the operating system allows it) and desktop applications that will allow us to do all kinds of work. Explained otherwise, we will be the ones who choose whether to use a tablet or a computer, all without losing time in the passage from one computer to another.
More Elegant Design
Laptops have been around for a long time, but convertible laptops are younger devices. Brands compete with each other to see who can bring out the most attractive device that can catch our attention, which translates into really nice designs. This also leads us to the next point.
Lightweight and Rugged
A 2-in-1 laptop is also a tablet. If brands focus on creating lightweight computers, and laptops are computers that we can put between our legs or on a table, their efforts are even greater when they create a computer that can be turned into a tablet that we hold in both hands. This is something they achieve, and the 2 in 1 are usually lighter devices than laptops. Their compressed design also makes them more resistant.
See Also: 4k Laptops
More Complete Operating System (OS)
Android and iOS are perfect operating systems for tablets. The problem is that, even in the case of Android which is more open, they have certain restrictions.
There are no desktop applications, so we can't use them to do many professional jobs. This is something that does not happen in 2-in-1 computers, since they include a complete operating system, even more complete than the desktop.
In cases like Windows, we will have the normal desktop operating system and a tablet mode, so we will have everything in the same device.
Conclusion
These have been the most outstanding convertible ultrabooks you can find in stores and online right now. We will keep the list updated so you have all the information you need in one place.
Deciding the exact model for you in terms of 2-in-1 laptops can be a bit complicated since each user has different needs, but if you have any doubts you can put it in detail in the comments and subscribe to our newsletter to send you information and help you even more.
See Also: Lightweight Laptops
In general terms I can tell you that for example the HP Spectre X360 is going well for most people. If you have around 1000 dollars to spend then consider Microsoft Surface and if you want to use it for business consider Lenovo ThinkPad or Hp Elitebook.
If you have come to the point of leaving I just want to say that a publication of this type takes many hours, so if you want to subscribe to our newsletter or give a +1 or link it helps more than you think and will not take more than a few seconds.
Keep visiting Laptops Guide to know all the details about the laptop you're planning to buy.
References
https://www.digitaltrends.com/computing/best-2-in-1-laptops/
https://www.cnet.com/news/best-2-in-1-convertible-laptop/
https://www.techradar.com/news/mobile-computing/laptops/best-2-in-1-laptops-top-5-hybrid-laptops-reviewed-1258451