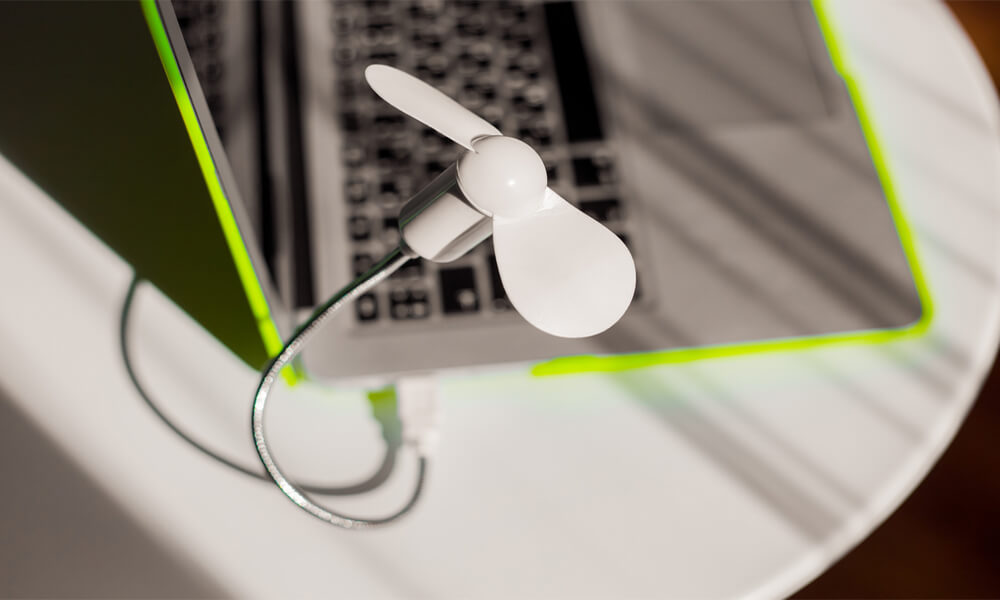 Currently in the world of computing there are several accessories on the market that facilitate our work, or provide us with greater comfort during our travels, each and every one is essential for us and even for you, who use your laptop every day.
As you know, heat has always been a big problem, but for every inconvenience there is always a solution and one of them is a fan for your laptop. A device that is very useful to cool the air and give you great ventilation.
In this article, our main goal is to help you choose an accessory that is not very common among users but that is very useful for all our trips, in this case we are referring to the laptop fans.
Maybe you already know about the subject and know the function of this accessory, if you still have no idea what they are, do not worry, in this article, we will help you choose a fan that is right for your needs and according to your pocket.
USB Laptop Fans Comparison
| Ranking | Name | Best Feature | Current Price |
| --- | --- | --- | --- |
| 1) | AngLink Mini USB Fan | High quality 18650 battery with a battery life time of 2.5 to 6 hours | Price On Amazon |
| 2) | EasyAcc Mini USB Fan | 3 types of airflow speed adjustment | Price On Amazon |
| 3) | Otumixx Mini USB Fan | Have a 360 degree rotation | Price On Amazon |
| 4) | FITFORT Mini USB Fan | fan also includes 2 sponges that absorb liquid, either aromatic oils or mosquito repellents | Price On Amazon |
| 5) | Lileng Mini USB Fan | A very compact laptop fan that you can easily carry in your backpack | Price On Amazon |
Before you make your purchase, you need to know the characteristics of each fan, as well as the advantages and disadvantages of each, in order to make a safe purchase and not receive a big disappointment when you receive your order, therefore, take note of the following points.
What You Should Know About Laptop Fans
You should know that at the time you buy your laptop, sellers do not include any accessory, of course to have it, you must pay for it, sometimes the accessories you buy in these stores always bring with them the logo of the brand, but it does not mean that they are the best.
See Also: Top Rated Laptop Cases
Before you buy any of the fans shown here, it is important that you take a few minutes to analyze each of them, some fans can be of one or more propellers, it all depends on the model you choose.
If you have not yet decided which fans you want to buy, here I will give you a few buying tips.
What Is a Laptop Fan?
Technically speaking, a laptop fan is a small device powered by a USB connection that gives you good cooling; it can easily move from one place to another and get a power charge through your laptop, desktop computer or an external power source.
The existence of these fans in the market does not mean that conventional fans are going to be eliminated from the market, they are simply an excellent product for the home because they are very easy to use and are also highly recommended for energy saving.
See Also: Laptop Table Guide
They are very useful to facilitate personal and laptop cooling in those places where the temperature is somewhat high, especially on summer days.
These fans are very quiet, as their blades help to obtain a good air flow without generating annoying noises, a factor that is beneficial for you to enjoy a cool and relaxed desktop. Some are foldable and others can use batteries.
Advantages of Laptop Fans
In addition to being compact and very quiet ventilation models, there are more features that make these fans a favorite among users and therefore the best-selling models on the market.
Additionally, among their many advantages, I can mention some of the most outstanding ones:
See Also: Laptop Cooling Pad Guide
They can be easily used by connecting to the USB port of your laptop.
They are low power consumption.
The angle can be adjusted up or down very easily.
Its convenient design allows it not to take up much space on your desk, making it ideal for office use.
Laptop fans are ideal devices to keep on your desk, your laptop and you cool in the most economical way possible. If you are about to buy your fan, pay attention to some criteria that you should take into account.
How To Choose the Best Laptop Fan
If you have already taken a dive in the Internet market, you will have noticed that there are many purchase options, all in different sizes, shapes and most importantly, price ranges, this can confuse you at the time of your purchase.
See Also: Laptop Mouse Guide
Therefore, it is of great importance that you have at hand the information that you find useful and that give you the necessary keys to make a safe and successful purchase, among which are.
Size
If you are about to choose the fan for your laptop, you will realize that most of the models that exist are relatively small. The fact that it is a small model does not mean that it is inefficient, on the contrary, it offers a great air flow, so you can put aside the idea of buying a large fan.
Portability
You must take into account that the portability of your new fan is a major factor, to choose correctly you must take into account the size of your laptop and your desktop, if you want to buy a fan to give you a better working environment.
In addition to this, you need to carry it in your backpack and all your travels, then a small fan is what you are looking for and would be your best choice.
See Also: Laptop Speaker Guide
Power and Speeds
These fans are very useful accessories that allow you to cool the air in your environment in a very small space and in front of your laptop, so do not expect them to be very powerful, but do not be discouraged.
Before you opt to choose another model, you should investigate if the fan of your choice comes with adjustable speeds, some fans can be turned on and off, while other models give you a series of adjustable speeds for airflow, allowing you to go up and down as needed.
You can also opt to choose a fan that you can set to a low flow setting, this would be ideal when working with papers.
When you are deciding to buy your laptop fan, there are several issues to consider and price always plays an important role in this decision. You should also pay attention to the performance, power options and overall endurance.
See Also: Laptop Charger Guide
If after reading all these aspects you are determined to buy your laptop fan, but you still don't know which model to choose, here I show you the 5 best fans for you.
Best USB Laptop Fans Review
In order for you to get a good choice of the USB fan for your laptop, we bring you a list with the description of the best models currently available
See Also: Laptop RAM Guide
1) AngLink Mini USB Fan
The AngLink mini fan has been improved by its manufacturer in terms of appearance of a clip fan, its new design allows a perfect airflow and less noise when working, it looks much more elegant than its previous model, in addition to acquiring an increase in power.
It's great double flat design with clip is easier and can be carried anywhere, place it wherever you want to get a cool breeze, its convenience is so much that you can place it even in your baby's stroller, offices and homes, keep cool and ventilate your laptop from anywhere, its unique and elegant design matches any style.
See Also: Laptop Sticker Guide
Its fan comes with a Powerful Electric motor, more resistant, stable and durable. It includes four gears to adjust the speed, with a maximum speed of 80ft/s, ultra-quiet, minimum approach of 40 dB.
The powerful AngLink USB fan is made with a high quality 18650 battery, with a battery life time of 2.5 to 6 hours (the duration may vary depending on the use you give it), you can use this fan from the USB port of your laptop, power bank or an original charger.
It is very useful, you can take it everywhere, in addition to its incredible horizontal and vertical rotation of 360 degrees, its ABS manufacturing material makes it a stronger and more resistant fan, you can rest assured that your fan will be in good condition even after a fall.
See Also: Laptop External Optical Drive Guide
2) EasyAcc Mini USB Fan
The EasyAcc fan has a built-in 4000 mAh battery, giving the fan a performance of 5 to 23 hours of use without the need to connect to the mains, its comfortable design with folding handle gives the fan an easy hand grip or easy transport in your pocket.
See Also: Laptop Replacement Battery Guide
It has a power reminder function, which makes this fan a unique product on Amazon. It consists of pressing the indicated key to display the actual power, it is equipped with LED indicator light that lets you know what level of charge your battery is at, a function that is very useful while you are not at home.
This great fan provides 3 types of airflow speed adjustment, you can adjust it depending on your needs, just press the power button repeatedly, this new model allows you to turn it off with a single button, it can be turned off by pressing and holding the key for 3 seconds.
Its powerful brushless motor and quiet operation (reduced to 30 decibels) provides better airflow, suitable for indoor and outdoor use, and its foldable design allows it to be used on a desk.
See Also: Laptop External Graphics Card Guide
Its design allows better charging compatibility with any type of USB charges, ideal for charging through the 5V output adapter, you can connect it directly to your laptop to maintain the temperature of your laptop and always be cool and work comfortably.
This laptop and handheld fan, offers a protective bag, when you are not using it, you can fold it and store it in your backpack or any bag to prevent the fan from unintentional manipulation.
Quality and price at your fingertips, a fan suitable for you, improve the working conditions of your environment and your laptop.
See Also: Laptop Stand Guide
3) Otumixx Mini USB Fan
The Otumixx fan is a very practical design, small and very light, made with a clamp that allows you to place it wherever you want, or attach it to the table, can be held perfectly on a flat surface, without risk of falling, its rubberized prevents your furniture and surfaces deteriorate.
See Also: Laptop SSD Guide
Its design allows it to have a 360 degree rotation, there is no air supply in the dead corner and the noise is less than or equal to 20 decibels, ideal for use while sleeping, working or studying, very comfortable and also silent.
Its two-speed airflow control allows you to choose at will the speed you want.
Its power is obtained through a cable that you can connect directly to the USB port of your laptop, a portable charger or any other power source.
The opening angle of the clamp is 53 mm, we are talking about 20 mm larger than other fans, the grip is more secure, plus you can place it in your baby's stroller, its versatility makes this fan perfect for the office, desk or bedroom.
See Also: Laptop External Hard Drive Guide
Its grill is designed to be small, this is due to the fan which is made of soft PP, a beneficial factor for you or someone around you not to suffer any kind of injury, you can be calm even if you have left the fan on and unattended.
The silence of the fan is perfect for cooling your personal space, so you can feel the cool air even on hot days.
4) FITFORT Mini USB Fan
The FITFORT portable fan is made with an easy to clip design to the EVA pad, which increases the holding power of the fan. Its clip-on design can attach to furniture or desktops up to 2.4 inches, ideal for attaching to your bed, desk, exercise machines, etc.
Its speed control and adjustment, allows you to choose the speed you want without any limit, its automatic oscillation of 90 degrees gives you a more comfortable air flow, likewise, you can manually adjust it so that its motor has a rotation of 360 degrees.
Its battery has a capacity of 4400 mAh which provides the fan from 6 to 40 hours of operation, it all depends on the speed you drive it.
This fan has a power of 3.5W, which helps to produce more air. In addition, its high performance brushless motor makes this laptop fan very quiet, it is designed to produce a noise of less than 40 decibels, you can have leaves on your desk while the fan is running, no problem at all.
See Also: Laptop Backpacks Guide
Its rechargeable battery needs to use the DC voltage of 5V to recharge, the charging time is approximately 3 to 4 hours, this is achieved thanks to the cable that you can connect to the USB port of your laptop, desktop computer or any rechargeable battery.
As an additional feature, this great laptop fan also includes 2 sponges that absorb liquid, either aromatic oils or mosquito repellents, just soak a little sponge and place it on the back of the fan, you will enjoy an aromatic air to relax while you work.
5) Lileng Mini USB Fan
The large Lileng fan can be a good choice for you if you are looking for a quality model that is efficient at all times, its aluminum blade design reduces the noise generated by 40%, in addition to a motor that can rotate 90 degrees up and down.
It is compatible with all existing laptops, desktops, MacBook, you can use this fan by connecting it to an external battery and various devices that have USB inputs.
Its compact design and metal grille ensure you keep your environment cool at all times, ideal for your home, office, bedroom, and even if you are one of those who often visit the library, it will also be a great ally of yours, because you can use it without disturbing others.
See Also: Laptop Graphic Cards Guide
Its 360-degree rotation allows you to adjust the air to the areas of your choice, facilitating the flow and dispersing it more easily.
A very compact laptop fan that you can easily carry in your backpack and take it on all your trips, keep your laptop at its temperature and cool your environment.
Frequently Asked Questions (FAQs)
Q: Can I Recharge the Fan Battery While in Use?
It is not recommended to do this practice, ideally if you are going to connect it to your laptop remove the battery to avoid possible damage, if you want to save energy consumption of your laptop, you can charge your battery and then use it, without having to keep it connected.
Q: Can the Fan Be Damaged if It Is Dropped?
Some models are manufactured with high quality materials, resistant to any fall, keep in mind that they are fragile objects and therefore, they are not exempt from breaking down in such a case. Try to keep it in a safe place and as centered as possible.
Q: Do These Fans Include a Storage Case?
Some models may have it available, others do not, keep in mind that it is an additional expense you would make if you acquire it, it is not superfluous to give additional security to your fan, it's up to you.
Q: What Is the Air Range of These Fans?
Each model has a specific ventilation radius, usually about 1.5 to 2 meters, they are designed to ventilate a short distance, besides being for personal use.
Keep visiting Laptops Guide to know all the details about the laptop you're planning to buy.
References
https://www.forbes.com/sites/forbes-personal-shopper/2021/06/10/best-mattresses/?sh=7337b41f409f
https://sciencing.com/causes-computer-overheat-7243.html
https://www.quora.com/Can-a-laptop-cooling-fan-demand-so-much-power-supply-power-that-it-shuts-down-the-system