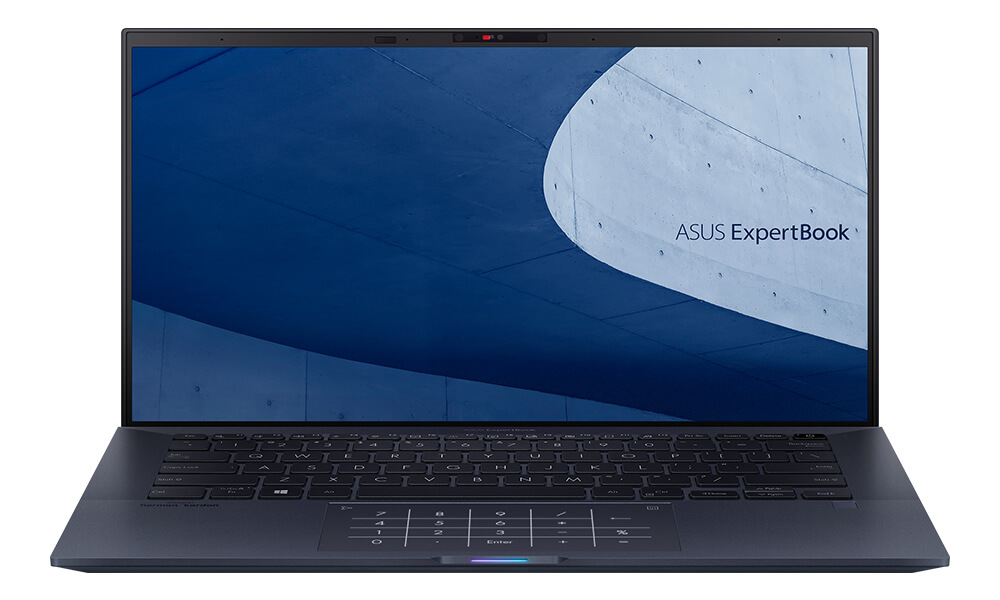 Lightweight laptops are the order of the day, and the days of the "laptop" are long gone. However, this does not mean that companies are resting on their laurels.
In the midst of the 2021, the race is on to reduce the weight to below one kilogram. And, it seems, Asus is in the lead. The proof of this is the laptop I've had in my hands for three weeks: the Asus ExpertBook B9.
It weighs 870 grams and promises above-average battery life. So, without further ado, let's get started with the review.
LIGHT AND RESISTANT
Asus has used a lithium-magnesium alloy in the chassis of the Asus ExpertBook B9 and with this they have managed to reduce its weight to 870 grams. That's light, a lot. You may not be able to imagine how light it is when you read these lines. But to give you an idea, my personal phone (when I'm not testing others) is the OnePlus 7 Pro and it weighs 206 grams.
In other words, carrying this laptop would be almost like carrying four OnePlus 7 Pro in your pocket. It is an unfeasible situation, but one that outlines the exercise that ASUS has done when it comes to assembling this laptop.
In addition, this lightness is coupled with a construction designed to withstand extreme situations. The ASUS ExpertBook B9 boasts MIL-STD 810G certification and is capable of withstanding drops, vibrations, shocks, humidity, dust and temperatures of up to 50°C.
In real-world situations, all this translates to a chassis that's free of looseness and able to withstand the daily grind. And if further protection is still needed, ASUS has included a case made of waterproof material and soft padding to prevent scratches. The result of the combination of lightness and resistance results in a perfect device to take anywhere.
Design of ASUS ExpertBook B9
Having talked about the two most important aspects of the construction of the ASUS ExpertBook B9, it's time to talk about the design. This section can be defined with one word: discreet.
This laptop stays out of sight and out of the spotlight. It is elegant, but without drawing attention to itself. The color is black, although if we get close enough we will see the texture of the materials used in the body of this laptop. The only remarkable thing about the outer cover is the brand silkscreen whose glossy finish allows reflections to be created.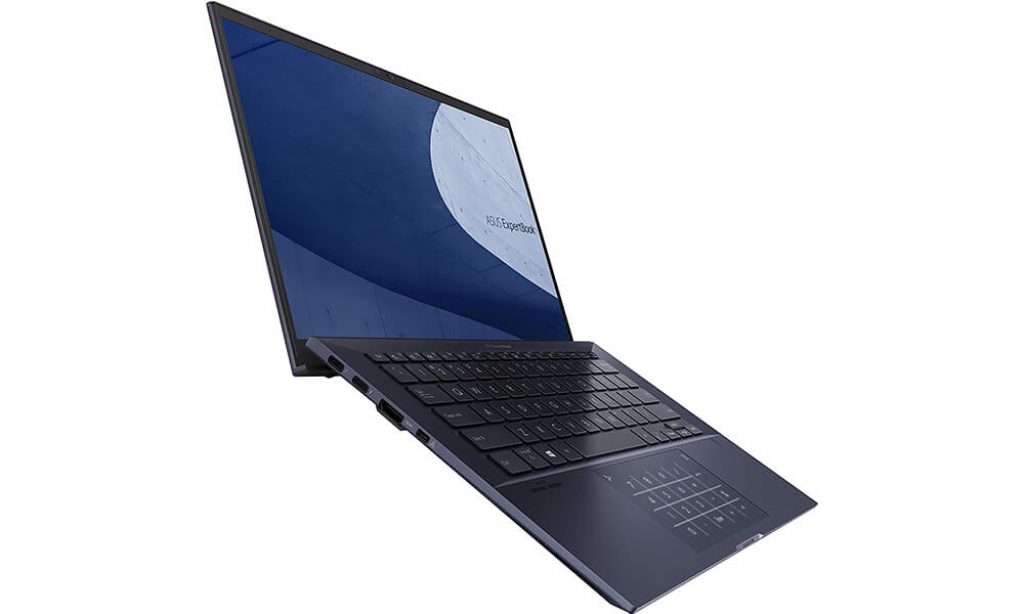 Connections & Ports
On the sides of the ASUS ExpertBook B9 are the ports for the physical connections. On the left side there are two USB C Thunderbolt 3 ports that can be used interchangeably to charge the device, an HDMI port and a micro HDMI port that is intended to connect the adapter included in the box ASUS to have internet connection via RJ45 cable.
On the opposite side the space is shared by the Kensington lock slot, a 3.5 mm jack port combined (headphones and microphone) and a USB 3.1 type A port (the usual ones).
Just before lifting the lid, a white stripe makes an appearance, although it may seem merely aesthetic. It is actually an LED indicator that will light up while the notebook is charging. When lifting the lid the first thing that stands out is how precise the hinge is, there is no need to hold the laptop with one hand while lifting the lid with the other.
The resistance it offers is just enough so that with one hand we can discover what is hidden behind the lid. The Asus ExpertBook B9 features the familiar ErgoLift hinge. This hinge automatically raises the keyboard, leaving more space between the notebook and the surface on which it rests. This makes airflow more efficient and also improves typing ergonomics.
The movement of this hinge gives way to a 14-inch screen with frames that are used in all directions. It is true that the sides are the smallest of the four, but neither the bottom nor the top are lagging behind.
In addition, the inclusion of a webcam and IR facial recognition system in the upper frame has merit; when we have seen ASUS devices that have dispensed with these features. Below the screen of the Asus ExpertBook B9 is both the keyboard and the touchpad, parallel to this touchpad is a fingerprint reader of moderate size.
Where are the speakers? These are located on both sides of the base of the device.
Keyboard and ASUS NumberPad
The touchpad of the Asus ExpertBook B9 has a secret and that is that it has dual functionality. It can be both a conventional touchpad and a numeric keypad. This feature has the name of ASUS NumberPad and it is not the first time we see it in ASUS equipment. However, the improvement of the generations is noticeable and we can now adjust the intensity of this LED lighting.
Although it may seem that you are not going to use this auxiliary keyboard, at the end of the day it is very convenient when editing Excel documents or generating invoices. It's an addition that works if you need it in your day-to-day life and doesn't bother you if you don't use it.
In addition, this touchpad is compatible with Windows gestures so we can use it to switch between desktops or go back and forth while browsing.
As for the Asus ExpertBook B9 keyboard, the experience it offers is adequate. In my day to day life I type on a mechanical one and the transition to the one on this laptop has not been a problem.
The keys are a good size, the spacing is more than enough, they don't dance and the travel is just enough for us to feel the keystroke. My only complaint is the backlighting, as there is no noticeable jump from minimum to maximum brightness.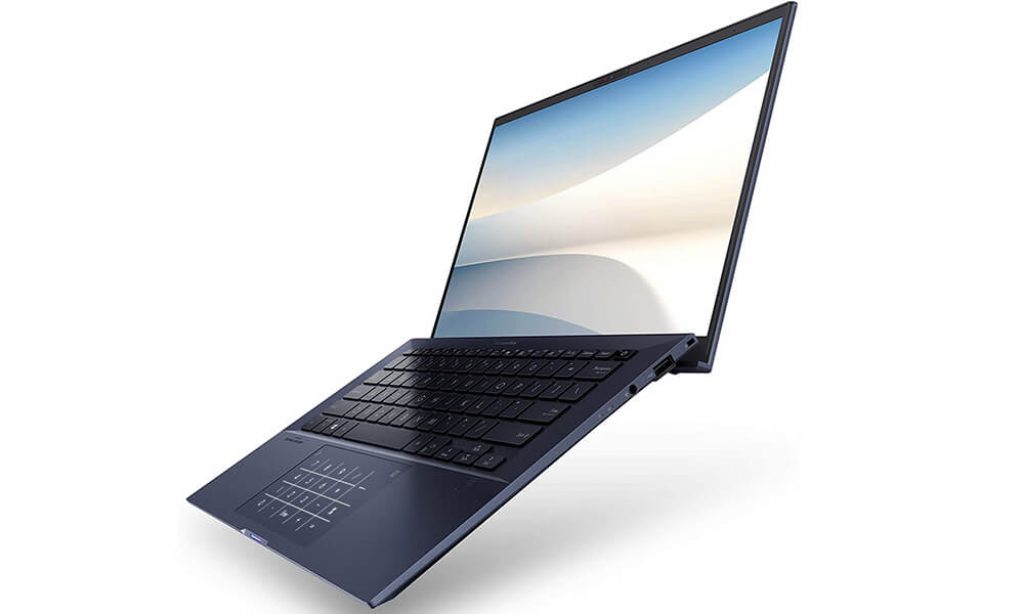 ASUS EXPERTBOOK B9 TECHNICAL SPECIFICATIONS
Display
14″ LED display - 35.56 cm, Full HD IPS (1920 x 1080), 16:9 aspect ratio, anti-glare screen, 300 nits brightness.
4 mm bezel and 94% screen-to-body ratio
Supports 100% sRGB color gamut (NTSC: 72%)
178° Wide-View technology
Processor
Intel Core i7-10510U 1.8 GHz quad-core processor with Turbo Boost (up to 4.9 GHz) and 8 MB cache
Graphics
Integrated Intel® UHD Graphics 620
RAM
16GB on-board LDDR3 2133MHz Dual Channel RAM (dual channel)
Storage
1TB PCIe 3.0 x4 M.2 NVMe Storage
Sound
2 Harman Kardon-certified stereo speakers, Four 360° and far-field microphones (support noise cancellation), Microphone array with Cortana and Alexa voice recognition support
Camera
720p HD camera with microphone
Operating System
Windows 10 Pro
Connectivity & Security
Intel Wi-Fi 6 (Gig+)(802.11ax) 2×2, Bluetooth 5.0, Fingerprint reader (Windows Hello), IR camera (Windows Hello), Physical webcam locking system
Battery
33Wh, 2 Cells, Polymer Lithium Ion
Connectors
1 x USB 3.2 (GEN2)
2 x USB-C™ Thunderbolt 3 (up to 40Gbps, DisplayPort and power delivery and charging support)
1 x 3.5mm Headphone Output/Microphone Input (combo)
1 x HDMI
1 x Kensington Security Lock
1 x RJ45 LAN through micro HDMI port
Dimensions
321 x 202 x 9~14.9 mm millimeters and 870 grams
Adapter
USB-C Power Adapter
65W AC Adapter
Output: 19V DC, 3.42A, 65W
Input: 100~240V AC, 50/60Hz Universal
14 INCHES IN A VERY WELL USED FRONT
In the design section we passed over the screen and only gave the data of its inches. But these 14 inches of diagonal hide an IPS panel with Full HD resolution or 1,920 x 1,080 pixels.
The format is the most commonly used in laptops, 16:9, and the utilization is 94%. In terms of colors, the Asus ExpertBook B9 is capable of displaying 100% of the sRGB color gamut and 72% NTSC.
Brightness remains at 300 nits and viewing angles have been strengthened thanks to Wide-View technology to a 178-degree range.
Yes, the string of technical data is fine, but let's talk about its behavior in real life situations. The first thing is its size, 14 inches is not for everyone and in particular, it is not for me.
I've always preferred the 15.6-inch diagonal, however, I have to contextualize what kind of product it is and how thought out it is to be able to be used anytime, anywhere. And, in that case there is no discussion at all, the 14 inches allow you to open the laptop sitting in the passenger seat of a car as in a myriad of situations that cross my mind.
Now, the screen of the Asus ExpertBook B9 is very good except for one thing: the brightness. The 300 nits are more than enough for indoor or shady places. But when we have direct light these fall somewhat short. It is not that we suddenly stop seeing the screen, but it is somewhat more difficult to see the details.
What is to be appreciated is the matte finish that manages to alleviate this situation, but not save it completely. Let's hope that in future generations the brightness will be one of the first aspects to be taken into account during development.
When it comes to consuming multimedia content, the Asus ExpertBook B9 offers good colors, contrast and dynamic range. The experience is remarkable and allows us to enjoy any series or movie without any complaints.
It should be noted that since it has color certifications and comes with a good factory calibration, we can make use of photo editing programs such as Photoshop. However, video editing is limited by the fact that it does not have a dedicated graphics card. We will talk about this when we get to the performance section.
HARMAN KARDON PROVIDES THE SOUND
The position of the speakers on the Asus ExpertBook B9 is not my favorite. I'm not a fan of speakers placed on the base, they tend to have a mediocre sound and without body. What happens with the two speakers of this laptop is that they are signed by Harman Kardon and this is noticeable, the sound they produce is of good level and with a wide range.
Of course, they sound much better if the laptop is resting on a surface that allows some bounce. To give an example: they sound better when it is resting on my desk than when it is resting on the glass table I have in my living room.
The only thing that could be improved about this pair of speakers is the volume, at maximum it falls short and it is possible that if we have ambient noise the most logical and advisable thing to do is to use headphones.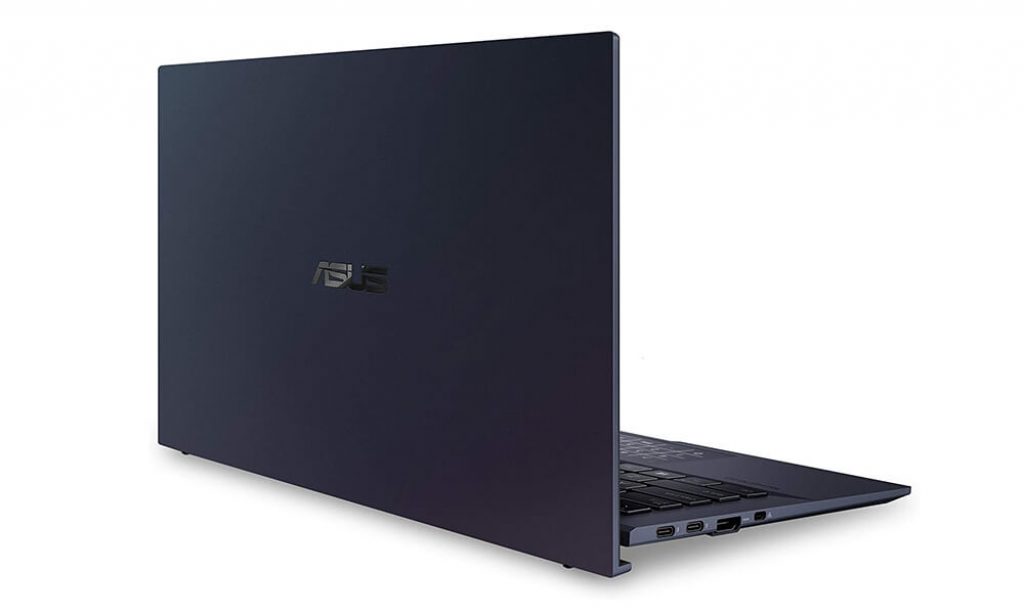 THE LATEST INTEL INSIDE THE ASUS EXPERTBOOK B9
ASUS has decided to stay true to Intel in the Asus ExpertBook B9, not switching to red as it has done in other laptops. Consequently, inside this device we find the Intel i7-10510U with four cores and eight logical processes, in addition to being able to reach up to 4.9 GHz thanks to Turbo Boost.
This processor is accompanied by 16GB of DDR3 RAM at 2133MHz soldered on the motherboard and configured in Dual Channel or dual channel. Storage is provided by a PCIe 3.0×4 M.2 NVMe solid state drive with 1TB capacity. The graphics section is handled by an integrated Intel UHD Graphics 620.
This data translates into a more than solvent experience in most situations. What are these situations? Throughout these three weeks I have used it as my main laptop except when I had to edit videos.
This means that I have been able to do almost everything I normally do with my desktop, on a laptop that fits in any backpack. And, to be more precise, I'm talking about photo editing, instant messaging (Slack, WhatsApp, Telegram…), web browsing with multiple tabs open, multimedia content consumption (Netflix, HBO, Filmin, Prime Video) and writing the lines of this review.
It is not a laptop designed for gaming, if it is not clear to see that it does not have a dedicated graphics; possible doubts are dispelled when digging into its guts. The cooling system only has a heat pipe or biphasic thermosyphon tube that covers the processor and is cooled by the fan.
In these innards we can also see that there is space for another PCIe NVMe storage drive. So we will be able to expand the capacity on our own if we run short. In addition, these drives can be mounted in RAID to gain even more speed.
The connectivity of this ASUS ExpertBook B9 is as expected, it comes well served with the latest wireless connections: Wi-Fi 6 (802.11ax) and Bluetooth 5.0. Both connections work flawlessly, in my case I don't have Wi-Fi 6 at home, but both download and upload speeds have been high.
I have to say that I have always kept it connected to the 5GHz network and that at home I have a 100Mb symmetrical fiber contract. Bluetooth when connecting headphones and other devices has not given me any problems. The only drawback is that depending on the headphones we connect, it is possible that when watching movies or series there is some delay between the image and video.
AUTONOMY THAT PROMISES 24 HOURS AWAY FROM THE CHARGER
There are two models of the ASUS ExpertBook B9, one with a 66W battery and which is capable of offering 24 hours of autonomy. Then, there is the model that I have analyzed, inside it we find a lithium polymer battery with 4 cells that has half the capacity, 33W.
This model, according to ASUS, is capable of reaching 12 hours of use. And, well, this figure is close, although we have to take into account what we do with the laptop. Throughout my tests, two different scenarios have arisen, which I will explain below.
The first scenario has text editing and navigation as protagonists, with text editing I am talking about using Word as well as WordPress. As for navigation, the most typical is to visit multiple news websites, social networks (Twitter, Instagram, Facebook, Reddit, Tumblr…) All these tasks are accompanied by my favorite Spotify playlist.
Brightness is always at 50% and the keyboard lights off. Having made clear the usage, the battery life has hovered around 9 hours, sometimes a little more and sometimes a little less.
The second scenario is more varied. I'm talking about using the ASUS ExpertBook B9 to watch YouTube videos, answer emails, surf, watch some Netflix series and write this review. In this case, the battery has been intermittently decreasing throughout the day. I have not managed to see the consumption pattern with this type of use, but what I have seen is that in the middle of the day (6 hours) I needed to connect the laptop to the mains to continue with it.
Yes, the ASUS ExpertBook B9 does allow me to get away from the charger when I'm working. But I have remained with the desire to test the model that has as main feature the 24 hours of autonomy.
The good thing is that in both models the charging speed is maintained, we can go from 0% to 60% in 45 minutes. To do this we will use the 65W charger included in the box and that uses USB-C as a connection to the laptop. In addition, its size is small so it takes up very little space and fits in a pocket without much problem.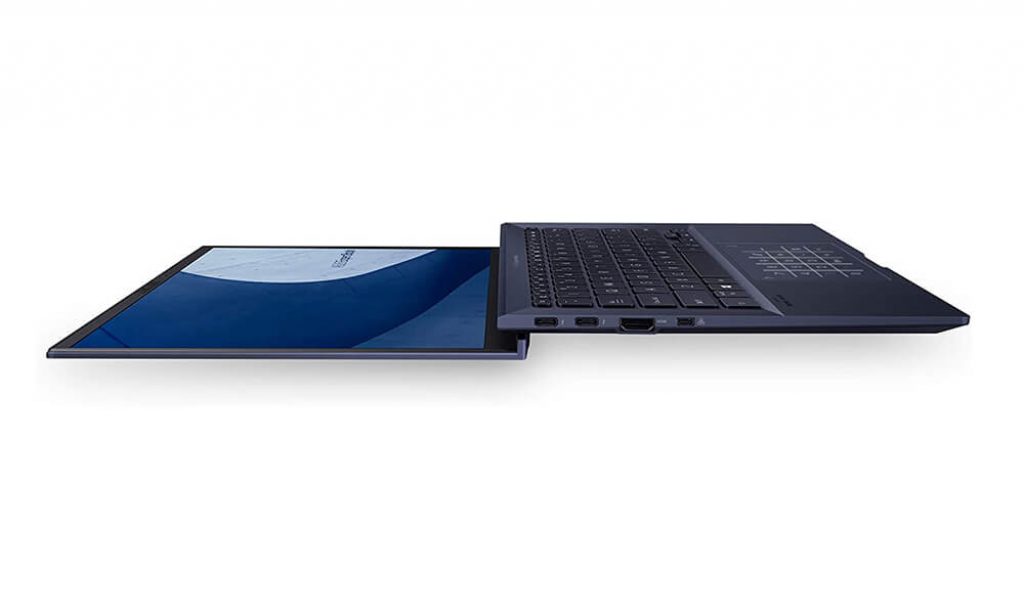 FINGERPRINT SECURITY AND IR CAMERA
The ASUS ExpertBook B9 has four types of security. The first two are the most common and seen: fingerprint reader and IR camera. The fingerprint reader has a correct size and its position is comfortable when using it, however, once I configured the facial unlocking with Windows Hello, I forgot about this sensor.
This biometric recognition is my favorite in laptops, why? It's convenient. If we suspend the laptop by lifting the IR camera, it will start looking for our face and unlock. The position doesn't matter, after all, when we use a laptop we always look at the screen and therefore the foreground is, in almost all situations, our face.
The two remaining types of security are somewhat different. On the camera there is a small tab, when you slide it what happens is that a plastic sheet covers the camera. Yes, you read that right, goodbye to putting a sticker on the laptop camera to avoid being spied on.
It is something curious and it is simple, but it works very well. I hope that many manufacturers will start including this feature in their laptops. Finally, the Asus ExpertBook B9 integrates a Trusted Platform module, if you don't know what it is I'll summarize it in one sentence.
It is, so to speak, a small independent processor designed to store passwords, keys and important information. Its job is to encrypt all vulnerable information. It is a type of security that is not visible, but is present in the shadows.
ASUS EXPERTBOOK B9, AUTONOMY AND PORTABILITY COME AT A PRICE
The Asus ExpertBook B9 is a notebook aimed at a very specific market niche. Proof of this is the design exercise that has been carried out to achieve a 14-inch laptop with a weight of 870 grams.
And, it is possible that this is where the company has put the most effort and that is why we find incongruities such as a DDR3 RAM memory or the absence of a dedicated graphics card.
However, the second card ASUS has played is that of autonomy. It is not the model that promises 24 hours, but 12 hours and it is close with a more than exhaustive use.
This device is designed for users who need a balance between lightness, power and autonomy. And, this has a price and is not measured. The model I tested comes with 1TB of storage and 16GB of RAM.
Yes, that's a steep and almost prohibitive price. But, Asus knows this and what it has done is create a product aimed at an audience whose users are looking for options like this ASUS ExpertBook B9. I think it goes without saying that, if you don't belong to this user group, this laptop is most likely not for you.
Keep visiting our website Laptop Guide and if you have any questions? feel free to leave a comment down below.