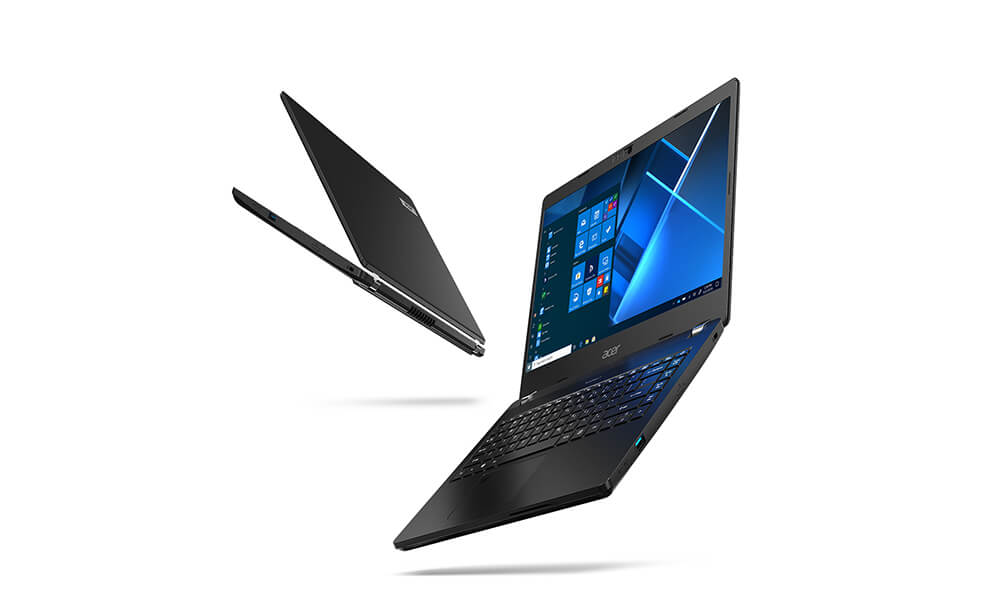 The brand's product range at CES 2020 continues to grow. They leave us with their new notebooks, the Acer TravelMate P6 and TravelMate P2. Two models that stand out for being durable, thin and light designed for professionals who have to move constantly. It is a model that will give a perfect performance at all times. A key aspect of it.
Acer TravelMate P6 and TravelMate P2: New Notebooks for Professionals
In addition, they are also perfect for professionals thanks to its large battery. Since it gives us an autonomy of two days, which makes it ideal for travel use.
Acer TravelMate P6
The Acer TravelMate P6 has a premium magnesium aluminum alloy chassis that is stronger and lighter than standard aluminum alloys with the same thickness. It weighs only 1.1 kg and measures only 16.6 mm.
Its battery has up to 23 hours of battery life, so we can use it on intercontinental flights or work for two full days. In addition, it can be charged to 50% in less than 45 minutes.
They use Windows 10 Pro as the operating system and it is equipped with up to 10th generation Intel Core i7 processors, up to 24 GB of DDR4 memory, NVIDIA GeForce MX250 graphics and 1 TB of PCIe Gen 3 x4 responsive SSD with NVMe technology to accelerate through editing large spreadsheets and creating presentations.
This Acer TravelMate P6 is designed for mobile professionals, and as part of that allows it to handle real-life situations that may arise in and out of the office. It stands out as one of the few notebooks on the market with MIL-STD-810G and 810F, a set of military durability tests.
This notebook has powerful security features to help protect data. Customers can sign in with Windows Hello via the fingerprint reader on the power button, or via the IR webcam that leverages biometric facial recognition.
Both methods eliminate the need to remember and use a password. When the webcam is inactive, the camera shutter can be physically closed for added security. An integrated Trusted Platform Module (TPM) 2.0 chip offers hardware-based protection for passwords and encryption keys.
The preloaded Acer ProShield includes a set of security and management tools that help protect sensitive data, while Acer Office Management allows IT professionals to implement security policies and monitor assets from one interface.
Acer TravelMate P2: A Versatile Device for the Modern Workforce
The Acer TravelMate P2 is a response to an increasingly diversified and modernized world, where employees are expected to wear multiple hats and work in a variety of locations. The ability to connect to not only Wi-Fi but also 4G LTE ensures that users can work from anywhere, and a wide variety of customization options allows the TravelMate P2 to adapt to work on anything.
The Acer TravelMate P2 features Intel Wireless Wi-Fi 6 (802.11ax), which guarantees users a smoother wireless experience with speeds up to three times faster than standard Wi-Fi 5 (802.11ac).
The eSIM-enabled Nano SIM and/or 4G LTE saves users the hassle of finding a local data plan if Wi-Fi is not available. TravelMate P2 has up to 13 hours of battery life, and a MIL-STD-810G compliant shock-resistant chassis, allowing users to work uninterrupted all day in a wide range of work environments.
The TravelMate P2 combines accessibility, manageability and ease of use and is ready to use at any time with optimized, pre-configured device settings and multilingual capabilities for fast and trouble-free device deployments.
A TPM 2.0 module ensures secure authentication and protects company data, while additional security features, such as the fingerprint reader and Windows Hello, provide users with easy but more secure access via fingerprint or facial recognition.
With up to 10th generation Intel Core i7 processors and an optional NVIDIA GeForce MX230 GPU for powerful computing and graphics performance, it features up to 32GB of fast DDR4 memory, a configurable dual-drive system with a 1TB high-capacity hard drive and a 512GB super-responsive 4-lane PCIe PCIe SSD.
This model comes with a full range of ports such as VGA, HDMI and USB Type-C, while the available ports can be easily expanded via an Acer USB Type-C Dock.
Keep visiting Laptop Guide to read latest reviews and if you have any questions, feel free to leave a comment down below.