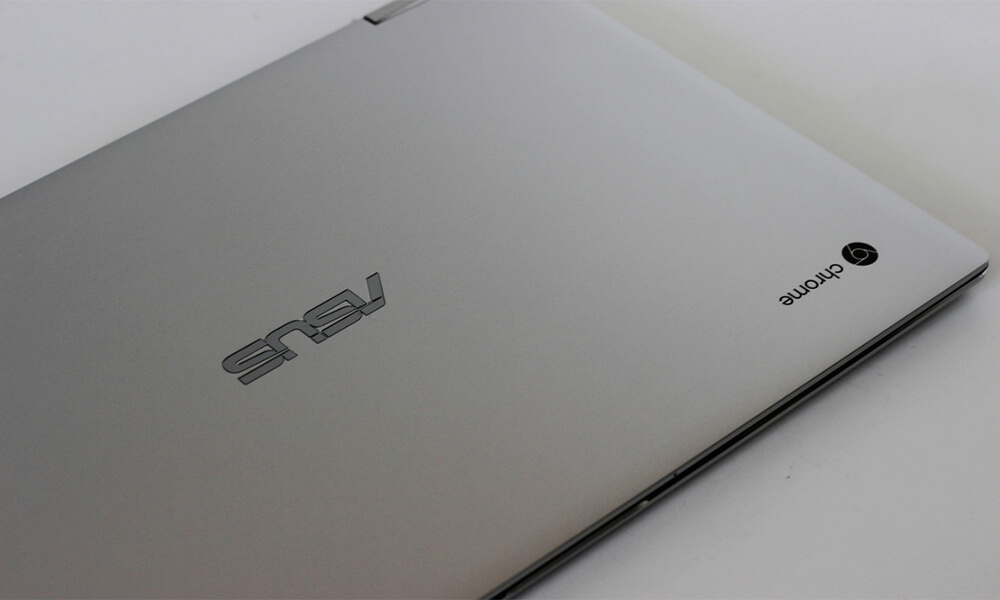 The convertible laptop industry, far from slowing down its growth, continues to offer solutions at the most affordable prices, thinking of those of us who are looking for an all-in-one device that meets our computing needs anywhere.
The well-known manufacturer, ASUS, is not lagging behind in this race to offer the most convenient value for money to its users, and for this reason, we have chosen for this review the ASUS Chromebook Flip Z3400FT-AJ0111.
Specifically, this is a 14" low-cost convertible, whose excellent reviews show how comfortable its backlit keyboard is when working, how sharp its FHD panel looks and its excellent battery life, capable of easily reaching 8 hours of battery life.
And if you prefer to look at other convertible models before deciding, you can do so by accessing our laptop reviews where you can filter the search results according to your particular needs.
Who Is It For?
If you're looking for an inexpensive laptop that you can carry around more easily and that gives you the tools to tackle your work or study day successfully, the ASUS Chromebook Flip Z3400FT-AJ0111 convertible is a great buying option.
This 14" model supports use as a laptop or tablet, while also being compatible with Android and the apps integrated in Google's Play Store. It also gives you extra cloud storage (100GB), and has fast Wi-Fi and Bluetooth connections to keep you in tune with your surroundings.
Another similarly priced convertible you might consider is the HP Pavilion x360 14-dh1012ns, as it's powered by a powerful Core i5 processor and a fast 512 GB SSD, which will make their presence felt when it comes to day-to-day loading and multitasking.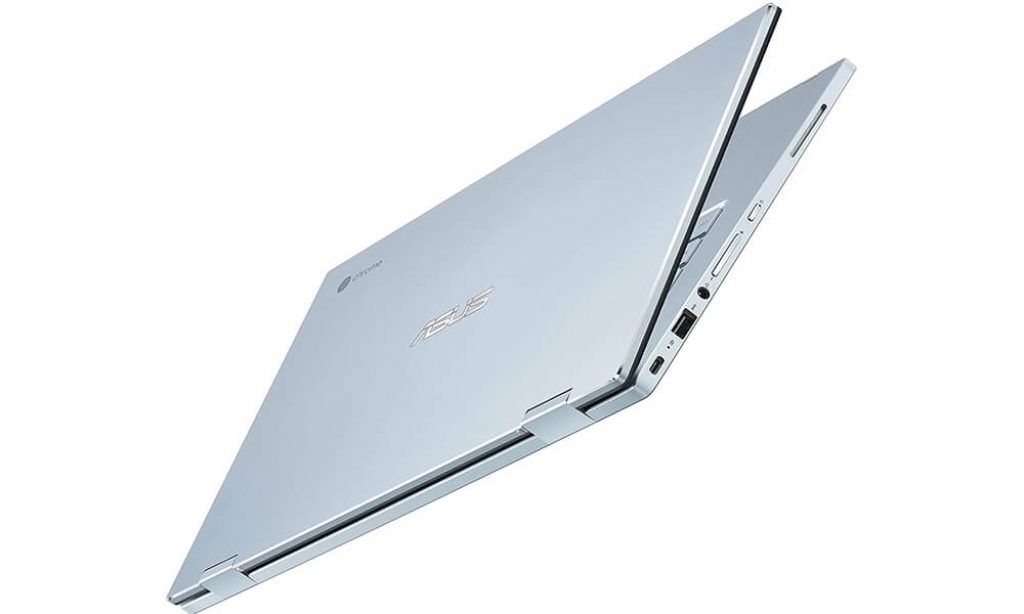 Technical Features & Specifications
Make/Model
ASUS Chromebook Flip Z3400FT-AJ0111
Dimensions
32.1 x 20.7 x 1.6 centimetres
Weight
1.5 kilograms
Display
Multi-touch IPS LED panel (14 inches)
Resolution
Full HD resolution (1920 x 1080 pixels)
Processor
Intel Core m3-8100Y processor (2 cores at 3.40 GHz)
RAM
8 GB (LPDDR3)
Graphics
Intel UHD Graphics 615
Storage
64 GB (eMMC)
Battery
3 cells (Lithium)
Operating System
Chrome OS
OTHER
Wi-Fi 5 connectivity
Bluetooth 4.0
USB 3.2
USB Type-C (x2) (DisplayPort | Power Delivery)
Audio combo connector
SD card reader
HD webcam
Digital microphone
Versatility You Won't Want To Give Up
To keep up with the current competition, ASUS opts for a brand new aluminum and plastic construction with a silver finish, which stands out especially for its slim profile (16 mm) and moderate weight (1.5 kg).
Although the backlit keyboard is somewhat smaller, compared to those integrated in 15-inch models, it is still super ergonomic after the corresponding adaptation period, ensuring long office sessions without interruptions.
Its greatest attraction, without a doubt, is its ability to "convert" into a tablet or laptop with surprising ease, supported by a 360º ErgoLift hinge, which makes typing and sound playback more comfortable by creating additional space underneath the device.
Surprisingly Sharp and Immersive Display
The ASUS Chromebook Flip Z3400FT-AJ0111 boasts a NanoEdge IPS display with bezels of just 5.5 mm, which will maximize the feeling of immersion when working or consuming multimedia.
And to accentuate that feeling, it features nearly 180° viewing angles and a refresh rate of 60 Hz. In addition, its multi-touch technology allows you to use the tablet mode more comfortably, whether surfing the Internet, viewing social networks, taking notes or drawing.
Hardware That Meets Everyday Tasks
What components make up this section?
The efficiency you will experience when performing your computing tasks, will be possible thanks to the implementation of the dual processor, Intel Core m3-8100Y, operating at boost frequencies of 3.40 GHz.
The whole is accompanied by a 4 MB cache memory, 4 virtual cores (via HyperThreading) for multitasking and an 8 GB RAM (non-expandable), running at 2133 MHz under the low-power LPDDR3 architecture.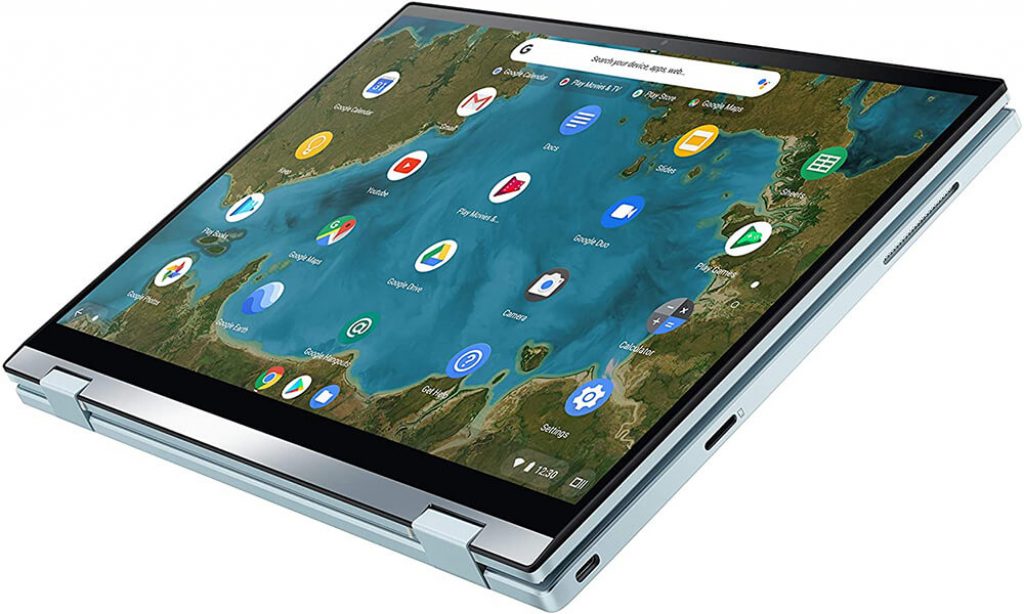 Finish Your Tasks With the Speed You Need
If there's one thing users appreciate in their feedback, it's the speed this device delivers when it's time to work on the most mundane tasks, including writing documents and emails, editing spreadsheets, web browsing, FHD multimedia viewing and online video calls.
How's Convertible Storage?
Take your documents and content with you everywhere. Instead of an SSD, this convertible relies on flash memory (eMMC), whose 64 GB capacity might not be enough for most users.
The good news is that you have access to no less than 100 GB extra from the Google One application for 12 months, and you also have a slot compatible with SD cards.
What Graphics Tasks Can I Do?
Despite the major hardware limitations of the integrated graphics controller (Intel UHD Graphics 615), the gaming aspect will not be completely excluded by allowing the execution of undemanding titles (The Sims 4, Fortnite, FIFA 20 and Farming Simulator 19, etc.).
How Much Battery Life Do You Get Throughout the Day?
This section is another of the great beneficiaries, since the 3-cell lithium battery that incorporates this model, in real terms, can easily reach 8 hours of use, as long as it is under light office and internet tasks.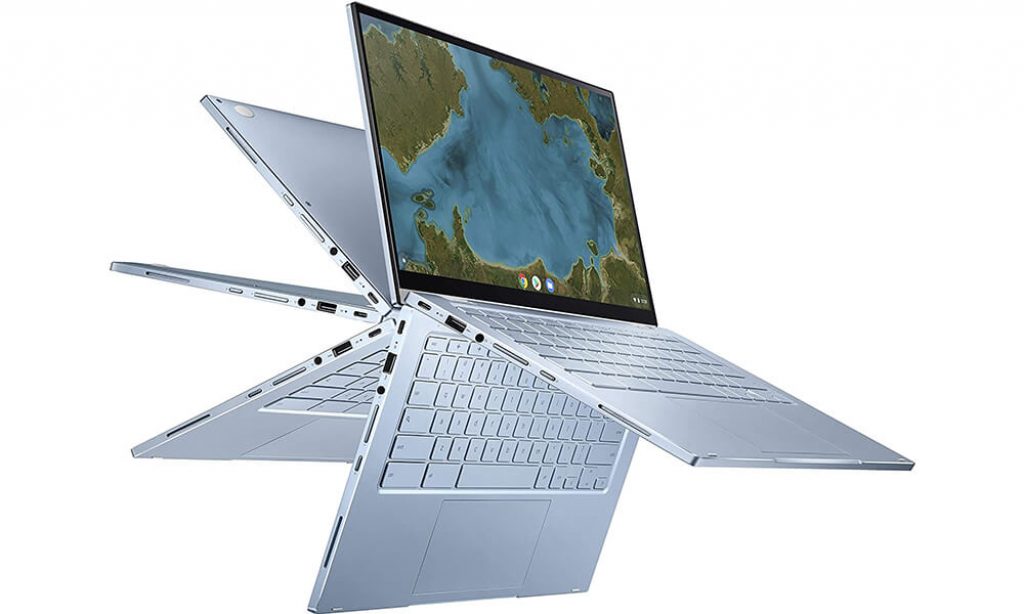 Fast, Versatile and Modern Connectivity
The connection suite includes 2 USB-C inputs with DisplayPort and Power Delivery support, for connecting monitors and charging compatible devices, respectively.
It also adds an HD webcam for video conferencing, Wi-Fi 5 and Bluetooth 4.0 connections, a conventional USB 3.2 port, an SD reader, the headphone/microphone jack and a pair of speakers with good sound quality.
Finally, note that, thanks to its Chrome OS operating system, you can enjoy an extensive catalog of applications from the Play Store, as if it were an Android device, in addition to simplifying certain tasks with the help of Google's voice assistant.
Pros & Cons
Following are the PROS & CONS of this product
PROS
14'' touch screen with Full HD resolution
Backlit QWERTY keyboard
Compatible with Android applications
USB-C connection with DisplayPort interface
Elegance and comfort are its great strengths.
CONS
Supplied without stylus
Limited storage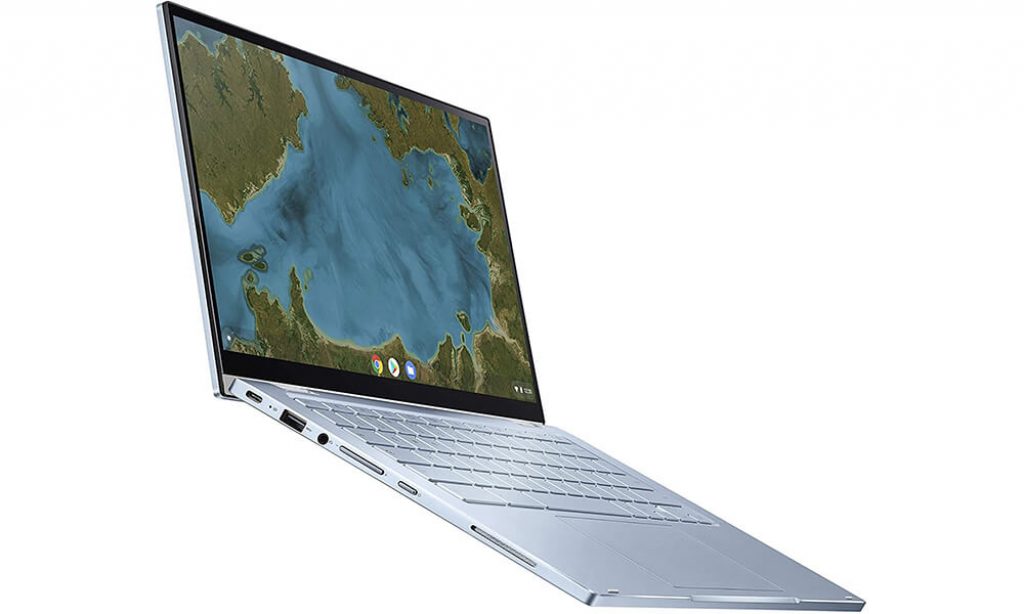 Conclusion
Speed, comfort and portability, are just some of the qualities of this great bet from ASUS, in order to meet the demands of those who live in constant movement and need to carry work everywhere, keeping productivity as high as possible.
And as is often the case with convertible models, elements such as autonomy and connectivity only add to the mobility that you can't give up for anything in the world, especially in these times where remote work has become more common.
Keep visiting Laptop Guide to read latest reviews, news related to upcoming laptops and more.