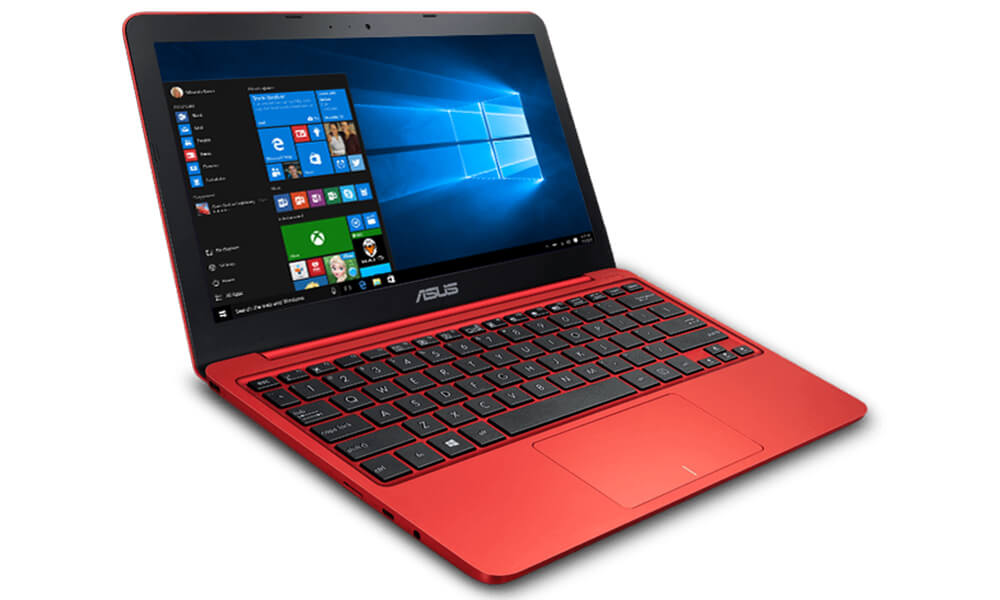 ASUS, a leader in the manufacture of hardware, desktops and laptops, launched a few weeks ago its new Netbook ASUS EeeBook X205TA. This new generation gives a good facelift to the famous Intel Atom and makes them super useful equipment thanks to the components they integrate: 11.6″ screen, Intel Bay Trail Z3735F processor, 2GB of RAM and an autonomy of up to 12 hours.
Technical Features & Specifications
Processor

Intel® Quad-Core Atom® BayTrail-T, Z3735F (2MB Cache, 1.33 GHz, up to 1.83GHz)
Memory
RAM 2GB (2GB [ON BOARD]) DDR3L 1333MHz.
Hard Disk
32GB EMMC
Display
11.6″ LED Backlit Ultra Slim Glare HD (1366×768/16:9)
Graphics Card
Intel® HD Graphics Gen7
Connectivity
Wifi 802.11 AGN and Bluetooth 4.0
Multimedia
Laptop camera
Built-in microphone
Battery
38WHrs of 2 cells
Connections
1 x Audio line in/out (combo)
1 x Micro HDMI
1 x Power Input
Micro SD Card Reader (SDHC/SDXC)
Operating System
Windows® 8.1 operating system with Bing Genuine (32Bits).
Dimensions & Weight
286 x 193 x 17.5 mm and 820 grams
The looks of the laptop is minimalist, as it uses a small box that opens quickly to see the product. On the back it has all the most important technical features and specifications. Once we open the package we find the following bundle:
Netbook X205TA
Power supply and power cable
Quick guide
The Asus X205TA is a laptop with ideal dimensions 28.6 x 19.3 and an ultra-thin thickness of 1.75 cm. The weight of 820 grams is another of its great points as it makes it an ideal netbook for travel.
As if that were not enough, it comes equipped with an 11.6″ LED Ultra Slim Glare screen and a 1366 x 768 resolution, which although it is not an IPS panel, it is a promising TN panel with quite good viewing angles for this type of equipment.
Its design is available in four colors: red, gold, blue and white. Its surface has a soft blue touch where the ASUS logo stands out with its shiny metallic touch in the central area.
The Eebook X205TA is equipped with an Intel BayTrail-T Z3753F quad-core processor with 2MB cache and a standard speed of 1.33 GHz up to 1.83 GHz. It catches my attention because these processors are the ones used with tablets and USB computers instead of mounting the N series, but I notice that it is more than enough for this equipment and from my personal experience it is enough for everyday use.
By mounting an operating system with Windows 8.1 32-bit license comes with 2GB of RAM, 32GB of storage, Wifi 802.11 a/g/n and Bluetooth 4.0.
It seems to me a few of these 32GB (21GB free) although we have solutions on the network such as OneDrive clouds, Google Drive or Dropbox to compensate for the perennial physical possibility with the microSD card holder (SDHC/SDXC).
As cheap as these units are, it is worth buying 64GB to store our most important photos or data. Due to the limitation of the processor architecture it lacks USB 3.0 connections, but it compensates with:
2 x USB 2.0
1 x Audio line in/out (combo)
1 x Micro HDMI
1 x Power Input
One of its strongest points is the large trackpad with excellent travel. After our tests the web scrolling and edge gesture with Windows 8.1 is very good.
Regarding the sound, it includes two front speakers under the wrist rest, directing the sound directly towards you and improving our sensation when listening to music or movies.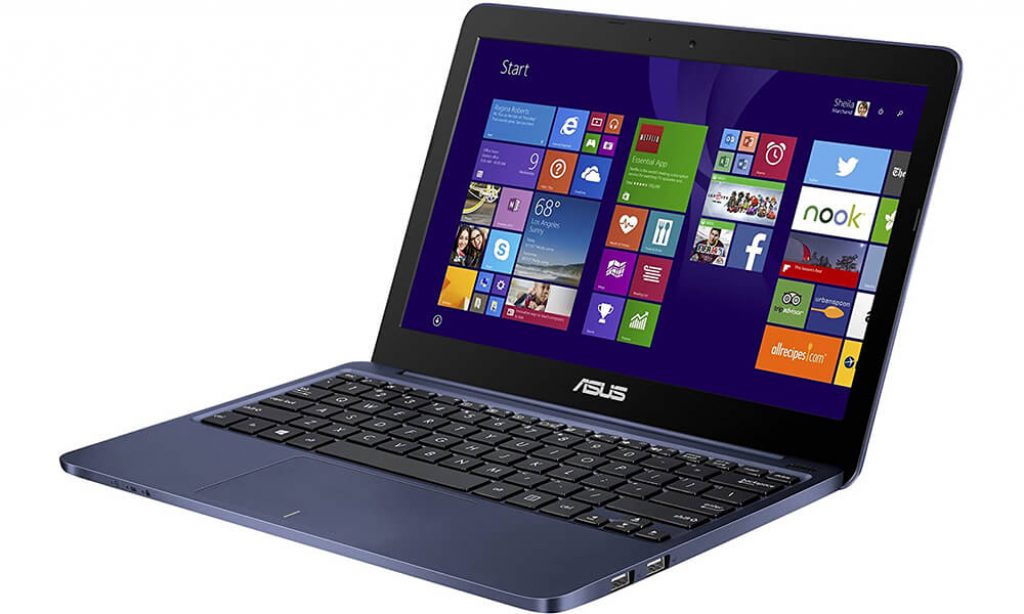 Performance and Battery Tests
On the performance tests we have passed Cinebench to compare the performance with other processors and performance tests to the 32GB SSD disk with read rates of 125 MB / s and 50 MB / s write.
Finally, let's talk about its 38 Wh and 4800 mAh battery that will give us an autonomy of about 12 hours depending on the work we do. In our case we have lasted doing this analysis and surfing the internet 11 hours and a quarter … a perfect time for the times we live in today.
Final words and conclusion
After the boom of tablets, the netbook was forgotten and now it is beginning to resurface… and what a way to do it. Asus revolutionizes the sector with its new Eebook X205TA with Intel Z3753F processor, 2Gb of RAM, 32 GB of storage, an 11.6″ HD screen and an excellent battery life of 11 hours and 15 minutes with normal use.
When I tested the device I realized that it has nothing to envy in fluidity to any other device of 100 to 150€ more than its value. The experience has been fantastic and I see it as an ideal choice for those people who are watching their pocket and need to move both inside and outside their home. What can I use it for? It is ideal for everyday use, connecting to social networks, office suite (Microsoft Office 365 days comes as a gift), MKV video playback at 1080 and even media center at specific times.
In short, if you are looking for a laptop with "the three B's": good, nice and cheap, the Asus X205TA is the perfect candidate. It has what you can ask from a netbook design, lightness, autonomy and a cheap option. Personally I would buy a netbook rather than a tablet with a keyboard dock, because the kit is more expensive.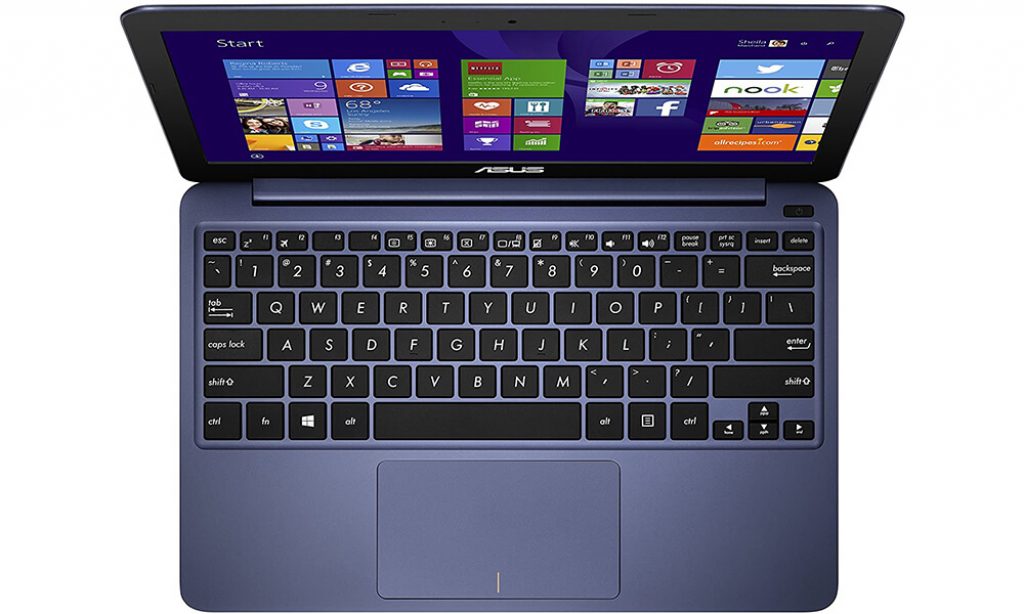 Pros & Cons
Following are the PROS & CONS of this product
PROS
Ultra Thin
Low Weight
Good Speakers.
Battery
Display
CONS
Could include a larger hard drive
Keep visiting Laptops Guide to know all the details about the laptop you're planning to buy.