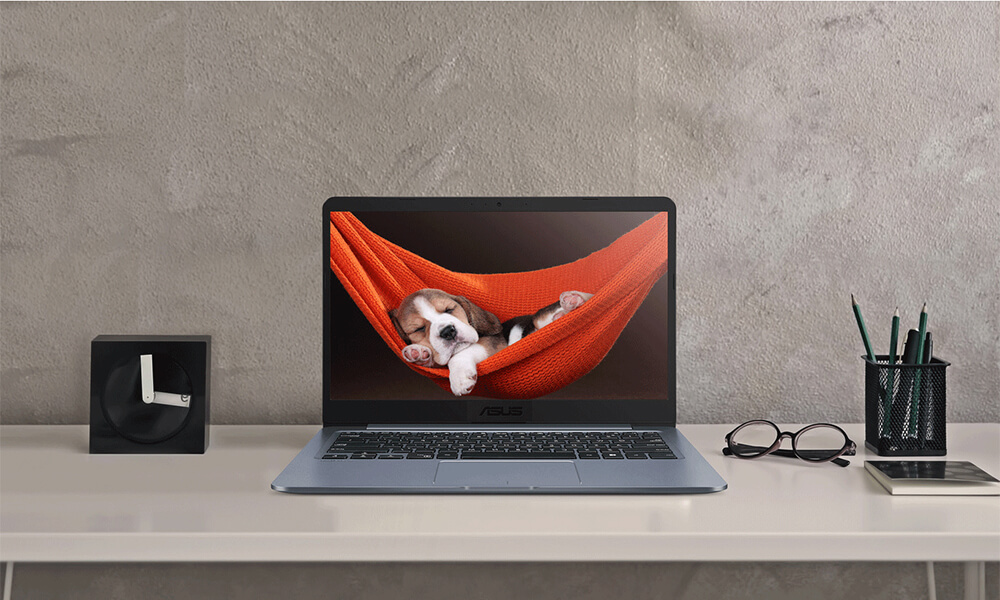 Thinking of those users looking to keep their productivity levels high, even when away from home, the technology firm ASUS renews its ultrabook notebook portfolio with the ASUS E406 series.
With this in mind, in this review of the ASUS E406SA-BV004T we will know in depth the novelties of one of the most outstanding models of the collection, not only for its very low price, but also for having excellent ratings from its most recent buyers.
Who Is the ASUS E406SA-BV004T For?
The ASUS E406SA-BV004T is just what you need if you live on the go and are looking for a low-cost ultrabook that you can carry with you in your backpack without any hassle.
In addition, this ultrabook will guarantee full connectivity with your mobile devices and peripherals, thanks to its USB 3.1 inputs, HDMI output, microSD card slot, audio combo jack and high-speed Wi-Fi and Bluetooth wireless connections.
Who Is the ASUS E406SA-BV004T NOT For?
However, if you prefer an ultrabook that features a Full HD panel, a more powerful Intel processor, SSD hard drive and USB Type-C input, the ASUS ZenBook UX430UA-GV362T model would be a better alternative purchase.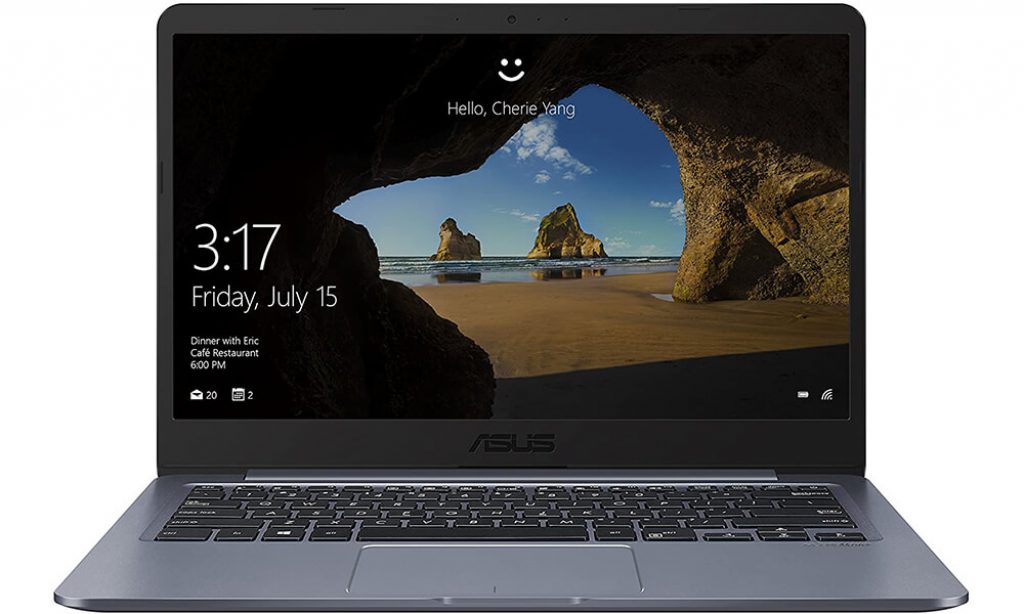 Technical Features & Specifications
Dimensions and Weight: 32,6 x 22,6 x 1,7 cm / 1,3 kg
Panel: LED (14 inches)
Resolution: HD (1366 x 768 pixels)
Processor: Intel Celeron N3060 (2 cores at 2.48 GHz)
RAM: 4 GB (DDR3L)
Graphics Card: Intel HD Graphics 500
Storage: 32 GB (eMMC)
Battery: 3 cells (Lithium)
Operating System: Windows 10 Pro
Connectivity: 802.11ac Wi-Fi, Bluetooth 4.1, USB 3.1 (x2), HDMI, audio combo, microSD slot, HD webcam and digital microphone.
Design
We begin our review of the ASUS E406SA-BV004T, highlighting that, despite being made entirely of plastic, the body of this ultrabook has the necessary strength to carry it everywhere, this being one of its greatest qualities, according to those who have already bought it.
Its star gray cover has an elegant matte finish both on the surface and in the work area, while the panel frame is black. Its compact dimensions of 32.6 x 22.6 cm, ultra-thin thickness of 17 millimeters and weight of just 1.3 kg only confirm how compact and light this model is.
Despite its short stroke, the integrated QWERTY keyboard offers a solid and pleasant typing experience when editing documents and spreadsheets, as well as a high-precision touchpad, compatible with multi-touch gestures.
Another of its great innovations is that it does not incorporate an internal fan, an advantage that will allow you to work without disturbing noises in libraries, cafes and other establishments, without interruptions.
Compact 14-Inch NanoEdge Panel
The ASUS E406SA-BV004T features a 14-inch (35.56 cm) NanoEdge panel, whose bezels have been reduced to just 7 millimeters for a more immersive on-screen viewing experience, thanks to its 76.5% screen-to-front ratio.
In addition, the panel features HD resolution (1366 x 768 pixels), 16:9 widescreen ratio, energy-saving LED backlight technology and exclusive ASUS Eye Care functionality, which reduces blue light emission by 33%, so you can work more comfortably for longer.
For its part, the multimedia section is supported by ASUS Splendid technology to give your images a greater color and level of detail, while ASUS Tru2Life technology will do the same with videos, increasing the sharpness and contrast of the pixels of each frame by 150%.
Processor and RAM
Dual-core Intel Celeron processor
At the hardware level, the ASUS E406SA-BV004T relies on the low-power chipset, Intel Celeron N3060, whose 2 integrated cores operate at a pulse frequency of 2.48 GHz, supported by a 2 MB L2 cache and 2 execution threads.
In addition to the above, there is a 4 GB DDR3L RAM memory which, being soldered on board, does not allow for the expansion of this capacity, since this is a laptop specifically oriented to not so demanding uses.
How does it perform on a day-to-day basis?
All in all, and thanks to this hardware configuration, this is an ultrabook capable of running smoothly the vast majority of computer applications used by the average user, including office, web browsing, multimedia, email and social networks, among others.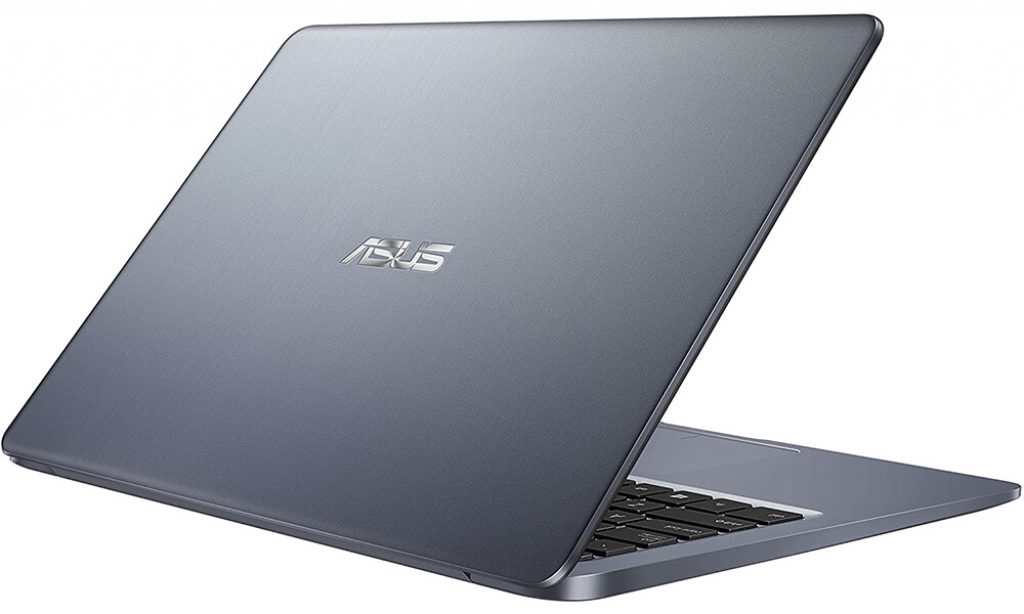 ASUS E406SA-BV004T Storage and Graphics
High-Speed eMMC Storage
We continue in this review of the ASUS E406SA-BV004T, highlighting the incorporation of a fast flash memory (eMMC) equipped with a capacity of 32 GB as standard, being quite limited in case you want to store a large amount and variety of multimedia content.
In this sense, if you need more space, you can always use the microSD card slot, or connect an external hard drive through one of the integrated USB ports.
What Graphics Tasks Can I Perform?
Lacking a dedicated graphics card, the integrated graphics controller Intel HD Graphics 500 will allow you to enjoy a smooth HD multimedia viewing experience, and a perfect gaming experience for very undemanding gamers.
This way, you will be able to play titles as varied as The Sims 4, GRID: Autosport and Dirt 3, among others. The graphics card will also allow you to edit photos and videos, albeit at a strictly domestic level.
Battery and Connectivity
Up to 8 hours of uninterrupted office use.
Another of its great assets is the autonomy of the ASUS E406SA-BV004T, as the integrated 3-cell lithium battery, thanks to its capacity of 38 Whrs, gives you no less than 8 hours of uninterrupted light use, ie, office, casual web browsing and little more.
In addition, its fast charging technology will allow you to recharge up to 60% of its capacity in just 49 minutes.
Main connectivity options
The connectivity of the ASUS E406SA-BV004T is defined by the inclusion of 2 USB 3.1 inputs, an HDMI video output, an audio combo jack for headphones and speakers, a microSD card slot, and an HD webcam with digital microphone for video conferencing via Skype.
In terms of network connections, the lack of an RJ-45 (Ethernet) port has been compensated for with Bluetooth 4.0 and Wi-Fi 802.11ac wireless technologies, the latter operating at 2.4 and 5 GHz frequencies, to offer a faster and more stable Internet connection, provided you have the right router.
As far as audio is concerned, the pair of integrated stereo speakers, in combination with ASUS SonicMaster technology, while delivering a fairly acceptable sound quality, its poor bass level would come to be it's only flaw.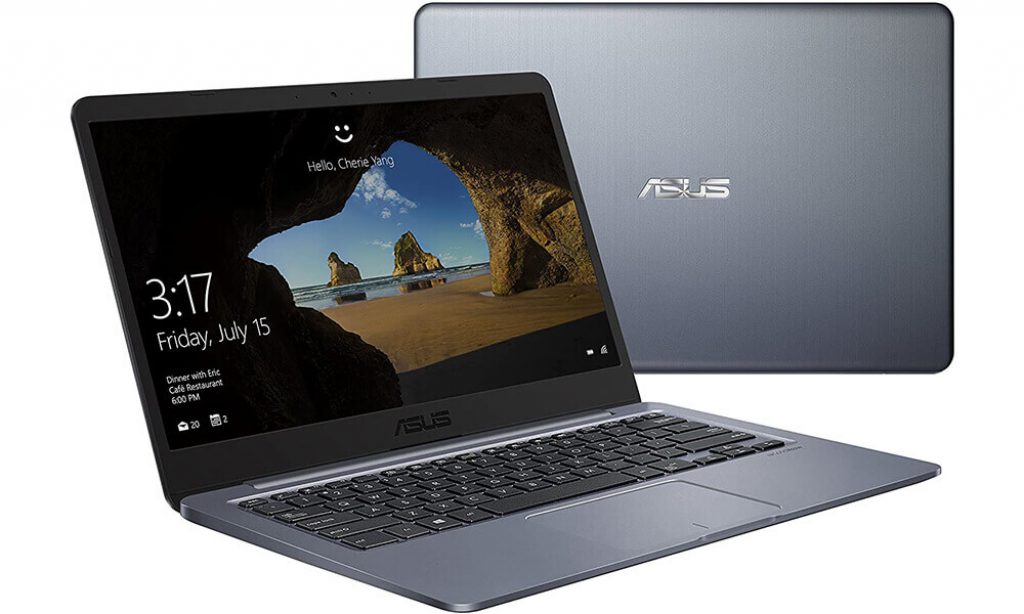 Pros & Cons
Following are the PROS & CONS of this product
PROS
Ultra-thin 17-millimeter design
14'' NanoEdge Panel + ASUS Splendid Technology
8-hour battery life + Fast Charge
HDMI + USB 3.1 (x2) Connectivity
CONS
32 GB storage (expandable)
No USB Type-C input
Conclusion
In short, this laptop is a wise choice to buy, if you are looking for an elegant, efficient and affordable ultrabook with which you can work comfortably wherever you go, and without having to worry about performance or autonomy.
Keep visiting Laptop Guide to read latest reviews, news related to upcoming laptops and more.