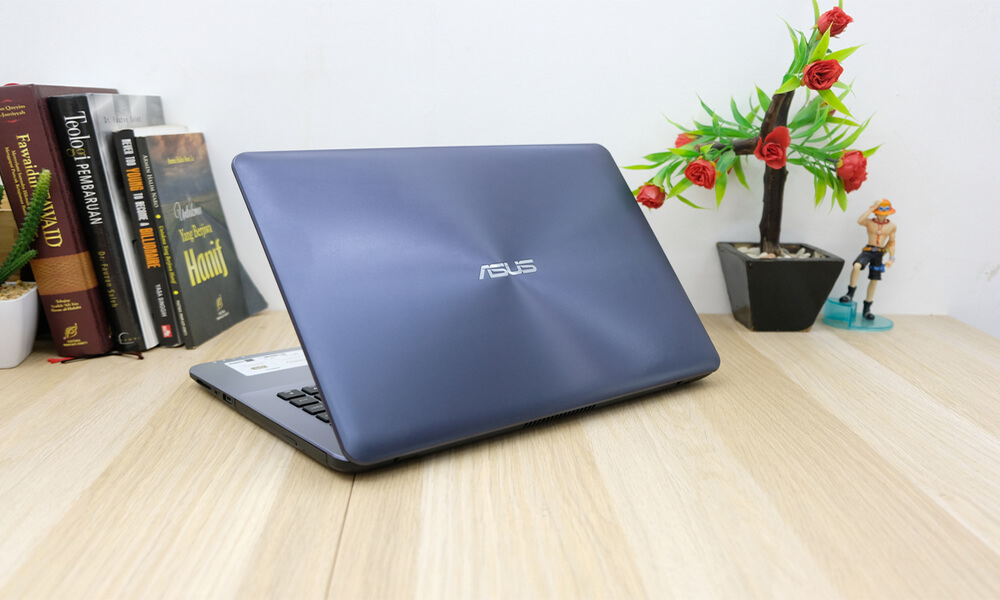 With the Asus Vivobook E12 you will enjoy unbeatable portability due to its reduced dimensions and high degree of mobility. It is one of the smallest and cheapest laptops on the market.
Do You Know
Asus VivoBook E12 can bend up to 180 degrees thanks to its convertible hinge system, where its resistance to wear and tear has been previously tested.
In this review you will find a quick guide to the main features of the Asus VivoBook E12. If you still have any questions, leave us a comment below, we will answer as soon as possible.
Asus VivoBook E12 Notebook
In this section we will present you The Asus VivoBook E12 technical specifications and multiple features.
Small and Lightweight Design
The Asus VivoBook E12 is uniquely designed to further increase the portability of this laptop, so much so that it will not be a problem to carry it around.
It has a slim and very light design, weighing only 900 grams and has a screen diagonal of 29.46 centimeters, to put it in scale, its dimensions are very similar to those of an A4 sheet.
In addition to its lightness and compact dimensions, it is 3% thinner than the previous version, making it a great ally for people with high mobility.
Finally, both the hexagonal details of the casing and its white color make it highly versatile and adaptable to different styles.
Very Thin Screen & Convertible 180 Degrees
Both its dimensions and design configure a structure more reminiscent of a notebook than a laptop.
It has an 11.6-inch screen, falling into the category of small laptops. The screen can reproduce displays up to resolutions of 1366 x 768 pixels, which is almost 200 pixels per inch.
Asus VivoBook E12 presents another important feature that directly affects the screen.
We are talking about a magnificent 180-degree opening system thanks to its hinges, i.e., we can turn this laptop into a single sheet, aligning screen and keyboard. Therefore, ideal for sharing content comfortably with colleagues and friends.
This convertible system, which allows the screen to be opened up to 180 degrees, has successfully passed resistance tests, thus preventing the hinges from suffering rapid wear and tear, as they were subjected to 20,000 closing and opening cycles.
Small 2-Core Processor
Its reduced dimensions are in line with the small processor it integrates. It is one of the least powerful on the market, however, aligned with the functionalities that we can get from this small laptop.
Asus VivoBook E12 integrates a 2-core processor, Intel Celeron N3350, with 2M cache and a speed of 1.1 GHz up to 2.4 GHz. Therefore, before deciding on this small notebook we should not set our expectations too high in terms of performance.
Additionally, it will reproduce a more than acceptable sound, thanks to its Sonic Master stereo speakers and technology. Also, if we are going to enjoy multimedia content ASUS Splendid automatically adjusts the parameters and image requirements to optimize visual representations of each application.
This VivoBook E12 laptop can be used for work and study, but we should not get the idea that it can support demanding graphics and heavy programs.
RAM and Graphics Card
The allies of the processor in a laptop for it to develop its functions optimally are the RAM memory and the graphics card.
In this case, it is clear that the combination of these technical features can provide excellent performance.
Asus VivoBook E12 incorporates a RAM memory with a capacity of 4GB DDR3L and 1600 MHz. In other words, more than enough space to store and, together with the processor, load applications in an acceptable manner.
Additionally, if your storage is reduced, this small laptop incorporates a HDD hard drive with a space of 500GB.
For proper display and execution of programs and applications, the Intel HD Graphics 500 graphics card comes into play. However, in this case the capacity of this type of graphics card does not support demanding graphics for the latest generation of games.
Asus VivoBook E12 has an integrated Windows 10 operating system, which if it is not to your liking, you can replace it with another Windows version.
Connectivity and Autonomy
As for its wireless connectivity, it develops the same systems as any laptop, you can connect it to any wifi network and perform data transfer via Bluetooth.
However, for wireless connectivity its functionality decreases in this aspect by only having one HDMI port and one USB port in order to be connected to external devices.
The battery is really optimized, and talking about a laptop with a high degree of mobility is a great advantage. You can enjoy up to 10 hours of battery life with this VivoBook E12.
What Do Users Think of this Laptop?
The Asus Vivobook E12 is a cheap laptop with small dimensions and a high degree of portability, especially designed for those who are not going to stand still.
If you are going to use it both for traveling and for office work, with a constant flow of meetings or enjoy multimedia content, may be enough reasons to decide for this laptop.
You will find this laptop at a super affordable and economical price. User reviews are more than positive in terms of its mobility and basic usability.
If you want to see more user reviews and know about its price on Amazon, click on the link below.
Who Should Buy this ASUS VivoBook E12 Laptop?
If you are looking for a compact laptop with basic functionality and a high degree of mobility at a super affordable price. This Asus VivoBook E12 may be your best option, just like this 13-inch Teclast F6.
We recommend this small laptop to users with a small budget who are going to be on the go all day long. For meetings, travel or personal use, but without asking for high performance. If you are someone with these types of requirement we are sure it will exceed your expectations.
This is the laptop for you if…you are on a tight budget and want to get a small laptop for basic use and great mobility.
Value for money: 8/10
Available versions: Only 1
Colors: Grey, Pink and White
Pros & Cons
Following are the PROS & CONS of this product.
PROS
Compact with a high degree of mobility
Recommended for traveling
Good resolution
CONS
Underpowered processor
Not suitable for demanding graphics
Where to Buy the Asus VivoBook E12 at the Best Price?
You can find this small laptop in most of the physical electronics stores or in large computer stores.
However, on the Internet we can find somewhat cheaper prices due to the cost reduction provided by the online world. One of the e-commerce that can offer discounts in the world of computers is Amazon. Additionally, the delivery and return service are the fastest and most efficient in the market.
Check on Amazon the price of this Asus VivoBook E12 from the below link.
Keep visiting our website to learn about the features and specifications of laptop you're planning to purchase.