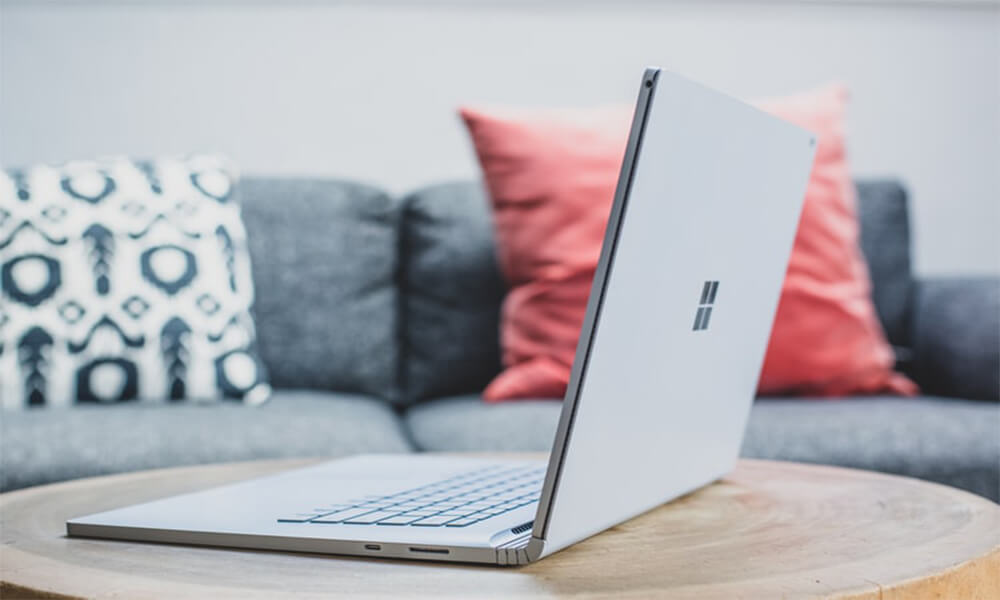 Microsoft's hardware division has grown. The new Microsoft Surface Laptop 4 is already with us, and at Laptop Guide we wanted to see how "real" laptops (with touchscreen, of course) performed.
Has Microsoft lost that opportunity to be a benchmark in this market? In our tests with the 15-inch variant based on the AMD Ryzen we were able to answer that question. Here, as you will see, there are pros, but also some cons.
Surface Laptop 4 Technical Specifications
| `Feature | Details |
| --- | --- |
| DISPLAY | 15" PixelSense 3:2 (2,496 x 1,664), Touch and Pen sSupport |
| PROCESSOR | AMD Ryzen 7 4980U |
| GPU | AMD Ryzen Microsoft Surface Edition Radeon Graphics |
| RAM MEMORY | 16 GB DDR4 @ 2400 MHz |
| STORAGE | 512 GB SSD M.2 NVMe / 512 GB M.2 NVME SSD |
| PORTS | 1 x USB-A, 1 x USB-C, Surface Connect, headphones |
| BATTERY | 47.4Wh |
| WEBCAM | 720p with Windows Hello Support |
| MIC | Dual Long Range Microphone |
| SOFTWARE | Windows 10 Home |
| DIMENSIONS AND WEIGHT | 339.5 x 244 x 14.69 mm (339.5 x 244 x 14.69 mm), 1.54 kg |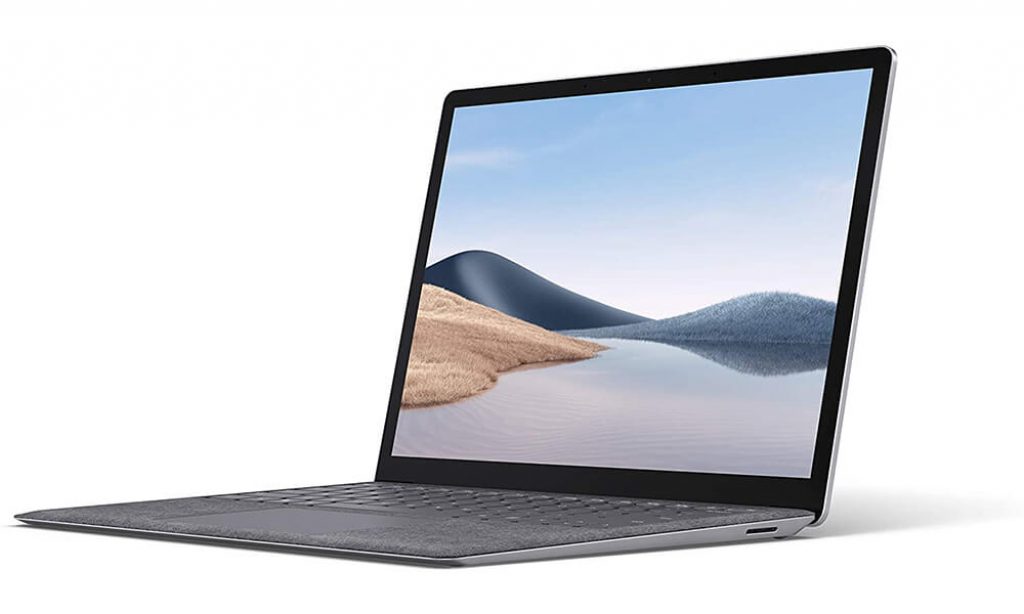 If you like the color black, you'll love this Surface Laptop 4. The design of this laptop stands out especially for the use of this color in its matte shade, something that has a curious effect.
In fact the black surrounds everything. The top cover is only allowed to integrate the Windows logo through small mirrored "windows" that faintly reflect the exterior. Even that reflection is "dark", but things go further when we open the laptop and unfold the screen.
Black dominates virtually everything. The frames, the palm rest, the surface surrounding the keys, the touchpad (a somewhat more diffuse black) and even the keys, which, yes, have their stickers with the characters in a luminous white.
It is almost as if everything on this device is camouflaged, and the sensation is curious, especially when you are used to laptops with the usual gray tones of aluminum, which, by the way, are also available in one of the device's variants.
At certain times this dark, "Vantablack" finish makes the notebook not look like a final product, but almost like a prototype. Of course, it is not, and once again the construction is solid.
In fact this Surface Laptop 4 does not want to break records for lightness or thinness, and its dimensions and weight are high for a "pure" 15-inch machine (and not the usual 15.6 inches that are usually synonymous with "15-inch" notebooks. This is also noticeable in the screen bezels, which are "huge" for today's times: 11 mm except for the bottom one, which is 14 mm.
While the Surface Laptop 4 models with 13.5-inch screen still offer the famous Alcantara fabric to surround the keyboard and touchpad, the 15-inch models only offer metal.
By the way: that matte black color seems to resist fingerprints decently (although they are certainly more noticeable than they would be on the silver models), but they do make the dust that accumulates more noticeable.
Problem number one: there was room for (many) more ports here.
Precisely the fact that it is not particularly light or slim comes as a surprise when checking its port configuration. Here we see the first major drawback of the device, which only has one USB-C port (which is not Thunderbolt 4), one USB-A port and one headphone port. That's it.
Both are on the left side, and here it is disappointing to see that there is no replication of these ports on the right side to avoid for example discomfort when connecting peripherals.
That right side is used to integrate the Surface Connect port which, however well it works, has the USB-C port begging to pass: the latter can do the charging function, but it can also do many other things.
The fact that in 2021 Microsoft will keep this proprietary port is not good news, and above all it once again defends the obsession of many manufacturers to force users to buy accessories that only that manufacturer sells by taking advantage of these proprietary ports.
This first limitation in the area of connectivity is, we believe, unforgivable: this is not an ultra-light or ultra-thin laptop, but even if it is – we criticize the same in MacBooks, for example – it would have been nice to include an SD slot and certainly more USB-C and USB-A ports.
In this case in fact an HDMI port would not have been a bad thing either, although in this case there are adapters that use the USB-C port and offer that capability.
At the bottom we find the four small rubber bumpers that hide four screws. If we unscrew them we can access the inside, where it will be possible to replace the small SSD (in M.2 2230 format). Microsoft doesn't make things too easy here, however, and the memory is soldered in and cannot be expanded or replaced.
The Good Things About the Surface Are Still There
If there's one thing that undoubtedly shines in all Surface family products, it's their displays, and the Surface Laptop 4 is no exception. The 15-inch diagonal is great for work, as is the 3:2 aspect ratio that the company has long been using in its devices, which maximizes vertical resolution.
It does, true, but it also hurts those like me who work with windows facing each other as a regular way of working. The 3:2 format is still very much designed to work with a single window maximized in the foreground, and certainly if that is your use case you will be facing an interface that certainly offers many advantages.
In fact the real advantage of this screen is the PixelSense panel that allows you to enjoy a really fantastic resolution (2,496 x 1,664 pixels) and with an outstanding quality.
The glossy finish makes this screen even more spectacular, but that poses problems outdoors, where there will be reflections that may bother the user. Otherwise, the definition and calibration – color reproduction has always been one of the strengths of the Surface Pro and Surface Laptop – remains outstanding, and we are facing one of the best screens on the market.
The same feeling is given by both the keyboard and the touchpad. In the first case we have a layout that "breathes", with well-spaced keys, wide and with a remarkable touch and travel. The touch resistance is light but clear, and the function keys are "hidden" with the alternate functions, such as multimedia controls.
The only drawback to the keyboard is that it does not come with a fingerprint sensor, a practice that is becoming increasingly common among manufacturers and would have been a good complement to the biometrics section, which is still well resolved by the webcam included with the device.
The latter is not particularly outstanding -it is still 720p- but it certainly fulfills its role, although certainly after the boom in videoconferencing that we have experienced with the pandemic perhaps it would have been a great opportunity to make a leap in this section.
It is a pity that Microsoft has not taken advantage of its opportunity here either, especially considering that the screen frames gave room for maneuver and that the Surface Pro does solve this section much better (although its thickness certainly helps it).
The touchpad is on the other hand another of the outstanding components of that user experience. It is large (although there was room to make it even larger) and its touch and response is, as usual, outstanding. Here we also have another important help: the panel of this Surface Laptop 4 is touch-sensitive, which invites you to interact directly with the screen at all times.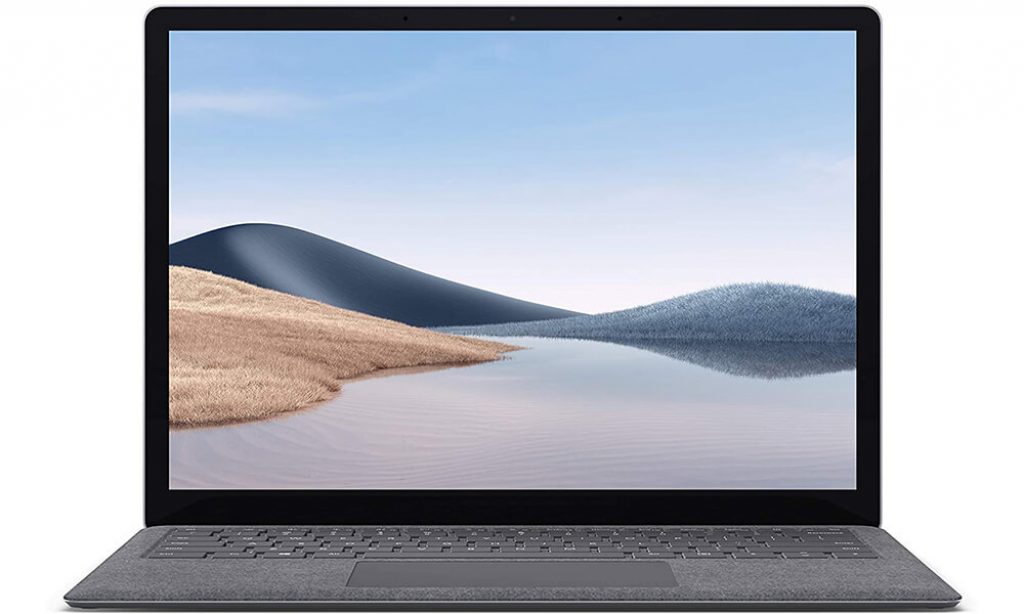 The Performance Is Fantastic, but We Dreamed of Even More
That Microsoft has finally made the leap and offers AMD processors in its Surface Laptop is great news, but here we have a bittersweet feeling: it doesn't take advantage of the Ryzen 5000 family that AMD introduced in October 2020.
Instead these laptops take advantage of the previous generation Ryzen 4000 which was undoubtedly remarkable, but comes somewhat late to these machines. The decision hurts more if we take into account that the price of this laptop is far from cheap.
If we leave that consideration behind, the truth is that this processor performs great. It is based on the Renoir architecture and Zen 2 microarchitecture, and its eight cores run at a base frequency of 2 GHz but can scale up to 4.4 GHz in Turbo mode.
That, of course, gives a lot of headroom to this 7 nm micro that is a twist on the already more than decent Ryzen 7 4800U.
In addition to these eight cores for its CPU, this APU has an integrated Radeon RX Vega 8 graphics, which Microsoft has renamed with a somewhat pompous name (AMD Ryzen Microsoft Surface Edition Radeon Graphics") and which integrates 8 CUs at a frequency that can reach 1,750 MHz.
Performance Test Comparison
| | SURFACE LAPTOP 4 (RYZEN 7 4890U) | SURFACE LAPTOP 3 (AMD RYZEN 5 3580U) | SURFACE PRO 7+ (CORE I5-1135G7, INTEL IRIS XE) | SURFACE PRO 7 (CORE I5-1035G4, INTEL IRIS PLUS) |
| --- | --- | --- | --- | --- |
| PCMARK 8 HOME | 3.809 | 3.337 | 3.445 | 3.025 |
| PCMARK 8 CREATIVE | 4.395 | 3.574 | 4.084 | 3.407 |
| PCMARK 10 | 4.796 | 4.014 | 3.975 | n.d. |
| GEEKBENCH 5 (SINGLE / MULTI) | 1.053 / 6.663 | 847 / 2.903 | 1.284 / 4.535 | n.d. |
| 3DMARK CLOUD GATE | 19.586 | 11.875 | 13.061 | 9.371 |
| 3DMARK SKY DIVER | 12.427 | 7.827 | 7.493 | n.d. |
| CINEBENCH R20 (MULTI) | 3.428 | 1.549 | 1.747 | 1.312 |
The data leaves no room for doubt that the Surface Laptop 4 makes a huge leap over its predecessor in performance, but that is not so striking when you consider that the differences between the Ryzen 3000 used for example in the previous Surface Laptop 3 also clearly lagged behind its revamped Ryzen 4000 in many other machines.
The figures in all tests show how this machine logically beats its predecessor, but it is also clearly more powerful than the Surface Pro 7+ we recently reviewed, which is based on 11th generation Intel Core processors.
The improvement is certainly noticeable in the productivity benchmarks, but it's the GPU that is the most striking and is a sidereal distance away from the Intel Iris Xe version of the Core i5s in Microsoft's own aforementioned convertible tablet. It's not an entirely fair comparison (you'd have to compare with Intel's most powerful chip for that tablet) but still the data is eye-catching.
In fact, these scores make it clear that even if it is not a gaming device, it is possible to enjoy decent experiences even in demanding games. Of course, in those cases we will have to play with resolution and level of detail: in 'Shadow of the Tomb Raider' we obtained a rate of 32 FPS in resolution 1,366 x 768 and with medium level of detail, for example: the fluidity was enough to play comfortably, although the visual quality certainly lost a lot at that resolution.
In addition to the performance of its CPU and GPU, we were also able to analyze this equipment with other tests such as CrystalDiskMark, which allowed us to know the performance of its storage unit.
In this test we reached 2,295 MB/s in read and 1,055 MB/s in write, remarkable figures that certainly help the device to behave smoothly both in launching applications and in file transfers.
The noise levels of the device are really low, and it is rare that we hear the fans start up: they only do so when we keep the device at maximum performance for a long time, and even then the noise level they cause, although perceptible, is not as annoying as that of other devices in its range.
The integrated speakers have no output grille: the sound comes out "from under the keys" literally, but the result is surprisingly good and allows you to enjoy multimedia content without any problems.
As always, good headphones or speakers help here, but that, coupled with the quality of the screen (if you're not outdoors) makes watching videos, series and movies on the laptop a clear demonstration of how much you can enjoy this hardware.
There is also good news for power efficiency, although here Microsoft has also made a disappointing decision. The 15-inch models have the same battery capacity as the 13.5-inch models: 47Wh, a capacity that could have been significantly higher in this model.
Even so, the device's battery life is remarkable, and in our tests it exceeded 10 hours without a hitch, something for which we have a particularly efficient processor to thank. We would have liked to know what would have happened with a theoretical leap to the Ryzen 5000, which are even more efficient, but even so the data is great.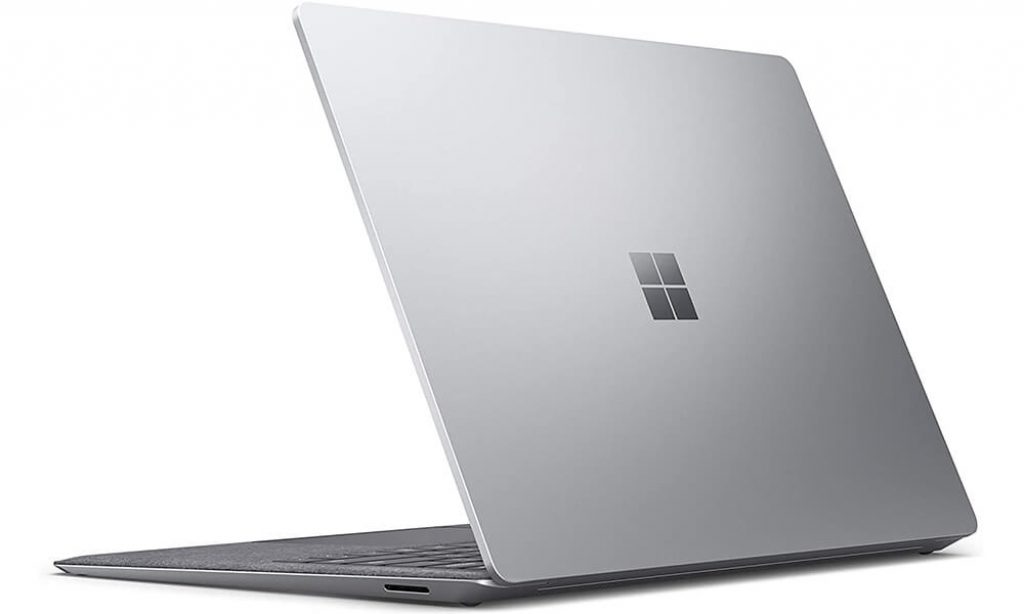 Microsoft Laptop 4: Opinion and Recommendation
We said it at the beginning and we can only reaffirm ourselves after the analysis: the Surface Laptop 4 is an accumulation of missed opportunities. Microsoft has been too conservative and that makes this equipment, which is certainly great, could have been much better.
It could have been a different proposal in the connectivity section, which is meager and continues to condemn us to the use of the Surface Connect connector. Also in the processor, which is outstanding but that could have been of registration. And finally in the battery, which again could have taken advantage of the dimensions of the equipment to provide even more autonomy.
All this weighs down a device that is very expensive for what it offers: its price places it in a range of products in which the proposals are much, much more ambitious, both in CPUs and dedicated graphics and, of course, in the field of connection ports.
It is true that the Surface Laptop 4 performs remarkably well, but neither the price nor the time at which it arrives justify these features, which, we insist, could (should!) have been even higher. It is as if the Surface Laptop 4 arrived late, because many of its decisions seem "almost" from another era.
Be that as it may, its virtues are clear: the screen is a delight, the keyboard and touchpad behave perfectly and the construction, although lazy with the reduction of frames, is as remarkable as usual in Microsoft hardware. That, unfortunately, doesn't seem enough to us in light of the competition, but it's clear that if you're willing to pay the price and don't mind those missed opportunities so much, you'll take home a machine you'll be very comfortable working with.
Pros & Cons
Following are the PROS & CONS of this product
PROS
The screen is still a delight.
Ryzen 4980U performs beautifully.
Solid construction.
CONS
Too limited in its offering of connection ports.
The battery could have been noticeably larger.
The AMD processor chosen is already "old" at this point.
High price.
Keep visiting Laptops Guide to know all the details about the laptop you're planning to buy.