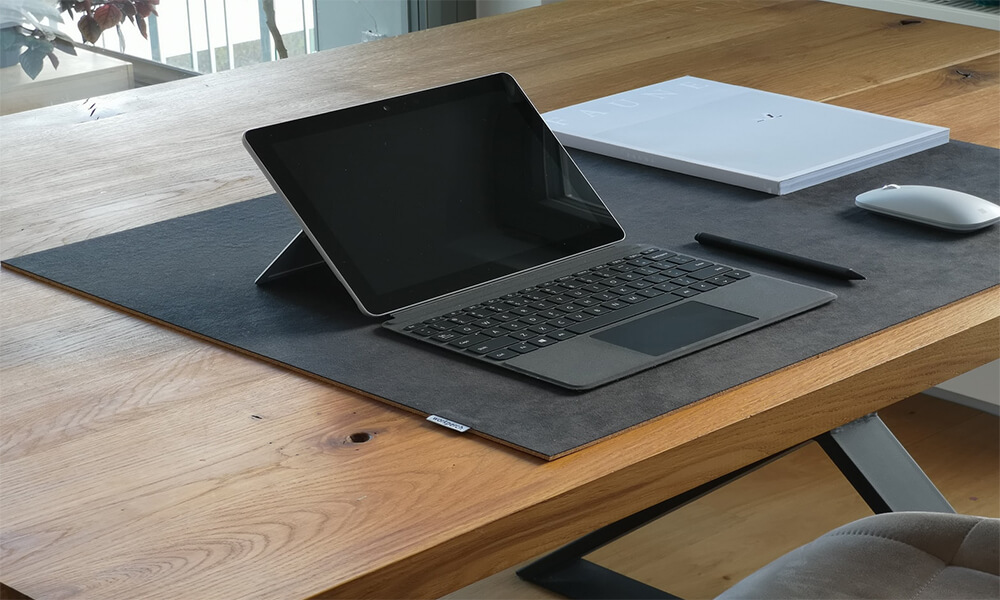 Surface Go 2 is the new version of the lightest and most economical device of Microsoft's own brand. A tablet to which you can conveniently add a keyboard case and that improves the qualities of its predecessor in areas such as battery life, screen, connectivity and performance. All this with a base price within the reach of all budgets.
Microsoft continues to increase the quality and quantity of its own hardware line, which just celebrated its eighth anniversary. A few generations later, Surface Go 2 rose to the 2-in-1 concept as a highly mobile and versatile device for use as a tablet or a laptop.
Ideal for those looking for the best Windows 10 tablet experience at an affordable price and also as an approach to the 2-in-1, a format that is among the most attractive and in demand in computing today.
Microsoft Surface Go 2 Features and Specifications
Microsoft markets the Surface Go 2 in several hardware configurations, starting with a base version consisting of an Intel Pentium 4425Y processor, 4 Gbytes of RAM and 64 Gbytes of storage capacity. With the same processor, you can opt for a version that includes 8 Gbytes of RAM and 128 Gbytes for internal storage.
One of the big hardware news comes from the possibility to choose an Intel Core m3 processor, the first time this series includes a "Core" CPU. The overall performance improvement can reach 64% compared to the previous generation and thus perform all kinds of tasks smoothly.
This CPU comes in two different versions. The most complete edition of the Surface Go 2 comes with support for LTE mobile broadband with a Qualcomm Snapdragon X16. This makes it possible to use a SIM card to enjoy a full Internet connection anywhere and not have to rely on (usually insecure) public wireless hotspots when away from home or the office, further enhancing the mobility provided by the device.
Other aspects that complement the Surface Go 2 data sheet are:
| | |
| --- | --- |
| Display | 10.5-inch 'PixelSense' multi-touch IPS display |
| Resolution | 1920 x 1280 pixels with aspect ratio 3:2 |
| Cameras | 5 MP front camera with 1080p resolution, IR and Windows Hello support. 8 MP rear camera with 1080p resolution |
| Sensors | Ambient light sensor. Accelerometer, Gyroscope, Magnetometer, NFC |
| Dimensions | 245 mm x 175 mm x 8.3 mm |
| Weight | 544 grams |
| Battery | 10 hours of battery life |
| Operating system | Windows 10 |
Microsoft delivers the device well protected in a white packaging, where in addition to the Surface Go 2 is included the power supply for use with Surface Connect, a quick start guide, safety and warranty documents.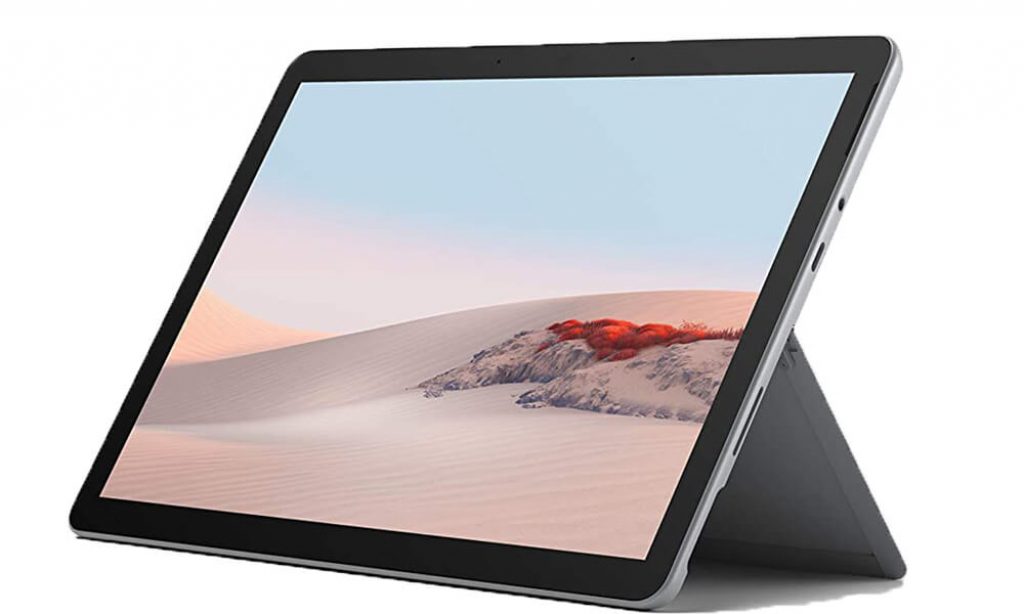 Design and Finish
All Microsoft Surface have stood out since their inception by the build quality and finishes, with a sober design, without stridency, but enormously attractive. Surface Go 2, despite being the cheapest of the series, is no exception.
It maintains the Surface Go design, although on the outside we notice the slightly more rounded corners and when we turn it on, we appreciate a noticeable cut of the screen bezels, which in addition to a more modern and elegant look increases the inches of the screen.
The included kickstand on the back has a small notch that makes it easy to open and allows the tablet to be held on a table up to an angle of 135 degrees. Well achieved, it is an ally when we work at the desk to place it at the inclination we need.
Its chassis is premium, really. The use of an injected magnesium alloy marks the level of this device and is a guarantee of robustness, durability and a differentiating aspect that we can see throughout the Surface series. Its dimensions and weight are kept in appropriate values for its size (just over half a kg) and allow you to carry it anywhere comfortably in a bag or backpack.
The Microsoft logo stands out on the back and the whole is finished in a platinum finish. To complete the customization to each user's taste, Surface Go 2 has different accessories in other colors such as red, blue, black or platinum.
Excellent in this section. It shows a careful design and attention to detail that we do not usually see in devices of this category, with a build quality and first class finishes, something that otherwise has become a standard for all Surface.
We also have to highlight the cooling design of its interior. A passive design that does not need active fans, to operate without any annoying noises or vibrations.
Display
The new PixelSense panel installed on the Surface Go 2 is a notable improvement over the original. In addition to a slight increase in size for a 10.5-inch diagonal, the best comes from the advancement of the native resolution to 1920 x 1280 pixels.
Its aspect ratio is 3:2 and – to our taste – is more suitable than the typical 16:9 in this type of device. The additional vertical space is useful for document creation and general tablet use.
The panel employs IPS technology that facilitates viewing angles, covers 107% of the sRGB color spectrum and in our tests achieves an average brightness in the 400 nits range. Its contrast is also very good, with a 1500:1 ratio.
Not that we are going to use this tablet for hard image or video editing tasks, but it looks really good and in any lighting conditions despite certain observable reflections depending on the inclination. To highlight the reduction of bezels commented for greater visualization while maintaining the overall size.
The response of the multi-touch panel is extremely accurate, both with fingers and with the Surface pen that we will see later. This is helped by the quality of the digitizer, the Microsoft drivers and the improvements offered by the latest versions of Windows 10.
Connectivity
Support for Wi-Fi 6 is one of the most notable new features in this section. The new wireless standard changes the landscape of network connectivity by quadrupling the speed of Wi-Fi ac up to 10 Gbps of theoretical throughput. The best that can be said is that it allows us to forget about Ethernet cabling altogether. It also includes support for Bluetooth 5.
Surface Go 2 has the necessary ports and they are located in a convenient location. On the right side we find a 3.5 mm jack for combo audio, a USB Type-C port and a Surface Connect port.
Microsoft's patented port works via magnetic connection and is used to charge the device's battery and connect accessories such as Surface Dock for using external monitors.
The USB port is used for data transfer, to connect the device to an external monitor (up to 4K) and, eventually for recharging via any USB-PD charger, which will be useful when we do not carry the dedicated Surface Connect power supply. At the top is located the start button and volume buttons. Well integrated into the assembly as the rest of the connectors.
At the bottom, another magnetized connector allows you to add the cover. Its placement is as quick as simple and immediately detects the keyboard and touchpad.
The microSD card slot is hidden behind the back cover where the kickstand is located. Simply insert it and forget about it. We already have a good amount of additional storage capacity.
Surface Go 2 includes a front and rear camera system. The first one is of a high level as we will see later. It has a 5 megapixel sensor for video conferencing with resolutions up to 1080p and also infrared for use in authentication tasks using Windows Hello. The rear camera offers an 8-megapixel sensor, sufficient for taking images or video.
Dual studio microphones complete the sound section, with very good performance in video conferences. It includes typical tablet sensors, including accelerometer, gyroscope, magnetometer, NFC and ambient light sensor.
Software
Surface Go 2 comes equipped with Windows 10, Microsoft's operating system that is constantly being updated to incorporate new features for users.
In addition, to be more productive, it includes a trial of Microsoft 365, the new online productivity solution of the company that adds Office applications, OneDrive cloud services and other advanced security.
The rest of the pre-installed applications will sound very familiar to any Windows user. We can highlight the new camera app that allows document scanning with the rear camera or the Microsoft Whiteboard for note taking that works very well with Surface Pen.
Finally, mention the "Surface" application that is included with all Microsoft-branded devices. It offers device information; technical support options; general usage preference settings; identification and resolution of basic problems with its use; individualized assistance and quite a few more features.
Accessories: Keyboard and Stylus
Microsoft has been marketing quality mice and keyboards for decades. The launch of the Surface brand and the need to complement the devices has led to an explosive increase in a catalog of accessories and peripherals that today offers an extensive collection of keyboard cases, mice, stylus and dials, chargers and docks; carrying bags and cases; headphones and wireless headsets.
Signature Type Cover is a keyboard cover that attaches to the tablet via a magnetic connection. It fits instantly, securely, can be adjusted from virtually any angle and immediately detects the keyboard and touchpad.
Its uses are varied. Unfolded when used as a full physical keyboard on the desktop; folded back when using the Surface Go 2 as a tablet or closed over the screen both to protect it during transport and to extend battery life.
Opening the case automatically activates the Windows Hello facial recognition camera to automatically sign in. This is a very useful feature that was not available on the previous generation. Well thought out and designed, it is made of a soft-touch Alcantara fabric with anti-stain protection, which is expected to last over time. Its thickness is reduced to the absolute minimum, 4.6 mm, and its weight adds a reasonable 245 grams to the tablet.
It has a full QWERTY keyboard, backlit keys in three levels, and a size and spacing adjusted to the size of the tablet. The design of the assembly allows it to be held flat on the table or placed at a slight tilt for easy typing. Its compact size and feel will require a few hours of use for error-free typing, but we've gotten used to it in no time.
It also features a glass touchpad, with which we didn't miss a mouse, although it can be added via Bluetooth connection or on the USB Type-C port. It's not too big, but it's smooth and accurate, and it recognizes all the scrolling and touch gestures that Windows 10 offers very well.
Type Cover is available in several color finishes (ice blue, poppy red, platinum and black) to match the silver of the tablet. The build quality, comfort of use and productivity are remarkable.
The second of the must-have accessories is the Surface Pen. It offers a user experience that approaches the natural experience of a pen or pencil by offering 4096 pressure points and tilt support.
It works in OneNote, in other Office applications now Microsoft 365 and in image retouching applications. The user experience has been correct. We did not notice excessive delays or latencies and like everything in Surface the product is of high quality. To the Platinum and Black color finishes, two new ones have been added, Ice Blue and Poppy Red. It is compatible with almost every Surface with a touchscreen.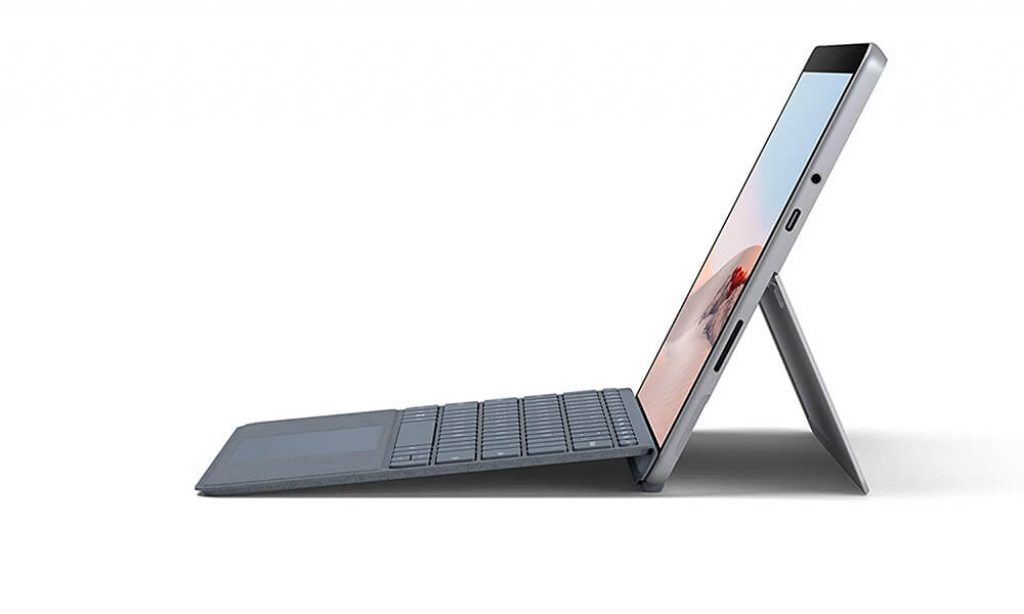 Performance and User Experience
The combination of an Intel Core processor, 8 GB of RAM and an SSD is quite a guarantee for a tablet and a good approach to a 2-in-1. Beyond the extensive battery of tests to which we have subjected the Surface Go 2, the best we can say is that its performance has been smooth in all kinds of scenarios.
A perfect fit for users and families who need a fast and portable device for web browsing, office, entertainment, streaming media or casual gaming.
CPU and GPU
Intel Core m3-8100Y is an ideal processor for a Windows tablet. A 64-bit ultra-low voltage model under the "Amber Lake Y" microarchitecture, it offers two cores and four native processing threads with operating frequencies ranging from 1.1 to 3.4 GHz. It has 4 Mbytes of cache and its TDP is only 8 watts.
In addition to the low power consumption we have to highlight the zero noise and vibration level thanks to its passive cooling system. Even without annoying fans, temperatures are kept under control at all times. We have not noticed excessive heating in normal use except when running benchmarks that push the hardware to its limits. This is not a type of application that a typical user will use.
The GPU power is sufficient for a tablet. It is integrated in the same silicon as the CPU and corresponds to the Intel UHD 615 model. It runs at a maximum frequency of 900 MHz, supports multimedia libraries such as DirectX 12 and OpenCL 4.5 and has technologies such as Quick Sync Video or Clear Video. It can output content on up to three external monitors or a single monitor with 4K resolution and 60Hz refresh rate.
The results we have obtained in the tests confirm that the Core m3 is a micro far superior to the Intel Pentium and Celeron Mobile models:
Geekbench 5 (Single Core): 878 points
Geekbench 5 (Multicore): 1608 points
Geekbench 5 (OpenCL): 4441 points
Cinebench 20 (CPU): 578 points
Cinebench 20 (Single-Core CPU): 255 points
PC Mark 10: 2,816 points
3D Mark Time Spy: 345 points
3D Mark Night Raid: 3,028 points
Storage
The installed solid-state drive offers a significant performance leap in all areas compared to tablets using eMMC-based internal storage. And it doesn't take much testing to prove it. System startup or recovery from sleep modes is immediate, as is application startup and speed when streaming data from external devices.
Measuring speeds with CrystalDiskMark 7 we get good results, especially in reads:
Random read: 1,637 Mbytes per second.
Random write: 378 Mbytes per second.
Battery
An important section for a device intended for mobility for which we will not always have power networks at hand to recharge it. The user who purchases this device can extend the battery to a day of use, although this is a parameter that varies greatly depending on the brightness level of the screen and the type of task to be performed.
Surface Go 2 has up to 10 hours of battery life depending on the tasks we are performing:
10.5 hours in web browsing tasks with 150 nits brightness.
8.5 hours in video streaming with Netflix with brightness reduced by half.
6.5 hours in the PC Mark 10 battery test at full performance with video calls, document creation and web browsing.
Connecting to the Internet
The Surface Go 2's support for Wi-Fi 6 is a guarantee to get rid of Ethernet cabling. It also supports Bluetooth 5, MU-MIMO, Miracast and dual-band 2.4 and 5 GHz to achieve theoretical speeds close to Gigabit.
Tested on a 600 Mbps network over the 5 GHz band, at distances close to the router with applications such as iPerf3 to measure the performance of both the Internet and the local network, the result in downloads, browsing or streaming has been remarkable.
With access to a good Wi-Fi wireless network, preferably with a Wi-Fi 6 compatible router, we do not need LAN connectors or their cables.
Cameras
The front-facing webcam mounted on the Surface Go 2 is the best we've tested in this category. Its performance in video conferencing with resolutions up to 1080p is excellent, something that is appreciated in times of "teleworking" where such applications have become commonplace.
Compared to a typical laptop, the inclusion of electronics behind the screen of the Surface Go 2 favors the capacity of this component and it shows. We were also impressed with how quickly the infrared sensor performs facial recognition connected to Windows Hello. Simply put: goodbye to passwords.
The rear camera has an 8-megapixel sensor and is specially designed for quick scanning of documents for digitizing and online sharing.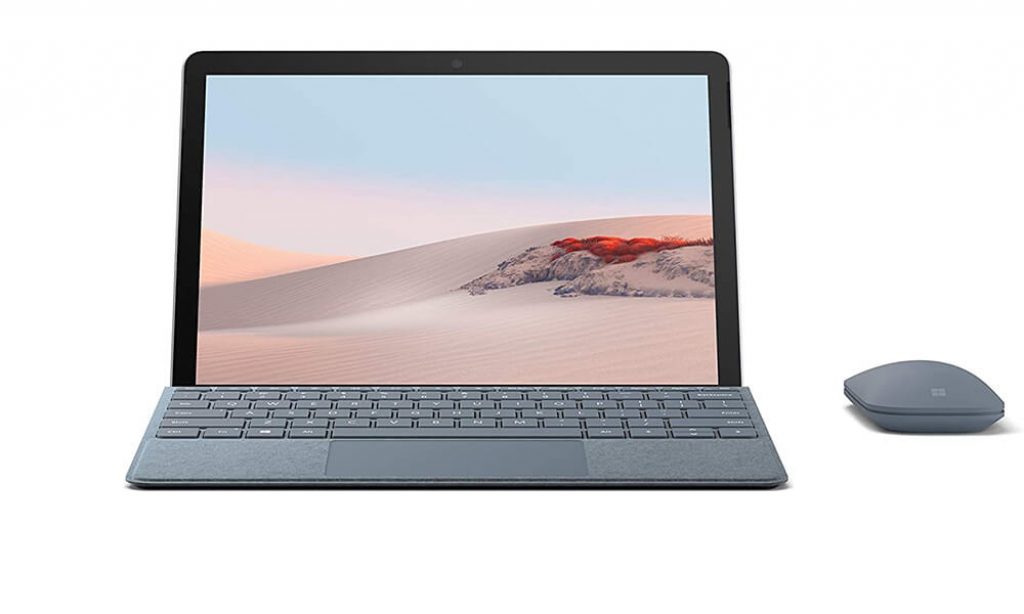 Conclusion
Surface Go 2 is the best Windows tablet experience you can find. Its build quality and finish is fantastic, well above average for the segment and on par with other Surface models.
Lightweight and slim, it can be carried anywhere and its screen is of a high level both in image quality and in the response of its digitizer.
The Intel Core m3-8100Y processor is a big performance boost, as is the solid state drive (SSD) for storage. Wi-Fi 6 has arrived to improve wireless Internet connectivity and any modern device should include its support as does this Surface Go 2.
Completing the conclusions, we must highlight the outstanding webcam and sufficient battery life, so we highly recommend it.
Keep visiting our website Laptop Guide and if you have any questions? feel free to leave a comment down below.