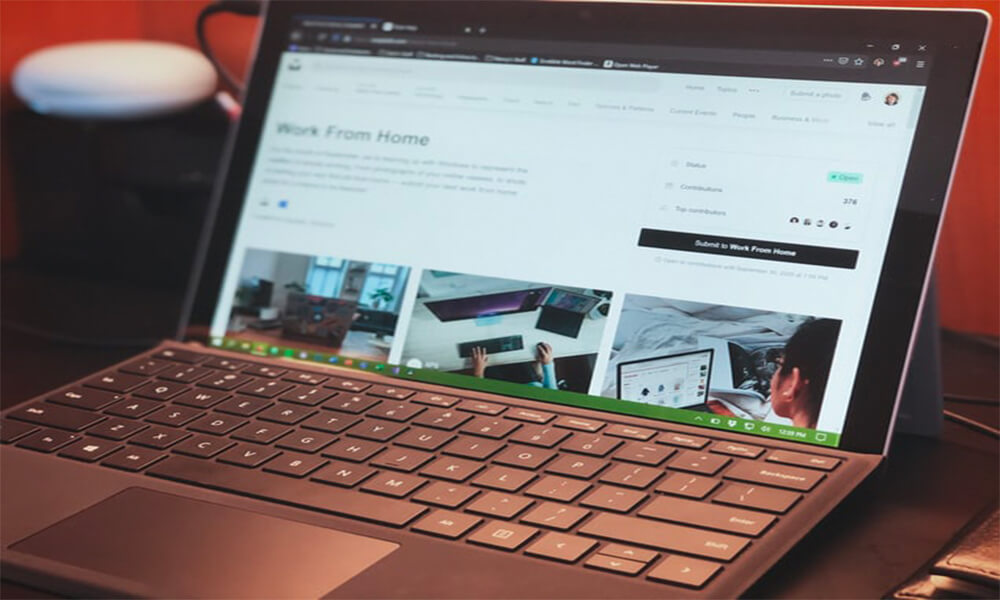 Putting a smartphone processor in a laptop did not seem like a very good idea until recently, but these chips have advanced so much that Microsoft has been betting for some time on a new segment of devices that finally offer an alternative to AMD and Intel chips and, above all, to the x86 architecture that has dominated this landscape for decades.
For those in charge in Redmond, ARM processors are ready, and their latest attempt to convince us that an ARM laptop is possible is the Surface Pro X, which inherits many of the virtues of the Surface Pro we all know and love, but changes in that fundamental component.
That hardware change has its advantages and disadvantages, and we have tried to fall into the nets of a concept that has matured and is already very close to achieving its purpose in many areas. The problem is that it is not yet a rounded product.
Surface Pro X Technical Specifications
| | |
| --- | --- |
| DISPLAY | 13" PixelSense 3:2 2,880 x 1,920 pixels |
| PROCESSOR | Microsoft SQ1 (Qualcomm) |
| GRAPHICS CARD | Adreno 685 iGPU |
| RAM MEMORY | 16 GB LPDDR4X |
| STORAGE | 256GB |
| CAMERAS | Rear: 10MP, autofocus Front: 5MP |
| BATTERY | Up to 13 hours, Fast charging |
| DIMENSIONS AND WEIGHT | 287 x 208 x 7.3 mm, 774 g |
| PORTS | 2 x USB-C, Surface Connect, Surface Keyboard, 1 x NanoSIM |
| CONNECTIVITY | WiFi 5 (802.11ac), Bluetooth 5.0, 4G/LTE |
| OTHER | Windows Hello for facial recognition, 2W stereo speakers with Dolby Audio Premium |
Let's Talk About That ARM Processor
The Surface Pro X spec sheet doesn't look much different from any other laptop or convertible in this range.
At least not until you look at one key section: the processor, which instead of following the classic trend and being some model from manufacturers like Intel or AMD is actually a very different chip.
It is the Qualcomm Snapdragon / Microsoft SQ1, a development in which this manufacturer has collaborated with Microsoft to adjust it to the specifications that both have considered optimal for a product with this format and performance.
The SQ1 is a unique variant of the Snapdragon 8cx, and like the latter it is manufactured with 7 nm technology and has a very low TDP: just 7 W, which of course affects the performance we can expect from it, but is also key to keeping the processor at controlled temperatures even in scenarios in which its full power is demanded.
We are dealing with an octa-core CPU that is capable of reaching up to 3 GHz in its cores, but this SoC demonstrates the versatility of ARM chips and allows it to integrate in a single die a set of really surprising functions.
Among these functions is the one oriented to graphics tasks. The Adreno 685 GPU can deliver up to 2.1 TFLOPs of raw power, which essentially means that it is – at least in those terms – twice as powerful as the integrated GPU of 8th generation Intel processors.
In fact, Qualcomm and Microsoft's proposal is remarkable because that design has a performance per watt that is three times what we found in the Intel processors of the Coffee Lake family in the Surface Pro 6. Of course one thing is efficiency and performance per watt on paper and quite another thing the actual impact and performance that this chip offers users.
There are also other areas of interest in the chip: as with other Qualcomm chips, this model has specific cores for processing artificial intelligence tasks, and here Qualcomm officials say it is comparable to the Snapdragon 855 in this area. That power is applicable for example to facial recognition or battery monitoring and optimization, but once again all those figures and data can mean something else once they are seen in a real use of the equipment.
The last of the key components of this SoC is, of course, the modem that gives access to LTE connectivity, a clear advantage of these "always connected" devices, which in this case can be so thanks to a Nano SIM slot in which we can insert a card of this type to connect to the Internet as if we were doing it from a smartphone and without the need for access to WiFi networks.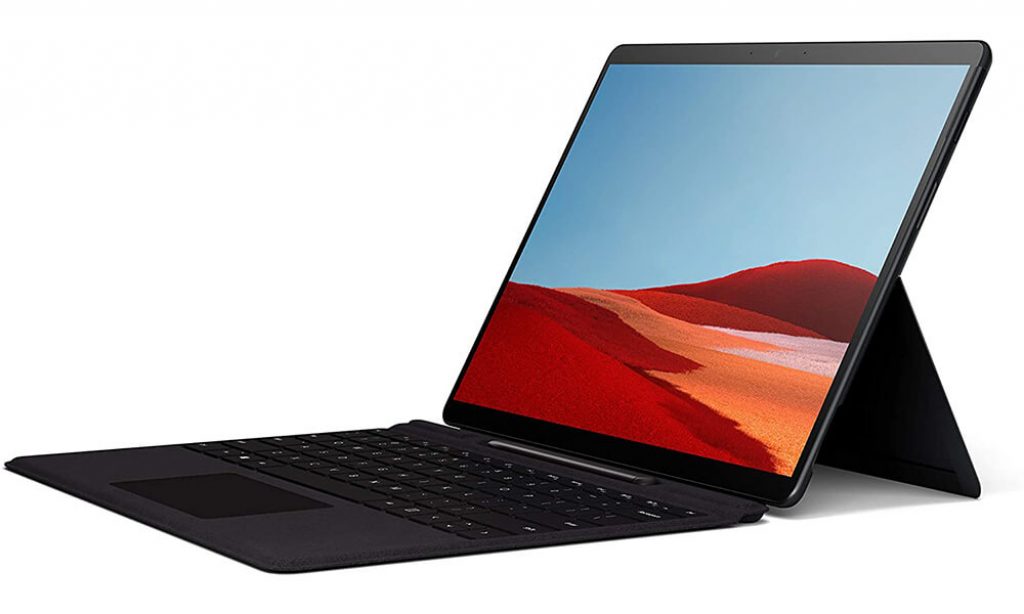 A Slim Design That Provides a Great Idea
At first glance the Surface Pro X does not seem very different from the Surface Pro from which it inherits the form factor. A somewhat more in-depth review soon begins to reveal a design that gains in several areas.
Indeed, Microsoft's proposal here is based on the same principles as its Intel-based predecessors, but the presence of an ARM chip seems to have provoked a notable ambition when it comes to slimming down this device.
The thickness is 7.3 mm compared to the 8.5 mm of the Surface Pro 7 that we recently reviewed, but the very contour of the edges changes completely, and those flat sides are now rounded contours.
Those rounded sides hide the connectivity options, which are somewhat more sparse than we would have liked: the Surface Pro X has two USB-C ports, a Surface Connect port and the slot for a nano SIM card (although the eSIM option also exists). We miss a conventional USB-A connector, but we especially miss the headphone jack which is also absent on this device.
The screen bezels are also clearly less thick than those of the Surface Pro 7, and it is surprising that this device has practically the same size and weight, but integrates a considerably larger screen: from the 12.3 inches of the SP7 we go to the 13 inches of the Surface Pro X, a remarkable achievement for a Microsoft that curiously has reserved that advance for its ARM convertible.
This design has certain compromises, and here we must highlight the fact that keeping the thickness at 8.5 mm (or not reducing it so much) would have allowed for a larger battery capacity. We will talk more about the autonomy offered later, but here we see how the priority that Microsoft has given to the search for minimum thickness is in our opinion wrong.
All in all, the twist on the already recognizable and reputable design of the Surface Pro gets interesting in a very special section: its Signature Keyboard keyboard case, which in addition to being protected with Alcantara fabric also came with the stylus or pencil, called Slim Pen by Microsoft.
The keyboard is not very different in essence from what we had seen in cases of this type for the Surface Pro except in one section: at the top, above the top row of function keys, we find a small hole for the Slim Pen, which not only can be stored there, but also recharges wirelessly to be fully prepared when we need it.
The idea is simply fantastic, although it conditions the pen's format – flat and thin, less "blunt" than other styluses on the market – and provides an excellent option for protecting and charging this accessory.
Another unique design element is the one under the Surface Pro X stand. By using a tool like those of the SIM slots to open the cover we find both the nano SIM slot and the SSD drive in M.2 2230 format, a really compact format but that allows us to change that drive for another one in the future if we wish.
The touchpad present on that keyboard is also identical to other keyboard cases for the Surface Pro 7. The response is great and although the size is limited – the dimensions of the peripheral and the convertible themselves condition that section – we are facing a component that complies perfectly.
Redmond, We Have a Problem (Software)
He who warns is not a traitor, and Microsoft warns. It does so with fine print in the Surface Pro X specifications, which reveal that its convertible tablet based on an ARM processor has some compromise.
In fact as Microsoft states in those notes, "for the time being, Surface Pro X will not install 64-bit applications that have not been ported to ARM64, some games and CAD software, and some third-party drivers or antivirus software."
Therein lies precisely the crux of the matter: that on a conventional computer with x86-64 architecture and Intel or AMD processor we will never worry about this, and we will be able to access the entire Windows catalog without problems.
On the Surface Pro X this is not the case, and there are a good number of 64-bit applications that we will not be able to install or use with the laptop. In our tests we verified this, for example, with solutions as widespread as Firefox which already has test versions of the browser compiled for 64-bit ARM microscopes or Slack in its 64-bit versions.
The Slack installer gave a strange and not very understandable error message "opening the installation log did not help at all", while when trying to install the 64-bit version of Firefox we encountered an error message that seemed to indicate that the operating system with which we were working with a 32-bit operating system when in fact it is not.
In fact the version of Windows 10 Home pre-installed on the Surface Pro X is a 64-bit version compiled for ARM, but support for these binaries is reduced because they must be pre-compiled for this platform, or else they won't work.
That incompatibility poses problems with various applications, but also with 64-bit device drivers that won't work either. The problem extends to OpenGL support, which is not supported by the integrated Adreno 685 GPU that does support the DirectX 12 API. This is not a gaming device, of course, but the absence of this type of support is certainly problematic for certain types of users.
It is not a critical problem in many cases: developers continue to offer 32-bit versions for many applications, so at least in the case of the two examples cited, it was sufficient to download the installation files for these 32-bit versions. Performance may nevertheless be slightly affected, since the execution of these applications is done through emulation.
This made it possible to complete these installations and then be able to use these applications without problems, and in fact it is still very common that a good number of 32-bit applications continue to run on x86-64 machines with 64-bit Windows 10.
In fact using 32-bit applications on a 64-bit operating system is not normally bad "per se". There is no performance loss as such, and the key advantage is being able to access address space that exceeds the 4 GB that 32-bit architecture has as a limitation (although PAE techniques alleviated that problem).
This advantage of 64-bit can be seen in two everyday scenarios for many users. The first is less of a concern. It involves gaming, which does tend to take advantage of that extra RAM. Since the Surface Pro X is not a laptop geared towards these types of scenarios, for many users the problem is not that big of a deal.
Things change with the second everyday scenario of applications that take advantage of their 64-bit versions. Browsers are RAM guzzlers, and being able to access more than 4 GB is something that 64-bit versions take advantage of when we have multiple tabs open in one browser or another.
We didn't notice any major problems when using Microsoft Edge or the 32-bit version of Firefox that we installed on the laptop, but it's true that we didn't open too many tabs either, something that could really put this laptop in a bind.
There are other applications like Photoshop that benefit from the extended memory that 64-bit operating systems and processors are capable of handling, and in fact Adobe has practically abandoned support for 32-bit applications: the new versions are only 64-bit, for example, which forces you to install old 32-bit versions to be able to use it on this laptop.
Performance (Almost a Mystery)
Precisely one of the areas where we encountered software problems was in evaluating the performance of the laptop, and the reason is simple: the test suites we usually turn to are not compatible with the Surface Pro X.
It was not possible to pass tests with PCMark 8, PCMark 10 or 3DMark. In some cases the tool warned that it was not compatible with the hardware, while in others, such as in the 3DMark Ice Storm test, everything seemed to move forward but in reality the process was stuck in a part of the test load as such.
This has made it difficult to evaluate the performance of a device that with that Microsoft SQ1 seems ready to face decent workloads at least in the field of office productivity or web browsing.
To get an idea of this performance, we were able to test the Surface Pro X with Geekbench 4 and Geekbench 5, tests that are very typical of ARM-based cell phones, which have also been available for x86-64 architectures for some time now.
Performance Comparison with Other Laptops
| | GEEKBENCH 4 (SINGLE CORE / MULTI CORE) | GEEKBENCH 5 (SINGLE CORE / MULTI CORE) |
| --- | --- | --- |
| SURFACE PRO X (SNAPDRAGON SQ1) | 3.554 / 11.600 | 729 / 2.834 |
| SURFACE PRO 7 (CORE I5-1035G4) | n/a | 1.235 / 3.837 |
| SURFACE LAPTOP 3 (RYZEN 5 SURFACE EDITION) | 3.864 / 11.605 | 847 & 2.903 |
| LENOVO THINKBOOK (CORE I5-8265U) | 4.387 / 12.678 | 1.027 / 3.234 |
In these tests we could see how the performance of the Surface Pro X is very similar according to Geekbench 4 and Geekbench 5 to that of the Surface Laptop 3, a remarkable achievement for a micro theoretically more oriented to mobiles than to laptops that can actually work as desktops as well.
We did run a performance test on the device's SSD through the CrystalDiskMark tool, and with it we got some very decent figures: 1,989 MB/s read and 811 write, which is in line with the Surface Laptop 3's 2,001/823 MB/s, for example.
This is not conclusive data, but the fact is that our experience showed that the fluidity of the Windows 10 interface and applications – those that did not give problems because they were supported, of course – was remarkable at all times. Much of this review has been written with the Surface Pro X, and the overall feeling has been good.
That shows that the generational leap Qualcomm and Microsoft have made in this machine relative to previous forays into the world of Windows-based ARM machines – such as the HP Envy x2 or the Lenovo Yoga C630 WOS – is truly remarkable.
In fact, this doesn't feel like an ARM machine until some application complains. It is almost impossible to detect that we are working with a different convertible unless we use applications to identify that hardware or, of course, some application fails to meet the requirements that Microsoft is imposing on these devices.
The battery, another of the theoretical great advantages of this device, behaved very decently, and in our tests comfortably exceeded 9 hours "approaching 10 depending on the day" with the screen brightness at medium level and conventional work sessions.
In these sessions the browser was always the protagonist, but we also used various tools and applications in parallel to play video or music, in addition to the Slack client or simple image editing tools.
It is not the 13 hours of autonomy promised by Microsoft, and here we expected even more surprises given that theoretically we are dealing with a platform that boasts exemplary efficiency.
Part of the problem lies in the disadvantage we mentioned at the beginning: this obsession with slimness has compromised the possible integration of a larger battery that would undoubtedly have given more room for maneuver in this regard.
This small disappointment is partly offset by the fast charging support of this device, which with the 65W adapter provided charges in just an hour and a half using the Surface Connect port, although we can also use one of the two USB-C ports as an alternative if we need to.
A Lame Experience Without the Optional Keyboard (or Stylus)
The experience with the device is great on the multimedia side: the speakers perform generously, with hardly any distortion at high volumes. Where there is an interesting improvement is in the cameras, which outperform the Surface Pro 7.
On the front we have a 5 MP sensor that allows video conferencing in Full HD and is accompanied by two quality microphones for this type of scenario. On the back, more pleasant surprises with the 11 MP sensor with autofocus which is a notable leap over the 8 MP sensor of the Surface Pro 7.
The Windows Hello facial recognition system works flawlessly, and authentication through that option is fantastic and fast.
As with all devices in the Surface convertible family, the problem is that the starting price of these devices is not the final price of the solution that Microsoft is proposing to us. For these convertible tablets to be truly useful we will also need to buy their keyboard case, which integrates the touchpad and allows you to work with this equipment as if it were a conventional laptop.
This keyboard case has a hole for the specific stylus of this model (we can still "stick" it to one of the magnetized sides of the screen), but again it is an optional item that we can only enjoy if we pay for this peripheral.
The price increase is remarkable: the Surface Slim Pen costs approximately 150 dollars while the keyboard costs exactly the same. We can buy the pack, but by doing so curiously not only we will have a discount, but Microsoft will charge us slightly more because that separate keyboard is not the Signature Keyboard: the latter has the holding hole and wireless charging for the Slim Pen, while the keyboard alone does not.
The behavior of that Slim Pen is excellent, however, and on its back we have a button that when pressed will launch the Microsoft Whiteboard application to be able to take notes or draw immediately. We also have two configurable buttons closer to the tip.
The sensitivity to different levels of pressure is fantastic, and Microsoft's commitment to this accessory has long since matured and offers an outstanding experience for both artists (the Surface Pro X is compatible with the Surface Dial) and for those who take a lot of handwritten notes on these convertible tablets.
The problem, once again, is that we thus find ourselves (once again) with a significant cost overrun for Microsoft's tablet, which in its test configuration (16 GB RAM, 256 GB SSD) is not priced for low budget even when excluding the keyboard and stylus.
Including them in the set, we find that the total cost a lot, a price that despite the attractiveness of the platform is too high for the obstacles it imposes.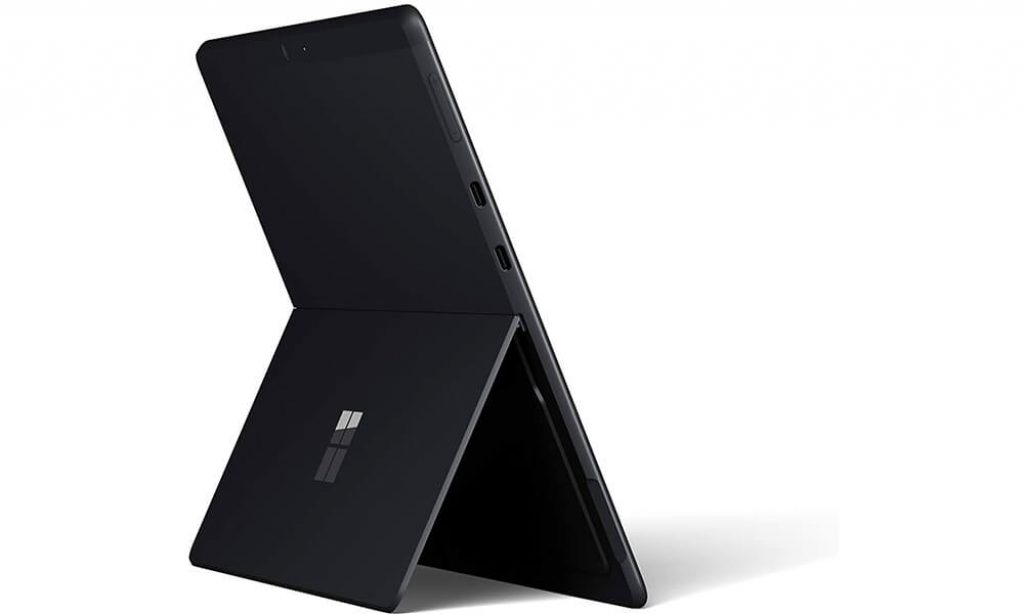 Surface Pro X – Our Opinion and Recommendation
It is difficult to recommend Microsoft's proposal when for the same price (or considerably less) we can access truly remarkable ultralight laptops that probably surpass this Surface Pro X in many areas.
The point is that this is not a laptop for all audiences, and Panos Panay, head of Microsoft's hardware division, already made it clear when presenting it: this is a product intended primarily for mobile workers: people who need to be always connected and who take advantage of the portability and connectivity of this equipment.
It is in that scenario where the Surface Pro X can be really interesting, and where those options that curiously make a nod to a future Surface Pro 8 shine: thinner screen frames, more screen diagonal in the same chassis and perhaps that unique recess for the Slim Pen that we have liked so much in this Surface Pro X.
These advances in design are weighed down by the price and by those small obstacles posed by a bet as unique as this: wanting the transition to Windows 10 ARM to be perfect is a utopia, and the truth is that in many cases the equipment behaves optimally.
There is talk that Microsoft is working on an emulation layer for 64-bit x86-64 binaries to smooth out many of the current rough edges, but for the moment the reality is this: developers must move their binaries to ARM64 to take advantage of this equipment, and it is difficult for many to do so if there is no massive commitment to the platform.
Precisely these software conflicts are what condition the recommendation for a device that has many lights, but is overshadowed by a very high price that probably makes many prefer to go for safer bets. Microsoft, in fact, offers a tool that helps us choose between the products of the Surface family.
Perhaps the Surface Pro X is not perfect, but it is a good step on a complex path – that of making the leap to ARM architectures – that Microsoft has approached with courage and more success than ever on this occasion.
Pros & Cons
In short, following are the pros and cons of this device:
Pros & Cons
Following are the PROS & CONS of this product
PROS
Many plus points in a design that takes advantage of the front and brings ideas like the Slim Pen.
The screen is once again a highlight of a Microsoft convertible, good audio and video quality.
The nano SIM slot frees us from the constraints of WiFi connections.
CONS
Software incompatibilities hinder the user experience
We miss some conventional USB port, and especially the minijack
Very high price, especially if we take into account the need to purchase the keyboard
The promise of long battery life on ARM devices is not fulfilled.