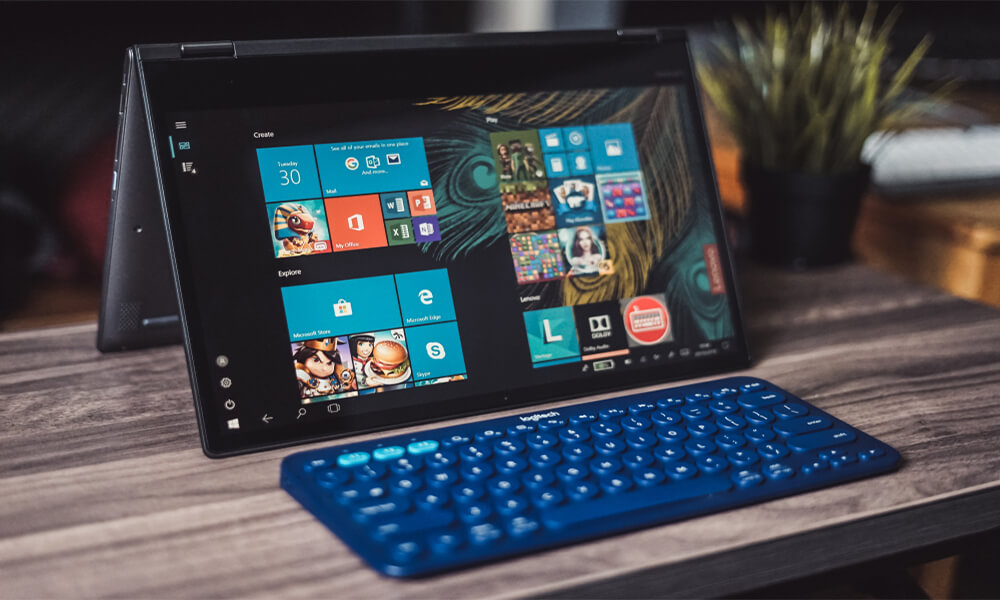 Lenovo Yoga 720-13IKBR is a super convertible laptop, touch, powerful and offering high performance. It stands out for its superb design, performance and versatility, always accompanied by its Wacom stylus.
Do You Know
The Yoga 720 last year was awarded the iF Design Award for its spectacular design and functionality. The Asian brand was also awarded with 5 more prizes.
The Lenovo Yoga 720-13IKBR is not a conventional laptop, as it is a 3 in 1 convertible tablet, tent and laptop. The Lenovo brand is back with this incredible Yoga series of mid-range laptops, we are not only talking about quality and good design, we are also talking about an excellent price.
Lenovo Yoga 720-13IKBR Laptop
Find in this review more details about the technical specifications and design of the Yoga 720. Leave a comment below if you have any questions, we will answer you soon.
The quick guide below is about the 13.3-inch Lenovo Yoga 720, although you can also find references to its smaller and bigger siblings in terms of power and size.
360° Convertible Design
The Lenovo Yoga 720-13IKBR laptop has a functional and very elegant premium design, a metallic chassis with an extra solid polished aluminum surface, with a 360º hinge system that will allow you to transform your computer into a tablet for a more comfortable use, into a tent for when you want to relax and enjoy multimedia content or into a laptop to do your work.
It is a computer designed for users looking for efficiency, mobility and versatility in a single product, the Yoga 720 is as elegant as it is adaptable. Additionally, it includes a Wacom stylus for graphic design enthusiasts.
This laptop has a new integrated secure payment feature, with an optional fingerprint reader. Secure your information, log in and even shop with just your fingerprint.
Very Thin
Lenovo Yoga 720-13IKBR has been reduced to the minimum. it has a weight of 1.25 kilos and a thickness of 1.4 cm. Very comfortable for users because of its dimensions it is perfect to carry it whenever you want and wherever you want with you. It weighs slightly more than a traditional tablet, however, much less than any laptop.
13.3″ Full HD Screen
Full HD 13.3-inch touch screen, reaching support resolutions of 1920 x 1080 pixels with hardly any borders, we are talking about more than 200 pixels per inch, providing extra-high definition 4k technology, sharpness and details. LED backlight technology in two levels, which is very good, providing the user with the flexibility to work in dim environments.
Additionally, it integrates Harman speakers optimized with powerful JBL Dolby Audio Premium speakers, an excellent audio system that gives you a radically enhanced surround experience when watching your movies and series.
Additionally, Lenovo Yoga 720 has two versions of laptops with different screen sizes. Therefore, they are available:
Lenovo Yoga 720 12.5-in.
15.6-inch Lenovo Yoga 720
Powerful Processors for Every Taste
It is the world's first convertible laptop. Integrated with an Intel Quad Core H series standard voltage 7th generation dual-core processor (Intel Core i5-8250U Kaby Lake) offering a unique experience to all users and being one of the best value for money processors.
It reaches turbo frequencies of up to 3.4 GHz. Promoting the user a very satisfactory gaming power, graphics and computer speed.
Additionally, Lenovo Yoga 720 has 3 versions of laptops with different processors. Therefore, they are available:
Lenovo Yoga 7210 Intel Core i3.
Lenovo Yoga 7210 Intel Core i5-7200U
Lenovo Yoga 7210 Intel Core i7
Graphics Card and RAM
The yoga 720 offers us a powerful Intel UHD Graphics 620 graphics card, delivering smooth graphics, reducing image fragmentation and improving performance without sacrificing overall responsiveness.
It is equipped with a fast, high-speed M.2 PCIE SSD (256GB) storage drive, maximizing the life of the laptop. A 3GB SmartCache Memory and 8GB (2133MHz) DDR4 RAM soldered on board. Remarkable for its superior performance when opening and closing documents, files and applications, as well as when turning on the laptop (which only takes about 10 seconds).
This laptop is way ahead of its competitors in terms of speed and efficiency, taking the user's gaming, movie and multimedia experiences to the next level. And to put the icing on the cake, Lenovo also has a superior model with better features such as the 13-inch Yoga 920.
Lenovo Yoga 720 also has other versions with higher and lower storage and RAM, which you can check here. Finally, the operating system integrated in all these versions is Windows 10.
External Connections and Connectivity
New connectivity technology. This laptop has the presence of two ports. Active USB-C, which allows you to charge any of your electronic devices even if you have the laptop off, one of them has Thunderbolt™ 3 (40 Gbps).
Which is 8 times faster than a conventional 3.0 port… maximize your experience x8. Additionally it features 4-in-1 card reader (SD, SDHC, SDXC and MMC), audio combo, 720p HD webcam, integrated digital microphone and what would be and its new fingerprint reader technology. It features 2×2 AC dual-band Wifi (mx 433 Mbps) and Bluetooth 4.1.
The Yoga 720 has optional Active pen support. With very well executed functions of high precision, palm rejection, which gives you a very natural and smooth technology experience.
Long Battery Life
Lenovo laptops are known for their long battery life, and the Yoga 720 is no exception. This laptop features a 4-cell Lithium polymer battery. With a technology they call "Rapid Charge", which by plugging in the laptop for about 15 minutes you can get up to 2 hours of additional battery life.
And in light use according to official data the company claims that it is able to withstand up to 10.5 hours of use on one charge. Which makes it a good alternative if we want to take this laptop on the road.
What Do Buyers of the Lenovo Yoga 720 Think?
Like the Microsoft Surface Go, this Lenovo Yoga 720 is a 2-in-1 laptop with excellent reviews. It is a super computer, with a very successful price-performance ratio. While it is one of the highest rated laptops in this Lenovo Yoga series, it is also the one with the best features.
We are not only talking about a 3×1 convertible computer of high quality and lightness; but of an extreme data processing power which we should look for in high-end laptops.
Who Should Buy this Lenovo Yoga 720 Laptop?
As we mentioned above, the Yoga 720 is one of the most advanced laptops from the Lenovo brand. It adapts to any use, both to use it for daily tasks, as well as for office or graphic works.
It features advanced technologies such as Thunderbolt and fingerprint reader, mentioning again it's 3×1 design with screen rotation.
Additionally, it incorporates a Wacom stylus ideal for users who are passionate about design because they can make sketches and get inspired through this and its touch screen with superb resolution.
If you are looking for a laptop to work but do not want it to be convertible we recommend you check our other laptops we have reviewed.
This is your laptop if… you have a mid-high budget, you like design and travel with your laptop. This Lenovo Yoga 720 is really powerful.
Value for Money: 9/10
Colors: Plantino, Steel Grey or Copper.
Available Versions: 12.5″,15.6″. Processors i3, i5, i7. Wide range of internal storage.
Pros & Cons
Following are the PROS & CONS of this product.
PROS
Powerful processor
Great screen resolution
Lightweight and excellent convertible design
High variety and combinations of processors and inches
CONS
Graphics card could be upgraded, not recommended for demanding graphics
Where to Buy the Lenovo Yoga 720 at the Best Price?
We recommend that you check its price on Amazon (link below), since most of the time we can find Lenovo laptops with discounts, much cheaper than in other physical stores or those of the manufacturer itself.
If you want to save a few dollars on the purchase of this Yoga 720, Amazon could be your best option. because it has a very safe product management and is always in favor of the customer, which offers the user very good guarantees of delivery and return.
To check the current price of the Lenovo Yoga 720-13IKBR on Amazon click on the link below.
Keep visiting our website to learn about the features and specifications of laptop you're planning to purchase.