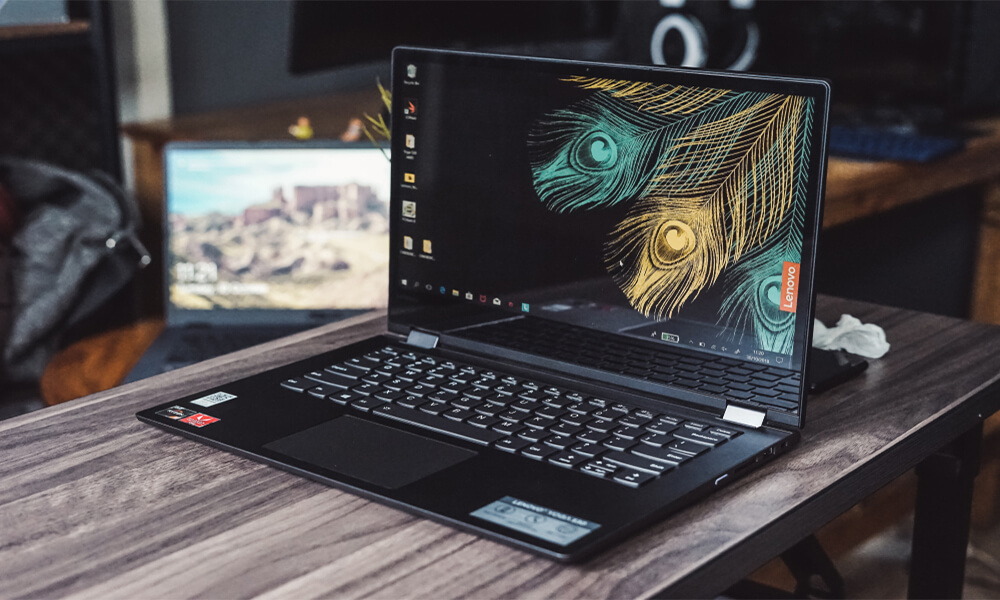 Lenovo Yoga 530-14ARR a convertible laptop, extra-comfortable and versatile, with incredible features perfectly designed to meet the computing needs of the average user.
Do You Know
Since 2013, Lenovo laptops have been the best-selling laptops in the world. Cost reduction and acceptable performance have positioned the Chinese brand at the top of the podium.
It is not the best 2-in-1 laptop, however, it is considered the best among low-cost convertibles. Yoga 530-14ARR stands out for its mobility and functionality that positions it as one of the best convertible laptop options.
Lenovo Yoga 530-14ARR Laptop
In this review we will describe in detail about the main features and technical specifications of the Yoga 530-14ARR. If at the end you still have any doubt or question you can leave your comment and we will give you an answer as soon as possible.
Below you can find a detailed summary of the technical features of this laptop.
Versatile Convertible Design
The Lenovo Yoga 530-14ARR is as stylish as it is adaptable. It features a functional and stylish premium design with an extra solid brushed aluminum surface metal chassis. It features a 360° hinge system that allows you to transform your laptop into a Tablet, Tent or Stand, designed for users looking for efficiency, mobility and versatility in a single laptop.
This Lenovo laptop has a new integrated secure payment feature, the fingerprint reader. Secure your information, log in and even make your purchases with just your fingerprint. With the Yoga 530-14ARR we move to another generation of technological experience.
Thin and Light
This model has a weight of only 1.67 kilos and a thickness of 1.4 cm. With its ultra-light and thin design, take it with you wherever and whenever you want. Ideal for graphic design, studying, gaming, traveling and working.
14″ Touch Screen
It incorporates a 14″ touch screen, thanks to the screen being reduced by one inch and the resolution remains at 1366 x 768 pixels compared to the 15.6″ models. This convertible laptop offers better sharpness. Its margins have been reduced and it features LED backlight technology .
It integrates a great sound system with optimized Harman speakers and Dolby Audio Premium, thus offering a radically improved surround experience when watching any of your multimedia playback.
Powerful AMD 5 Processor
Integrated with a powerful quad-core AMD Ryzen5 25000U processor that reaches turbo frequencies of up to 3.4 GHz. The processor of this laptop is one of its best elements as it is designed so that the user can perform different functions at the same time and it works with complete fluidity and speed.
The amount of storage, RAM memory, screen resolution, are doubled with the AMD processor when compared to the Intel model. Dimensions, connections and design remain the same.
It has a new user assistance function, with what they call "Cortana", Microsoft's digital assistant, direct to the user. Microsoft's digital assistant, a direct competitor to Google and Alexa. Cortana answers your questions and organizes your schedule and searches.
Additionally, if you are looking for a convertible laptop from this brand with a more powerful processor, we recommend you take a look at the Lenovo Yoga 720-13IKBR. On the other hand, if you are looking for another brand, we recommend our guide to 2-in-1 convertible laptops.
AMD Graphics Card and 4G RAM Memory
The Yoga 530 offers us a powerful AMD Radeon RX Vega 10 (Intel HD Graphics 620) graphics card, this depends on its own processing power so it brings us smoother graphics, reducing image fragmentation and improves performance without sacrificing the capacity of the overall responses.
In other words, no matter what you use it for – gaming, working, editing or creating content – you'll enjoy crisp graphics.
It is equipped with a fast 2.5-inch SSD (128GB) high-speed hard disk drive and 4GB DDR4 RAM with 2133Mhz speed. All these things position this convertible laptop above its competitors.
Connection and Connectivity
We are facing a fairly complete laptop. It has the presence of two USB 3.0 ports, a USB-C port which is very good when making presentations or transferring data; A 4 in 1 card reader (SD, SDHC, SDXC and MMC), audio combo, HD 720p webcam, digital microphone integrated into the screen and what would be "the icing on the cake" its new fingerprint reader system. It has Wifi 2×2 AC dual band (mx 433 Mbps) and Bluetooth 4.1.
The device also comes integrated with a free M.2 slot, which allows you to replace it with a larger capacity drive and also via its USB port you can connect it to an external hard drive. This is good to mention, as it gives you the option to power up your laptop and tailor it to the user's needs.
The Yoga 530 has optional Active pen support. With very well executed functions of great precision, palm rejection, which gives you a very natural and smooth technological experience.
Long Battery Life and Fast Charging
Lenovo laptops are known for their long battery life, and the Yoga 530 is no exception. It has a 4-cell lithium battery integrating a technology they call "Rapid Charge", which by connecting the laptop for about 15 minutes you can get up to 2 hours of additional battery life.
And in light use according to official data the company claims that this is able to withstand up to 10 hours of use.
What do Buyers of this Lenovo Yoga 530 Think?
Like the HP Pavilion x360, with the Yoga 530 we are talking about a convertible laptop with high guarantees, functional and versatile; with excellent performance. What its users appreciate the most is that for the price of a conventional laptop, you can acquire this incredible touch laptop, HD screen, very fast.
That, not only allows you to cover the main daily tasks, also thanks to its graphics and touch function allows you to take your technological experience to the beyond, for an extremely affordable price.
Buyers' reviews on Amazon reflect this, as they give it a more acceptable score.
Who Should Buy this Lenovo Yoga 530-14ARR Laptop?
The Yoga 530 is an excellent choice because for a very low price Lenovo offers you a machine that goes beyond the conventional. It allows you to get the most out of your entertainment and creativity with its premium processor and touch screen.
The Asian firm Lenovo offers us very good purchase options. It is one of the most compact, lightweight and complete laptops in the series. Very comfortable when moving it from one place to another, transferring information, working, etc.
It basically covers all the aspects and needs that a normal user needs and that experts and graphic design enthusiasts can experience thanks to its touch screen and ergonomic stylus.
This is your laptop if… If you have a mid range budget and you are looking for a convertible and lightweight laptop.
Colors: Platinum gray, midnight blue and onyx black.
Available Versions: AMD Ryzen 3, Intel Core i3
Pros & Cons
Following are the PROS & CONS of this product.
PROS
Touchscreen and Pencil for drawing
360 degree convertible
Versatile and very portable
Powerful processor
Where to Buy the Lenovo Yoga 530 at the Best Price?
You can find this convertible laptop in electronics stores. However, if you prefer online shopping we advise you to check the price on Amazon, many times laptops are on discount or bargain deals.
To check the current price of the Lenovo Yoga 530 ARR14 Laptop on Amazon click on the link below.
Keep visiting Laptops Guide to know all the details about the laptop you're planning to buy.