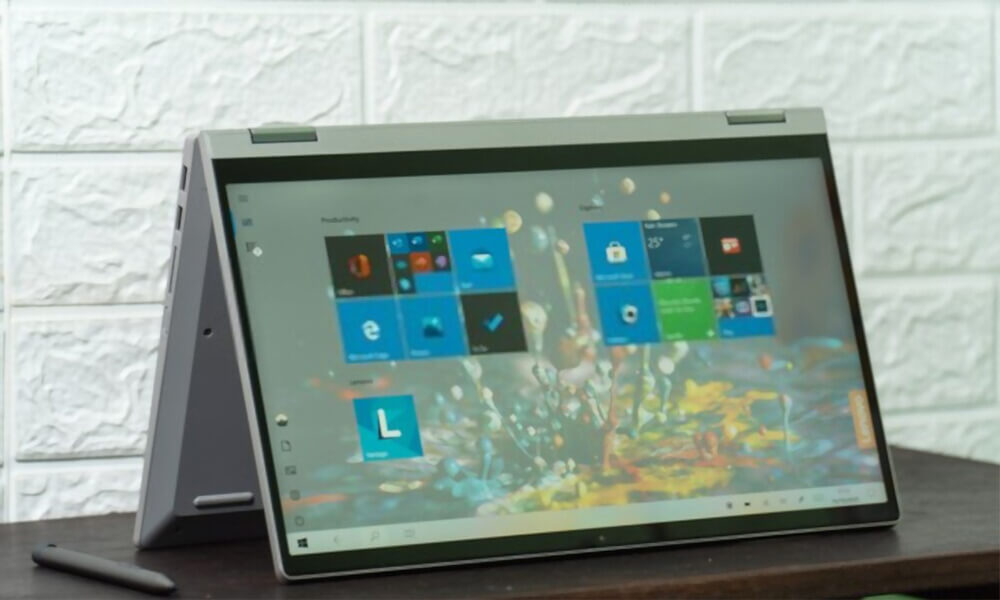 Lenovo Ideapad 330-15ARR is the right computer if you're looking for something comfortable, high-performance, with remarkable features and without spending too much.
This computer fits virtually any taste, need or budget because of its excellent functionality, design and form factor. The Ideapad 330 is as powerful as it is easy to use.
Do You Know
Lenovo has been ranked for the last 2 years as the number 1 laptop company. Above HP, Asus, Dell, Alienware, among others.
The Lenovo brand is known for its versatility, design, innovation, value for money and long battery life.
Lenovo Ideapad 330-15ARR Laptop
In this review we will tell you a little more in detail about the main features and weaknesses of the Ideapad 330. If at the end you still have any doubts or questions, you can leave your comment and we will give you an answer as soon as possible.
Below, you can find a detailed summary of the technical characteristics of this Lenovo laptop.
Innovative 180-Degree Design
The Lenovo Ideapad 330-15ARR has a classic and solid design made of polycarbonate plastic that stands out for its strength and lightness, with a final finish that protects it from wear and tear, with beveled edges that make it easy to open the screen.
It incorporates a hinge system providing an opening of the laptop up to 180 degrees. Additionally, it has rubber details on the bottom of the cover to maximize ventilation and thus prolongs the life of the components.
As for its keyboard, it incorporates an independent numeric keypad and a Microsoft® ̈ Precision TouchpadTM ̈. That is, a fast-response and precision touchpad for direct Windows 10 connection.
Size and Weight
With a weight of 2.2 kilograms and a thickness of 2.29 centimeters this laptop gains another plus point. Therefore, it has a very comfortable size to work with, and an ideal weight to carry it in your backpack, bag or even resting on your forearm.
Thanks to its polycarbonate plastic material, this laptop is very light and compact.
15.6″ HD Display
It integrates a 15.6-inch HD display and supports resolutions up to 1366 x 768 pixels.
Additionally it features a Dolby Audio sound system, offering a radically improved experience when watching movies and listening to music.
AMS Processor
Integrated with a quad-core AMS Ryzen 5 2500 U QuadCore processor that reaches frequencies of up to 3.40 GHz, which will allow you to load all programs and files in the blink of an eye, avoiding overloads.
If you want this Lenovo model with a more powerful processor, you have the Lenovo Ideapad 330-15ICH.
Graphics Card and RAM
The Ideapad 330-15ARR offers a powerful ADM Radeon Vega 3 graphics card, which relies on its own processing power to provide smoother graphics, reducing image fragmentation and improving performance without sacrificing overall responsiveness.
In other words, no matter what you use it for – gaming, working, editing or creating content – you'll enjoy crisp graphics.
If you want to look at laptops with more powerful graphics we recommend you take a look at Acer's gaming series, where you will find the amazing Helios 300 laptop.
It is equipped with a 2.5-inch SSD (128 GB or 256 GB) high-speed hard drive and 8GB RAM, which is more than enough to store thousands of videos, photos and files.
The operating system that is integrated is Windows 10.
Good Connectivity
Entering this aspect we find ourselves face to face with a fairly complete laptop. It has the presence of a DVD input, which is a plus, since this option is increasingly scarce in the market. An HDMI port (unlike the Apple), a USB-A port, a full-size USB-C port (the most used in the mobile world) which is very good when making presentations or transferring information; A 4-in-1 card reader (SD, SDHC, SDXC and MMC). It has dual band Wifi AC (mx 433 Mbps) and Bluetooth 4.1.
Long Battery Life and Fast Charging
Lenovo laptops are renowned for their long battery life, and the Ideapad 330-15ARR is no exception. It features a technology they call "Rapid Charge" ́, which by plugging the laptop in for about 15 minutes you can get up to 2 hours of additional battery life. And in light use, according to official data the company claims that this is able to withstand up to 6 hours of use on one charge. This makes it a good alternative if we want to take this laptop on a trip.
What do Buyers/Users Think?
This Lenovo version stands out as one of the best value for money laptops. It is a very well integrated laptop, fast, with good graphics and long battery life.
As we mentioned above it adapts to virtually any taste or need of buyers. Its quad processor and connectivity features are most appreciated by customers.
The buyers' opinion on Amazon reflects this, as they give it a more than positive rating. It is also true that on Amazon it is possible to find it much cheaper than in other physical or online stores.
Who Should Buy this Lenovo Ideapad 330-15ARR?
If the time has come for you to upgrade that new laptop you have at home and you do not want to leave all your money on it; undoubtedly the Lenovo Ideapad 330-15ARR.
Regardless of the fact that it is one of the lowest in its range, it is an excellent choice. Alternatively, it would be to turn to some other brand.
Lenovo with this model, found a way to incorporate features equal to that of their more expensive computers, but at a price accessible to audiences with medium budget.
The Asian firm Lenovo offers us very good purchase options. In addition, if we talk about functionality this laptop is very comfortable, when transferring information, study and entertainment. Undoubtedly one of the most recommended laptops for students.
This is your laptop if… your budget is around 600 dollars. And you are looking for a long lasting, comfortable, fast and reliable laptop. Which will help you to perform all your daily functions and tasks.
Price to Performance Ratio: 9/10
Colors: Platinum gray
Available Versions: 8GB RAM 128 GB SSD – 8GB RAM 256 GB SSD – Intel Core i5, Intel Core i7.
Pros & Cons
Following are the PROS & CONS of this product.
PROS
Lightweight and 180 degree opening
Great connectivity and outputs for connection to other electronic devices
Great value for money
CONS
Medium processor, does not support demanding graphics
Screen resolution could be improved
Where to Buy the Lenovo IdeaPad 330-15ARR at the Best Price?
You can probably find this laptop in electronics stores. If you have already decided, we recommend you to check its price on Amazon, because most of the time we can find Lenovo laptops on sale, much cheaper than in other online or physical stores.
If you want to save some money, Amazon could be your best option. Additionally, it has a very secure product management, which offers the user very good delivery and return guarantees.
To check the current price of the IdeaPad 330-15ARR on Amazon click on the link below.
Keep visiting Laptop Guide to read latest reviews and if you have any questions, feel free to leave a comment down below.