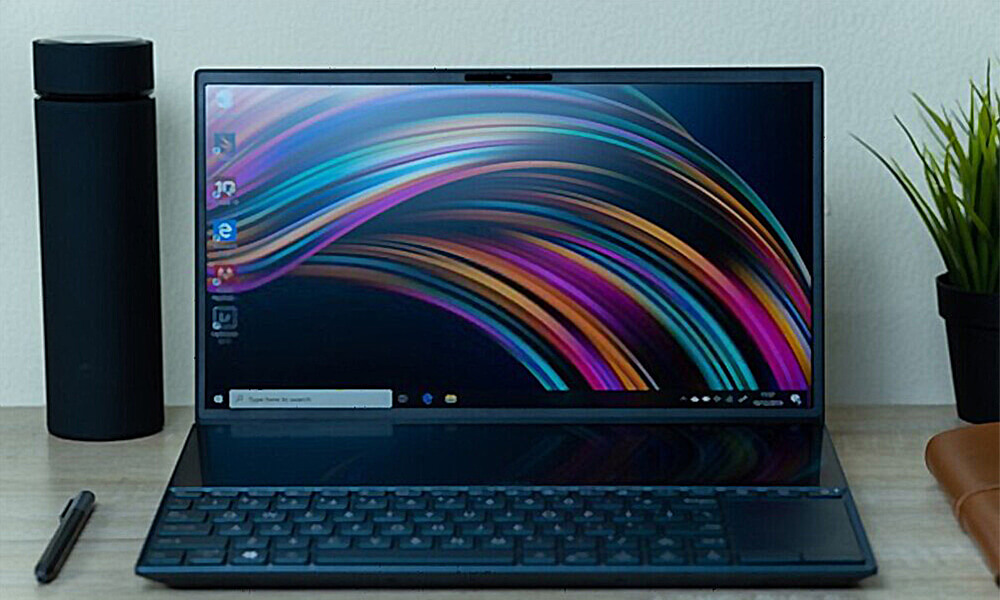 Undoubtedly ASUS devices are one of the most desired by all. This is because they have excellent quality and attractive designs. The ASUS Zenbook Duo does not disappoint in this area, so you will surely love it.
Do You Know 
The ASUS Zenbook Duo has an unusual design. It has two screens, which makes this laptop more attractive compared to others.
The design of the ASUS Zenbook Duo is one of the main things that will catch your attention, due to the fact that this one is not very common, although it is very functional. It comes with 2 screens that will make your experience much more comfortable, despite this feature it is still a lightweight and easy to carry laptop.
The two screens of this laptop have an excellent quality and a large size. Its main screen manages to reach 14 inches, while the secondary screen exceeds 12 inches. This has a very high resolution that will allow you to have a much better experience.
Its components also provide excellent performance, mainly its processor. This device has one of the most powerful Intel processors and one of the most current RAM memories. Its battery is excellent, it provides a good battery time that you can take advantage of in activities that require a long time. Undoubtedly, one of the best laptops to design.
Features of the Asus Zenbook Duo
The ASUS Zenbook Duo has features that you will love, as it is one of the best laptops you can find in the market, these are some of them.
Dimensions and Measurements
The size of this device is perfect, each of its measures makes it simple to carry and comfortable to use anywhere, which is a great advantage for anyone who prioritizes portability.
On the other hand, if you're looking for another type of convertible laptop the Microsoft Surface Pro 7 is another fantastic option that is much more affordable.
The ASUS Zenbook Duo measures 32.3 x 22.3 centimeters and is also very thin, having a thickness of 1.9 centimeters. Another great advantage of this device is its weight, despite having a secondary display it weighs only 1.5 kg, which is another benefit when it comes to transportation.
Multiple Screens
As we told you before this device has 2 screens, for this reason we will tell you about the characteristics of each one.
Main Screen
Its main screen has an incredible quality. This allows you to see more comfortably every detail, having a size of 14 inches and a Full HD resolution. You can take advantage of its features in any activity you want to do with it.
Secondary Screen
Its secondary screen is also of excellent quality, although this one is a bit smaller. This one has many more functions, since it is tactile. You will be able to use this feature in many activities, mainly in design.
This has a size of 12.6 inches, likewise it has a screen with Full HD resolution.
Connectivity
Despite being a flat laptop it has many connectivity options. It has a USB-C port and 2 USB-A ports. It also has a microSD reader and a headphone jack.
The ASUS Zenbook Duo is a laptop that you can link to other devices via Bluetooth. You can also connect to Wi-Fi networks. Likewise, it is compatible with Alexa, so you can use it to control the devices in your home that work with this assistant.
Storage, Memory and Operating System
It has one of Intel's most powerful processors. The Intel Core i7, with which you can run any program. Its RAM memory of 16 GB DDR5 also contributes to its good multitasking performance, making it possible to run several applications at the same time and also has an excellent storage of 512 GB SSD M.2, which is an improved version of the standard ssd whose speed is tripled. Programs and files will open instantly.
It has one of the most current Windows operating systems, Windows 10. This will allow you to have a much more comfortable experience. In addition, its NVIDIA MX250 graphics card is designed to perform at its best with the vast majority of demanding programs.
Camera
This laptop has a built-in camera, this is of great help for video calls and other activities in which it is required, as it has an excellent quality, managing to record at a resolution of 1280x720p. That is, in HD quality.
What Do ASUS Zenbook Duo Buyers Think?
This laptop has delighted most of its buyers, who have found many advantages and even encourage others to try its quality.
It is generally bought for office work and even for designing and editing. However, some people have tried to run games on it, it is not intended for gamers, so this experience can be uncomfortable. Although it still has components that give it excellent performance in other programs.
Why Should You Buy the ASUS Zenbook Duo?
There are many reasons why you should buy the ASUS Zenbook Duo, it has high quality components that will give you excellent performance which is ideal for different programs.
In addition, its design is amazing, the secondary screen is ideal for graphic designers, as this can be used with a digital pen, so you can have greater precision and greater freedom when creating drawings or illustrations.
You will be able to use it for a long time, since it has a battery that gives it a very long autonomy.
If you are still hesitating about which laptop to buy take a look at the best laptop guide in which we have compiled the best laptops depending on the use you are going to give.
How to know if the ASUS Zenbook Duo is for you?
The ASUS Zenbook Duo is not a computer designed for gaming, so you won't have a great gaming experience. However, you will be able to use it for studying, working and even for drawing and designing, if this is your case then this laptop indisputably is for you. If we talk about laptops for this type of tasks one of the kings of this sector is the LG Gram, which apart from its great power has just 1 kg of weight making it one of the lightest laptops on the market.
In addition, its components allow you to move any program you need with great speed both loading and processing, so you will have no limitations if you work with heavy files.
If on the other hand, you want a similar version but without a touchscreen, this high-performance Asus is sure to delight you.
Versions:
There is only one aesthetic version of this laptop, so you won't find variants on the market, however, you can find it with different components, where its graphics card, memory, storage, processor and operating system will vary.
There is also a Pro device, which has very different characteristics, its size is one of the main ones.
Where to buy the ASUS Zenbook Duo at the best price?
Undoubtedly, on Amazon you can find the ASUS Zenbook Duo at the best price, plus you will have guarantees that will protect your purchase. If online stores are not your thing you can probably find it in some physical stores at a good price.
Keep visiting Laptops Guide to know all the details about the laptop you're planning to buy.