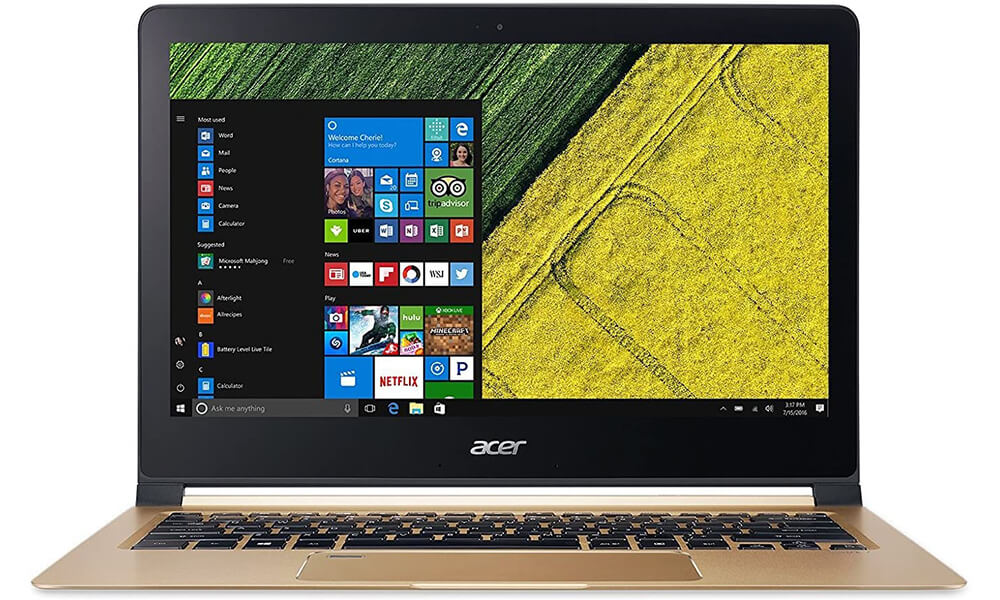 The ultrabook sector has advanced rapidly in recent years, driven by consumers who want laptops that really are ultrabooks. In addition, ultrabooks have advanced hand in hand with ultra-low power processors, which have been gaining in power, making them more versatile for use in a professional environment.
The Acer Swift 7 model is one of the latest additions to this sector, aimed at those who want a lightweight laptop that can be used without problems in everyday tasks and boasting thinness with less than one centimeter of thickness.
Technical Features & Specifications
| | |
| --- | --- |
| PROCESSOR | Core i7-7Y75, 1.3 to 3.6 GHz, 2 core/4 threads, 4.5 W TDP |
| GRAPHICS | Intel HD 615 at 1.05 GHz |
| MEMORY | 8 GB, LPDDR3-1866 |
| DISPLAY | 13.3'', 1920 x 1080 px. IPS, glossy finish, Gorilla Glass |
| STORAGE | SSD 256 GB SATA3 |
| PORTS | 2x USB 3.1 type C (5 Gbps) |
| CONNECTIVITY | Wi-Fi 2x2 802.11 ac MU-MIMO, Bluetooth 4.1 |
| BATTERY | 2770 mAh Li-Po battery, 45 W power source |
| DIMENSIONS | 324.6 x 9.98 x 229.6 mm |
| WEIGHT | 1.12 kg |
| EXTRAS | 2 Mpx webcam, 3.5 mm connector |
Design
The Acer Swift 7 is made of aluminum, with a black cover having a matte finish and the rest of the body in gold. When placed on the table, a pair of lights is immediately visible to indicate whether the device is on "in blue if it is on standby or flashing orange if it is hibernating" and another if it is charging. The lid is lifted by two hinges on the sides.
Display
The display is 13.3 inches with FHD resolution and is of the IPS type with a glossy finish of great color quality. It has a good color reproduction, although the colors are slightly muted, but the quality of the screen is very high.
The screen has a lot of frame, which affects the appearance of the laptop. Not so much for its top and sides, which can be considered as a normal frame size pulling a little wide, but rather for its bottom. There are practically 3 cm of frame at the bottom, which makes the 13.3-inch screen look even smaller than it is.
Despite this, it is a laptop with an excellent design. It is made of gold aluminum with a matte black cover, with very attractive finishes, and its lightweight i.e. 1.1 kg, and its thickness i.e. 9.98 mm, are striking when you pick it up. This makes it an ultrabook that you can easily take anywhere, and it will surely attract the attention of those who might want a lightweight and well-designed device.
Processor
The processor Acer has included in this laptop is the Core i7-7Y75. It's an ultra-low power model, with a TDP of 4.5W, and configurable down to 3.5W at the manufacturer's discretion for systems that are even more limited in terms of cooling.
It has two physical or four logical cores, with frequencies ranging from 1.3 GHz to 3.6 GHz. It is not a processor that will hold up well to continuous operation, and will reach or maintain the turbo frequency of 3.6 GHz only at specific times. It has 8 GB of LPDDR3 memory at 1866 MHz, which is adequate for the power the laptop has.
Graphics
The graphics integrated into the processor is an Intel HD 615, which runs at a base frequency of 350 MHz and a turbo of 1050 MHz. It is one of the more modest integrated graphics cards for notebooks, but it can output 4K.
Keyboard
The laptop's keyboard is membrane type, though without any differentiating features and is not backlit. The main trend in this type of equipment is to include keys with the smallest possible actuation distances, and in the Swift 7 they have a normal height.
Even so, in this case the keys are very comfortable and pleasant to press, and you don't have to use too much force to press them.
Touchpad
As for the touchpad, it works quite well and is accurate, and above all pleasant to use and has a good feel to it. It has an elongated shape, and the entire touchpad is tactile, so it can be configured without problems to recognize right and left click gestures.
Pressing it requires a bit more force than would be ideal for someone who's more used to it, but overall it's a pretty good and responsive touchpad for what you usually see on Windows laptops.
Ports
As a good ultrabook in this day and age, to reduce its thickness, Acer has opted to dispense with the rectangular USB Type A connectors for the smaller USB Type C ones. It includes two of them USB 3.0 type, one of which can be used for recharging and for connecting an external monitor. It also has a 3.5 mm audio jack, and that's all it has in terms of connectors.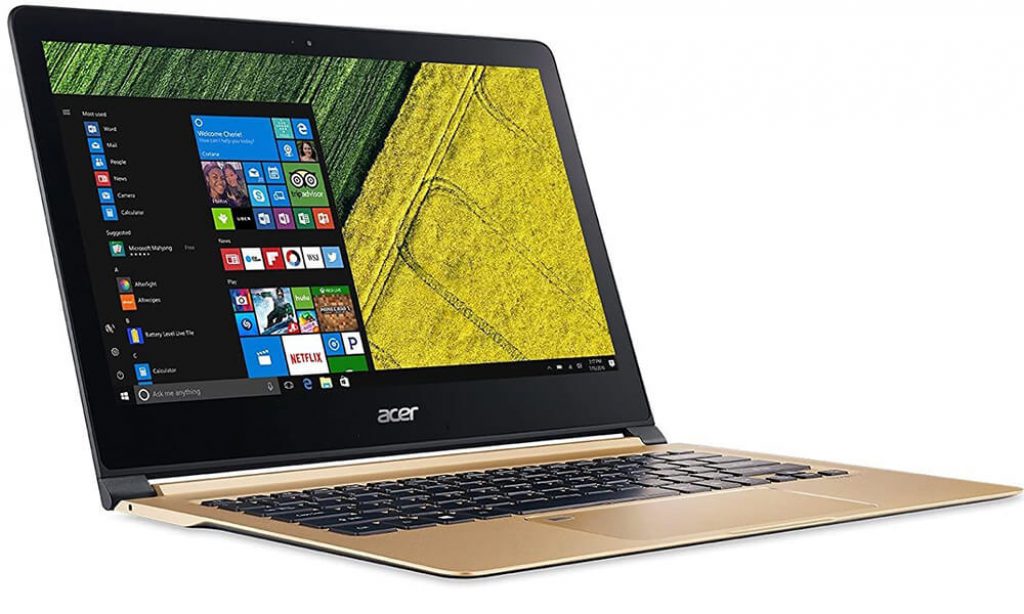 Acer Swift 7 Performance and Software
By using an ultra-low power chip, Acer is aiming this notebook purely to be used for light, office-type work, presentations and basic editing. In terms of processing, it has a little more power than the Core i7-6500U with 15W TDP, although in the graphics performance department it is not too high, although sufficient. It is not far from the Core i7-7500U in terms of power either, although it is not a processor for heavy workloads. The passive cooling system would not allow it either.
It is still good for playing simple titles, such as World of Warcraft or League of Legends, but at low quality if you want to reach 60 FPS, although you can gain some quality by lowering the screen resolution. In more modern titles it is almost impossible to play them properly even at the minimum resolution and level of detail.
Acer Swift 7 Performance Benchmarks
| | SWIFT 7 | CORE I5-6200U | CORE I7-7500U | CORE I7-6500U |
| --- | --- | --- | --- | --- |
| CINEBENCH R15, CPU | 160 cb | 262 cb | 333 cb | 312 cb |
| CINEBENCH R15, OPENGL | 17.1 FPS | 32.1 FPS | 47.1 FPS | 38.9 FPS |
| PCMARK 8, HOME | 3021 | 2772 | 3438 | 2907 |
| PCMARK 8, CREATIVE | 3409 | 3176 | 3922 | 3497 |
| PCMARK 8, WORK | 3853 | 3587 | 4295 | 3798 |
The Swift 7 has several Acer applications pre-installed to try to provide certain utilities that may be of help to certain users. There aren't too many, so they don't take up too much of the 256 GB of space available on the device.
There is the Quick Access application to change the color temperature "a common type of application in this type of device", Care Center to keep the device's drivers and applications up to date, and Recovery Management for the situation in which the device does not start up.
It also has pre installed some common laptop applications such as Candy Crush Soda Saga or Netflix, which can be uninstalled if they are not going to be used just like the rest of Acer's software.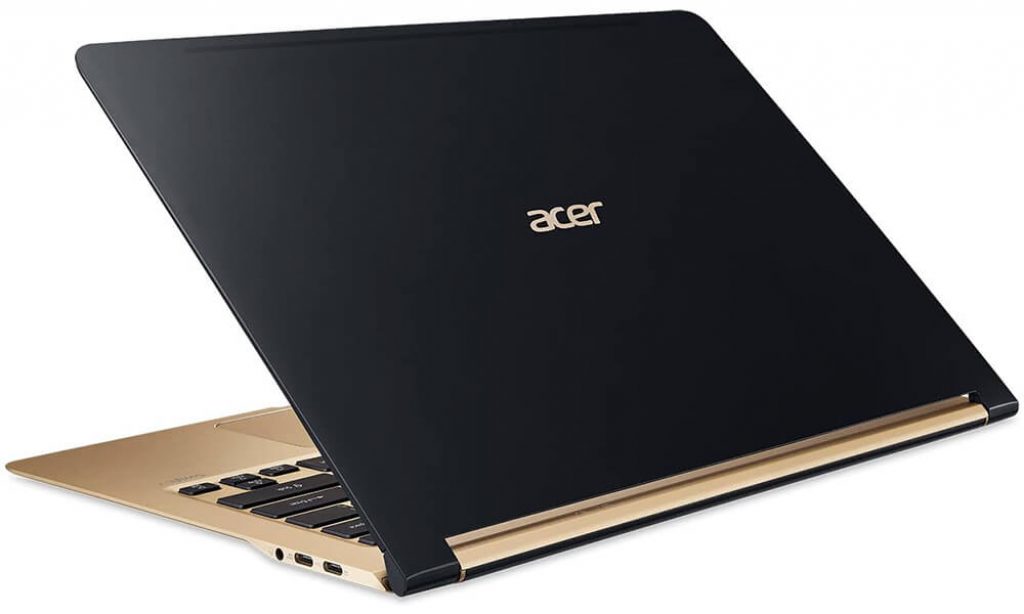 Display, USB Type-C and Storage
The Swift 7's display is 13.3 inches with a resolution of 1920 x 1080 pixels, and is of high quality. It has good viewing angles and easily reaches up to 350 nits of maximum brightness. The screen has a glossy finish that can make it difficult to use in certain conditions, such as outdoors or indoors depending on what lighting you have around where you are due to reflections. As a side note, the screen has a layer of Gorilla Glass protection.
The device has a USB Type-C video output, so it can be used indoors and outdoors, gaining the convenience of connecting it to a normal monitor, keyboard and mouse. On this connector, the data transfer is made to USB 3.1 Gen. 1, which is generally known as USB 3.0. Acer has included with the notebook a USB Type-C to USB Type-A converter, although it wouldn't have hurt to have some sort of multiple adapter with some additional HDMI and USB Type-A input.
On the storage side of things, the machine has a 256GB SATA3 SSD, with speeds in line with what you'd expect from this type of storage. It has 531 MB/s sequential read and 241 MB/s random read, which are correct values. Perhaps it would have been desirable to include a PCIe SSD, but in day-to-day use there is not much difference between the two types, and the inclusion of a PCIe would have potentially generated more heat inside the computer, so Acer's choice seems correct.
Temperatures, Battery Life and Noise
The Swift 7 ultraportable only includes passive cooling, so noise is not an issue. Its processor has a TDP of just 4.5 W, and these are chips that can also be used in thin tablets. The heat in the case is below 40 ºC, and concentrated in the area above the keyboard, so it is not a problem. Neither is the heat in the lower area, and the notebook can be used without problems on the lap. In this respect, it is a superb notebook.
This ultrabook has a 41.58 Wh battery, and the battery life is a point where it excels. Letting YouTube video clips play continuously "which implies a continuous use of the wifi" with a brightness calibrated around 180 nits, the battery timing exceeds 8 hours. Acer promises great battery life for this notebook and in practice it delivers.
If you are doing somewhat heavier work that makes more intense use of the CPU or GPU, it is below four hours of battery life, which is within reason, while if used continuously at full load it would not reach two hours "a space that will be very rare". The charger is 45 W and enables fast charging via the USB Type-C connector, allowing it to recharge in less than two hours.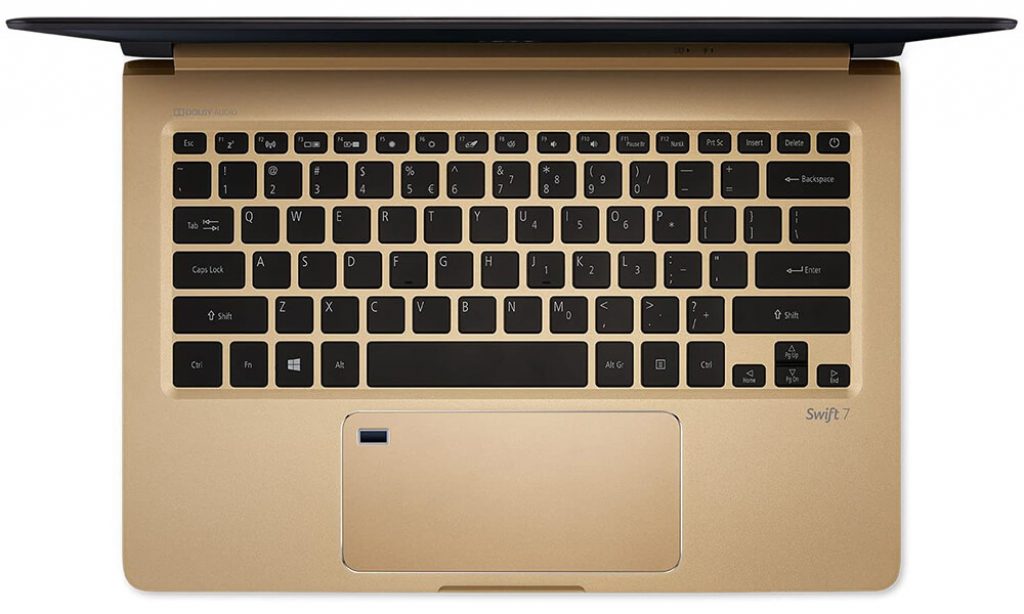 The World's Thinnest Ultrabook
Acer has introduced an ultrabook that is excellent for its target audience. That audience is those users who want a lightweight ultrabook that has no problems with everyday tasks and can work at ease with the laptop, with quiet operation. This last section is assured as it has no fan, and there are very few laptops of this type.
It is a thin and elegant ultraportable, which can be improved in the design aspect in terms of the use of the screen as other companies are doing in their ultrabooks, but it is still attractive and has a good design. It has good battery life with a low recharge time, so it will be difficult to run out of battery.
It is a very complete device for those who want to take advantage of what it has to offer and incorporate it into their day-to-day life. It shares more features with a tablet than with other laptops and ultrabooks, such as not getting hot or not making noise.
Because it doesn't have much competition in this sector, and the competition it does have includes fans or has other shortcomings, the laptop can be expensive even if it doesn't have alternatives. There will always be heavier and bulkier laptops with a better price, but this one is for those who want an ultrabook that is truly ultraportable in all aspects of performance, temperatures, thickness and noise.
Pros & Cons
Following are the PROS & CONS of this product
PROS
Good keyboard and touchpad.
Totally silent operation.
Thickness and light weight.
CONS
Although it has a smooth operation, it is not suitable for editing work.
No modern connectivity, such as USB 3.1 Gen. 2 or Thunderbolt 3.
The matte-finished lid is a magnet for fingerprints.
The keyboard is not backlit.
Keep visiting our website Laptop Guide and if you have any questions? feel free to leave a comment down below.