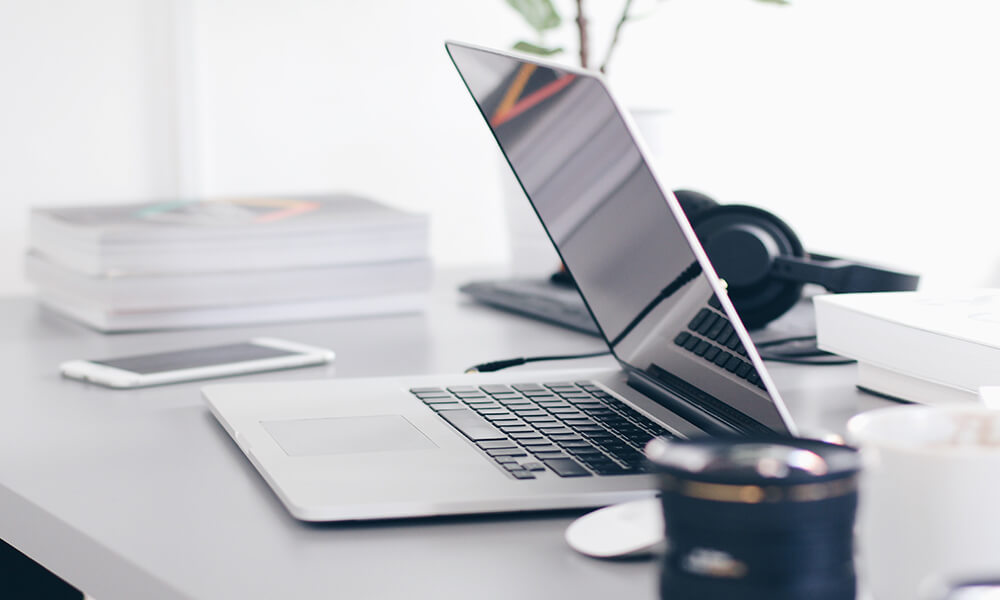 The latest Acer Swift 1 (SF114-32) laptop range for 2019 offers buyers a lot for a very good price. That's about what you'd pay for a Chromebook, and since the Acer Swift 1 comes running on the full 64-bit version of Windows 10 Home, it features support for familiar apps and programs, including Microsoft Office, Slack and Photoshop Elements, and gives you the option to install web browsers like Mozilla's Firefox (which isn't currently available on Chrome OS).
In short, it's a cheap Windows 10 laptop that's hitting the shelves in time for the back-to-school rush. In addition to being aimed at college students, it's also aimed at anyone in the market for a cheap laptop that runs Microsoft Word, lets you check emails and stream Netflix.
Key Features & Specifications
14-inch Full HD LED display
Intel Pentium Silver N5000 quad-core processor
4GB DDR4 RAM
256GB SSD
Fingerprint scanner
HDMI, USB Type-C, 2 x USB Type-A, SD card reader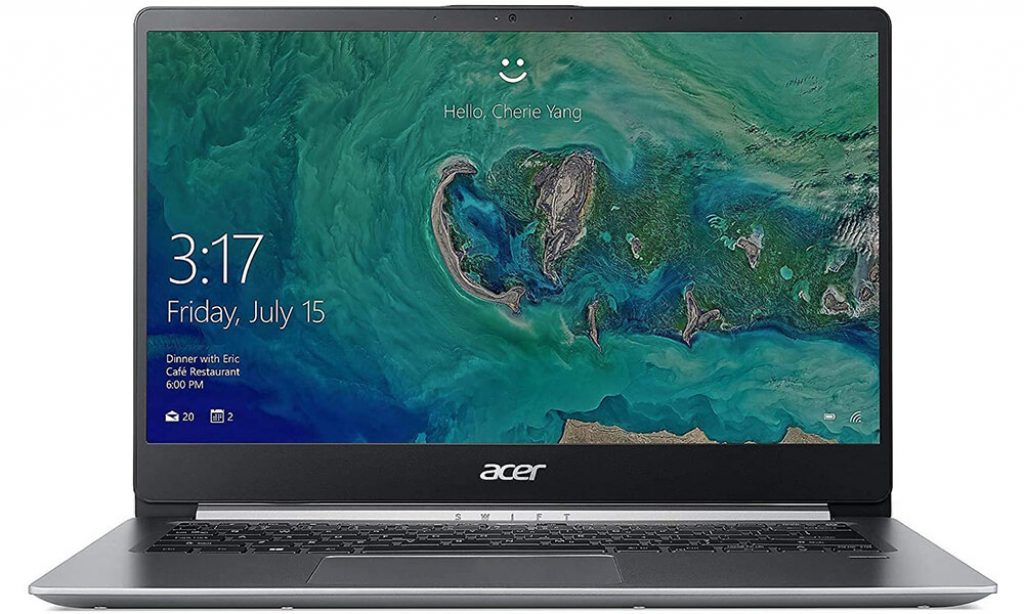 Acer Swift 1 Design – Lightweight but Not Light on Ports
Although the Acer Swift 1 is an affordable laptop, it has a much more premium look and feel than price tag might suggest.
First, its outer panels and cover-side case are metal, which means the Swift 1 not only looks and feels more attractive than a plastic laptop, but it's also more durable and less susceptible to cracks, dents, and surface damage.
Second, the plastic bezel that frames the 14-inch display measures 6.3 mm on the sides, which, while a bit larger than the bezels on high-end ultraportables like last year's Asus ZenBook 14 Pro (3 mm) and the new Dell XPS 13 (4 mm), is still slim and makes the Acer Swift 1 look sleek, thanks to drawing attention to the large 14-inch Full HD display.
Third, Acer has included a fingerprint scanner on the Swift 1. While it's becoming increasingly common to see fingerprint scanners on laptops these days, it's rare to see them on a laptop at this price point, so their inclusion here is a nice bonus. In addition to giving users an extra degree of security and privacy, it also makes the Swift 1 look a little cooler.
Ports
Despite the low price, Acer has included almost everything, with three USB Type-A ports (the traditional, rectangular one) and one USB Type-C port (the newer, oval-shaped one), as well as an HDMI 2.0 port, a full-size SD card reader, along with the usual 3.5mm headphone jack, a Kensington lock slot, and an AC adapter port.
While there's no dedicated Ethernet port, you can get USB-C-to-Ethernet adapters for cheap these days.
Weight
Finally, the Acer Swift 1 weighs 1.3 kg and measures 15 x 323 x 228 mm, which means it will sit comfortably inside a backpack and won't weigh you down when you're on the move.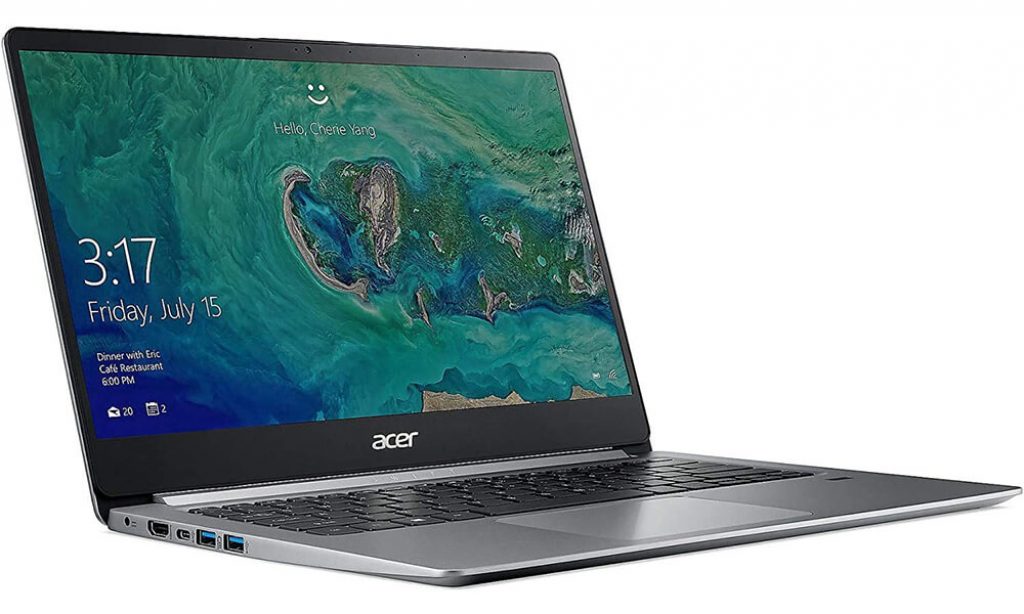 Acer Swift 1 Screen – How Good Is the Acer Swift 1 Screen?
The Acer Swift 1's display is a 14-inch Full HD LED display with IPS (in-plane switching) for improved viewing angles and a ComfyView anti-glare filter.
It's not the best display I've seen on a laptop, but it's good enough for simple tasks. If you're looking for something inexpensive for doing essays and spreadsheets, you'll be fine here.
Using an X-Rite i1 Display Pro colorimeter and DisplayCAL 3, I recorded a maximum brightness of 282.5 nits and a black level of 0.26 nits, adding up to a contrast ratio of 1070:1.
Ideally, a display should be able to deliver a brightness in excess of 300 nits so that it can cope with a variety of lighting conditions. Working outdoors on a sunny day is difficult on the Acer Swift 1, although the anti-glare coating means that any primary light source reflected off the screen won't cause discomfort.
While the screen is perfectly adequate for typing, it is by no means adequate for photographic work.
Not only was the color temperature I recorded (7449K vs. the ideal of 6500K) on the blue side, which means images can look a bit cool, color space coverage was also low.
I recorded 58% coverage of the standard RGB (sRGB) color gamut, the space in which digital artists and photographers work. 58% is very low – for serious photo editing, you need a display that covers at least 80% of the sRGB space – and coverage of the wider Adobe RGB and DCI-P3 spaces was even lower, at 41.6% and 42.8%.
Despite the LED display with IPS, which normally allows for wide viewing angles, some discoloration is noticeable on the Acer Swift 1 when looking at the center of the screen from 45 degrees. This isn't likely to be a problem unless you're watching something on Netflix with two other people.
Audio Quality
On that note, while the video content streamed on the Swift 1 looks largely good, colors can be a bit cooler. Also, the audio quality is bearable, but not fantastic – while it's fine for dialogue, the speakers, mounted on the bottom of the laptop, aren't great for music.
There's hardly any extreme bass coming out here, to the point that it failed our Master Of Puppets test – if you can't hear the bass when it kicks in at 0:30, or the bass is so distorted that it no longer sounds like bass (I'm looking at you, Asus ROG Strix GL504 Hero II), a laptop fails the test.
In short, if you want to listen to music while you work, you're better off with a headset.
Acer Swift 1 Keyboard – How Easy Is It To Type on the Acer Swift 1?
The Acer Swift 1's keyboard is well-spaced, making it easy to get familiar with. The amply sized trackpad combined with sensible keyboard placement means that palms rest naturally on the south side of the deck, allowing fingers to familiarize themselves with the home keys.
The keys have a dry, matte finish, which feels a bit odd at first, and the travel is very shallow, to the point where the keys initially feel almost flush with the board.
It's not as flat as, say, the butterfly keys on the MacBook Air, but it's still shallower than most laptops we've tested recently. It certainly made me appreciate the quality of the keyboards on the (admittedly more expensive) Dell XPS 13 and HP Envy 13.
The metal casing means there's hardly any flex here, although it does show a little towards the center of the keyboard. The board is underlit, which means you'll be able to read reports, essays or homework in a dreary conference center, library or in your bedroom without having to look at the keys in the dark.
My only real complaint about the Swift 1's keyboard is that the navigation keys i.e. Home, Page Up, Page Down and End keys are not only small, they are also boxed in around the arrow keys, which makes for frequent typos.
Functions are also duplicated here, requiring you to hold down the function key to jump to the beginning or end of a sentence. That's not as important as its size and position on the board, but, personally, I would have preferred four dedicated navigation keys here. If HP can handle it on a 13-inch notebook, all other manufacturers should follow suit.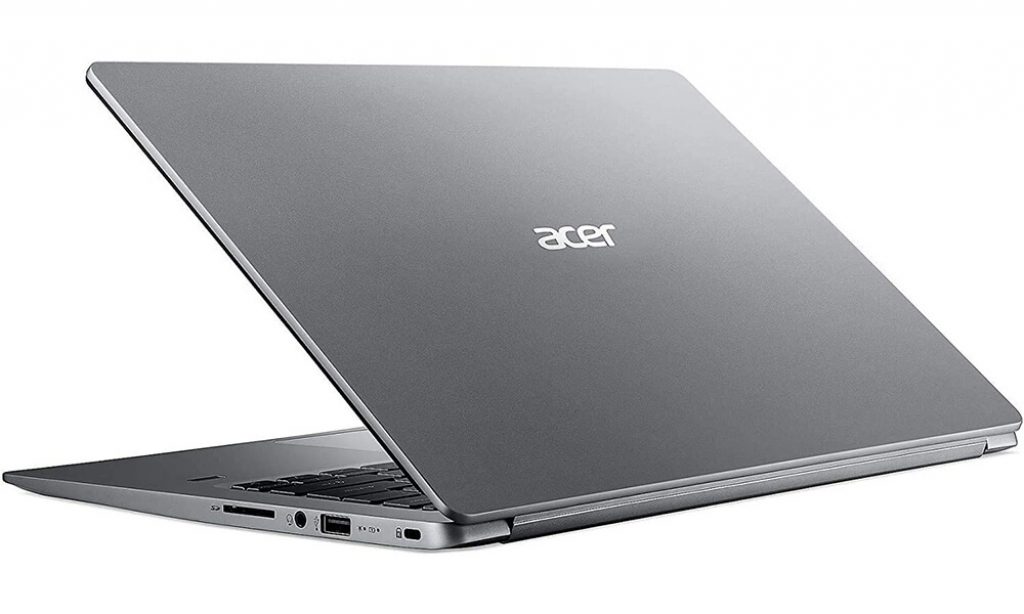 Acer Swift 1 Battery Life – How Long Does the Acer Swift 1 Battery Last?
Expect to get somewhere between six and seven hours from the Acer Swift 1. Running the PCMark 8 Work benchmark, which simulates basic PC office work, with screen brightness locked at 150 nits, gave me six hours and two minutes.
That's consistent with my real-world observations. It's also a low score for a lightweight notebook, especially one with such an undemanding processor. You should expect at least 8, if not 10 hours of battery from most laptops these days.
Pushing it, you'd be able to get a bit more power out of the Acer Swift 1. If you were to reduce the brightness levels even further and, where possible, use a USB-to-Ethernet adapter to connect to the Internet instead of relying on Wi-Fi, you should be able to squeeze another 30 minutes out of the Swift 1, although realistically, you won't always be able to do that.
While an average battery life of six hours isn't great, it's still useful. Just remember to take the power adapter with you everywhere you go.
On the plus side, you can have an empty Acer Swift 1 charged in less than two hours, about an hour and 45 minutes. After half an hour on the mains, expect to have it a little over a third full, and expect around 55-60% after 60 minutes.
Acer Swift 1 Performance – Can I Watch Netflix on It?
If you want to stream something on Netflix or BBC iPlayer, I would first close all other apps on the Acer Swift 1.
I can't stress enough that, while for basic PC applications the Acer Swift 1 is fine and dandy, it's not a high performance machine. To get the most out of it, you have to take things slow.
When surfing the web, for example, I found Chrome often groaned under the weight of multiple (20+) tabs. If you're the type of person who works with a lot of tabs open and at least one of them contains YouTube with the auto-play feature enabled, you may need to close and relaunch Chrome (or your browser of choice) a bit more often than you're used to.
I'm attributing the light performance to the processor, a Pentium Silver N5000, which is clocked at 1.1GHz. While it can ramp up to 2.7GHz, overloading the Swift 1 with processes makes it not live up to its moniker.
To put that into context, I ran the Geekbench 4 CPU benchmark to test the processor. The Geekbench stress test is based on the performance of a high-end CPU from a 7th generation Intel laptop from 2015 – an Intel Core i7-6600U with a base clock speed of 2.60 GHz – and uses single and multi-core scores of 4000 and 8000 respectively as the basis for performance.
The Acer Swift 1 gave me scores of 1995 and 5418, so yes, this is quite low in comparison. On the other hand, it's not so low that you can't do the basics.
The SSD in the model I reviewed was a 256GB Kingston RBUSNS8154P3256GJ1, of which about 240GB is available to the user. Running the CrystalDiskMark benchmark, I got read and write scores of 828.7 MB/s and 632.1 MB/s.
Again, for the most part, this is no big deal, as such speeds are fine for saving, loading and transferring Word documents, but for anything more intense than that, expect things to move slowly.
Don't expect to play any games here, besides the likes of Candy Crush Saga. Running 3DMark Ice Strike (a benchmark for laptops with integrated graphics), I got 14,492, one of the lowest Ice Strike scores recorded so far. Microsoft's Surface Go tablet, for example, gave us 39,953 with Ice Strike, and that's not exactly gaming power.
That, combined with the lack of dedicated graphics and the monitor's low color space coverage, means the Acer Swift 1 isn't suitable for even the most basic photo editing tasks. If you're not married to Windows 10 and have an extra money to spare, check out the Dell Inspiron Chromebook 14 7000 2-in-1, another metal-clad ultraportable with an Intel Core i3 processor and a higher-quality display, which means it's better equipped for light photo work.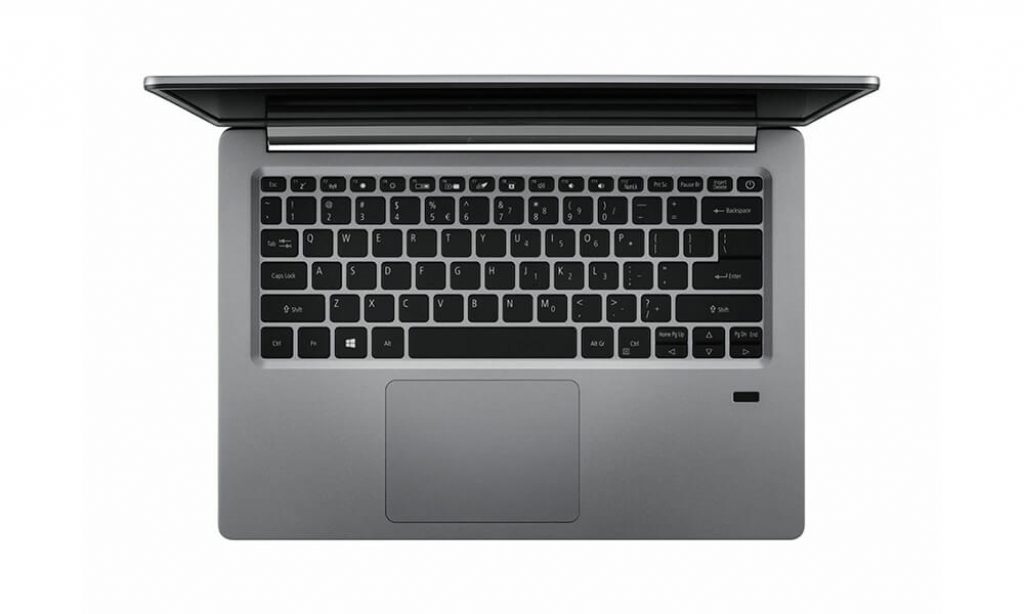 Should I Buy the Acer Swift 1?
If you're shopping for a new laptop for work or study and you're on a tight budget, I can recommend the Acer Swift 1 as a good choice. It's not the bargain of the century – you'll have to keep an eye on that battery and it's not suitable for even the lightest of photo editing tasks – but for word processing, web browsing, emails and an occasional bit of Netflix, it's fine, not to mention cheap. You just have to tread lightly.
Verdict
A very affordable Windows 10 laptop that will confidently do the basics, but struggles to do much more. Ideal for anyone who needs a laptop primarily for typing, emailing, and light web browsing, and can't or won't spend a ton of money.
Pros & Cons
Following are the PROS & CONS of this product
PROS
Ideal for light PC work
Good price
More than enough ports
Fingerprint scanner is a nice add-on
CONS
Below average battery life
Viewing angles and maximum brightness are not great
Keep visiting Laptop Guide to read latest reviews, news related to upcoming laptops and more.