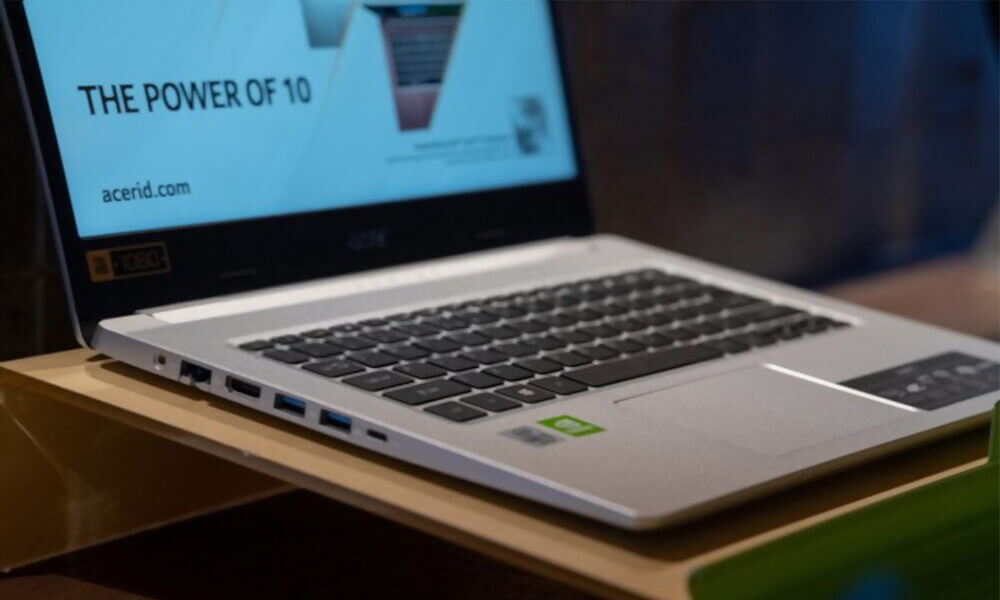 Today we will talk about the Acer Swift 5, a 14-inch ultra-light weight laptop equipped with Intel's Core i5-8250U, 8 GB of RAM and 256 GB of SSD. One of its strengths is undoubtedly the FHD touch screen.
Do You Know
Acer employs 7,000 employees around the world in its facilities in 160 countries. Founded in 1976 under another name (Multitech), the company was originally focused on the microprocessor trade and the promotion of its applications.
It is extremely difficult to find a competitor similar to this 14-inch notebook, as 14-inch touchscreen notebooks are rare on the market.
Features & Specifications
This review will detail everything you need to know about this laptop. If you have any questions after reading the article, please let us know in the comments and we will respond as soon as possible.
High Quality and Lightweight
Weight: 971 g
Dimensions: 22.8cm x 1.5cm x 32.9 cm (Depth x Height x Width)
At first glance, the Acer Swift 5, not to be confused with the Acer Spin 5, looks like any other high-end professional notebook, completely dark blue, except for the golden hinge and the Acer logo on the display lid. However, you can find it in different colors.
The casing is of high quality, as the inner frame has been largely covered by a thin layer of Magnesium-Lithium, being very resistant.
Plastic can be found only around the inner frame of the screen. The very wide golden hinge with the logo (Swift) draws attention.
On the other hand, the case design, including the functional and pragmatic keyboard layout, is quite simple. Unlike many other Swift notebooks, the fingerprint reader is located on the right side below the keyboard.
Care should be taken not to bend the chassis, even though it looks very sturdy.
One of the most positive aspects is its 180-degree hinge mechanism. The hinge is very rigid and there is no evidence of any instability.
Display With Perfect Full HD Viewing Angles
The reflective display is manufactured by AU Optronics. The Acer Swift 5 is virtually unusable outdoors due to its highly reflective nature.
Full HD display, this 14-inch IPS display bends almost all the way to a 180-degree angle, offering perfect viewing no matter what position you are in (Indoors and without much interfering light). Additionally, there is also a 15.6-inch version.
The poor screen brightness leaves many surprised, mainly because the predecessor had one of the brightest panels, and was 50% brighter than the Swift 5.
Powerful and High-Performance i5 Processor
Like the Acer Aspire 3, this Swift 5 features Intel's Core i5-8250U quad-core Kaby Lake Refresh processor, particularly efficient with a base clock speed of 1.6 GHz and a turbo Boost of up to 3.4 GHz (cooling permitting). The latter, we're going to be particularly interested in due to the laptop's slim case, and the question is to what extent the Swift 5 manages heat dissipation.
The Acer Swift 5 seems to dissipate heat well, although as the processor speed is affected by cooling, the Swift 5 will not use its full processor potential, it would be using 2.4 GHz.
This power is enough to watch full HD videos, perform all kinds of computing tasks, and browse Google Chrome like never before. Additionally, you can find another version of Acer Swift cheaper and with similar features, we are talking about Swift 3.
Graphics & Storage
The Acer Swift 5 comes with an integrated Intel UHD Graphics 620 GPU and 8 GB of DDR3 RAM. Although this type of RAM is older and slower than DDR4 RAM. Also, the Swift's RAM is soldered to the motherboard and therefore not upgradeable.
As for storage, the Acer Swift 5 features a 256GB capacity SSD.
Given its specs, this laptop works best for office tasks and web browsing. It should have plenty of power for these types of workloads; however, it is not very advisable to use it for more demanding tasks such as video editing or gaming.
Connectivity
In terms of connectivity, the Acer Swift 5 features a total of 3 USB ports (2×2.0 and 1×3.0), one of which is USB Type-C for maximum speed, an HDMI port, a headphone jack, Wireless LAN: 802.11ac and Bluetooth 4.0 plus An RJ45 Ethernet port.
Most importantly, it has no MicroSD port. To transfer photos from the memory card to the laptop, you have to use a dongle. The predecessor still had an SD card reader, it has not been integrated into this design.
You may have a bit of difficulty when connecting devices, as it has a poor distribution of its ports.
Battery Life
As for battery life, the Acer Swift 5 model did very well. The minimum battery life, determined at maximum brightness with the power plan set to "High Performance" and all communication modules activated while running a test. To the surprise of many, the new Swift lasted 150 minutes, compared to 100 minutes for its predecessor.
With a balanced power plan and brightness at 150 nits while surfing the web loading and rendering various websites, YouTube videos, etc. In this test, the Acer Swift 5 lasted 5:13 hours until power off (average is at 8 hours).
What Do Users Think of This Acer Swift 5 Laptop?
If you're looking for a touch laptop with a high degree of mobility (due to its weight) that doesn't skimp on performance, this Acer Swift 5 is a solid choice that won't break the bank at all.
Now let's see what buyers think of this laptop, to see more user reviews on Amazon, click on the link below.
Who Should Buy This Acer Swift 5 Laptop?
The slim and lightweight finish makes it a perfect laptop for high mobility. The Acer Swift 5 offers smooth performance and stays cool and quiet, undoubtedly one of the best laptops for students.
If you are already familiar with the Acer Aspire 5, this Swift 5 laptop will provide you with high performance and excellent visual experiences thanks to the touch screen resolution.
If you are interested in looking at other models with touchscreens, we recommend that you consider buying this ASUS Zenbook Duo. These could be the reasons to buy this Acer Swift 5.
This is your laptop if…You're looking for something to work on in the office or at university and you need high performance and durability, with advanced properties like a touchscreen.
Value for money: 8/10
Available versions: Intel Core i5-8250U, 8GB RAM, 256GB SSD 14 inch. 15-inch version.
Colors: Dark blue with gold finish.
Pros & Cons
Following are the PROS & CONS of this product.
PROS
Great screen resolution
Powerful and advanced i5 processor
Touch screen
Very lightweight
CONS
High price
Graphics card could be improved
Not suitable for Gaming
Where To Buy This Acer Swift 5 Laptop at the Best Price?
You can always go to electronics stores or department stores. However, if you prefer to buy online, there are thousands of e-commerce stores out there on the internet with laptops with all kinds of features and prices.
We always recommend Amazon as here you will be able to find the best prices and laptops. To check the updated price of the Acer Swift 5 on Amazon click on the link below.
Keep visiting our website to learn about the features and specifications of laptop you're planning to purchase.