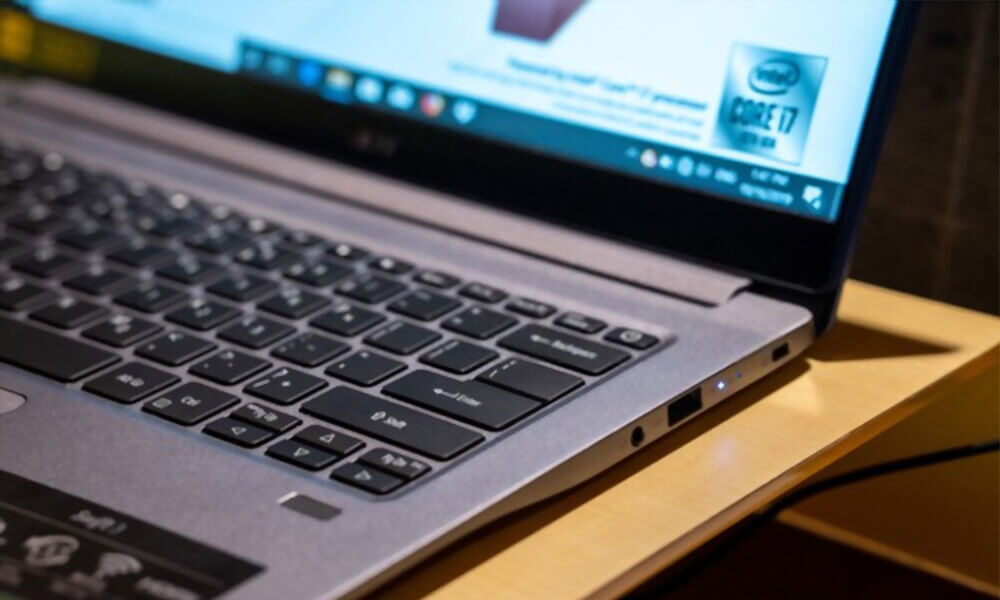 The Acer Aspire 3 is the 8th generation laptop, being an excellent value for money 15-inch notebook, making it very attractive for users with tight budgets.
Do You Know
By 2021, technology giant Acer becomes the second largest manufacturer of notebook and desktop computers.
This device offers a 15.6-inch Windows 10 laptop, with a Full HD display and an Intel Core i5 chipset. It is certainly an option worth considering for students and families who want to surf the Internet without making large investments.
Acer's solid design work, along with a satisfying keyboard, respectable connectivity and a decent battery make this Aspire worth considering as a college laptop.
Now, we will talk about the features of this laptop to give you an in-depth understanding of the advantages of owning an Acer Aspire 3 laptop.
Features & Specifications
It is one of the most attractive versions from Acer. It has a metallic black chassis with a textured finish, both on the lid and inside. It is a clean finish that complements its sturdy structure very well.
Dimensions and Measurements
This equipment is 38.2 cm long, 26.3 cm wide and 2.1 cm thick and weighs only 2.1 kg, which is acceptable enough to carry without much discomfort.
It is made of excellent and very resistant materials, in fact the tests before going on the market showed that it is much stronger than other laptops of the competition, it resists the possible shocks by 30% more.
Acer Aspire 3 Screen
It has a spectacular 15.6-inch, Full HD display, which means that images are pleasantly sharp. As for the resolution it is 1920 x 1080 pixels. The color of the Acer display is acceptable with 59% of the sRGB range and 44% of the Adobe RGB range.
The Acer Aspire 3's superior brightness levels and matte finish is one of the strong points. However, the viewing angles could be improved. The hinges allow a 180° focus from its most optimal point.
Also, this Acer has a screen resolution of 1290 x 1080. It is not one of the best screens on the market but it meets the specifications of a normal laptop with good color appreciation and the focus of well-determined nuances.
Undoubtedly, this is the best 15-inch laptop for the price.
Connectivity
If we refer to connectivity we are going to be really surprised. Acer Aspire 3 surprises in this version with 802.11ac wireless connectivity.
Lining up the edges, you'll find a generous selection of ports. 3 USB connections (including a single USB 3.0 port) means there's plenty of room for peripherals.
There's a single HDMI connection and an SD card reader, plus a small, efficient Ethernet port. And as if that wasn't enough, it has a 3-in-1 card reader (SD, SDHC, SDXC).
Storage, Memory and Operating System
The focal point of this laptop is Intel's Core i5-8250U chipset, with a clock speed of 2 GHz. This is backed by 8 GB of DDR4 RAM. However, if you are looking for an Acer with i7 processors, we recommend the Acer Aspire 5.
Its performance is high, it provides capacity to do dozens of activities like browsing, playing audio and video from the web and playing online games and running some heavy programs. Which makes it a good laptop for designing.
In addition, it has a 256 GB SSD hard drive. It has a reading speed of 523.9MB/sec, as well as write speeds of 367.9MB/sec.
As for the operating system, Acer has always bet on Windows and this version could not be different. The Acer Aspire 3 works with Windows 10 and according to the opinion of the same users it was the best they could do.
Battery Life
The battery life offers 7 hours of constant use without the need to plug in. This is a lot for a laptop with these characteristics. We often think that price influences performance and in this case it is proven.
What Do Users Think of This Laptop?
Generally speaking we are talking about a high performance laptop. However there are many conflicting opinions, some users complain about the memory capacity while others are benefited and extremely comfortable with Acer 3 laptop.
This is because it is a laptop designed to fulfill basic functions and to be able to browse at ease. Despite that, both images and videos get excellent image quality, however, if you are looking for high definition gaming this is not the laptop for you.
However, if you need a laptop to store data, answer emails, make presentations and even use heavy programs and applications for work, this Acer will meet your expectations.
To see all the reviews of this laptop, follow the link below.
Why Should You Buy the Acer Aspire 3 Laptop?
First of all because of the price, the Acer Aspire 3 is one of the most economical of this well-known brand, having high performance to offer to many users.
On the other hand, it is backed by a brand that is a leader in the market. It has an operating system known by millions of people. Therefore it is not at all complicated to operate and also has an excellent size and an ideal weight.
This is your laptop if…You want a great value for money laptop for college. It is very useful for students and for professionals who want to have an alternative computer for browsing and checking emails, as well as presentations and papers.
Versions: You'll only find it available in 15.6 inches. However, you can combine both processor and internal memory to configure your own Acer Aspire 3 to suit your needs.
Price-Performance Ratio: 9/10
Colors: Black
Pros & Cons
Following are the PROS & CONS of this product.
PROS
Great processor
Excellent RAM
Great quality – price
CONS
Screen resolution could be improved, still, it is high quality
Where To Buy Acer Aspire 3 at the Best Price?
The best place to buy a laptop, without a doubt, is Amazon. First of all because they offer security in every purchase, they also have a great variety of laptops with much cheaper prices than in physical stores.
In the case of laptops they offer warranty and usually the packaging and shipping system is first class. The product arrives exactly as it comes from the manufacturer.
You can check the price of this Acer Aspire 3 by following the link below.
Keep visiting Laptop Guide to read latest reviews and if you have any questions, feel free to leave a comment down below.