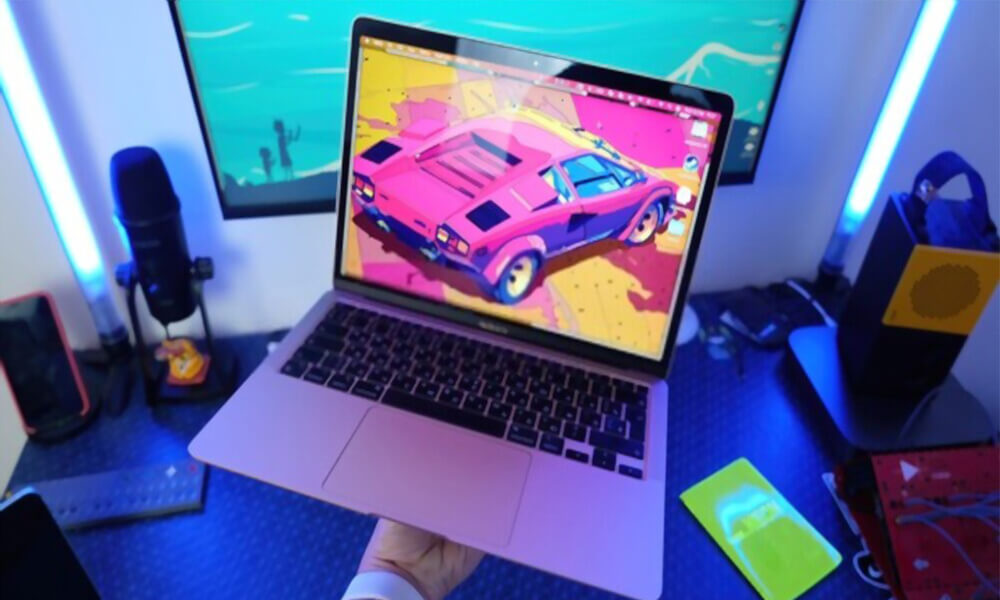 Apple MacBook Air users have been clamoring for innovations and their plea have been heard. With this laptop, you will find yourself with a thin, lightweight and a high-performance notebook. If you still don't know what the new MacBook Air has to offer, we are going to show you everything it brings.
Do You Know
Apple is manufacturing these new MacBook Air with its own 100% recycled aluminum, for the same reason that all companies do. The idea is to preserve the planet and the principles of sustainability. Ecology has become a point of concern for the brand.
It has two fast Thunderbolt 3 ports (allowing for much smoother data transfer speeds) on its left side, with a headphone jack on its right. That could be an upgrade from the singular USB Type-C port.
In the upper right corner of the keyboard, you'll see a Touch ID fingerprint reader, which works great for unlocking the MacBook Air and logging in.
Fortunately, Apple is giving users the power of this biometric sensor without burdening them with the Touch Bar that accompanies Touch ID on the company's MacBook Pros.
In addition to the sport Touch ID, this is the first MacBook Air with the T2 security chip that Apple adds to most of its macOS laptops. This chip not only provides Apple's Secure Enclave technology for storing fingerprints used in Touch ID.
Features & Specifications
Take a look at features, specification and what's new from Apple and see why thousands of users are so satisfied with this laptop. If you have any questions, leave a comment, we will answer as soon as possible.
Dimensions and Measurements
The new Apple MacBook Air has a size of 13.3 inches and weighs 1.25 kg, which makes it an ultra light and thin laptop. As for the casing it retains the same wedge-shaped design, so it is reduced to 0.16 inches at its thinnest point.
As we said, it weighs just 1.25 kg, making it one of the lightest. This feature is especially valued by users, as the mobility of this notebook is increased.
Additionally, you can also find the top version of MacBook Pro with 13-inch diagonal screen, i.e. a more powerful laptop but you will have to pay for it.
If you want a laptop with a similar design but cheaper, an excellent alternative is the Huawei Matebook X Pro, which surpasses it in performance and features.
Apple MacBook Air Screen
The 2560 x 1600 pixel Retina display is the real star of the new MacBook Air, offering sharp details and solid colors. The MacBook Air added a True Tone display that adapts to ambient lighting.
In terms of color output, they are impressive, possessing 48% more colors than the previous generation and it's spooky in definition.
While Apple rates the Air's panel as capable of producing 300 nits of brightness, it displays four times as many pixels as an HD and this really gives it a competitive edge. In addition, the display's bezel margins have been reduced by as much as 50%.
Connectivity and External Connections
In keeping with previous models, no changes have been made to connectivity. Like other laptops it has two USB-C ports on the left side. On the right side, you have the port for headphones and other devices. It is possible that if you want to add more devices you will have to attach adapters.
These two USB-C ports are complete. USB-C 3.1 Gen 2 and in both cases they work for charging and as DisplayPort and Thunderbolt output (up to 40 Gb/s). This allows you to connect up to two 4K displays or one 5K (5120 x 2880 pixels).
As for the wireless connection it is Wi-Fi 802.11a with Bluetooth 4.0 wireless technology.
Storage, Memory and Operating System
The MacBook Air comes with 8GB of two 2,133MHz LPDDR3 RAM, which can be configured to 16GB, and a 128GB SSD hard drive expandable to 256GB. Processing power is excellent, incorporating a dual-core Intel Core i5-8210Y processor.
Apple is still committed to the macOS operating system, so it is not surprising that it has included it in this laptop.
What Do Buyers Think of the Apple MacBook Air?
After reading hundreds of comments in online stores, we have noticed that this new model is still very popular. Of course many customers expected new features, however they have criticized it for its memory capacity.
On the other hand, a large number of buyers have highlighted in each of the comments what has fascinated them and consider it as one of the best laptops for college because of its comfort, lightness and intuitive interface.
If you want to see all the reviews of Amazon users, Click on the link below.
Why Should You Buy This Laptop?
This may be obvious, but anyone who is a fan of Apple and its products will want to buy this laptop. We could say that this is one of the best lightweight laptops on the market.
The MacBook Air is one of the most ideal laptops for people who travel frequently, whether for work or pleasure. Weighing just 2.65 pounds and measuring almost half an inch thick, you'll barely notice you're carrying it.
While it's designed for all types of users, students will appreciate it, especially at the undergraduate and graduate level, as it often relies heavily on applications and services that are unique to or work best on macOS hardware.
This student laptop has high performance, long battery life, sleek design and truly spectacular sound. If you want to be part of a select group of people with quality computers, this is the one.
This is the laptop for you if… You are a student at the undergraduate or college level. It fulfills basic functions with very high performance. If you really want it, you should have an available budget of at least 1000 dollars, maybe a bit more if you choose the 256GB version.
Available Versions: 128 GB and 256 GB
Price-Performance Ratio: 7/10
Colors: Space gray, Gold and Silver
Pros & Cons
Following are the PROS & CONS of this product.
PROS
Retina display, excellent resolution
Powerful processor
Large storage capacity
CONS
Poor external connection with other devices, you will need adapters. High price
Where To Buy Apple MacBook Air at the Best Price?
The best deals are always found on Amazon. The security offered by this site does not compare to any online store, plus they offer warranty and deliveries are made at your doorstep in a really short time.
The truth is that Amazon not only has a wide catalog, but it is also one of the safest places to buy. Additionally, the price you can find for this laptop will be slightly lower than in the manufacturer's store.
Keep visiting Laptop Guide to read latest reviews, news related to upcoming laptops and more.