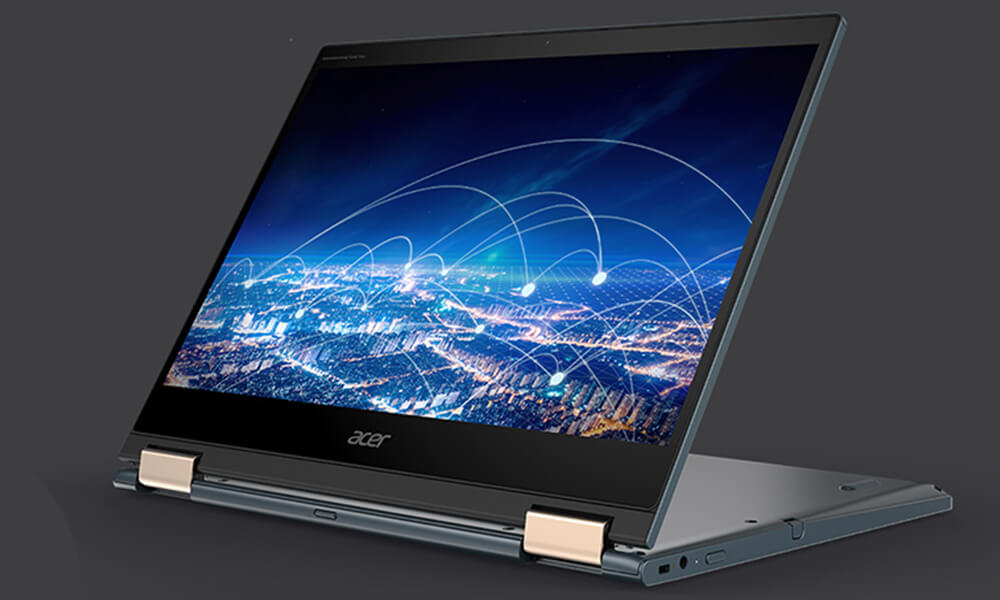 Acer's latest creations have clearly gone for convertible designs. All laptop manufacturers are in the same fight, but Acer has achieved some major successes especially with its excellent Switch Alpha 12. That leads us to expect great things when it comes to analyzing one of its newest models, the Spin 7.
This new model has a minimalist design but in a 2-in-1 format with a 360-degree rotating screen. The Spin 7 has a 14″ diagonal screen, just over 10mm thick and a perfect aluminum finish with a weight of only 1200 grams.
Acer Spin 7 Technical Specifications and Operating System
The Acer Spin 7 is a convertible notebook with a full-opening design using a 360-degree hinge. An already common design that allows us to convert a traditional design laptop into a multipurpose machine that can be used in various formats and in this case presents an excellent screen, generously sized, with a perfect resolution to maximize system autonomy.
The only version we will find in our market has a fairly balanced configuration. To highlight its 8GB of RAM, which guarantees us a great multitasking capacity in Windows 10, the system that comes standard. It is also supported by a medium-sized SSD with 256GB and SATA interface.
| | |
| --- | --- |
| Processor | Core M7-7Y75 2C/4T 1.3-3.6Ghz |
| Graphics | Intel HD Graphics 615 |
| Memory | 8GB DDR3 Dual Channel |
| Display | 14", 1920x1080px, IPS, Gorilla Glass Touch |
| Storage | 256GB SATA M.2 2242 |
| Ports | 2xUSB-C 3.1 10Gbps, PD, DP over USB-C |
| Connectivity | 2x2 Wifi-AC, Bluetooh 4.1 |
| Battery | 9 hours (official data) |
| Dimensions | 32.46 cm x 22.96 cm x 1.098 cm |
| Weight | 1.2Kg |
| Extras | Dolby Codecs, Windows 10 Home |
Processor
A good set of features where the star is an Intel Core M7-7Y75 processor with a base frequency of 1.3GHz, turbo mode up to 3.6Ghz, two cores and four processing threads. It is an Intel M series processor, 14nm Kaby Lake architecture, and therefore an ultra-low voltage model that has a configurable TDP consumption of between 3.6 and 7w, although its natural state is about 4.5w.
This allows, in well-designed machines like this one, to completely dispense with any kind of active cooling. This means that this unit does not produce any noise and has no mechanical parts inside.
This processor also incorporates an Intel HD Graphics 615, very suitable for high-definition video playback even in very demanding formats such as H.265. It also has the capacity to support up to three screens with 4k@60Hz resolution.
It will not be useful for playing 'Doom 3' but it is a good GPU for playback and even content creation as it supports Intel Quick Sync Video.
In short, we are looking at a good CPU but much less powerful than the traditional low voltage Core variants that we can find in low profile equipment, as low as this one, or more. That makes the price of this model fundamental when it comes to our final analysis.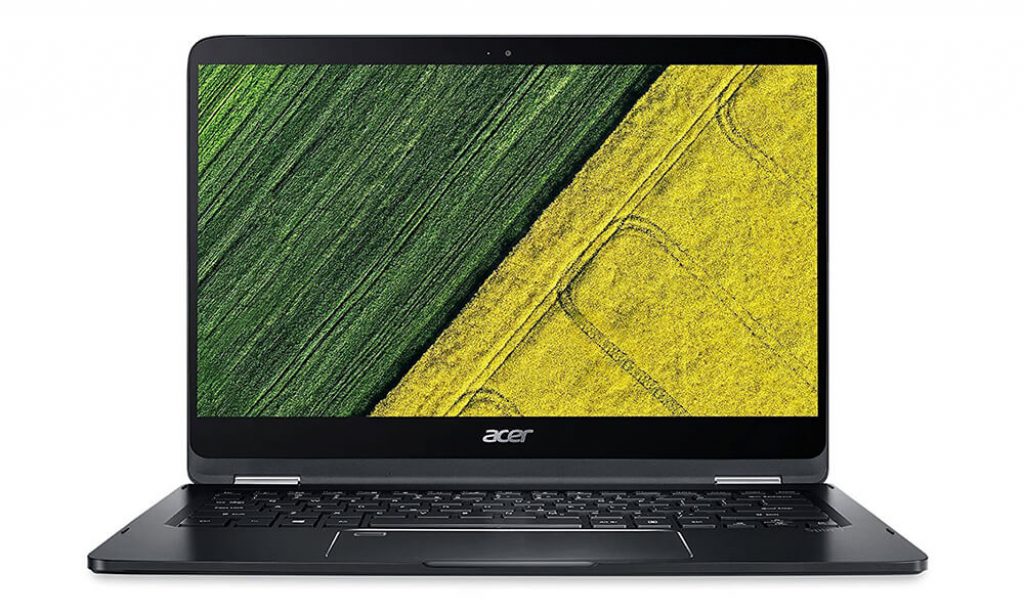 Connectivity
Wireless connectivity is provided by an Intel Centrino 8260 chipset. It offers 2×2 Wifi-AC connectivity with link speeds of up to 867mbps. It also allows us to have Bluetooth 4.1 connectivity through a single chipset.
Operating System
Windows 10 Home 64-Bit is Acer's choice for this model. It is the usual version of Microsoft's operating system. The hardware used is perfectly adapted to this operating system and the truth is that the performance within it borders on perfection.
The only downside is the classic "unwanted software" or "bloatware" that Acer incorporates into this model. For example: an antivirus, in a test, that we have not been able to choose ourselves, that we will have to uninstall if we do not want to go through the box, and a number of other programs that manufacturers should not install as standard.
Design and Physical Connectivity
Another of the Spin 7's big bets is its careful design. A monobloc aluminum chassis, slim and perfectly finished in a high quality black anodized finish. It is less than 11mm thick and weighs 1.2 kilograms.
Screen Size
Its aluminum chassis has dimensions of 33x23cm, which integrates a 14″ screen with 1920×1080 dots resolution (touch panel with 10 simultaneous points). The screen is perfectly finished with Gorilla Glass.
Touchpad
Another striking element of its design is the "panoramic" format touchpad that occupies much of the support base of the Spin 7. It is truly spectacular in size and performance, with great precision operation, and is perfectly embedded in the chassis marked with a bezel cut into the chassis itself.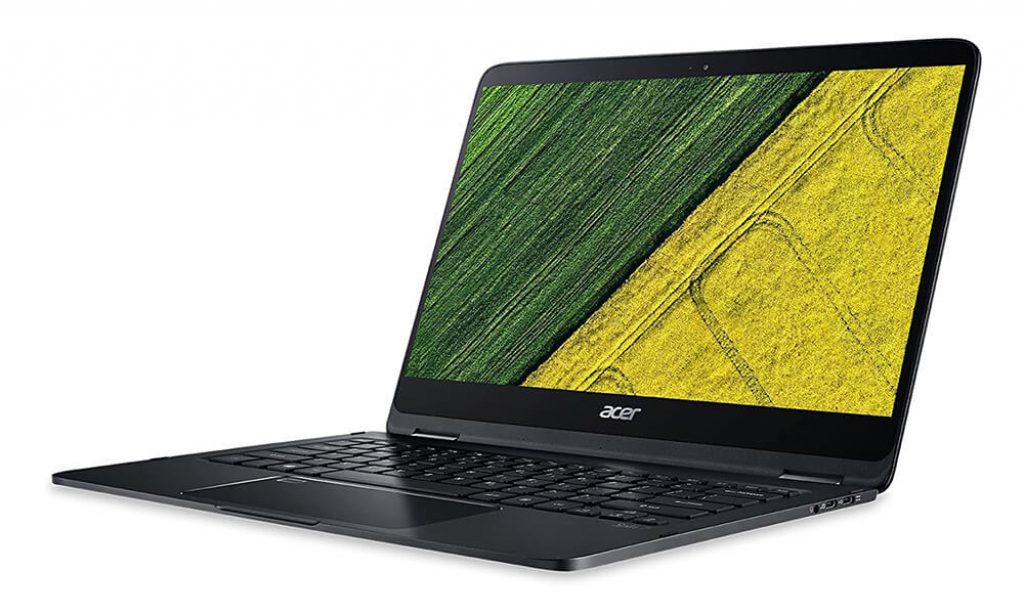 What's More
So far the best is the design, but it also has some shortcomings. The screen bezels are small on the sides but standard on the top and quite oversized on the bottom. Laptops of this type, very thin in chassis, take advantage of a larger surface to accommodate a large battery and the rest of the components.
This is also true of similar form factor models such as the Lenovo Yoga 910. Even so this format has a virtual advantage and is that it allows a better viewing angle. What does not happen to the Yoga 910, and to this Spin 7 yes, is that when we close it completely it is not a symmetrical closure: the screen is displaced on the chassis and the truth is that I find it hard to find a practical explanation for this design element (perhaps to improve wireless reception?).
The keyboard is another element that I think the Spin 7 can improve for future generations. The fact that it's not backlit is sorely missed, but that's not the worst thing.
The worst thing is that the touch is hard and with little travel. The size is very adequate, there is plenty of room to expand a good configuration of key size and key spacing, but that does not compensate for the other shortcomings of the keyboard.
One of the elements that I like about this model, and that I'm sure will be a problem for more than one potential buyer, is that it relies on two USB 3.1 Type-C ports for the physical connectivity of the laptop.
In such a small chassis this is the only possible option and has obvious technical advantages. In this case only one of them will allow us to charge, but it uses USB-C Power Delivery technology that allows combining charging and data simultaneously.
The other connector, which does not support charging, has DisplayPort over USB-C so we can connect 4k displays with ease and even displays that combine video and power in a single USB-C cable. The two USB-C ports are complemented by a jack-type audio port that combines input and output.
Acer Spin 7 Performance Benchmarks
It is worth saying that we have not found any strange behavior in the processor due to the complete lack of active ventilation. It performs adequately without any "throttling" or similar effects.
The performance of the Acer Spin 7 is as expected for this processor and sufficient to offer full agility in all types of applications, including many oriented to "prosumers" such as graphic design. Our results corroborate this statement.
| | ACER SPIN 7 (CORE M7-7Y75) | ZENBOOK UX390UA (CORE I7-7500U) | CORE M-5Y10 | CORE I7-6500U |
| --- | --- | --- | --- | --- |
| Cinebech R15 CPU | 272cb | 333cb | 210cb | 312cb |
| Geekbench 4 Single-Core | 3624 | 4342 | 3145 | 3745 |
| Geekbench 4 Multi-Core | 5537 | 7587 | 4897 | 6972 |
| Geekbench 4 Open-CL | 15589 | 17856 | 12345 | 15787 |
| PCmark 8 Home Accelerated 3.0 | 3020 | 3438 | 2655 | 2907 |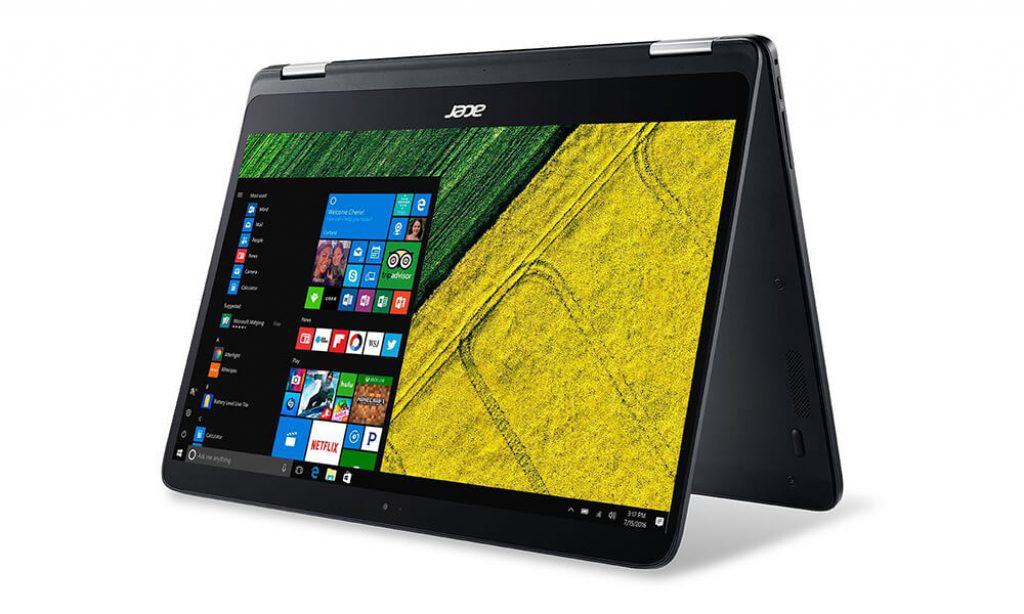 Display, Storage, Sound and Webcam
The Spin 7 enjoys a medium-resolution display with 1920×1080 pixels on a high-quality IPS panel. It has high brightness levels, close to 350 nits, with black minimums of 0.25 nit. This translates into vivid colors and high quality contrasts.
Its 14″ size helps us to enjoy the screen in 1:1 ratio without much trouble. This maximizes workspace and, being a more than manageable resolution, increases overall system autonomy.
It's not perfect, we were already talking about it being a mid-range screen, and we can see that in its color coverage, which does not exceed 82% coverage of the sRGB spectrum. Many screens of similar characteristics, with IPS panels, enjoy much higher percentages, above 90%. This is not critical, but it is something to take into account if we are looking for an ultralight laptop for graphic editing tasks.
Storage is provided by an M.2 form factor SSD. Acer does not detail if we can upgrade the drive with M.2 PCIe models, although the socket is Socket3 (2242) and therefore compatible. The storage unit and wireless module is the only thing we can change inside. The rest is soldered on board, including the RAM.
The performance is the same as with any mid-range SATA drive and is completely limited by the interface capacity. Even so, the results of processing speed are good and the truth is that it behaves wonderfully when booting the system or run any application that we install.
A PCIe NVMe drive would certainly be an interesting improvement but not critical for the user for whom this model is intended.
Acer integrates two good speakers in the base of the Spin 7, with a fairly high power for the thickness of the machine. The problem is that the ranges are very limited and the quality is poor.
If we usually listen to music on the laptop we will certainly use the headphone output. The webcam has a more than adequate quality for its main purpose, which is to be used for video conferencing, and the same can be said for the integrated microphone. They fulfill their function with efficiency and adequate quality.
Temperatures, Battery and Noise
Its processor and cooling system allow us to enjoy a completely passive laptop. There are no mechanical elements so the only noise generated by the Spin 7 is the one we want it to generate through its integrated speakers. It is a completely silent machine and you don't realize the value of this feature until you enjoy it.
Working temperatures have always been adequate during our tests. In the thermal snapshots you can see how its base stand is at idle and 100% CPU load. These temperatures are more than adequate for continuous use and at no time have we seen abnormal operation, due to thermal stress affectation, during our performance tests.
In terms of battery life, the Spin 7 promises 9 hours of operation between charges. In our tests of combined use, which anyone would do with normal use of the machine, the figure reaches 6:30 hours real. PCMark 8 also offers us data that endorses this information with a duration in its battery test of almost 4 hours.
This amount will not allow us to use the laptop all day, for that there are other more capable models, but it is an acceptable figure for normal use. The charger, 45w, is USB-C type and with a very compact size.
This charger, as usual in all models of this type, supports both 20v and 5v (also 12v) so we can also use it to charge any other device compatible with these voltages. This will reduce the number of chargers we have to carry with us to power our laptop or other mobile devices.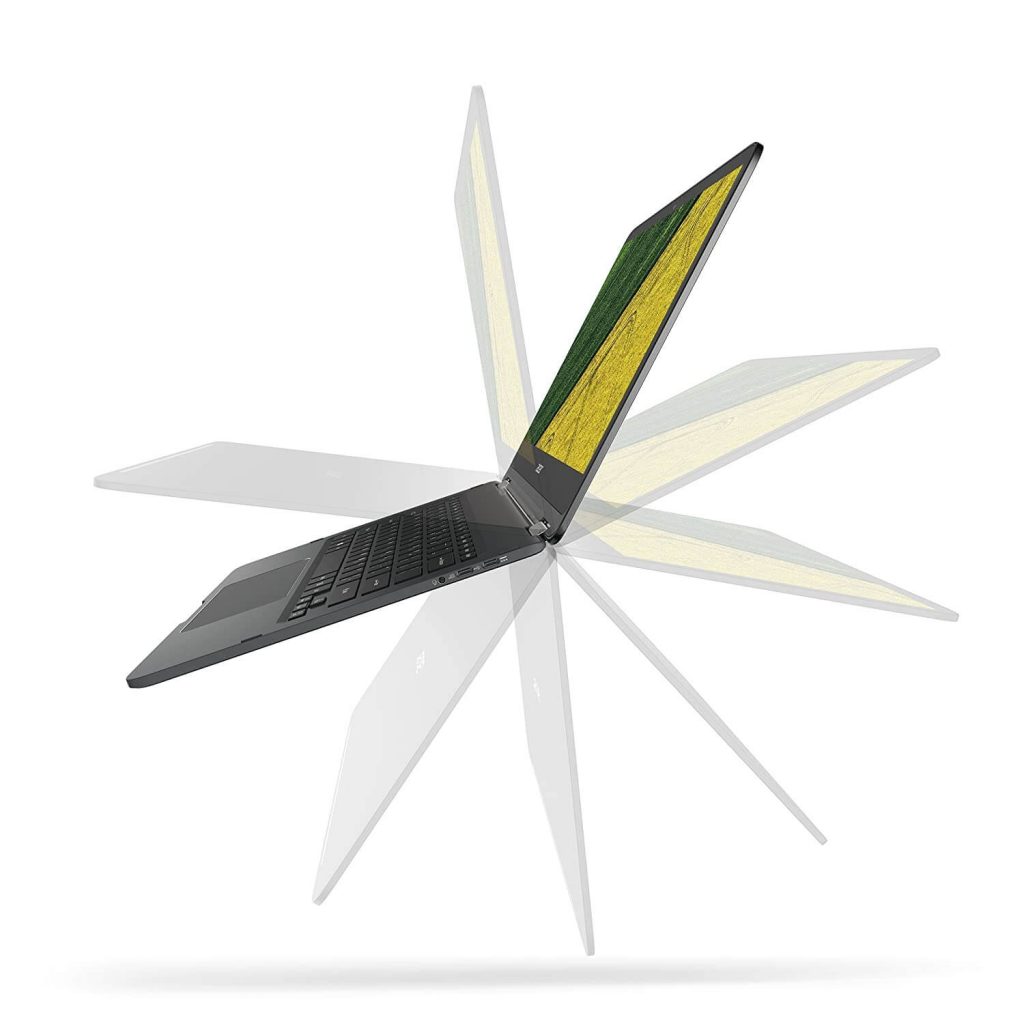 Acer Spin 7, an Attractive Laptop but With Shortcomings
The Spin 7 is a notebook suitable for those looking for an ultra-light solution that they can comfortably carry on a daily basis. It does this perfectly, but without standing out in any of the elements or functions that characterize it.
It is a laptop that falls into a high price segment, where we can demand because we can find great alternatives on the market. At this price it has competition in models as solvent as the HP Spectre, the Dell XPS 13 or the Yoga 910. All models that are better overall than the Spin 7.
Its performance set is good. A powerful processor but very low power consumption, a sublime fanless behavior, a large screen, a good amount of RAM and a sufficiently large and perfectly agile unit.
The Acer Spin 7 compiles but does not stand out, something that takes its toll due to the models with which it competes in the same price range.
Its design is light and attractive although the hinge opening leaves something to be desired not in quality or rigidity but in how the laptop is positioned completely open.
It is something strange and that spoils the overall design of this model. In short, I see it as difficult for Acer to have many opportunities to make this model a best-selling convertible since its price makes it compete with very capable ultralights.
Pros & Cons
Following are the PROS & CONS of this product
PROS
Lightweight and made with good materials
Processor that allows a completely passive system
Good amount of RAM and disk
Large and precise trackpad
CONS
A screen lock, tablet mode, not very accurate
Storage unit performance
No card reader
High price for its segment
Keep visiting our website Laptop Guide and if you have any questions? feel free to leave a comment down below.