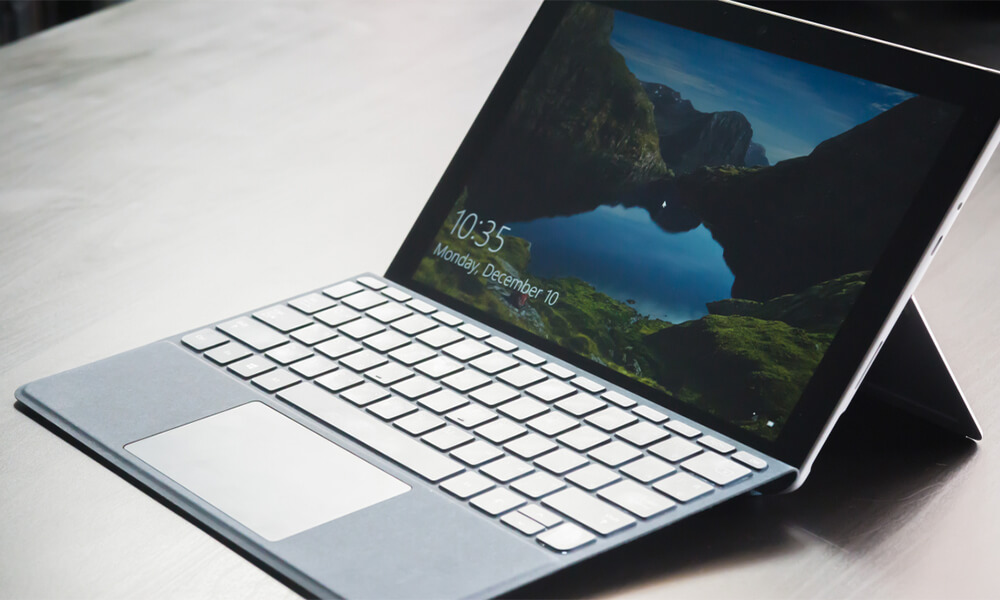 The Microsoft Surface Pro 7 tablet is a portable device that you will surely love. If you are looking for a 2-in-1 laptop – tablet this may be ideal for you. Would you like to know more about it? Below we will tell you about all of its features.
Do You Know
This computer is part of Microsoft's ultralight devices. Thanks to this, it will be much easier to carry it and it will be much more comfortable to use.
You will find in this device a great design, which at first glance is very attractive to anyone and extremely elegant.
Its screen has a very high quality, adjusting automatically to the lighting conditions of the environment. It is larger than 12 inches and has a resolution of 2736 x 1824 pixels.
This device can work with processors that will allow you superior performance. In addition, you will be able to use it for more than 10 hours, since its battery allows it to have this great autonomy.
Features of the Microsoft Surface Pro 7
Undoubtedly the features of the Microsoft Surface Pro 7 can catch anyone, we are talking about the best laptop quality and price of the Microsoft brand.
Dimensions and Measurements
One of the things that makes this laptop ultralight is that it is also an ultra-thin device. The Microsoft Surface Pro 7 measures 29.2 x 20.1 centimeters in length, making it ideal for watching movies or working. It's also 0.85 centimeters thick similar to the Chuwi Aerobook laptop which boasts similar dimensions and a cheaper price.
You will find that the weight of this laptop is only 770 grams, which is extremely light compared to other models.
High Quality Display
The display of the Microsoft Surface Pro 7 is of great quality. It can automatically adjust to the light of the spaces you are in. In addition, its size is perfect for gaming, working and watching movies or series, as it has 12.3 inches and a resolution of 2736 x 1824 pixels.
It has a touch screen and you can use it with your notebook that comes included, in addition, this is completely LED.
Connectivity
This is a device with an efficient system of connections. For starters, it has ports for USB-C cables as well as USB-A.
You'll also find that it has 3.5mm headphone jacks and a Surface keyboard port. Plus, you can interact with it outside of its screen thanks to the Surface Dial.
The Microsoft Surface Pro 7 has Wi-Fi connectivity, compatible with 802.11ax as well as Bluetooth connectivity.
Storage, Memory and Operating System
One of the great advantages you will find in this device is that it can work with tenth-generation Intel Core i3, i5 and i7 processors, as well as their respective graphics.
As for its RAM memory, you should know that it can be expanded, which is a great advantage to avoid poor performance. In fact, the Microsoft Surface Pro 7 is a model that you can give many uses, the minimum memory is 4 GB, but can support up to 16 GB of RAM DDR4.
This laptop is designed to support Windows 10 Home, which is the most current of the brand.
Full HD Camera
The cameras of this device is another thing that you will love. It has an 8 MP main camera, which will allow you to take high quality snapshots as well as you can record with it in 1080p Full HD.
Thanks to its 5 MP front camera you will be able to record 1080p videos and take photos with incredible quality.
What Do Buyers of the Microsoft Surface Pro 7 Think?
This is a model that is very well accepted by its buyers, having a great quality. However, some people consider that it has some flaws. These are focused on its ventilation system, which can sometimes make the laptop's processing a bit slow and get stuck.
However, this is still a device of very high quality, which has been sold in a very excellent way and that you can use in different ways but standing out as one of the best laptops for office work for its power and ease of transport.
Why Should You Buy the Microsoft Surface Pro 7?
Something you should keep in mind is that this device is designed for you to perform different activities on it. Whether to study, watch movies or play games, you can run everything you want thanks to its processor and memory.
Due to its light and reduced design, you will be able to take it on a trip, without taking up much space. In addition, thanks to its 10-hour battery life, you can use it anywhere without any inconvenience. If you want a laptop with the same battery life but much cheaper, this Lenovo Ideapad will fit you.
Undoubtedly, it is a device that will be of great help, performing at its best in any basic office and multimedia activity you perform.
It is also considered by many of its users as one of the best 2-in-1 convertible laptops on the market.
How To Know if the Microsoft Surface Pro 7 Is for You?
If you are in search of an excellent quality portable device with which you can run applications that require high-performance graphics and memory consumption, the Microsoft Surface Pro 7 is for you.
Also, if you want a touch tablet in high budget it will unquestionably be your best option. On the other hand, if you want a similar but cheaper device the ideal replacement is the Microsoft Surface Go.
Versions
You can find this device in 3 different versions, although these only vary in graphics and processor, the latter are the Intel Core i3, i5 and i7.
Pros & cons
Following are the PROS & CONS of this product.
PROS
latest Windows operating system.
Ultra light and flat design.
Very versatile device.
Brightness of its screen automatically adjusts to the environment.
Can be used as a tablet or laptop (it has an adjustable keyboard).
CONS
Its price can be a bit high.
Some ventilation problems have been reported.
Where Can You Buy the Microsoft Surface Pro 7 at the Best Price?
This is a device that you will be able to find in different electronics stores at a very low price. However, in some countries it is likely that you will not be able to find it, so it is ideal that you check on Amazon.
If you prefer online shopping, on Amazon you can also find the Microsoft Surface Pro 7 at an excellent price. In addition, you will have guarantees that will make your purchase much safer. Another advantage you will have when you make your purchase is that you can order from different parts of the world and this will arrive in the best way to where you want.
Keep visiting our website to learn about the features and specifications of laptop you're planning to purchase.