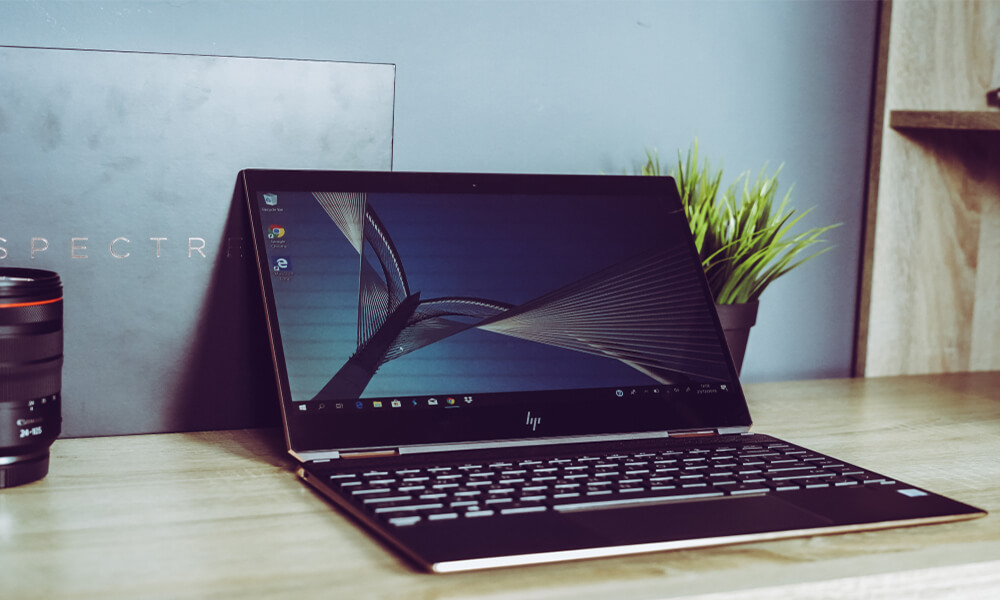 The HP Pavilion x360 laptop completely breaks away from the typical laptop conception. It is a tablet-laptop model, which adapts to any situation and surface, not only for its functions, but because the screen and keyboard can be combined and arranged in different ways.
Do You Know
This laptop is the first HP convertible model and you will be able to draw with a stylus on its screen?
If you want to get the best 2-in-1 convertible laptop that you can take anywhere you want, and with a lot of potential, the HP Pavilion x360 is definitely the one for you.
HP Pavilion x360 Laptop
In this section, we'll talk about everything this laptop has to offer you, its features, uses and how to get the most out of it. Surely you have been left wanting to know more and are eager to know this model in more depth.
Easy to Carry and Multifunctional
The HP Pavilion x360 has a simple and clean design. It can be converted into a tablet or if you prefer to use it as a laptop. This diverse functionality is also reflected in its dimensions as it has an ideal size and weight for daily transport.
The HP Pavilion x360 measures 33.48 cm high by 22.69 cm wide by 1.99 cm thick. Undoubtedly a fairly thin laptop that along with its weight of 1.72 kg makes it very easy to carry anywhere in any backpack, purse, handbag, handbag, or even carry it in a case clutched on the arm.
Easy-to-Use, Interactive Convertible Display
The HP Pavilion convertible notebook features a 14-inch display with a maximum resolution of 1920×1080 pixels. Simply with this data, you can see that we are dealing with a laptop model that offers a really good display quality.
In addition, as HP has been doing for some time, and as we have already seen in previous laptop reviews, it replaces the usual LCD screen technology with a lower power consumption WLED backlit display, without altering the Full HD view of the graphics.
In addition, this laptop gets its name from a hinge that incorporates between screen and keyboard, which allows us to move the screen so that we can place the laptop in different positions, depending on how it is more comfortable for us. This gives the HP x360 much more versatility, as it can easily be converted into a tablet for painting, gaming, writing…
In addition, this laptop model is multi-touch i.e. it allows you to use a stylus, especially for screens, instead of the typical computer mouse or fingers.
Processor and Capacity of Hard Disk
The HP Pavilion x360 has an Intel Core i5-7200 U processor with a base frequency that can reach from 2.5 GHz to 3.1 GHz. It also has Intel Turbo Boost technology, 2 cores in the processor and a cache capacity of 3MB.
Like the 13-inch Yoga 720, the HP Pavilion x360 has power that overshadows many of those promised by more prestigious brands or higher-end laptops that are not even as functionally versatile as this one.
Regarding the storage capacity on the hard drive, this laptop brings a built-in HDD with a capacity of 1000GB. This is a surprisingly large capacity and allows you to store an infinite number of files, which is a plus point for those who are constantly making presentations, doing work, projects, downloading materials and more..
Additionally, HP Pavilion X360 has two versions with the same inches, however, depending on its processor and RAM memory will cause a minimum variation in price.
HP Pavilion x360 14-ba001ns
HP Pavilion x360 14-ba004ns
RAM and Graphics Card
The HP Pavilion x360 laptop has a DDR4 RAM memory with a capacity of 8GB. This capacity added to that of the hard drive gives a lot of room to play to whoever buys the product as to store everything you need and necessary, and, probably, would still have space left over.
As for the graphics it has to offer, the HP Pavilion x360 laptop incorporates an Intel HD Graphics 620 graphics card. This graphics card is compatible with DirectX 12 and can reach a speed of up to 650 MHz.
Thanks to this and combined with its Windows 10 Home 64 operating system, the HP Pavilion x360 offers the customer a visual experience of impressive quality.
If you are looking for a laptop to work with but want more power, this MSI Prestige laptop is a great option.
Connectivity and Battery of the HP Pavilion x360
This laptop has 3 USB 3.0 ports and an HDMI port. In addition, it has a built-in HP multi-format SD card reader and 802.11 bgn connectivity.
On the other hand, with respect to its battery this laptop has an average battery life of 10 hours and 30 minutes.
This is probably the weakest aspect of the HP Pavilion x360, as we have seen computers with longer battery life.
Although, despite being a small blemish on its record, as it is so easy to transport, if necessary, it would not cost anything to carry its charger with it and take it out when necessary.
What do Buyers of this Laptop Think?
The HP Pavilion x360 is a very complete, multifunctional and versatile laptop. It stands out for its large storage capacity, which is found in very few laptops, and even less in those that convert into a tablet, and for its great and high performance.
It is a laptop that, without a doubt, should be one of your main options to consider if you are thinking of buying the best laptop quality price, no matter what brand you are looking for, this should be among your favorites.
Here we will make a small summary with some of the comments on Amazon that have left those customers who have already been with the HP Pavilion x360. If you want to read more customer reviews click on the link below.
Should I Buy this Laptop?
Probably, and after reading all the information we have been giving you throughout the article, this is the question you are asking yourself right now. Right?
The HP Pavilion x360 is for you if you are looking for power and storage capacity, as well as versatility in terms of its ability to become a tablet.
The is a mid-range priced laptop, a more than affordable price for everything it offers, as laptops with less power and storage capacity have been seen at a higher price.
This is your laptop if… You want a break from the traditional laptop and looking for a versatile, convertible and high performance laptop.
Available versions: i3 4GB RAM // i5 8GB RAM // i7 8GB RAM
Colors: silver and ash silver
Pros & Cons
Following are the PROS & CONS of this product.
PROS
360° convertible
High performance processor
High resolution
Great value for money
CONS
Windows 10 operating system
Where to Buy HP Pavilion x360 at the Best Price?
It is essential that before making the purchase you make sure that you are going to do it at the best market price. That is why we always suggest you to go to Amazon, because on Amazon you will find the best prices for different models of computers, often cheaper than if you go to the physical store or any other platform.
In addition, the purchase is totally safe and in case of factory error or damage of the product during transport, they cover the costs and will give you a new one.
If you want to know the current price of HP Pavilion x360, as well as the different available versions of this model, you can access it through the link below.
Keep visiting Laptops Guide to know all the details about the laptop you're planning to buy.