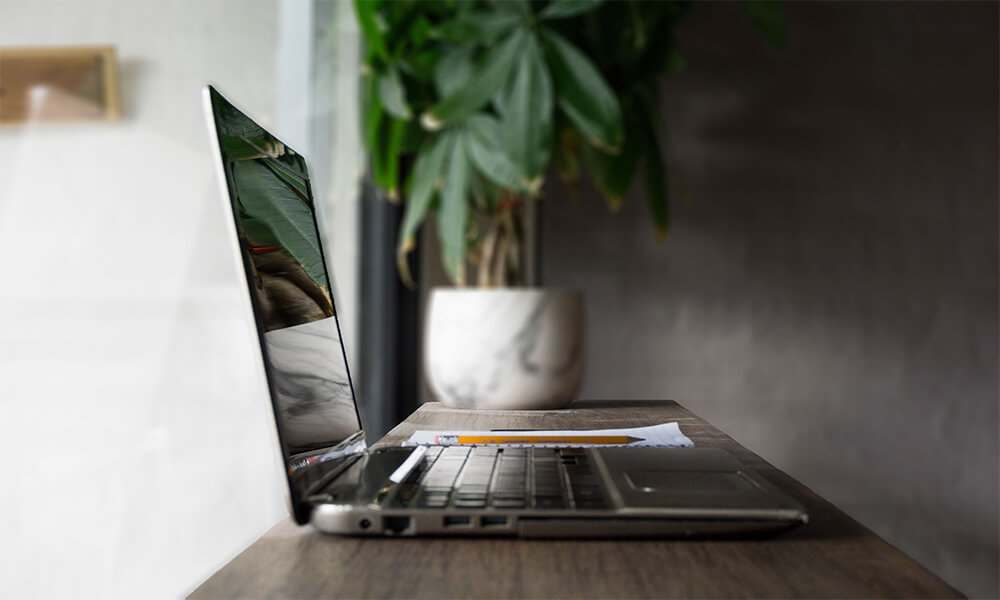 Along with the Spin 3, Acer has officially presented the Acer Spin 5 at CES 2020. This model is the new convertible notebook, which stands out for its renewed design. In addition to making use of a more powerful processor, which allows a good performance of the same.
Acer Spin 5: The Most Complete Convertible Notebook of the Acer Brand
Acer defines them as excellent options for anyone looking for a single system that can handle work, school, entertainment and hobbies. Plus, their thin and light weight and slim bezel touch screens make them ideal choices for anyone who wants to get a lot done in a variety of modes.
Acer has a strong presence in the notebook sector, and that means having it also in one of the sub sectors that most attracts the attention of the consumer as is the convertible. These laptops usually have a hinge to rotate the screen 360 degrees and can also be used as tablets, thus having a two-in-one that is very interesting.
Among the convertibles that combine best price and performance are those of the Spin 5 series. From the outside, they may appear to be just another 15.6-inch laptop, made of plastic with no differentiating external features, although when you start using them you begin to see the advantages of this type of equipment. Which, on the other hand, is not for every type of user.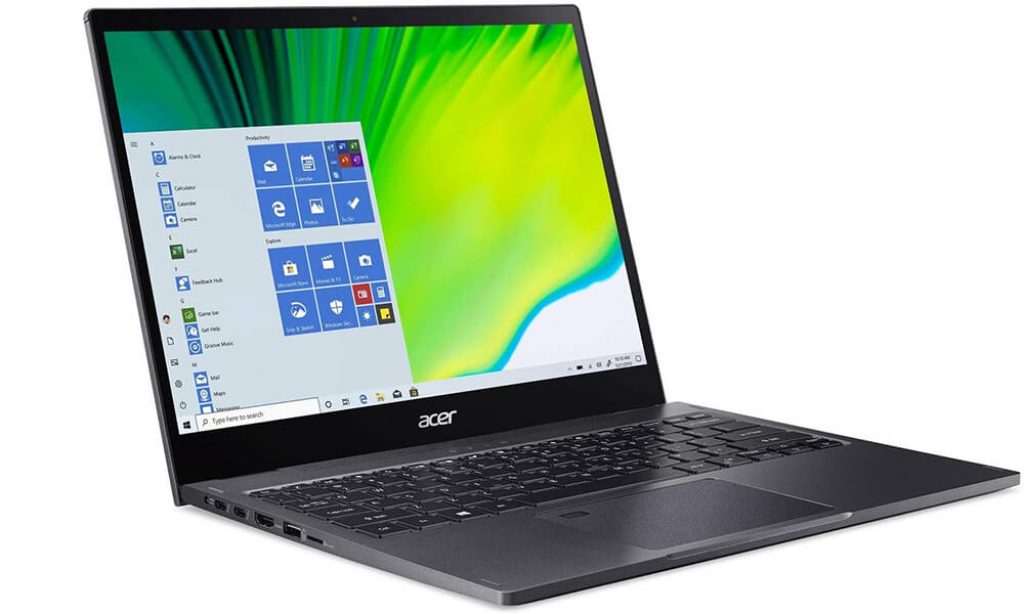 Features & Specifications
Following are the features and specifications of the Acer Spin 5.
Body & Design
This convertible has a dark gray plastic casing, with few decorations beyond the acer logo on a lid that is made of aluminum to give it a more eye-catching touch. The screen and keyboard are connected by two hinges that rotate 360º and hold the screen tightly in any position you leave it. This convertible is not silent as it includes a fan.
Generally companies tend to insist on its use in several screen positions: as a simple laptop, with the keyboard area acting as a support and rotating the screen, a tent mode in which the screen rests on the keyboard and on itself, and as a tablet, the two intermediate positions are not the kind of positions that are very useful in most cases, although in a tent it can save a little more space in travel or space-saving situations.
What's Inside
Access to the inside of the notebook is gained by completely removing the bottom cover, held in place with seventeen screws, and exerting slight force from the side to separate it. On the left side you can see the fan, but also a 256GB OEM SSD. A speaker can also be seen on each side of the bottom of the equipment, as well as its battery.
Screen
This laptop features a 13.3-inch IPS touch-type display with 1920 × 1080 pixel resolution, yielding a pixel density of 1666 DPI. It is finished in gloss, with a glass that does little to prevent reflections that may occur, and therefore its use outdoors will depend largely on the amount of sunlight that there is.
The screen's 3:2 aspect ratio adds 18% more vertical space compared to an equally wide 16: 9 display, so users scroll less when viewing websites, documents and spreadsheets.
Its 250 nits won't help make it usable outside the home either, although it should be noted that it is a laptop after all, with the extra functionality of touchscreen and its use as a tablet. For those who want more of a tablet than a laptop, a convertible is not the best option.
Weight
The device weighs 1.6 kg, which is also not a weight that will allow it to be used as a tablet for a long time without having the arm resting somewhere, or while it is on a table.
In addition, the aluminum and magnesium chassis and palm rest make it durable, yet lightweight.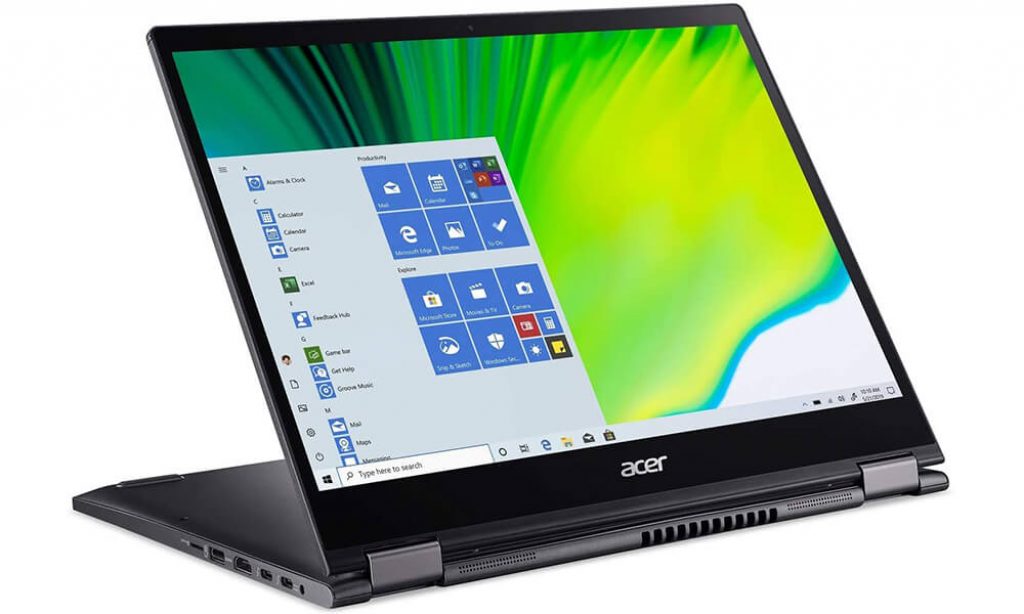 Stylus
The brand uses the fast-charging Acer Active Stylus with this convertible notebook. This makes use of Wacom AES (active electrostatic) technology that replicates real ink and paper with 4,096 pressure levels.
The pen's length resembles that of a real pen (12.53 cm) and has a textured feel, making it comfortable to hold. It can be used for 90 minutes of active writing after only 15 seconds of charging.
Processor
The Acer Spin 5 uses a 10th generation Intel Core i7 as its processor. Intended to give responsive performance and powerful Intel Iris Plus integrated graphics for entertainment, video editing and casual gaming.
It is a physical dual-core or logical quad-core processor, operating between 2.5 and 3.1 GHz, which is sufficient for normal tasks that you want to do with the computer, such as surfing the Internet or using office packages, but you can't ask too much of it. It will allow the use of Photoshop and basic design programs, for specific needs.
Graphics
The graphics integrated into the processor is an Intel HD Graphics 620, which will move the desktop smoothly, and to some extent can let you play at low resolutions such as 1366 × 768 pixels. In games like League of Legends, Overwatch or World of Warcraft you can get 30 to 40 FPS, but you can't use it with more demanding games. The Core i5-7250U stays close to the performance of the Core i7-7500U, which is around 5 to 10% above it.
Battery
The battery is another strong point in it, thanks to an autonomy of up to 15 hours on normal use. In addition, this model supports fast charging, providing up to 4 hours of use with only a 30-minute charge.
The included battery is 3090 mAh, and is recharged with a 45 W charger (19 V and 2.37 A). While not stellar, it can be used for just over seven hours with the screen at 200 nits watching movies over the internet. In the case of equipment like this, care must be taken to ensure that no processes are left in the background consuming the battery, because just as it will reduce it more quickly, it will also cause the included fan to start up, generating noise.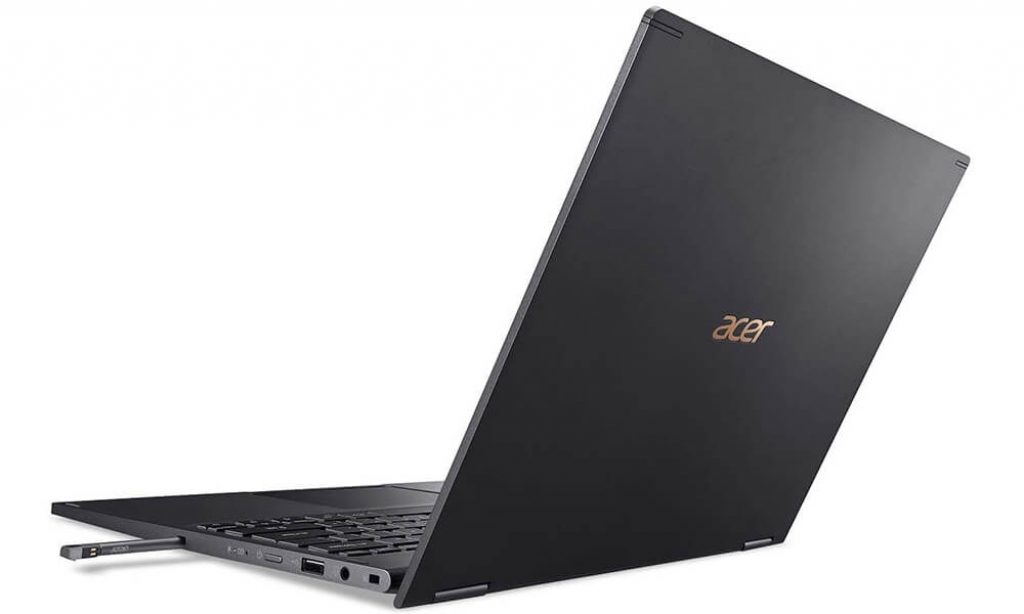 Connectivity
For connectivity it features two USB 3.2 Gen 1 ports (one with offline charging), HDMI and a MicroSD card reader. The Spin 3 features a USB Type-C port with Thunderbolt 3 support, two USB 3.2 Gen 1 ports (one with offline charging), HDMI and a MicroSD card reader.
On the left side of the laptop there are two USB 2.0, one USB 3.0, one HDMI and 3.5 mm four-pole audio jack, while on the right side there is a Kensington security lock, the charger connector, the boot button, volume buttons and a micro-SD card reader.
Keyboard & Touchpad
The included keyboard has blue backlighting, with enough brightness to use it well in the dark. The membrane-type keys are pleasant to press, but also don't give a high-quality feel when using the keyboard.
The touchpad generally works well, with fairly accurate motion detection, although it tends to be rather basic. It is not covered by glass to make it more accurate and pleasant to use, and the main buttons are integrated into the touchpad itself.
Temperature
Temperature is never a problem in laptops with a Core i5-7250U, and this one is no different. Although the hottest area will be the fan ejection area, reaching 40 ºC at full load, the rest of the equipment will not be particularly hot in the keyboard area, so it will never be uncomfortable to use.
Storage
The Acer Spin 5 offers up to 1 TB in SSD storage and also offers up to 16 GB of RAM.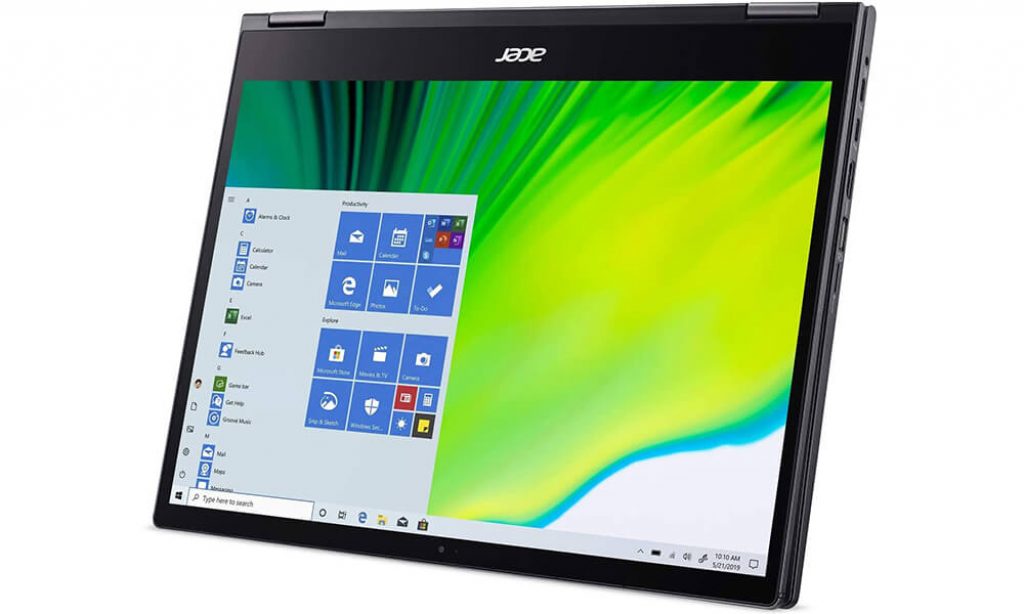 Conclusion
This convertible is very interesting in terms of performance and price. The Core i5-7200U is more than enough to move this equipment for the most common uses that can be given to a laptop, although the graphics section is simply sufficient. It has fast storage, an autonomy above that of economic laptops, although it does not reach that of Windows 10 tablets.
Keep visiting Laptops Guide to know all the details about the laptop you're planning to buy.