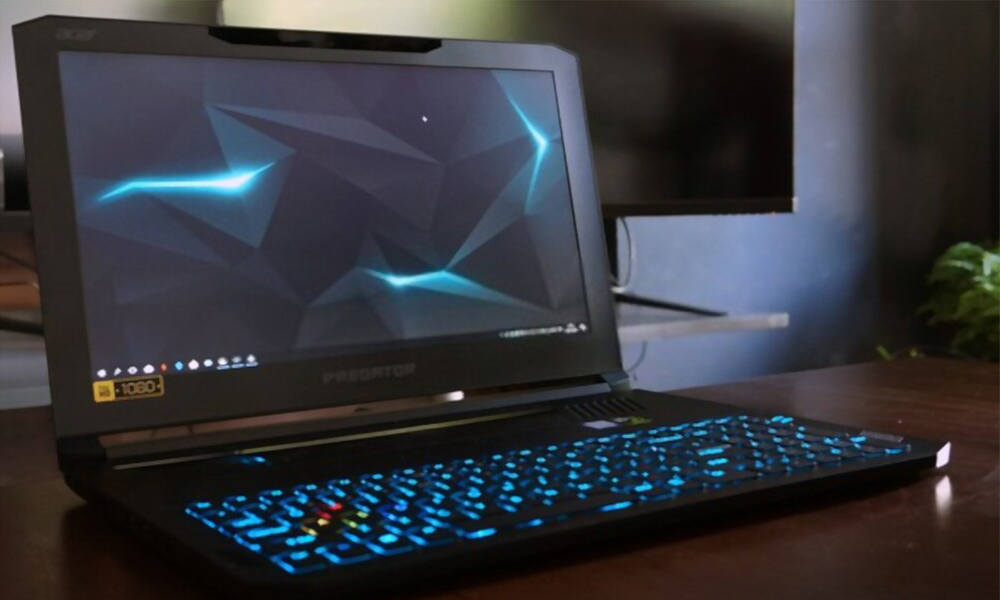 The Acer Predator Helios 300 will surely catch your attention. This is a high-performance portable device, with which you will be able to run programs that require higher requirements than other computers. Although if there is one that follows closely behind it is the HP Omen 15.
Do You Know 
The Acer Predator Helios 300 is a device designed to run high performance games. Thanks to its components you will be able to play whatever you want without limitations.
One of the first things you will love about this device is its design, and the high quality of its materials that will allow you to squeeze its use to the maximum without suffering any wear and tear.
In addition, it has a keyboard with customizable RGB lighting with different color profiles. Undoubtedly, in this area, the Acer Predator Helios 300 will not disappoint.
One of the main strengths is the display. It has a refresh rate of 144Hz, quadrupling the standard frequency of other laptops. This will make you enjoy games with an amazing fluidity. In addition, thanks to the resolution of 1920 x 1080 pixels in 15'6 inches, you will be able to watch games with a very good image quality.
As we told you earlier, this laptop has components that will perform at their best in programs and games that demand processing power. Therefore, it comes with one of the most powerful processors today, the Intel Core i7.
It also has one of the best graphics cards, the NVIDIA GeForce RTX 2060, which takes advantage of ray tracing technology that improves the lighting of games, providing superior realism.
These features are accompanied by an incredible battery, which will give you an autonomy of more than 3 hours of intensive use.
Acer Predator Helios 300 Features
The Acer Predator Helios 300 has very interesting features, at the level of the best laptops today. Below, we will talk about some of them.
Dimensions and Measurements
This is a robust device, which is a great advantage if you do not transport it frequently. If this is not your case, it may be a little more complex to move, because it has a size of 36.35 x 25.5 centimeters. In other words, it is a thick laptop, measuring 2.29 centimeters.
You must take into account that it is a heavy equipment, having a weight of 2.3 kilograms. Although it is compensated thanks to the power of its components.
144Hz Display
Probably one of the first things you will notice about this laptop is that its screen is very wide, having a size of 15.6 inches at 144Hz frequency. This is usually a great advantage to better view games, movies or any other program you want to run on it, also, this has LED backlighting that will offer you a good depth of colors and contrasts.
Its resolution is another great advantage of the Acer Predator Helios 300 i.e. 1920 x 1080 pixels Full HD. This feature will allow you to see in much more detail any program you run.
Connectivity
This portable device has an excellent connectivity system, having 3 USB-A ports, so you have many options of this type, in addition, you will have a USB-C port and a headphone jack.
You can connect it to wifi networks, although it also has an Ethernet port. In addition, you can link it to other devices via Bluetooth.
Storage, Memory and Operating System
The components of this laptop give it an incredible performance that you can take advantage of in any program you want. First of all, it has 10th generation Intel Core i7, this is one of Intel's most powerful processors.
It also comes with one of the best graphics cards you'll be able to find. The NVIDIA GeForce RTX 2060, plus with the 16GB RAM, it will allow you to run multiple tasks simultaneously.
Its storage is a big plus, it's hard drive is 512 GB, however, you can expand it to 1 TB of storage.
The Acer Predator Helios 300 comes bundled with Windows 10, which is the most current Windows operating system.
If you want to look for another gaming laptop with similar features but somewhat cheaper you can go for the MSI GL65 Leopard.
HD Camera
This device has an integrated webcam of excellent quality, managing to record in HD quality, having a resolution of 1280 x 720 pixels. This is an excellent tool for streaming in case you are a gamer, as well as being useful for video calls.
What Do Buyers of the Acer Predator Helios 300 Have To Say?
This is a device that has been very well accepted by its buyers. They find very few problems with it, mainly praising it for its incredible performance, assuring that it can run any high-end title.
The main flaw found by its users is the noise produced by the fan. However, this laptop has components that require great ventilation as they tend to consume much more power.
Undoubtedly, if you decide to buy the Acer Predator Helios 300 you will be satisfied with its quality as it is considered one of the best gaming laptops on the market.
Why Should You Buy the Acer Predator Helios 300 Laptop?
There are many reasons why you should buy this laptop. For starters, this has an incredible quality in its components, which you will be able to take full advantage of in any title you want.
Enjoy all the games on the market, wherever you want and with a high quality which is possible with the Predator Helios 300.
You should also note that its screen is Full HD, this will allow you to see details at a high quality.
Its design is modern, so in addition to being a powerful laptop you should keep in mind that it is also attractive. This is also influenced by its illuminated keyboard, which creates a great contrast.
How Do You Know if the Acer Predator Helios 300 Is for You?
If you are looking for a laptop on which you can play high-end games, this one will be perfect for you, mainly because it has components that will allow you to run any title.
However, you will have to be willing to pay a little high cost. Even so, it has a good price for everything it offers. Still, if you are looking for a more economical computer within the same brand the Acer Aspire 5 is a great option.
Versions
This is a device that does not have different design versions, however, its storage can vary, finding devices with 512 GB in its hard drive and others with 1 TB.
Pros & Cons
Following are the PROS & CONS of this product,
PROS
It has an excellent performance.
Its screen has an incredible quality.
It has a very attractive design.
CONS
It has a high price.
It can sometimes be little uncomfortable to type on.
Its fans are noisy.
Where To Buy the Acer Predator Helios 300 at the Best Price?
This is a very well known laptop for its good reputation among buyers, you can find it in physical stores in some countries at a good price. As well as in online stores.
In case you choose to make your purchase in an online store, we recommend that you do it on Amazon, as there you will find very good deals. In addition, no matter where you are, since it has an excellent shipping security that will be useful.
If your equipment has any fault, you will have guarantees that will take care of your purchase, so you can make a return without problems and with great comfort. Although you should inform yourself about their TOS.
Keep visiting Laptop Guide to read latest reviews and if you have any questions, feel free to leave a comment down below.