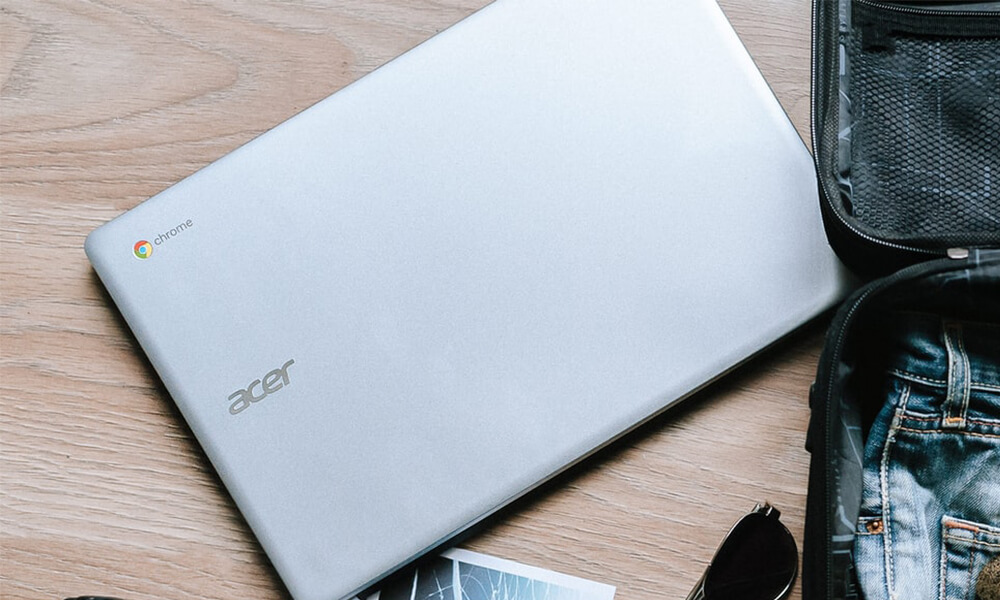 When I tested the Acer C720 Chromebook, Acer's first Chromebook, a year and a half ago, I was left with a bittersweet feeling: it was an affordable device that offered some interesting qualities for its price, such as great autonomy, but there were other aspects where it was noticeable that we were not facing an all-rounder laptop: the quality of the screen and keyboard or something as important as WiFi performance.
After the C720, Acer did not give up in the world of Chromebooks and upped its bet with the Acer Chromebook R11: a compact laptop with Chrome OS that also bet on making it convertible. Will Acer have corrected the mistakes of the previous one? How does a touch screen adapt to Chrome OS? We have tested all this and much more in this review.
Acer Chromebook R11 Technical Specifications
Before we begin to review our experience with the R 11, we briefly summarize its specifications:
| | |
| --- | --- |
| DISPLAY | 11.6 inches HD 16:9 IPS |
| RESOLUTION | 1366x768 pixels |
| PROCESSOR | Intel Celeron N3150 1.60 GHz, dual-core |
| GRAPHICS | Intel HD Integrated Graphics |
| RAM | 4 GB |
| MEMORY | 32 GB MMC |
| OS VERSION | Chrome OS |
| CONNECTIVITY | WiFi a/b/g/n/ac, Bluetooth 4.0 |
| DIMENSIONS | 29.5 x 20 x 20 x 2cm |
| WEIGHT | 1.2 kg |
| BATTERY | 3490 mAh |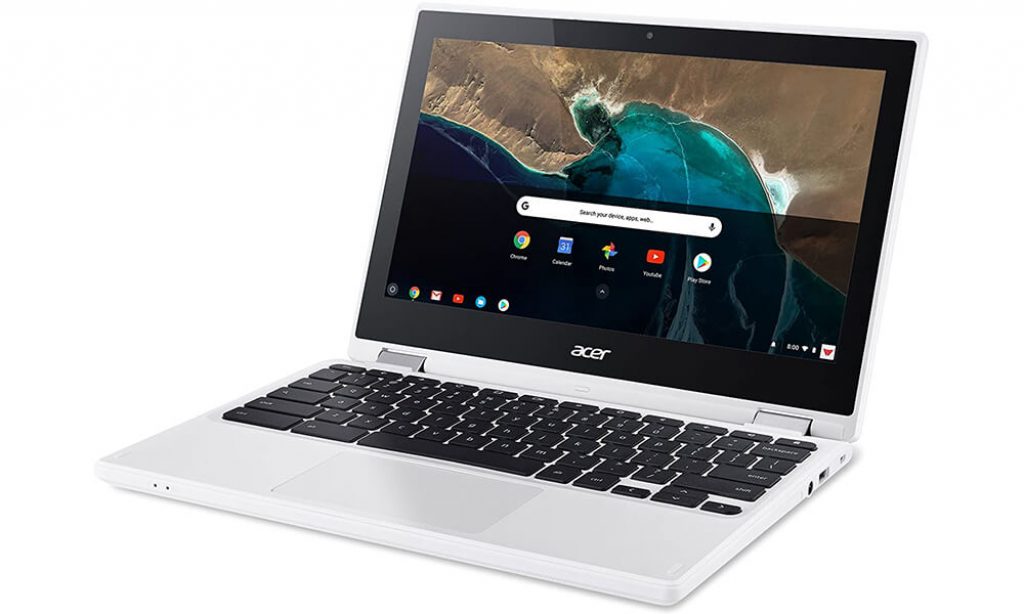 Acer Chromebook R11 (Our Review)
It is important to mention here that the version we performed the test on is the 4 GB. In terms of connectivity, and in addition to WiFi ac and Bluetooth, we have an HDMI port, a USB port, an audio jack and an SD card reader.
Improved Design and Keyboard
The first thing that strikes you as soon as you take the Chromebook R11 out of the box is its design. Completely black, except for the silver hinges, the finish is not what you would expect from a laptop in the price range it comes in. Not only because of the "texture" given to the top cover, but also because it is quite a bit more compact and thinner than its predecessor.
Overall, the design is quite nice, elegant (a matter of taste, of course) and doesn't look like "cheap plastic", although they do indeed use plastic for the chassis. The exception, according to Acer, is the textured top, for which they have used an "aluminum panel", but they mean just that: the coating. The body, including the lid casing, is still plastic.
This is a robust device: despite being a convertible, the screen does not "shake" when typing, as is the case with other models. The two hinges that hold it "in the air" (there are no other contact points) do their job well both when it is in laptop mode and when it is in tent mode (whose stability surprised me, by the way) as well as in tablet mode.
But don't expect an "ultrabook": its dimensions are relatively small (after all, this is an 11.6-inch device), but it is more than 2 cm deep. I don't think this is a problem for a laptop with these characteristics, since it does not compete in the price range with other laptops that improve this aspect, but it is certainly not comfortable when you want to use it in tablet mode.
However, one of the things I liked most about this new Chromebook is its keyboard. The keys are considerably large and their layout is what we would expect from an 11-inch laptop. The space is even and consistent across all keys and is quite comfortable to use. This was one of the things I liked least about the Chromebook C720 and here Acer has done its homework.
The point to improve is still the trackpad, a section that in general laptop manufacturers neglect too much. Its sensitivity is acceptable and it detects both the "touches" for when you want to click (it recognizes the keystroke) and scrolling using two fingers, but the problem is when you press the trackpad for real, as if it were a physical mouse. The touch is uneven and one side is looser than the other.
Touchscreen and Tablet Experience
Another highlight of the Chromebook R11 is its screen. Here Acer has opted for an 11.6-inch IPS HD (1366 x 768 pixels) panel. For the size of screen we are talking about, I think the resolution is adequate: the text is perfectly readable without having to leave your eyes or go around changing the settings, and also the pixels are not appreciated.
The impression left by the screen is very positive, both in image quality and definition as well as in contrast/brightness and viewing angle. It suffers, as expected, if used outdoors on sunny days, also partly because of the glossy rather than matte finish.
The main drawback of this glossy screen is that it looks like a magnet for fingerprints: let's not forget that we're talking about a convertible device, with a touch panel that you're supposed to be able to use. Without having dirty hands, the very skin of your fingers will leave marks and you'll find yourself wiping the screen every so often.
And so we come to one of my few drawbacks for this device: the fact that it is convertible. The touch screen may be an advantage in certain environments, but I don't see it clearly in Chrome OS: there are no optimized applications for this operating system. You can use some for drawing, but the precision of it is not enough to make it useful. Yes, you can navigate and use your finger instead of the trackpad to scroll and click, but little else.
Chrome OS doesn't offer a remarkable experience on a convertible: it's not ready for it.
It's not something I, at least, took advantage of. Additionally, the transitions between modes (normal laptop, "tent" mode and tablet mode) are not too polished. On several occasions I had to restart the laptop when I was stuck in tablet mode (i.e. with keyboard disabled) when the laptop was already in laptop position.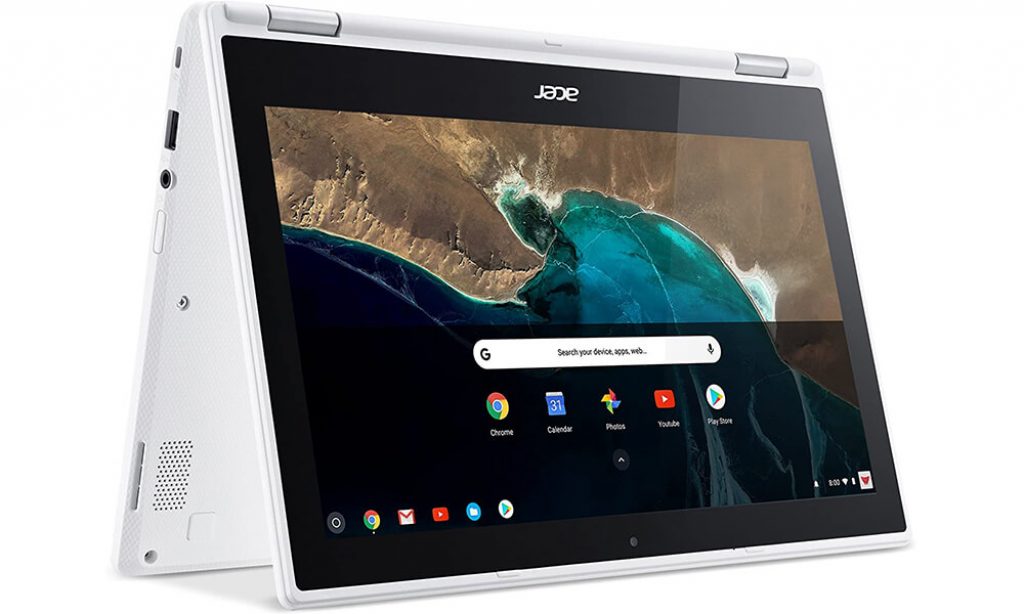 Expected Performance With Impressive Battery
In terms of performance, how well does the Celeron N3150 and 4GB of RAM do the job? The truth is that it performs quite well. In some isolated cases there are some jerks when moving through some of those pages that are horrible to load, but nothing that does not happen in other more powerful systems that use Chrome as a browser.
Here we emphasize that we have tested the 4 GB RAM version, because there is also another 2 GB version.
We have found no problems when using multiple tabs. We have also set it to play 1080p video from YouTube and to play a 720p *.mkv file. The result in both cases has been remarkable: fluidity, no jumps and practically no warming up. In the case of the *.mkv chapter I did have problems with the sound, but it was a software issue. I imagine that the player does not recognize the codec.
Another important improvement over the previous model has been the sound, and the truth is that it has surprised me for the better. The speakers are located at the bottom of the Chromebook, in the front area near the ends. This configuration allows that, although we are talking about a laptop, the music sounds perfect and the feeling that the sound comes from the front of the screen itself.
We end with one of my favorite points of all Chromebooks: the battery. Acer promises about 10 hours of battery life and in our case, with a not very demanding use (browser with several tabs, office, etc.) we have managed between 9 and 10 hours every time we have used it.
The battery has always lasted between 9 and 10 hours of autonomy in our tests.
Playing multimedia, the autonomy is slightly reduced, but it usually does not go below eight hours.
Operating System (Chrome OS)
And we come to one of the Chromebook R11's weak points: its operating system. I agree that there will be people for whom Chrome OS is more than enough, but I don't think it's the majority. In fact, even for basic use, it's hard to make people understand the "paradigm" shift: you can't install whatever you want, you can't "download" programs, you have to stick to the Chrome store and web applications.
The convertible has four "positions":
Laptop: which would be the normal mode.
Store: the screen is "rotated", ideal if you want to use the laptop to view content.
Display: in screen mode, using the keyboard upside down as a base.
Tablet: the keyboard and cursor are deactivated, and the keyboard appears on the screen if you want to write something.
The difference between all these modes? That you enable or disable things, such as the physical keyboard or on-screen keyboard. Otherwise, the OS doesn't change: it remains the same for laptop, tablet or "tent" posture.
Chrome OS is not an OS designed for tablets or for touch use, and that shows in the non-existent features it brings for this type of Chromebook.
Otherwise, Chrome OS has barely evolved since the version we reviewed a couple of summers ago. Yes, they have fixed bugs and tweaked some design aspects, but the operating system is still limited to pretty much only what you can do with Chrome. This could change if what was said this week about starting to support Android apps is confirmed, but for now this is not confirmed.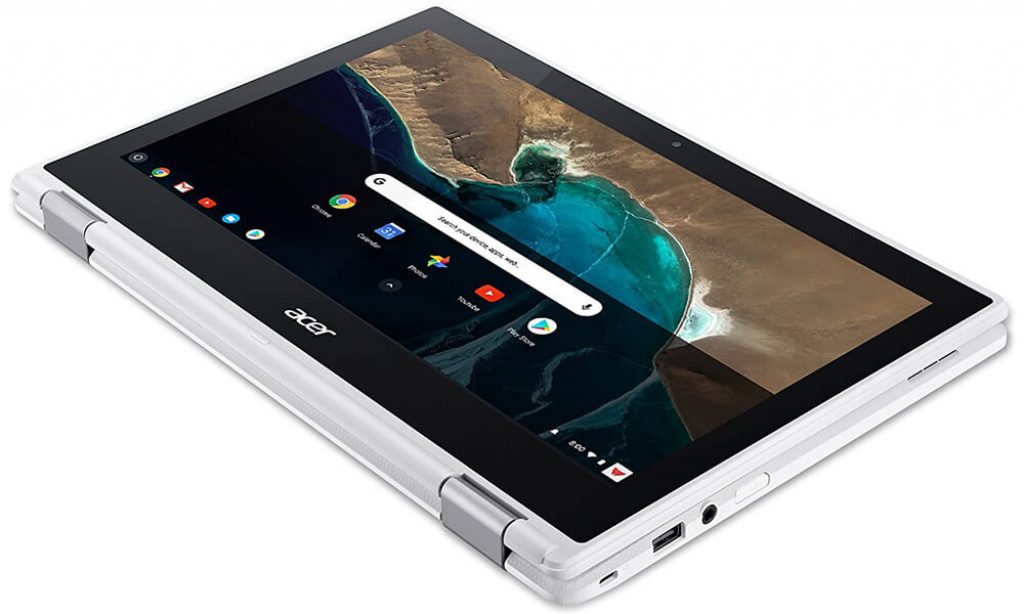 Acer Chromebook R11 (Conclusion)
The Acer Chromebook R11 is an improved version, much improved, of Acer's first Chromebook. It shows in the materials and design: the keyboard is very comfortable to use and the trackpad has also improved a lot. The screen, although HD resolution, does not fall short and pixelation is not too noticeable.
In terms of performance, the device lives up to expectations. We have not seen it suffer too much with more demanding tasks, such as playing videos in 720p or, in the case of YouTube, in 1080p, although with some "heavy" pages it skips a bit. With the sound, another great job by Acer: the "canned" music is left behind for a very good effect with the speakers at the bottom.
The downside? This laptop could perfectly well have been a regular laptop, no need to make it convertible. Chrome OS is not a system prepared to be used from a touch interface and has no specific functionalities for it. Another major drawback is the operating system itself, with the current limitations that Chrome OS has.
But the fact that it is a Chrome OS, and in addition to battery life, has another advantage: its price. At a very affordable price you get a good laptop. If you are someone who uses Chrome for browsing and little else on your laptop, then the Chromebook R11 is an ideal laptop for you in terms of autonomy and performance, but if you need something more advanced, you will miss the freedom of current desktop operating systems.
Pros & Cons
Following are the PROS & CONS of this product
PROS
Price
Finish and design
Battery Life
Improvements in keyboard and sound
CONS
No specific convertible features
Chrome OS limitations
Keep visiting Laptop Guide to read latest reviews and if you have any questions, feel free to leave a comment down below.