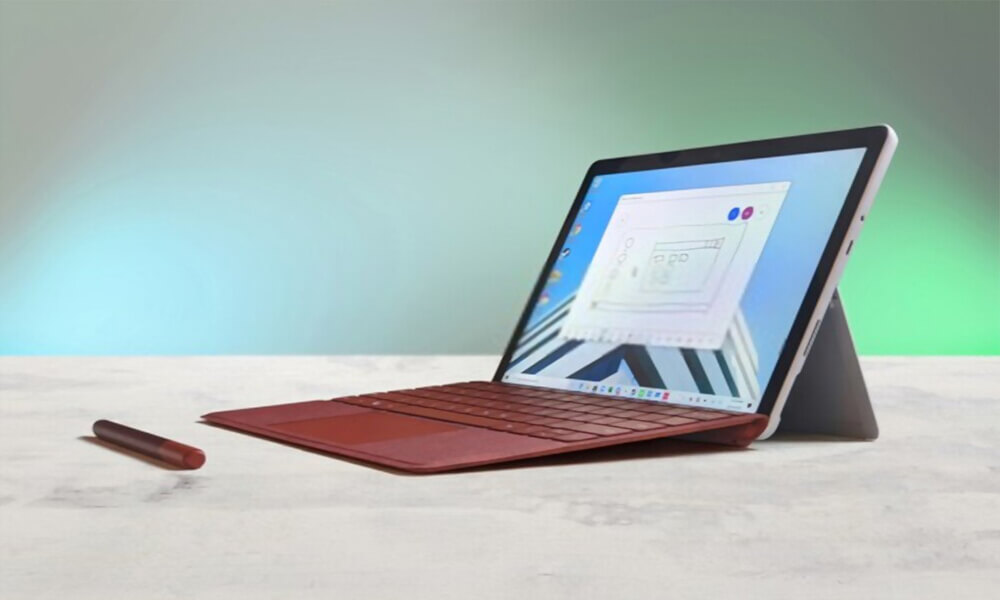 The Microsoft Surface Go laptop – tablet is a real gem, we'll explain why. At first glance this tablet is almost perfect, it has an innovative design and an extraordinary weight. In this version 2.3 inches in diagonal were reduced and it was really an excellent decision.
Do You Know
This device has the same design as its predecessors, except that it is smaller. The excellent hinge returns and can bend almost 180 degrees, making this device an ideal canvas for digital drawing and note taking.
Unlike other versions the rigid, angled edges of the Surface Pro were eliminated. They were swapped out for more rounded, softer edges that help give this version of Surface its own distinctive identity.
The display has exceptional brightness quality that perfectly balances contrast and calibration. It has a 3:2 aspect ratio and a resolution of 1,800 x 1,200, 10″ Touchscreen. Additionally there is a superior 12.3-inch version, the Microsoft Surface Pro 6.
This Microsoft Surface Go tablet laptop offers an Intel Pentium Gold processor and a battery life of approximately 9 hours.
Features & Specifications
Learn all about the Microsoft Surface Go tablet features and see for yourself why it is a good investment.
Dimensions and Measurements
The Microsoft Surface Go is a tablet with an acceptable size of 24.3 cm long x 17.52 cm wide, 7.6 mm thick.
As for its weight, it does not reach 600 grams, positioning it as one of the best options. This is highly valued by users since both its mobility and portability have been increased.
This is a perfect model to take everywhere, it is very easy to carry and the truth is that it does not take up much space.
Display
The Surface Go's 10-inch IPS display is solid and supports resolutions up to 800 x 1200 pixels. Colors are stunning and realistic. Contrast is also fantastic, with the 1096: 1 rating helping with gloomy scenes.
Impressive black levels of 0.2057 nits also contribute to a decent overall image, especially in low-light environments.
However, at 225 nits, the Go's display is not the brightest. This shouldn't be a problem if used in dark places.
For a laptop – tablet, the color gamut is reasonably accurate. The color temperature is admirable at 6382K. The display is fully LED with a size of 10 inches.
However, we recommend checking out other larger tablet laptops such as the Lenovo Yoga 720 or the Lenovo Yoga 530.
Connectivity of the Microsoft Surface Go
On the Microsoft Surface Go they have looked to integrate a single USB-C port with support for charging the device. Although a powerful charger will most likely be needed to connect the other devices.
It is true that the orientation of the product is not to use it as a work computer for everything but rather as a "battle tablet" for those scenarios in which we do not need a PC to use, but even in these cases having more connectivity options would have been a detail on the part of the brand.
It connects directly to Wi-Fi. Bluetooth was not included in this version. However this is not a problem for this tablet.
Storage, Memory and Operating System
The Microsoft Surface Go tablet is ideal for simple tasks like web browsing, typing in Google Docs and streaming videos. This is probably due to the 8 GB of RAM under the hood, supplied with the high-end model.
Surface Go is also not suitable for gaming. This is because it has an integrated HD Graphics 615 graphics card that does not support demanding high-resolution games.
In case of what it will achieve it would be low speed, so on this part users are a bit limited.
The SSD has 128 GB. Read speeds can reach 1116 MB / sec and write speeds 130 MB / sec.
What Is the Opinion of the Buyers?
In general the acceptance of users has been positive, however many complain that there are more complete laptops at lower prices and with the same quality, as is the case of the HP Pavilion X360.
In spite of that it has sold very well and people have understood according to the descriptions of the product for which audience it has been created. However there is a small group of people who are not entirely happy, especially because of the quality of the screen, but they have been rewarded with the new Microsoft Surface Pro 6.
Although most users have been supportive of the brand and have been participating in forums in order to give their experience. It can be said that it is one of the touch laptops that has achieved more five stars.
To see all the reviews on Amazon, follow the link below.
Why Should You Buy This Laptop – Tablet?
One of the key features of the Microsoft Surface Go is its extreme functionality and meets each and every one of the expectations for which it was designed. If you are interested in this type of device, read our article on the best convertible laptops.
It also runs Windows and has all the basic applications essential to be able to perform many activities.
Also, it is possible to carry it with you at all times and both the memory capacity and battery life are great.
This is the laptop for you if… You have a budget of 700 dollars. Also if you want to have a versatile tablet laptop with a touch screen. Definitely an excellent choice.
Versions: Microsoft Surface Pro 6 – Comes with a laptop, which is 2 in 1, 12.3″ (Intel Core i5-8250U, 8GB RAM, 128GB SSD, Intel Graphics, Windows 10 Home) in Silver / Microsoft Surface Go.
Value for Money: 9/10
Colors: Silver and Gray
Pros & Cons
Following are the PROS & CONS of this product.
PROS
Windows 10 gives users a lot of freedom.
Extremely portable.
Kick-stand offers versatility.
CONS
Expensive tablet considering the Type Cover is not included.
Image resolution and quality, as well as the graphics card could be improved.
Design is a bit outdated.
Where To Buy Microsoft Surface Go at the Best Price?
Our main recommendation leans towards Amazon. It is one of the best online stores and offers all the technical information you need.
Likewise they handle unbeatable prices and if you are lucky you get this and other products at a lower cost than in the manufacturer's store.
The security of the purchase is 100%. There are no problems with shipping and the product arrives exactly as it left the factory. Click on the link below to see latest price.
Keep visiting Laptop Guide to read latest reviews and if you have any questions, feel free to leave a comment down below.