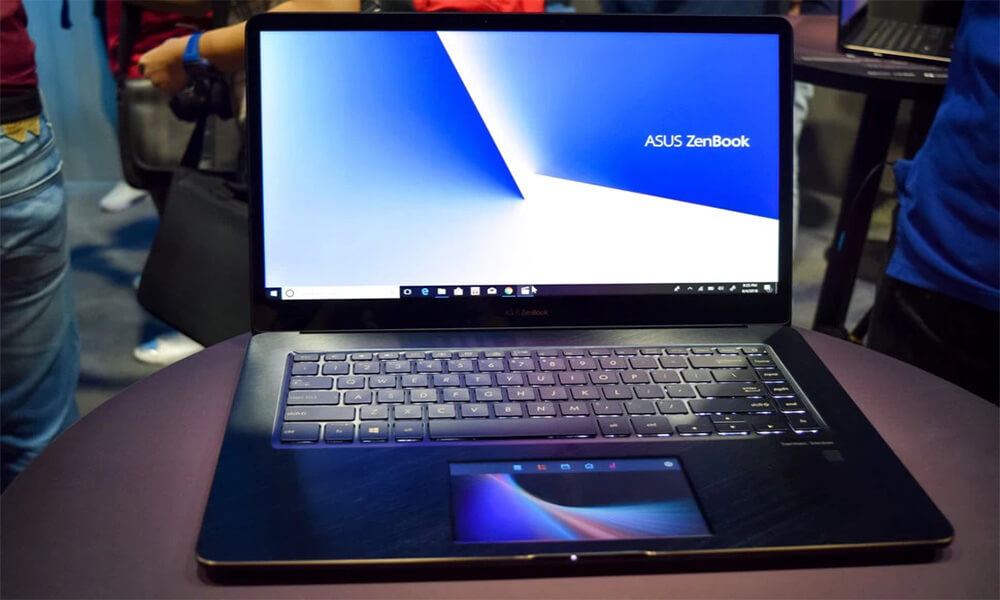 With the ASUS ZenBook Pro 14 you can enjoy high performance, it is a very fast and efficient laptop that supports demanding graphics. This laptop comes with a ScreenPad, allowing you to monitor applications such as music from this touch screen.
Do You Know
Asus ZenBook Pro is inspired by the Buddhist school and the back of the screen shows it, interesting isn't it?
In this quick guide we'll be discussing the main features of the 14-inch Asus ZenBook Pro, we also refer to the 15.6-inch and previous versions of the Asus ZenBook Pro. If you still have any questions, leave a comment below, we will try to answer you as soon as possible.
Asus ZenBook Pro Laptop Review
These are the main topics to be covered in the article, click to navigate on the one that interests you most
Features & Specifications
The main technical specifications and characteristics of the Asus ZenBook Pro will be outlined in detail below.
Slim and Elegant Design
This Asus ZenBook Pro has a good design with a unique elegance supported by a very thin thickness of only 18.95 mm, which makes it weigh less than 1.5 kilos. These features will increase its portability, making it suitable for working comfortably from anywhere.
On the back of the display, we can find concentric circles closing towards the brand with a polished material and a metallic look.
In addition, a professional sound system (Golden Ear and Harman Kardon) is integrated, offering acoustic quality without limits.
Its keyboard also displays unique features, as it develops an excellent feedback and more than adaptable ergonomic design, offering extreme comfort when typing.
Additionally, to use the mouse and monitor some applications, it develops an advanced technology in the form of touch screen (Screenpad) allowing increased sensitivity, accuracy and functionality, but this does not end here, as you can register and log in with the fingerprint.
Finally, you can find in this laptop a combination of black with pink details.
High-Quality, Borderless Display
Lending one of the best 14-inch screens in the ASUS range, this is a full HD NanoEdge with a superb 1920 x 1080 pixel resolution. This means that for every inch you get about 250 pixels allowing excellent sharpness.
Its margins have actually been reduced by 14%, just 5.2 mm, which will allow 86% of the screen to be viewed, enjoying a wide field of view and significant color sharpness. Undoubtedly, they make it perfect for day-to-day use and enjoying multimedia content.
In general, the entirety of this Asus ZenBook Pro has been subjected to reliability and endurance tests, which gives it high durability, as it develops a correct operation in extreme conditions, both temperature and humidity and altitude.
The ASUS ZenBook Pro model has another superior version with a 15.6-inch screen.
However, for tighter budgets, the lower 14-inch version Asus ZenBook UX410 is available.
Powerful Technical Performance
It incorporates a 4-core Intel Core i7 processor with 8 MB cache, supporting speeds from 1.8 GHz up to 4.6 GHz. In other words, it develops enough power to avoid overloads when running programs and video games.
After the execution and installation of applications and programs, it presents a very high performance, and can even support video games with demanding graphic requirements, processing them at high speed. However, if you are a fan of computer games, you can check out our guide about the best gaming laptops.
Finally, in addition to being available with the i7 processor, you can find Asus ZenBook integrating an Intel Core i5.
Demanding Memory and Graphics
Both ASUS ZenBook Pro models are available in the U.S. The 14-inch version integrates a RAM memory of 16GB at 2400M HZ. On the other hand, the larger 15.6-inch screen version has 8 GB. Both will store and process data in an exemplary manner.
If we want to store large amounts of multimedia content, there will be no problem, as it integrates a 512 GB SSD disk, considering this capacity as the highest on the market.
Therefore, you can already have documents and content to fill this large disk. Additionally, ZenBook Pro incorporates the Windows 10 operating system.
To accompany the high resolution of this laptop, Asus ZenBook Pro incorporates a NVIDIA GeForce GTX1050 4 GB DDR5 graphics card. This graphics model is therefore widely used by professional gamers, which means it has a great capacity to process really demanding graphics games.
Good Connectivity and Battery Life
As for connectivity, there is nothing special about it. Both wired and wireless you can connect this laptop with other devices, thus increasing its functionality.
Connect to the network via Wi-Fi and transfer data via Bluetooth. Additionally, wired, it has USB ports and HDMI output to connect to hard drives, external graphics cards or monitors.
Asus ZenBook Pro has an internal battery with an excellent battery life of 12.5 hours, which can be recharged in less than 120 minutes.
Frequently Asked Questions (FAQs)
Q: What do Asus ZenBook Pro 14 buyers think?
The Asus ZenBook Pro is a high-performance laptop and graphics for demanding applications, this is confirmed by its processor, RAM and graphics card, which are designated as the reason behind this laptop having great features.
Trying to draw weak points, we will not get but look at its high price, exceeding 1000 dollars, and of course, it was expected after the excellent features and high performance of this laptop. In other words, we can consider it as one of the best laptops you can go with.
Both its technical features and its high performance are some of the reasons why you should buy a high-end laptop. Not only we say so, but Amazon users make special reference to its high performance.
Q: Who should buy the ASUS ZenBook Pro 14 laptop?
If you have a large budget and consider buying a laptop as an investment, this high-end ASUS laptop could be one of the best options for over 1000 dollars.
Our recommendation is simple, if you have skills beyond a beginner level, and you have already had other laptops, we are sure that if you are looking for a pc with high performance, high storage capacity and demanding graphics …. ASUS ZenBook Pro 14 competes with i7 laptops like Apple's MacBook Pro, however, at a lower price.
This laptop is ideal for processing and running heavy programs, graphics-intensive games, as well as for personal use.
However, if the price is a big drawback for you, the lower ASUS ZenBook UX410 14-inch version is much cheaper, not exceeding 700 dollars.
Why buy ASUS ZenBook Pro
This is the laptop for you if: You want to make an investment for a laptop and you are going to give it a professional use expecting high performance.
You are looking for something that is value for money
Available versions: ZenBook Pro 14 and 15.6 inches plus the lower version Asus ZenBook UX410.
Colors: Black with pink accents
Pros & Cons
Following are the PROS & CONS of this product.
PROS
High processor performance
Great digital storage
Great graphics and resolution
Where to Buy the ASUS ZenBook Pro 14 at the Best Price?
This laptop will be difficult to find in small electronics stores. However, if you prefer to buy online, Amazon is constantly lowering the price of products and launching second-hand offers.
Subsequently, and once the purchase is made, the home delivery service and the possibility of return is great, so if you want to check the price of this Asus ZenBook Pro on Amazon, click on the link below.
Keep visiting Laptops Guide to know all the details about the laptop you're planning to buy.