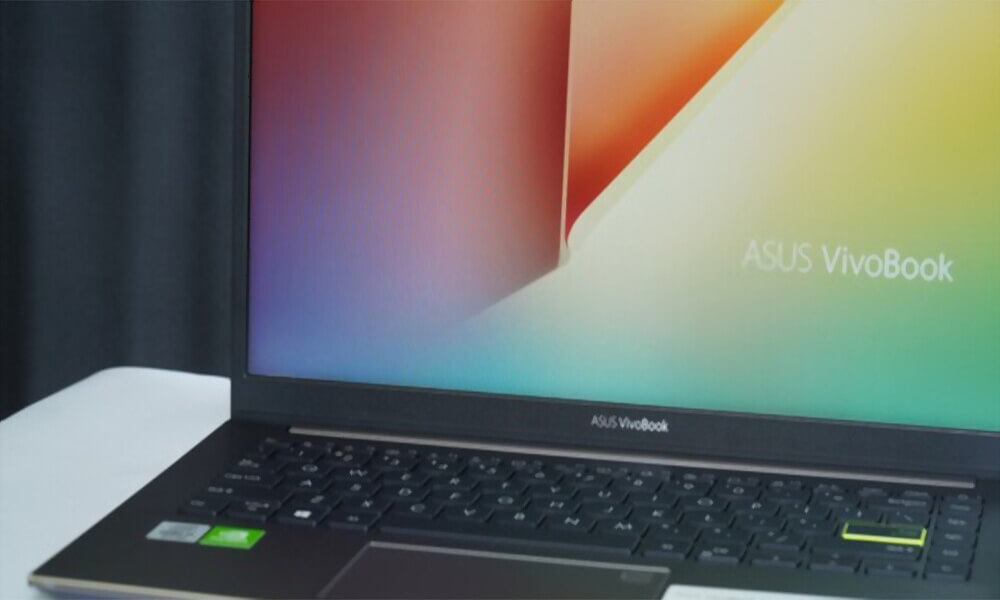 The ASUS VivoBook S14 is a great laptop for students and administrative office work. Although Asus is not considered a well-known brand, this laptop will give you high performance, fluidity and speed.
Did you know
Asus is a Taiwanese company which is known by the Chinese as Huáshuò Do you dare to pronounce?
In this review you will find a quick guide about the main features of the Asus VivoBook S14. Although all its features and main uses may be detailed, there may be questions, feel free to leave a comment, we will answer you as soon as possible.
Asus VivoBook S14 Laptop
These are the main features we're going to be covering in this article.In the following sections you can find a detailed summary of the main features of the Asus Vivobook S14 accompanied by the main functionalities and uses.
Features & Specifications
This laptop is part of the new generation of ASUS, so it comes with some important new features. Its processor stands out, as well as its lightness and thinness for better portability.
As we said, its weight and thickness are more than adjusted, as it does not exceed 1.4 kilos and its thickness does not go beyond a centimeter.
Additionally, it presents a more than functional opening system due to the ErgoLift hinge allowing you to open the pc at the angle that best suits you and also providing a keyboard tilt of 3.5 degrees to be able to write in a comfortable way and improve the ventilation system.
This laptop comes with a numeric touchpad (NumberPad), which is highly recommended for users who work with large amounts of numbers using Excel. Additionally, the top model of this laptop, Asus ZenBook Pro comes equipped with a ScreenPad, the intelligent touchpad.
Finally, you can find the VivoBook S14 in five different colors, choose the one that best suits your style and personality.
Very Thin and Borderless Display
We highlight its NanoEdge screen for being a renewed element, Just as its thickness has been decreased compared to previous models, the margins have also been reduced by 16% allowing to take advantage of 84% of the front face.
This reduction in margins provides a wider viewing angle, as well as a magnificent chromatic combination to make the experience even more unique when working graphically or enjoying multimedia content.
The technical visual properties of this laptop are characterized by its 14-inch LED screen, which can reproduce 1080 pixel displays. So, you will have a good screen sharpness, but without reaching excellence.
The ASUS VivoBook S14 model has another version with a larger screen. This time it is 15.6 inches which is responsible for the price increase of about 100 dollars.
In addition, there is also a more upgraded top version. The ASUS VivoBook S510 is identically the same in terms of technical features, however, the absence of keyboard (NumberPad). We can find the 15-inch Asus VivoBook S510 with an i3 processor as i7.
Improved Intel Processor
It has an Intel Core i5 processor with 4 cores 6 MB Cache and 1.6 GHz up to 3.9 GHz. Therefore, it has enough power for work or student tasks, as well as the correct execution of video games with not very demanding graphics.
Once all applications are installed and loaded, the performance of the Asus VivoBook S14 is more than acceptable, however, it is not recommended for gaming users, as the requirements of the latest generation of games can lead to problems in terms of fluidity and speed.
In addition, we can find a more renewed and superior version. We are talking about the ASUS VivoBook S15 both in 14 inches with an i5 processor and in 15.6 inches with an i7 processor.
Storage and Graphics Card
Asus VivoBook models are frequently sold in the United States, both the 14-inch and 15.6-inch versions. Both versions have a RAM memory of 8GB and 2400 MHz, making the execution and loading of programs more than fluid and fast.
Additionally, we can store a large amount of multimedia content and have more than enough space for programs and applications. In addition to its internal memory, it has another 256 GB through an SSD disk.
Finally, the screen resolution is accompanied by an Intel UHD Graphics 620 graphics card. There is no doubt that the screen resolution of this laptop is one of its weak points.
Fortunately, both the 14-inch Asus VivoBook S14 and the 15.6-inch Asus VivoBook S14 come integrated with the Windows 10 operating system.
Excellent Connectivity and Battery Life
Here we can differentiate between wireless and wired connections with other devices, allowing the Asus Vivobook S14 to increase its functionality.
This laptop can be connected wirelessly via Wifi and Bluetooth as well as enjoying wired connections via 3 USB ports and an HDMI output, highly recommended for transferring information and connecting external monitors.
Its battery gives a backup of approximately 8 hours with continuous use, allowing an acceptable portability. To charge the battery we will need at least 1 hour, we must make good use of it, otherwise it will wear drastically and its autonomy will decline.
What Do the Buyers Think?
The Asus VivoBook S14 is a high performance laptop, as its memory and processor prove, however, its weakest point is of course the screen resolution and graphics card.
Although we can draw weaknesses to this laptop, it has an affordable price considering the benefits we can get out of it.
These are the main reasons why you should buy a high performance laptop at an affordable price. We can check the reviews of users who have already compared this model on Amazon, although we can also find it in physical stores.
Other Top Asus Vivobook models
ASUS VivoBook S14 14-inch without numeric touchpad
ASUS VivoBook 15-inch without a numeric touchpad
Use it to carry out Excel spreadsheets, write articles, handle mail, surf the Internet, store photos, videos and install programs, you will always get a more than acceptable performance. Of course, it is not recommended for games with high graphic demands.
This is your laptop if… you have a mid sized budget, you are a student and you are going to use it for personal and work purposes.
| | |
| --- | --- |
| Value for money | 8/10 |
| Colors | 2 |
| Available versions | 14 and 15.6 inches |
Pros & Cons
Following are the PROS & CONS of this product.
PROS
High performance processor
Large digital storage
Improved and functional design
CONS
Low screen resolution
Medium graphics card
Frequently Asked Questions (FAQs)
Q: Who should buy this laptop?
If you are looking for a high performance laptop for work or university use, this can be a good option at an affordable price range.
We recommend the Asus VivoBook S14 whether it's your first laptop or you're looking to upgrade. As far as performance is concerned, we are sure it will meet your expectations. This laptop competes directly with the Lenovo Ideapad 720S, however, at a cheaper price.
Q: Where to buy the Asus VivoBook S14 at the best price?
You can always find this laptop at Amazon and at electronics or computer stores, where you can see it in person and discuss its features with the staff.
If this is a laptop that really fits your needs and you have decided to go for it, we can recommend the official Amazon store where you will even find it cheaper than in most of the electronics stores.
In addition to the price, we can assure you that Amazon meets the expectations of delivery and return in an excellent way. Check the price of this Asus VivoBook below.
Keep visiting Laptop Guide to read latest reviews, news related to upcoming laptops and more.